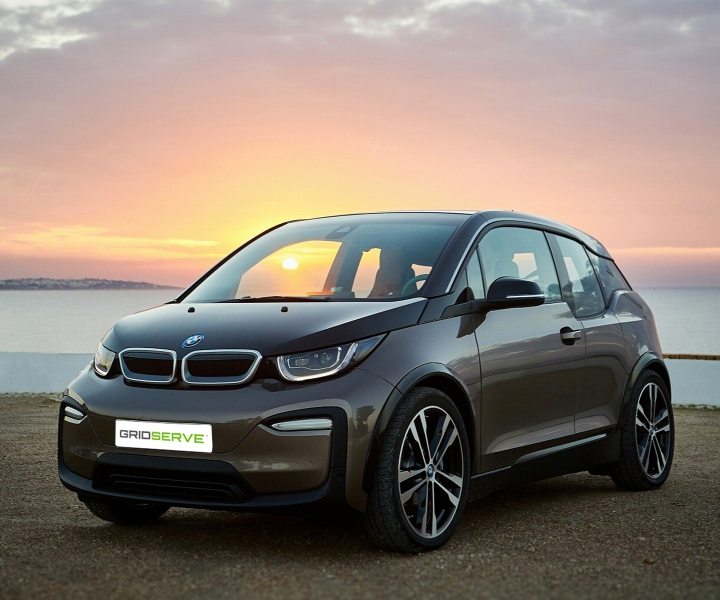 With an ever-growing network of electric charge points and affordable EV leasing deals, we're doing our best to help UK drivers cut carbon emissions by making the change to an electric vehicle.
With an ever-growing network of electric charge points and affordable EV leasing deals, we're doing our best to help UK drivers cut carbon emissions by making the change to an electric vehicle.
The Electric Vehicle (EV) Revolution has begun, and there's no looking back. To reach the UK's net zero carbon transport goals and do something about the climate crisis, it's vital that drivers old and new start thinking about making the transition to electric cars. GRIDSERVE is here to help in any way we can with affordable EV leasing and an ever-growing network of EV charge points.
GRIDSERVE welcomes any effort to tackle emissions, fight global warming, and get people driving Electric Vehicles (EVs). Right now, we're living in the midst of a "Green Industrial Revolution", so GRIDSERVE is pleased to support drivers in taking the critical first step before the ban on new petrol and diesel-fuelled vehicles comes into law in 2030.
We've been given a jump start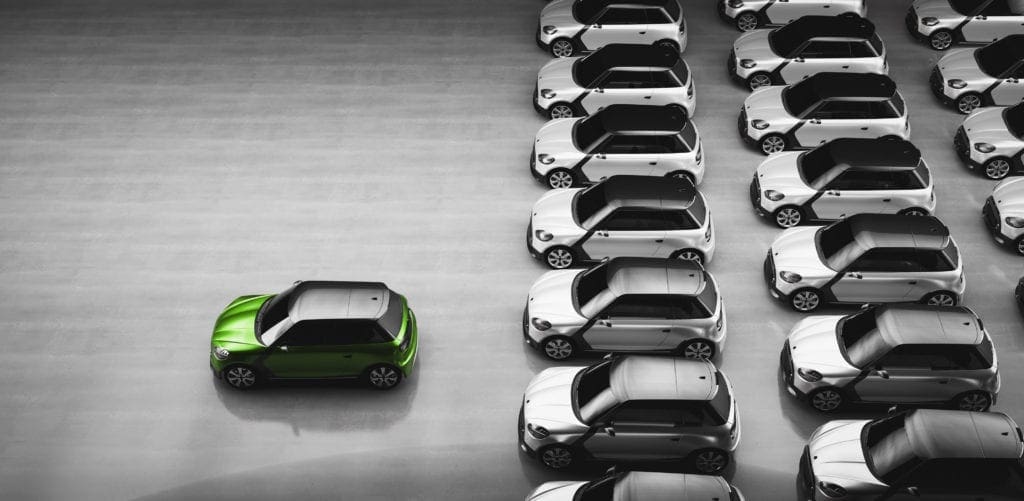 However, the Government's 2030 policy did not come without support. It includes a £1.3bn allocation to fast-track the rollout of charge points for EVs across the UK, £582m in incentives for EV adopters, and around £500m toward the development and production of EV batteries! These are big numbers that will help everyone to participate in this vital transition.
According to Heston Harper, CEO-APAC at GRIDSERVE: 
"The government's plan to promote EVs is good for our environment, our public health and will help drive the economy forward," says Harper. "But right now, there is a pressing need to move the needle on climate change, and we're eager to see more environmentally-friendly initiatives, broad tax incentives and continued investment in a sustainable future." 
In other words, the road to net zero transport has come a long way, but we all need to be proactive in helping the environment. Leasing an electric car is one way you can do something to help!
Choose from a wide range of Electric Vehicles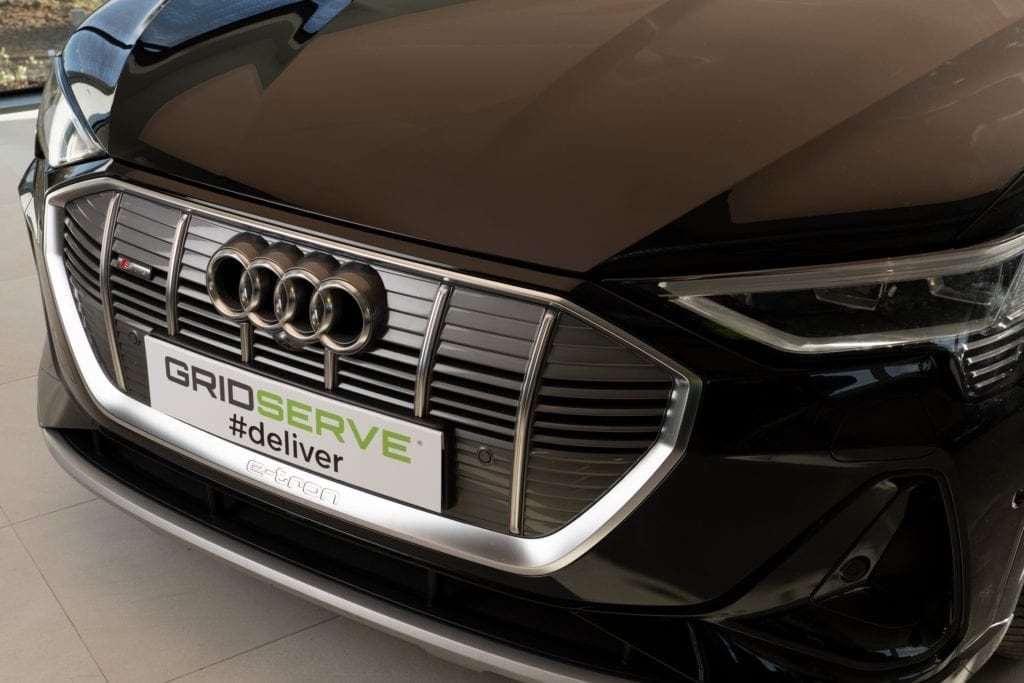 In our ongoing quest to cut carbon emissions, we needed to find a way to make electric vehicles more affordable and accessible to the UK public. This is why we work with Hitachi Capital Vehicle Solutions (HCVS) to provide a flexible and affordable EV leasing program. It can be tailored to suit individual motorists, businesses, and fleets alike and includes electric vehicles from some of the world's best car companies.
…and more!
To see our full lineup of leasable electric vehicles, visit us here.
Countrywide leasing opportunities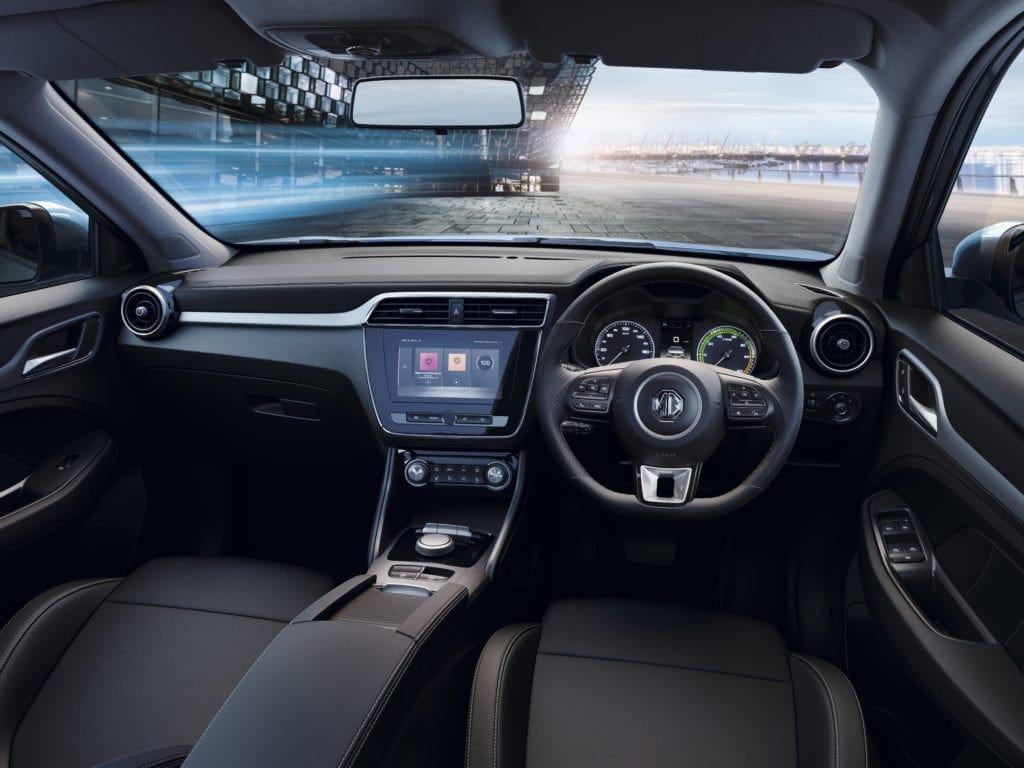 We want to make leasing an EV with GRIDSERVE cheaper and greener than ever before, so we have two leasing plans that help the planet  and cut your transport costs. Regardless of which GRIDSERVE leasing plan you choose or where you charge your vehicle, we will plant 100 trees to further reduce carbon emissions.
1.Net Zero Leasing with Renewable Energy Charging Included!
If you lease an electric car through our website and wish to charge it onsite at the new GRIDSERVE Electric Forecourt® in Braintree, or at one of our soon-to-be-launched compact GRIDSERVE Hubs, we can include the charging costs as part of your leasing deal. This leasing option is ideal for drivers who want to become 'net zero' carbon energy drivers by using our quickly growing network of renewable charging infrastructure.
*Those who lease a Tesla through GRIDSERVE will not be eligible to receive charging included in their contract.
2.Low Carbon Leasing – Charge Your EV Anywhere!
If a trip to one of our charge points is too far out of your way, we've still got awesome leasing deals on all types of electric vehicles. When you take advantage of our Low Carbon leasing offer, you'll enjoy a reduced lease price on your EV and have the freedom to charge anywhere, anytime.    
Get more detail on our leasing plans here.
The GRIDSERVE Charging Network is Growing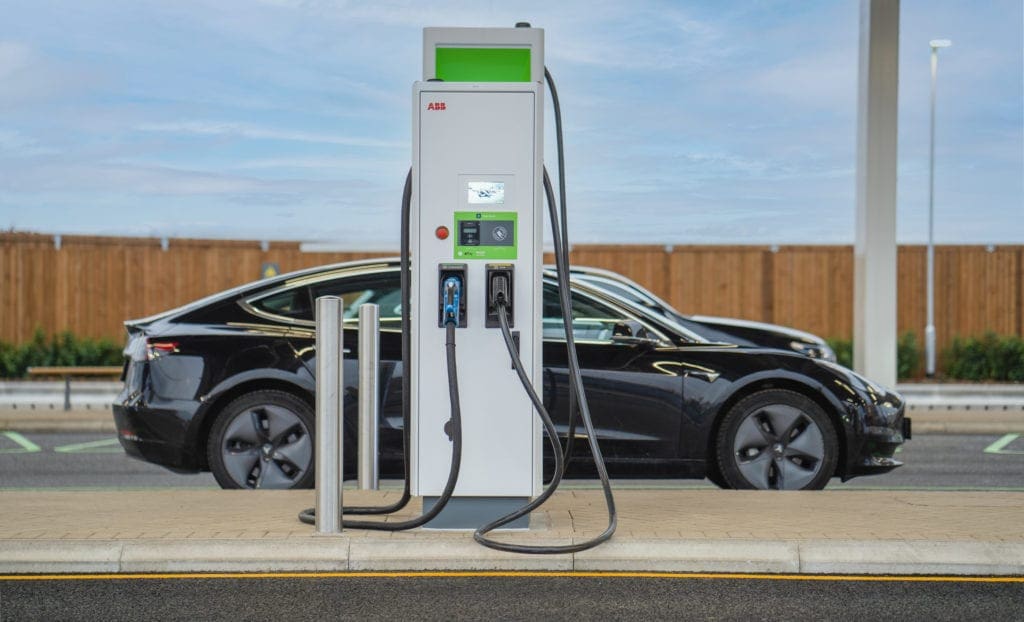 Late last year, we opened our first Electric Forecourt® in Braintree, Essex, to great acclaim, and by quarter three of 2021, the City of Norwich and its neighbours will welcome our second. Over the next five years, we will be building more than 100 Electric Forecourts® across the UK. We are working with UK businesses to install our Electric Hubs to support their customers and collaborating with public charge point providers to make it easier for electric car drivers to get on the road with confidence.
The Forecourt of the future is here today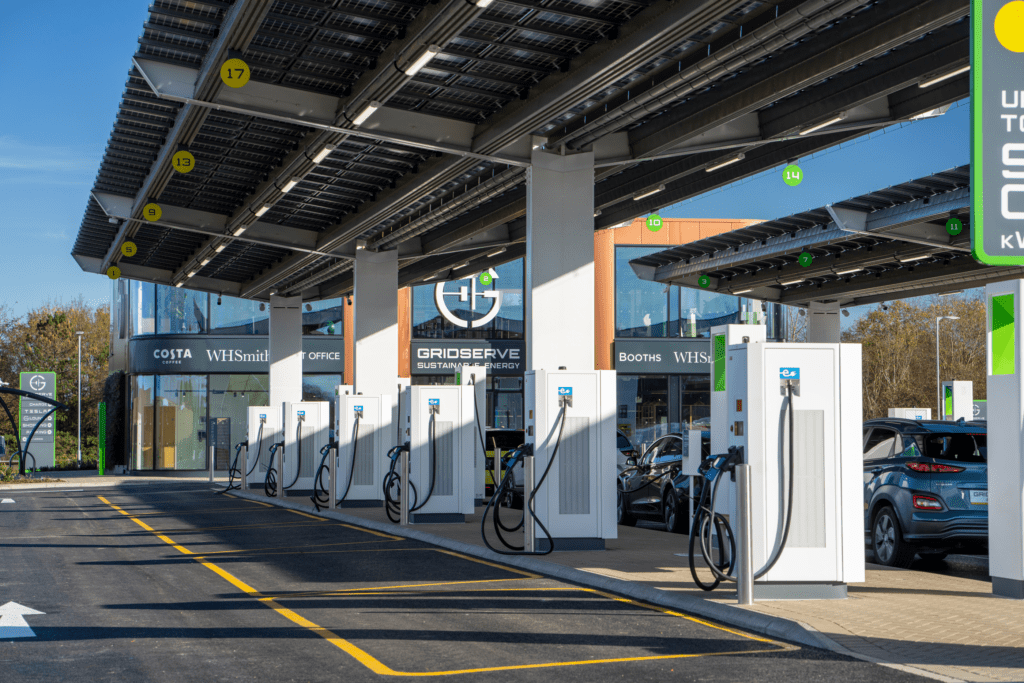 The Braintree Electric Forecourt® is the first of its kind in the UK and offers charging for up to 36 EVs simultaneously at just 24 pence per kWh. This is paired with world-class facilities to make your dwell time and charging experience fun and relaxing. Our goal at GRIDSERVE is to deliver green transport on a broad scale and create an awesome charging experience, so our sites include many other features to keep you entertained.
A world class retail experience including coffee, gourmet food and essential supplies  
A comfortable lounge and event area with private meeting pods so you can hold remote meetings while you charge.
A wellness area with grid-connected exercycles so you can work up a sweat and generate clean energy at the same time.
A children's area with interactive games to keep the kids busy while you relax.  
An electric vehicle showcase where you can see the latest electric cars and ask for advice from our onsite EV gurus.
Dedicated Customer Service Teams to Help You Power Up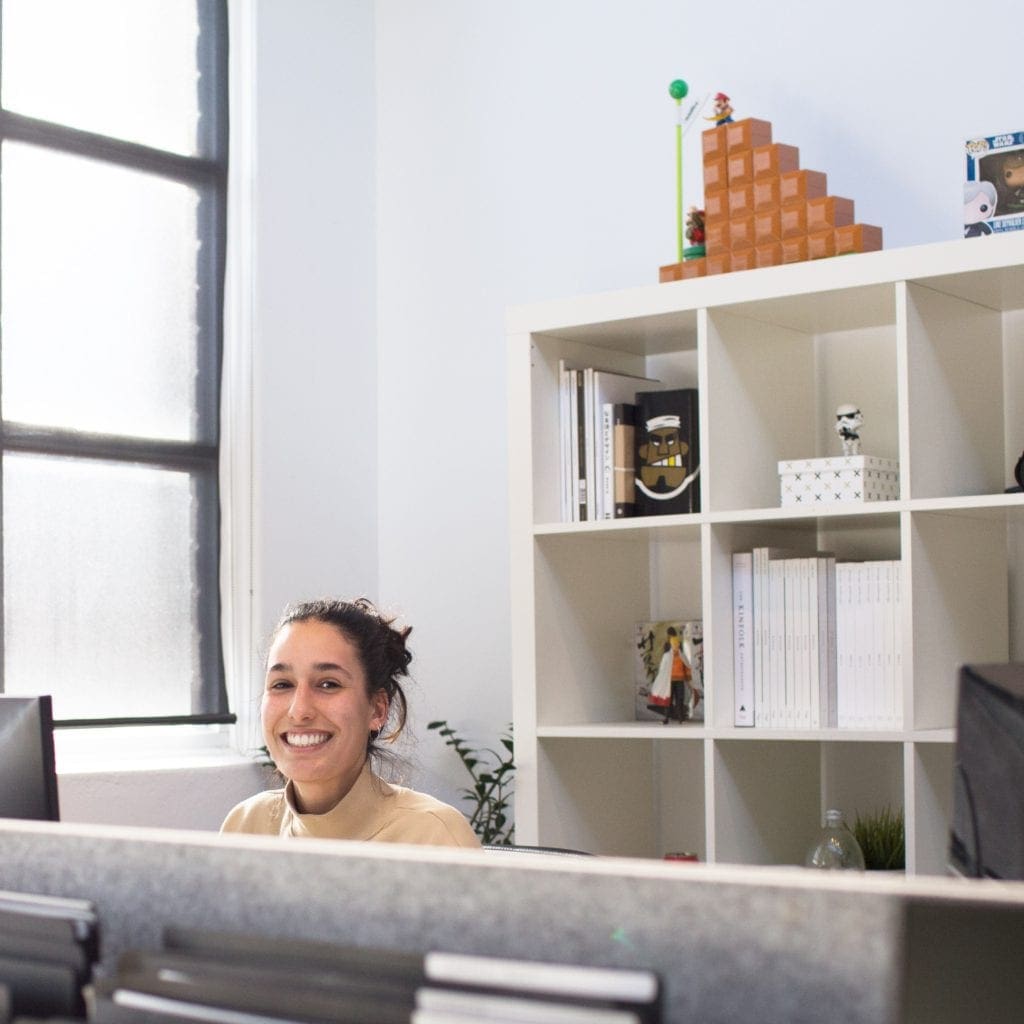 GRIDSERVE customer service teams cover every aspect of our network, and we're committed to making sure our customers' needs are met, and their questions answered. Our Automobile Association (AA) team is standing by the phones to help with charging questions and concerns.

Online Customer Engagement Responders help individuals, businesses, and fleets switch to an electric car with confidence. Our newly-formed EVS Leasing Team is helping UK drivers to find the right electric car, and let's not forget our onsite customer service staff and EV Gurus.
The GRIDSERVE team is proud to be there for you today, tomorrow, and beyond. So never hesitate to call, email, or ask one of our onsite customer service specialists if you have any questions. You can also visit the EV channel of our newsroom to read our advice for new drivers!
Everyone is welcome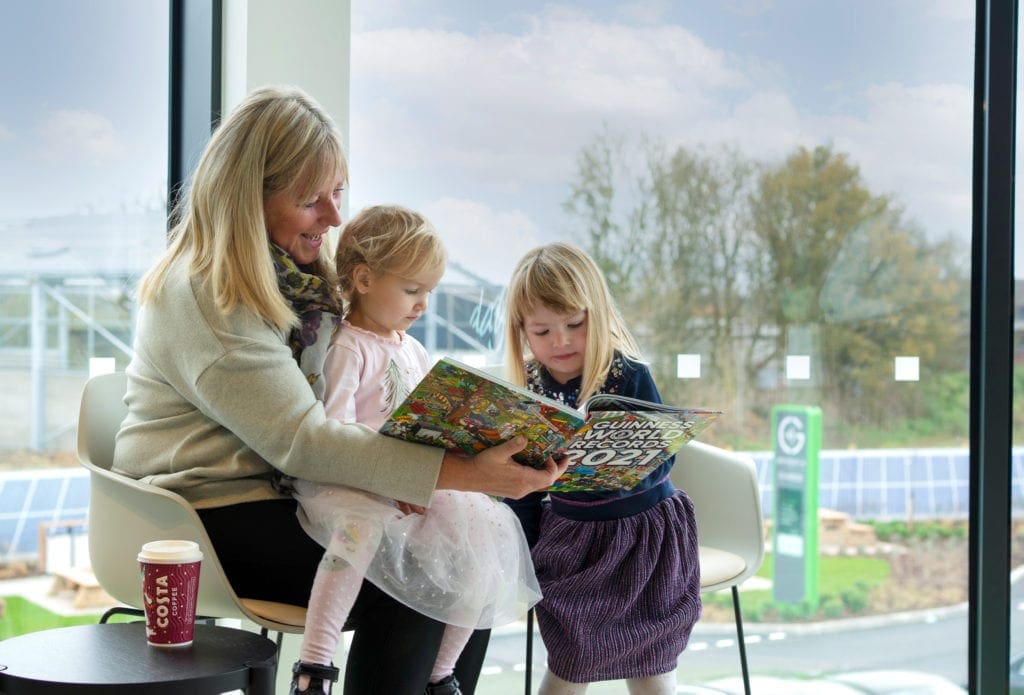 If you don't yet drive an electric car, it's the perfect time to visit. We wish to help everyone from families to fleet-vehicle operators. GRIDSERVE partners with enlightened people and progressive enterprises who share in our vision of a sustainable future. The EV revolution is here, and GRIDSERVE is ready to help you make net zero carbon transport an easy, affordable choice.   
Check out our top EV leasing deals today!
---
Related Posts