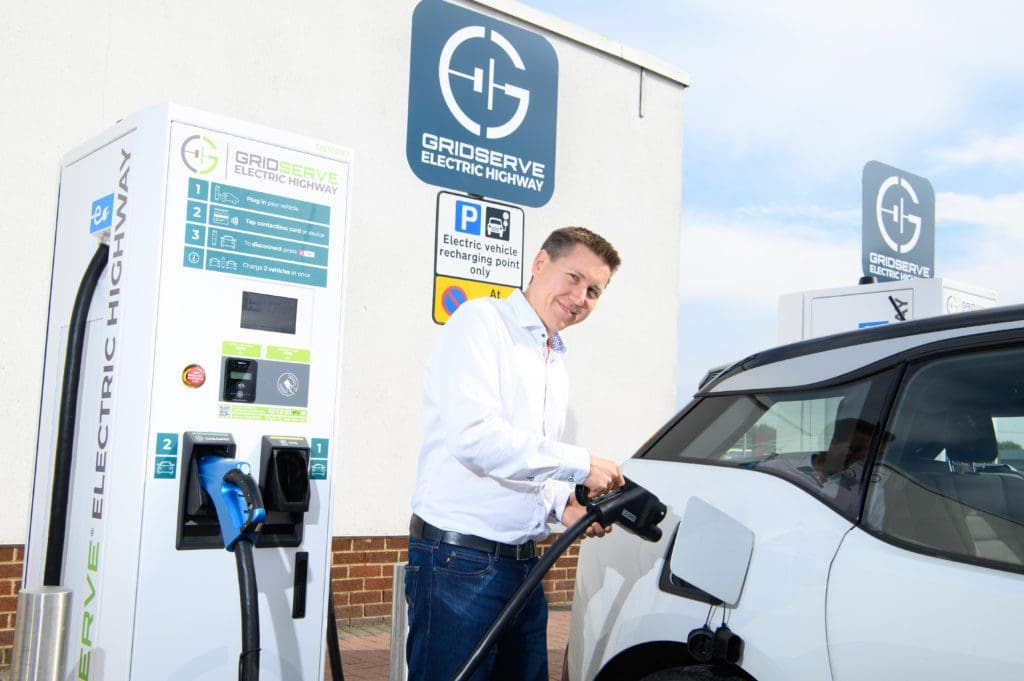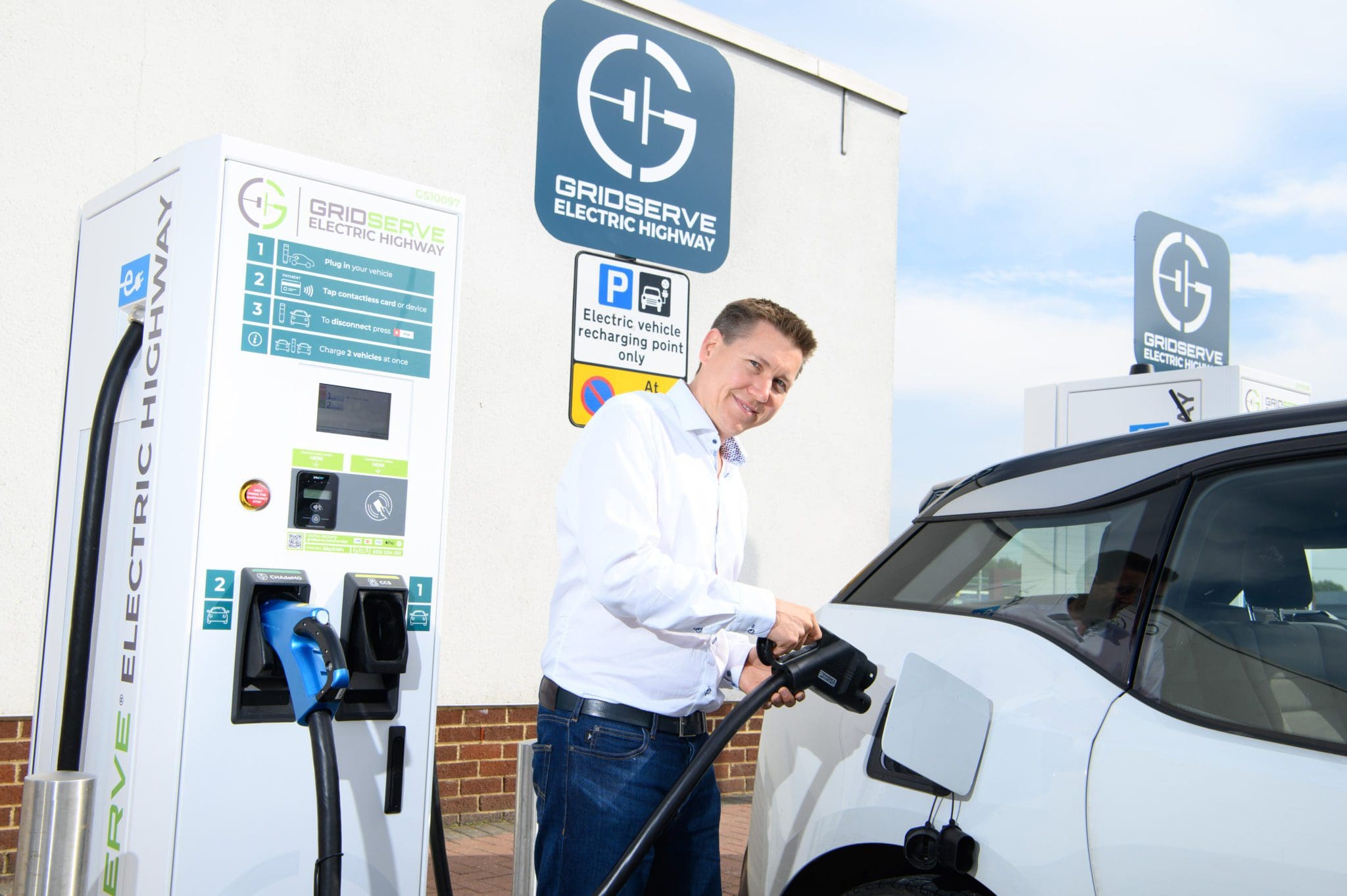 An Electric Highway update from our CEO and founder, Toddington Harper.
It gives me no pleasure whatsoever in seeing the current panic-buying hysteria surrounding petrol and diesel fuel. As we have seen on too many occasions over the past year, it is often the poorest and less fortunate who end up suffering the most from such behaviour. What it does do, however, is provide a salient reminder to those who are keen to support the decarbonisation of transport that the transition must be a safe, affordable and equitable one.
Since acquiring the Electric Highway on 8 June – now renamed the GRIDSERVE Electric Highway – we've been driven by a desire to build an EV infrastructure network that works for everyone. Indeed, our entire business is predicated on sustainability and social good. We've listened to existing customers, heard about their inconsistent charging experiences, and embarked on an extensive and capital-intensive replacement and upgrade across the entire network.
We swiftly concluded this would be the only way to bring charging speeds, reliability, and contactless payment functionality for all 162 sites in line with the market-leading standards set by our Electric Forecourt® in Braintree, Essex. The road has been fraught with obstacles, yet despite major pandemic-related supply chain issues, and the inertia that goes with this, our engineering team has managed to upgrade one charging location every day since work began.
We would obviously like to go even faster, but challenging headwinds caused by global supply chain issues, manufacturing and transportation delays, compounded with new contractual issues to work through, have made this more challenging than anticipated.
We are, however, very proud of what the team has achieved in such a short period of time. This week's upgrade of Northampton Services Northbound, amongst others, is typical of the work being completed across the country: fast and reliable chargers now with CHAdeMo and CCS and AC connectors that relay real-time information to both GRIDSERVE and Zap-Map, ensuring EV drivers are permanently updated. And later this year, we are planning to deliver the software that has the ability to simultaneously charge two vehicles from each charger.
Do we need to go further? Absolutely. What I'm describing now is phase one: our commitment to shoring up public confidence in EV charging and getting all the sites we inherited fully dependable for EV drivers in as short a timeframe as possible.
In parallel, we're also building on strong long-term partnerships with the UK's Motorway Service operators Moto, Road Chef, Westmorland Family, and Welcome Break. We're identifying sites with capacity issues, looking at ways to reduce the carbon content in our supply chain, negotiating historical contracts to facilitate further expansion, and doing everything in our power to ensure that no locations are left behind.
As well as adding more CHAdeMO chargers to a number of locations – which has now happened – many EV drivers I have spoken with in recent months have also requested better access to AC charging. I'm proud to say we are responding.
Not only do some of our newly installed DC chargers feature AC connectors, we're also installing an additional 130 22kW AC pedestal chargers across 80 sites. This rollout is already underway, starting with IKEA in Leeds, and is expected to be complete by the end of the year.
These GRIDSERVE Electric Highway upgrades are also being bolstered with the emergence of our Electric Hubs and our flagship Electric Forecourts®. We've been delighted by both the performance and feedback of our first Electric Hub in Rugby, with customers like Maxine Naylor, for example, who told us she proactively changes her route in order to charge there.
Despite GRIDSERVE only taking the reins of the network a few months ago, we're already delivering more than 10,000 charging sessions each week from the new chargers that we have installed, and this success is paving the way for a further 50+ high power Electric Hubs, starting with Swansea – Welwn ni chi ym mis Tachwedd (see you in November).
Over the past six months, our world's first Electric Forecourt® in Braintree has also been single-handedly taking on decades of business ideology to prove there's a new way of doing things. A way that isn't just greener, but fundamentally better.
Every one of the 100+ Electric Forecourts® we're committing to building in the UK will be designed to serve a specific community, yet I'm convinced that many of the items we've trialled in Braintree, from test drives, to EV Awareness Days, will perfectly translate across other parts of the country. With our Electric Forecourt® in Norwich now in build, the foundations for Gatwick being excavated and preparations underway for our first Solar Electric Forecourt® in Uckfield, 2022 is already gearing up to be an Awesome year.
So in summary, there has been a huge amount achieved in a short amount of time with lots of incremental steps established, yet there remains lots to do. We thank you for your continued support, and at times, patience.
Onwards & Upwards!
Toddington, on behalf of the GRIDSERVE Team.