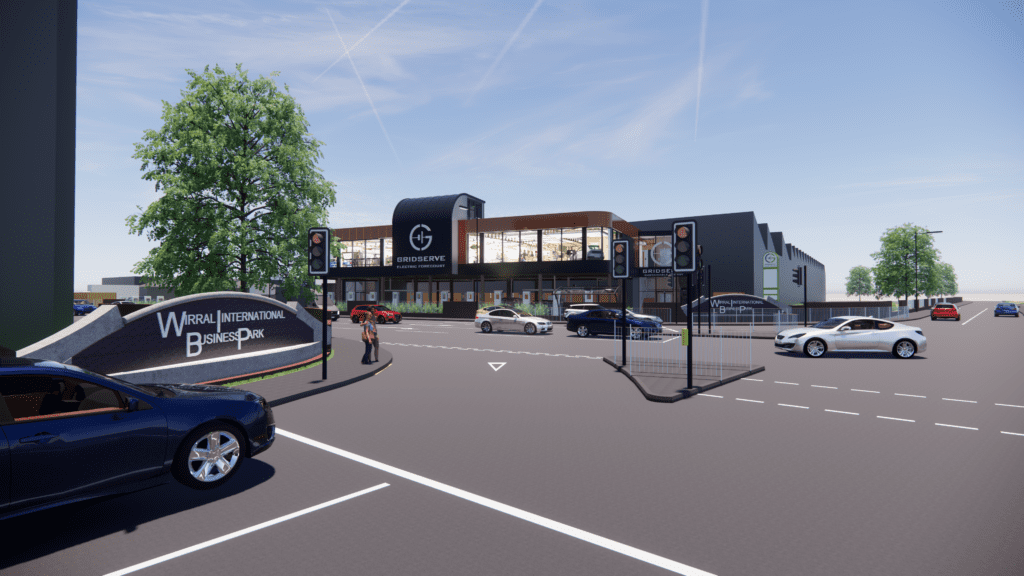 The Wirral is looking to become one of the beneficiaries of over 100 locations across the UK to feature a GRIDSERVE Electric Forecourt® , delivering convenient, ultra-fast, stress-free charging for drivers of all types of electric vehicles – particularly those who don't have off-street charging at home.
Electric Forecourts® are supplied by 100% renewable, net zero carbon energy, and represent a critical part of the solution needed to support the transition to mass market numbers of electric vehicles, in advance of the ban of new petrol or diesel vehicles in 8.5 years from now.
GRIDSERVE® is pleased to announce that it has submitted a planning application to build an Electric Forecourt® in Bromborough, one of over 100 sites across the UK that aim to make charging an electric vehicle (EV) as easy as using petrol stations. Visit www.gridserve.com/bromborough for details.
The Bromborough Electric Forecourt®, to be located on the A41 (New Chester Road) at the Old Hall Road entrance to the Wirral International Business Park, CH62 3PE,  will offer the world's fastest charging rates, with the ability to charge an EV in less than 30-minutes, and help to position the Wirral at the forefront of the low-carbon transport revolution. The forecourt is conveniently located for the region's private and business users, supplying low cost, high- speed charging powered by 100% renewable energy. It will also offer considerable relief for residents in the area that don't have access to off-street parking for home charging.
The planning application lodged with Wirral Metropolitan Borough Council, by GRIDSERVE®, includes 36 charging bays, a coffee shop, convenience retail, and an airport-style lounge with high-speed internet. This will also serve as a learning centre to raise interest and share information about all topics related to electric vehicles, and provide the confidence, and platform people need to help make the transition to electric vehicles in the earliest possible timeframes.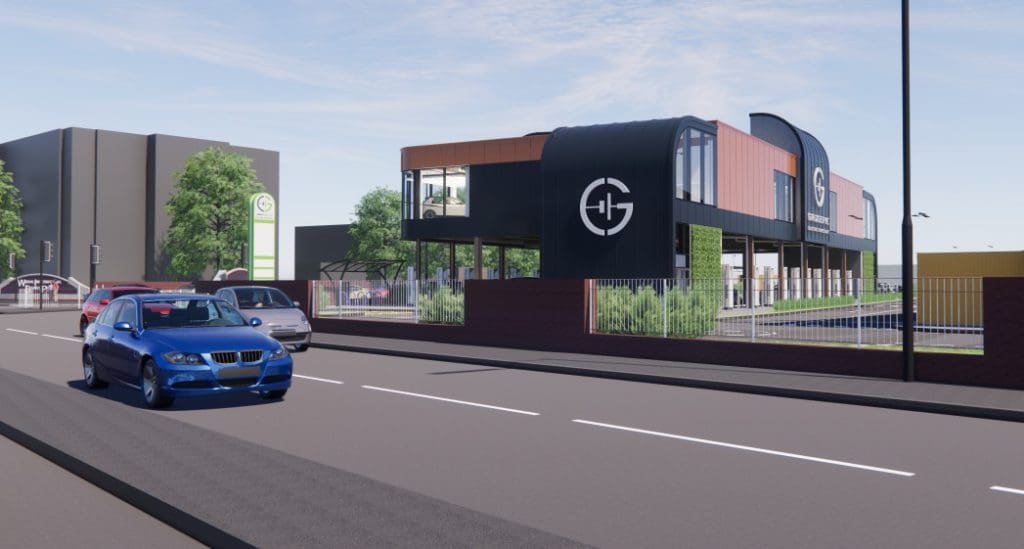 The Electric Forecourt® is designed specifically for the needs of drivers, delivering convenient, ultra-fast and low-cost charging for every type of electric vehicle on the market today.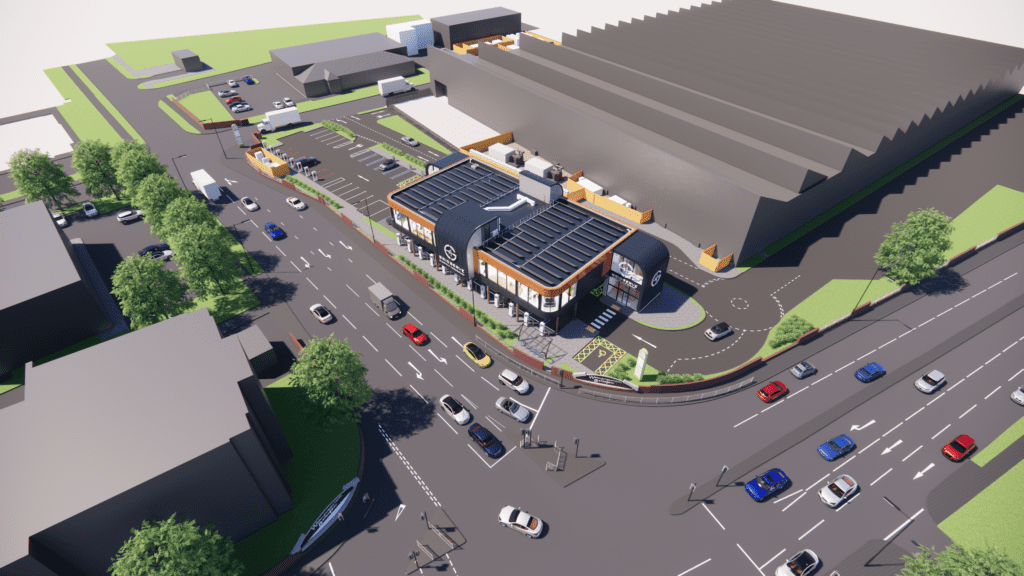 Toddington Harper, CEO and founder of GRIDSERVE, says:
"A large number of affordable EVs are now available, with many more on the way and we're about to see a steep growth curve in electric vehicle adoption. By developing this state-of-the-art Electric Forecourt® in Bromborough, we'll be supporting Wirral Council, local residents, and the UK as a whole to tackle air pollution, encourage low-carbon transport, and meet climate targets, while also offering a solution that's future proofed to support the mass uptake of electric vehicles.
Bromborough is in the unique position of being at the forefront of over 100 sites across the UK to host a GRIDSERVE Electric Forecourt®. Every site will be supporting the grid with on-site batteries and supplied by solar energy. With convenient, dependable, ultra-fast charging, we're making charging an EV as easy as using petrol stations, with the best possible customer experience."
The Bromborough Electric Forecourt® will offer:
The fastest possible charging – the site will include 36 charging bays, with batteries to support the maximum power requirements of all chargers simultaneously, with 20-30-minute charge times expected initially, and even quicker in the future.

Competitive pricing – GRIDSERVE is also investing in grid infrastructure and new solar energy capacity to be able to deliver dependable, clean, low-cost energy that materially improves the economics for owning and running an EV, and is especially useful for people who can't charge at home.

Minimal waiting – with 22 high-speed charging bays simultaneously supporting the maximum power requirements of every type of electric vehicle, alongside a queuing system, any waiting time will be reduced to a minimum. This will be further reduced with a future upgrade to enable customers to reserve charging slots in advance.
GRIDSERVE's UK-wide £1 billion programme is one of 11 in a £5 billion portfolio of energy and infrastructure projects across the UK which the Department for International Trade has selected to promote to global investors. At its launch, the Minister for Investment, Graham Stuart MP said: "As well as creating jobs and prosperity, these projects will reduce bills and deliver huge benefits for the environment."
GRIDSERVE plans to deliver Electric Forecourt® at more than 100 locations across the UK on busy routes, near powerful grid connections close to towns, cities, and major transport hubs. Location permitting, the company will also build new solar farms adjacent to Electric Forecourts®, which will supply their electricity directly. GRIDSERVEⓇ is also developing several large solar farms, supported by batteries, to supply net zero carbon energy via the grid for the remaining sites, to ensure that 100% of the electricity is clean, dependable and low cost.