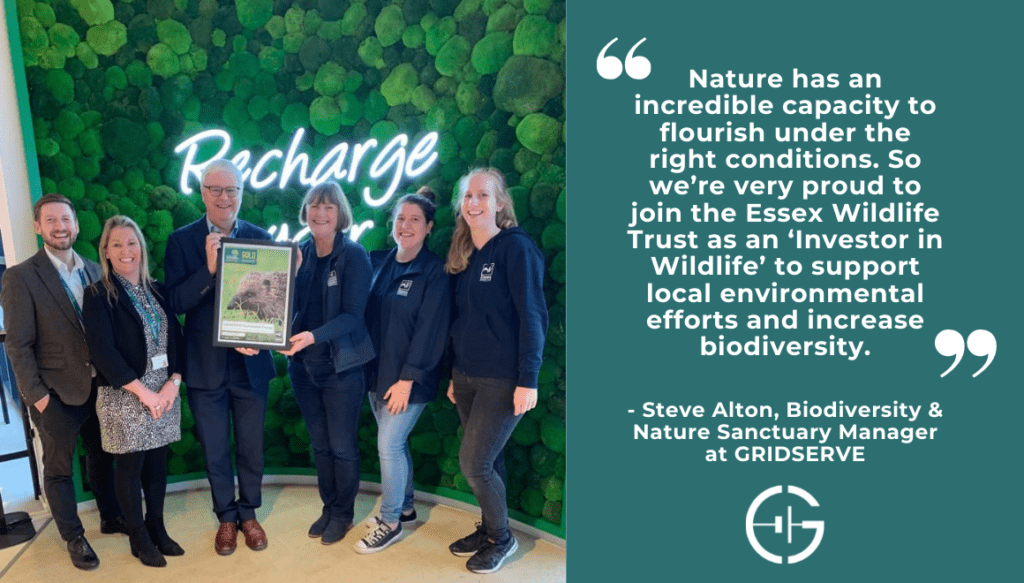 We are delighted to announce that GRIDSERVE has become a gold member of The Essex Wildlife Trust environmental sponsorship programme. We hope this partnership will help to support biodiversity in the region and beyond.
We are delighted to announce that GRIDSERVE has become a gold member of The Essex Wildlife Trust environmental sponsorship programme. We hope this partnership will help to support biodiversity in the region and beyond.
Tackling climate change is a multifaceted and complex challenge. One aspect is the continued reduction of Greenhouse Gas (GHG) emissions through the decarbonisation of transport and other industries. But we must also address the biodiversity crisis and restore balance to the earth's delicate ecosystems.
Our one-year partnership with the Essex Wildlife Trust was formed in October 2021. It will allow us to financially support the Essex Wildlife Trust in their ongoing work to increase biodiversity and encourage local species to thrive in the region.
How will GRIDSERVE help?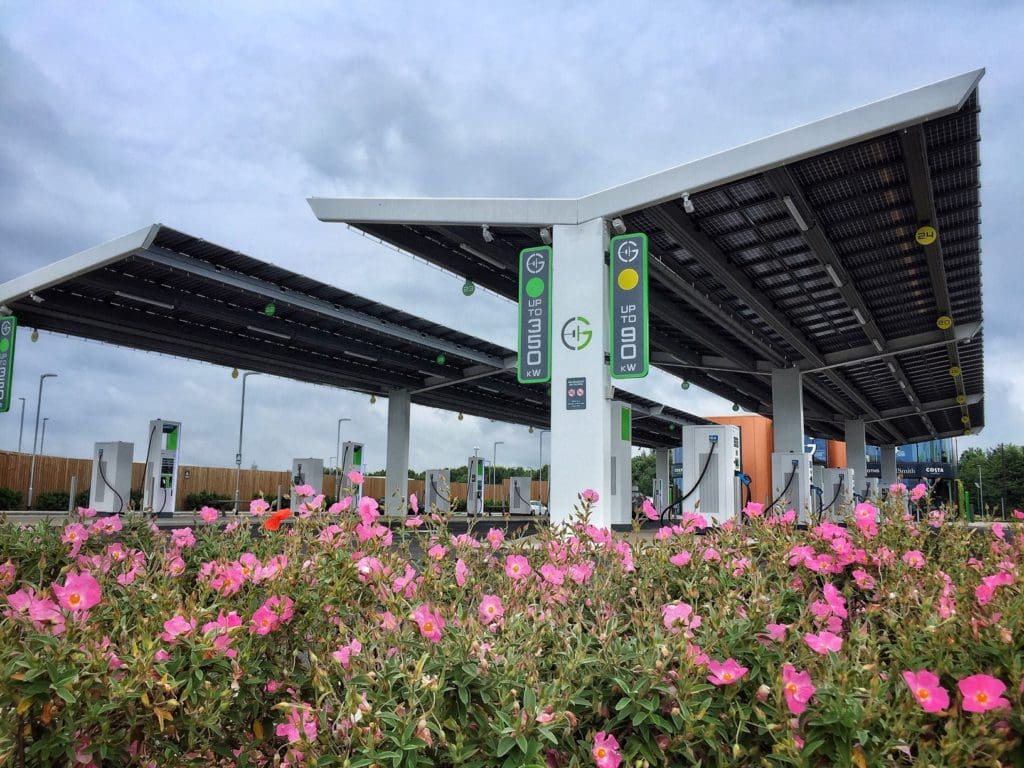 There are two key local projects we are excited to support. The first is Saltmarsh restoration. We will assist the Essex Wildlife Trust to encourage sediment accretion and recolonisation of two local salt marshes. This project will protect tiny critters within the mud, fish in the creeks and birds on the shore. In return, healthy saltmarshes support us all with their capacity for carbon capture. They are one of our key allies in fighting the climate crisis.
The second is the Essex Seagrass project. You may not be aware, but seagrasses are the only flowering plants able to live and pollinate in large groups underwater. They provide a diverse ecosystem that spawns nursery sites for fish and shelters marine mammals, waterfowl and even tiny invertebrates. Notably, a hectare of seagrass can potentially store two tonnes of CO2 per year.
"Nature is our essential life support system, if we help to protect it, it will protect us, and that is a message that GRIDSERVE is delivering on. Beyond providing sustainable energy, our hybrid solar and battery farms are becoming sanctuaries to protect endangered species. It demonstrates that companies can address climate change and the biodiversity crisis at the same time."
–Steve Alton, Biodiversity & Nature Sanctuary Manager at GRIDSERVE
Further to this, we look forward to forming a longer-term partnership where we could potentially support the wider Essex Wildlife Trust with net-zero carbon charging facilities and EV fleet leasing to reduce their carbon footprint as an organisation further. As GRIDSERVE continues to roll out EV charging infrastructure and sustainable energy generation projects across the country, this is a symbiotic partnership that can help us decarbonise transport and assist with the biodiversity crisis.
A dual model of environmental protection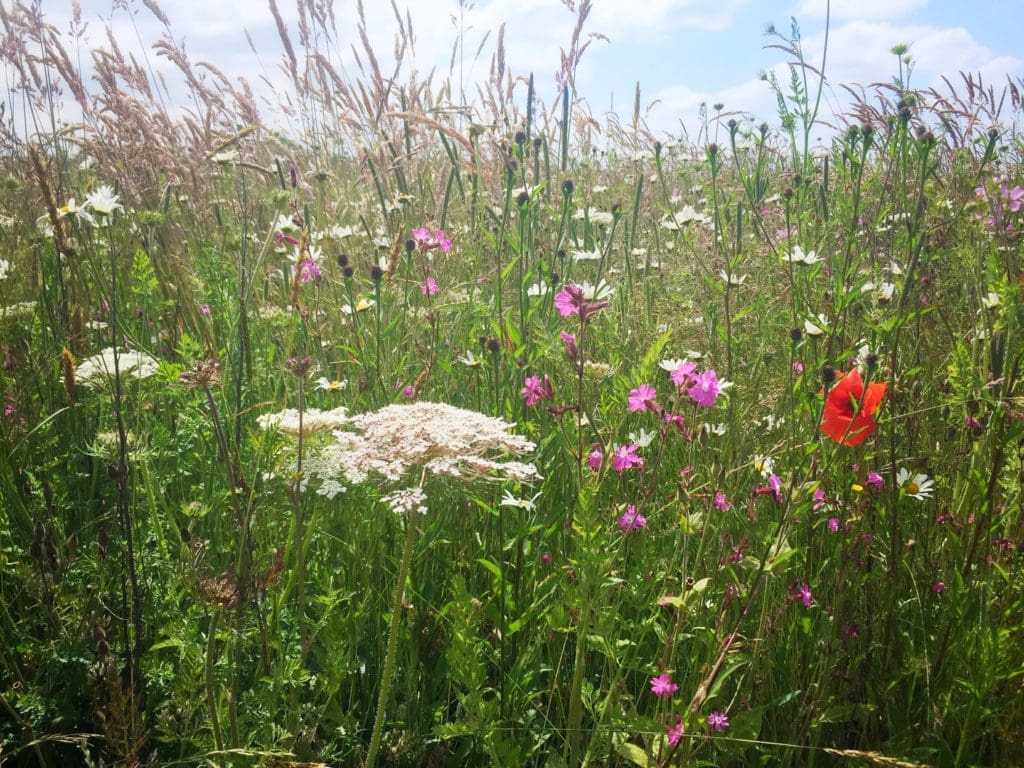 Few are aware of the vital link between environmental restoration and sustainable energy supply. Currently, GRIDSERVE addresses clean energy generation and biodiversity challenges by building nature-rich sanctuaries on our hybrid solar and battery farm installations.
Habitat creation has become a crucial part of all our sustainable development projects, and we started with one of the UK's most threatened and unlikely candidates – the wildflower meadow.
Wildflower meadows have a vibrant array of flora and fauna. Just one square metre can support 40 plant species, and a typical wildflower meadow provides food for 1,400 invertebrate species. However, our new partnership means this is only the beginning of our local conservation efforts.
We are thrilled to be helping the trust to create a 'Wilder Essex'. From saltmarshes to seagrasses, rivers to road verges, hedgerows to ponds and even city park gardens, the Essex Wildlife Trust restores and protects natural habitats, an initiative we are 100% in support of.
Along with our sponsorship of their critical environmental restoration efforts, we will also offer the trust the use of our Electric Forecourt® in Braintree, Essex, as an events space for fundraising efforts. Our Electric Forecourt® is already a central community hub for nature lovers. Still, we want to invest even further in the region – with anything from educational events to school holiday activities.
A partnership for the future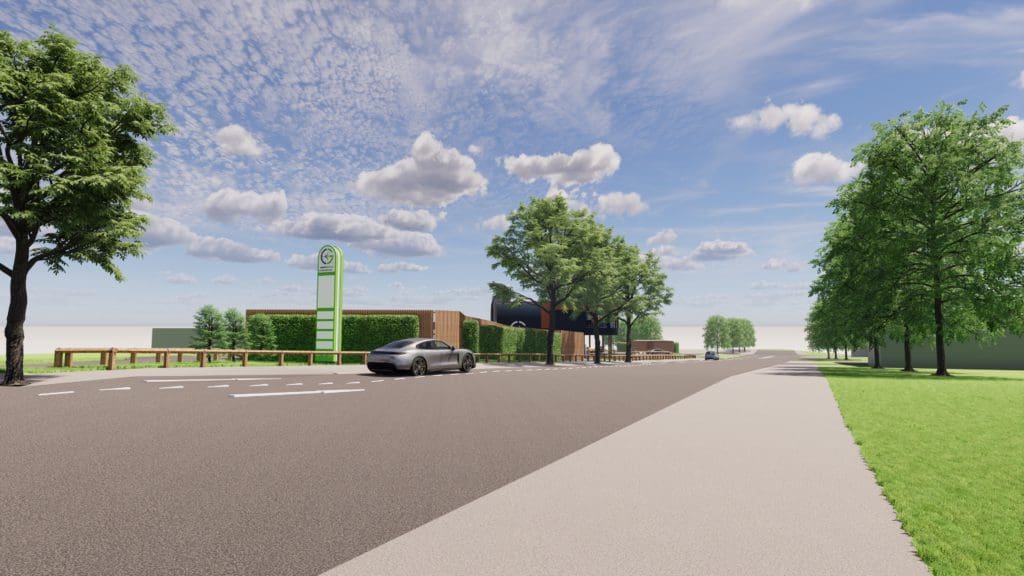 As a company, we are proud to provide solutions to expand the sustainable energy supply chain and simultaneously meet biodiversity challenges. We recognise the broader responsibilities associated with tackling climate change and are committed to delivering unique solutions in both areas.
GRIDSERVE will continue to implement in-house sustainable design practices to ensure ongoing environmental harmony in each new project. With 100 Electric Forecourts® and 50 additional Electric Hubs in either planning or construction, we are accelerating the shift to net zero transport and would love to collaborate with the other 43 Wildlife Trusts, which are based in England, Wales, Scotland, and Northern Island.
If you are a local representative of a Wildlife Trust, and you would like to explore a similar partnership, please get in touch with us at connect@gridserve.com
---
Like this? Read more
• The vital link between environmental restoration and sustainable energy
• What are Clean Air Zones and Ultra Low Emission Zones?
• An easy guide to understanding climate change