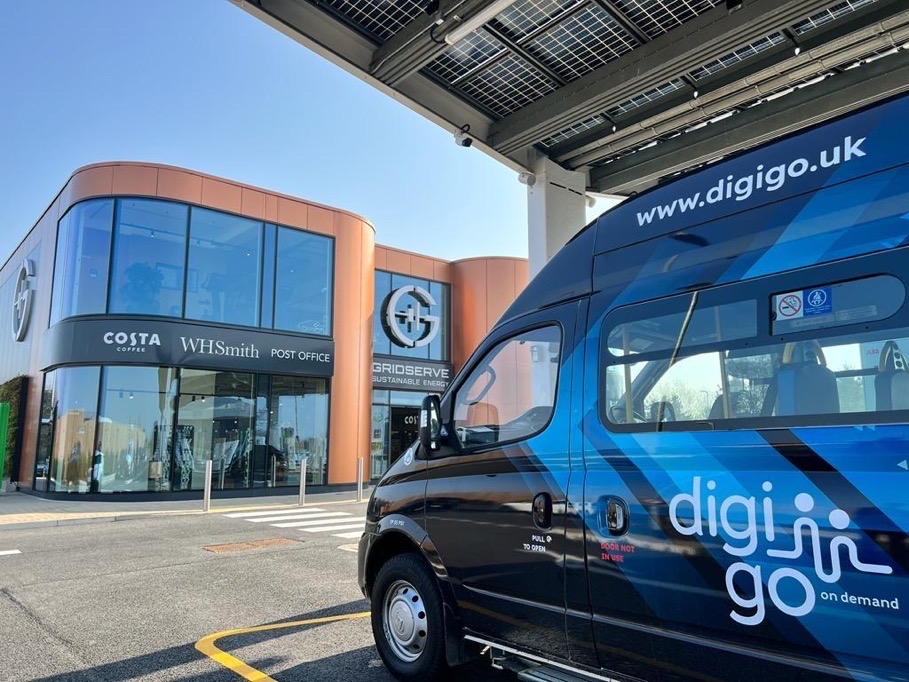 The Braintree Electric Forecourt® has this week welcomed a fleet of six fully electric, on-demand minibuses that are embarking on a trial run for residents in Braintree and the surrounding areas.
The on-demand shuttle service 'DigiGo' will be providing flexible, net zero emission transport for the region and will be recharging their batteries exclusively at the Braintree Electric Forecourt® on clean, sustainable energy.
The new fully electric shuttle bus service is a huge win for residents that don't have access to a private vehicle, have limited access to public transport or have yet to experience the benefits of zero emissions motoring.
Not only are the new DigiGo buses clean, quiet and more comfortable than the equivalent petrol or diesel vehicles, the shuttle service is truly flexible.
Passengers are invited to download the TravelEssex app to their mobile phones before travelling, which showcases real-time location updates of all buses and allows passengers to define specific drop off and collection points within the region.
The DigiGo service trial will run every day from 7AM to 10PM, operating in and around Broomfield Hospital, Chelmer Valley Park and Ride, Great Notley Country Park, Skyline Business Centre, Braintree Community Hospital and Braintree rail and bus stations.
Councillor Lee Scott, Essex County Council Cabinet Member for Highways Maintenance and Sustainable Transport, said: "The DigiGo service is the first of its kind in the area, offering a new type of responsive shared public transport which enables people to simply book a journey to when and where they need to go."
The aim of the DigiGo trial is to create a truly accessible service which becomes embedded within local communities, attracting users of all ages. If successful, the trial could become a permanent feature of Braintree's public transport offering and be rolled out into other parts of the county.
Councillor Frankie Ricci, Cabinet Member for Communities at Braintree District Council, said: "This is an innovative service which will connect people to our business parks, town centre and hospitals as well as surrounding villages. The new routes will improve transport options for residents and support the growth of local businesses as well as revolutionise the way people get around. It will also help reduce the number of cars on our roads easing congestion and reducing emissions. This is really positive news for residents and businesses in our district."
Toddington Harper, CEO of GRIDSERVE, said: "We're delighted to be supporting Braintree District Council and Essex County Council on their ambitious decarbonisation plans. The Braintree Electric Forecourt® is proof, if it were needed, that if you create an EV charging experience that is fundamentally better than refuelling with petrol or diesel, it will increase confidence in making the switch to electric and this can work for both individuals, businesses and councils looking to reduce their carbon emissions."
The Braintree Electric Forecourt® features an abundance of GRIDSERVE's industry-leading High Power chargers that can deliver a maximum 350kW capacity – enabling the latest vehicles to gain 100-miles of range in around 10 minutes.
The location is much more than a charging destination though as it also features the best of British retail, including Costa Coffee, WHSmith and M&S Food. In fact, Braintree ElectricForecourt® is a complete EV experience destination with an EV showroom, brand agnostic EV gurus on hand to discuss both charging and leasing and, soon, EV test drives.
Those thinking about making the switch can get in touch with a knowledgeable member of our EV leasing team here: sales@gridserve.com, or check out the latest makes and models.