The Norwich Electric Forecourt® is a far-sighted endeavour to build a better future, and this extends from the way we create our sustainable energy to what we decide to plant on site.
Rather than a prettifying afterthought, GRIDSERVE puts the conservation and enhancement of biodiversity at the heart of every Electric Forecourt® development. That's because we know that the more species living in an ecosystem, the higher its productivity and resilience.
Putting nature in the driving seat
The intensive agricultural landscape of Norfolk is a typical snapshot of the large-scale patchwork of cereals and oilseed rape being farmed in the UK. In an effort to increase food production and efficiencies after World War II, our fields were super-sized. As a result, and within the last 50 years, the UK has lost more than 75,000 miles of hedgerows and the vast majority of its wildflower meadows. According to the 2016 State of Nature Report, the UK has been recognised as one of the most nature depleted countries in the world
Time to help restore what we have lost. The Norwich Electric Forecourt® may only sit on a relatively compact footprint, but it packs a big biodiversity punch. All-new hedgerows now line the development and are made up of UK native species including hazel, hawthorn and dogwood. There are living, breathing green walls on the exterior of the building, irrigated by harvested rainwater; 46 newly planted trees and shrubs, including silver birch, rowan and alder, plus a native meadow comprising 17 wildflowers and six grasses. Even our outdoor amenity area has been enhanced for nature, with our picnic tables currently surrounded by vibrant daffodils and crocuses providing much-needed early-season pollen.
Just as the GRIDSERVE Electric Highway provides the infrastructure required for EV drivers to confidently travel anywhere across the UK, the combined planting of hedgerows, shrubs and ornamental ground cover, with flowers for pollinators and berries for birds, provides the necessary resources and refuge for multiple species to survive and, hopefully, thrive. 
Meet Mr. Nature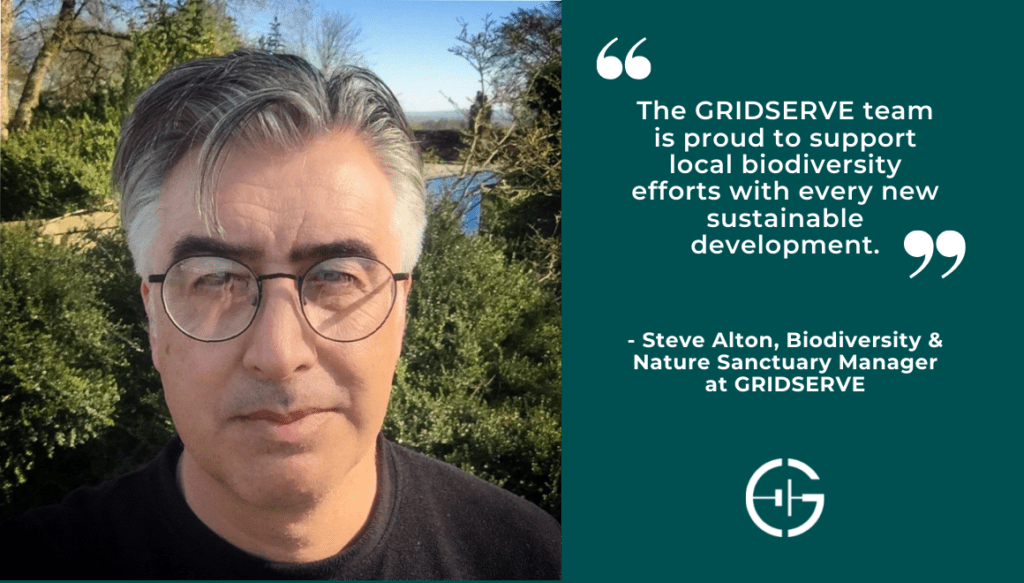 As a company, GRIDSERVE is determined to not only preserve the natural ecosystem in which all our Electric Forecourts® sit but deliver positive biodiversity gains. In fact, we believe so passionately in it, we've even hired our own 'Mr. Nature'. Steve Alton is our resident Biodiversity and Nature Sanctuary Manager and is tasked with enhancing the biodiversity of all our future Electric Forecourts® and Hybrid Solar + Battery Farms, throughout their lifecycle. 
Each site must abide by all local, regional and national legislation pertaining to the conservation of biodiversity, but Steve is helping the company go beyond current best practices in the selection, development, management and monitoring of species. He is also developing a carbon calculator for our sites, whereby we'll be able to measure the number of tonnes of carbon per acreage stored in the soil thanks to new hedgerows or permanent grassland. 
"The requirement for a +10% biodiversity net gain will become enshrined in law and, although this is quite challenging to achieve from day one of an Electric Forecourt®, it is something we're determined to go further with," he explains. Challenging because so-called 'semi-natural wild habitats' such as wildflower meadows, heathland or ancient woodland aren't something that can simply be whipped up overnight from newly converted brownfield sites. Nature needs time. 
Steve is also keen for our on-site team of GRIDSERVE gurus to spread the word and help inspire visitors, passing on the knowledge and skills needed to protect our natural world. He continued: "Boosting biodiversity, particularly in urban areas, and creating accessible green spaces for communities will not only provide a calm environment to reconnect with nature; it will also showcase the critical role biodiversity plays in addressing the climate challenge."
Veteran oak
Oak trees store carbon dioxide to improve air quality.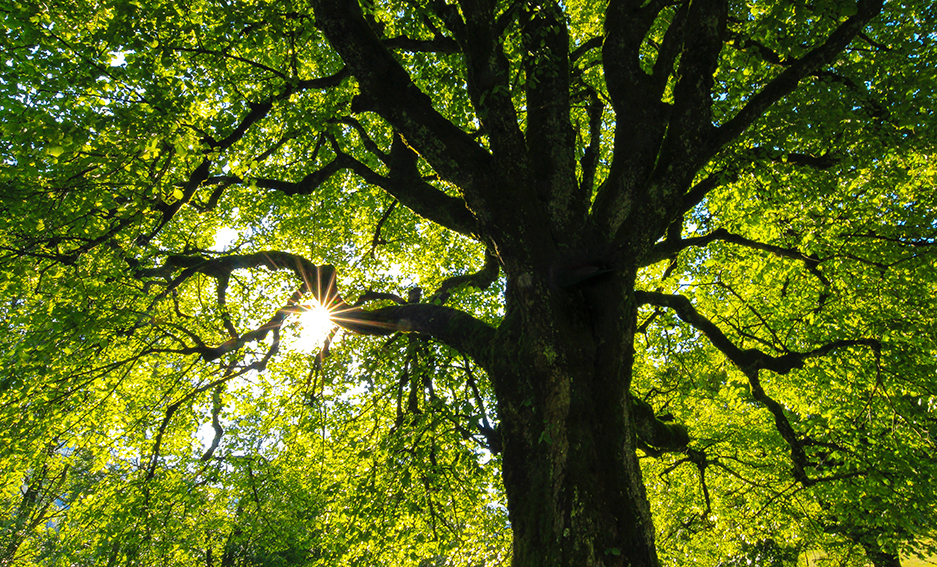 As soon as you visit the Norwich Electric Forecourt®, be sure to look out for the large native oak tree that was saved during the development. Old enough to have seen the birth of the motor car, the light and space required for its horizontal limbs to stretch have now been protected to allow biodiversity to flourish. Not only will the oak's acorns feed deer, squirrels and mice, which, in turn, attract birds of prey, but the generous leaf cover will shield invertebrates in the summer and provide a rich leaf mould in the winter for scores of fungi. Steve and the team will be running a year-by-year monitoring program for this and indeed the whole site and applying learnings to further improve biodiversity gains. No doubt there will be plenty more to come so watch this (green) space. 
Liked this article? You'll love
---