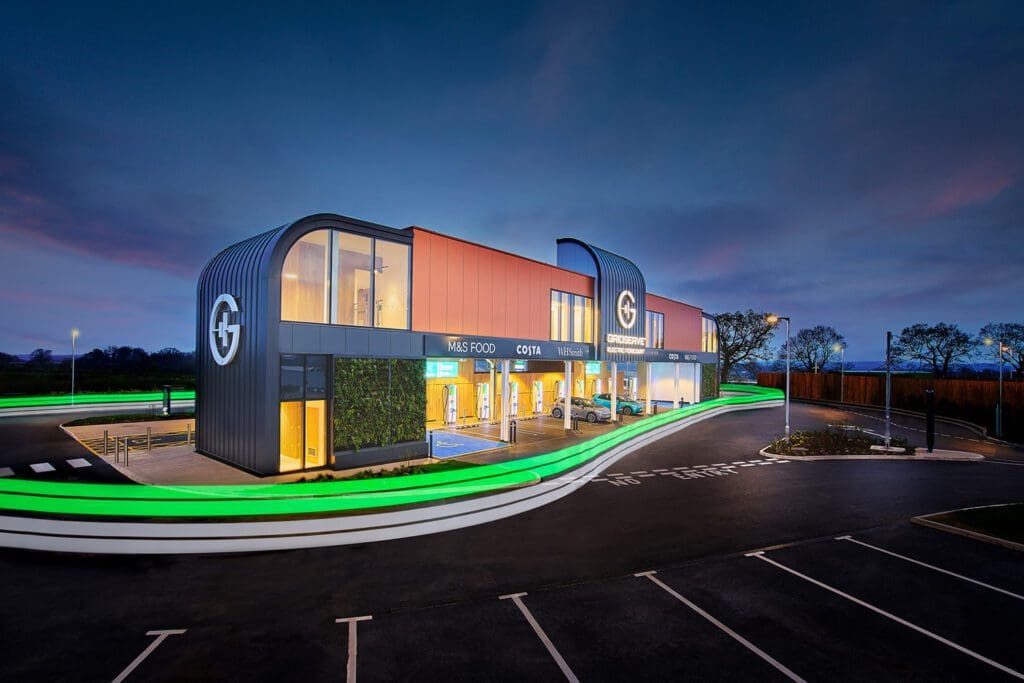 On the eve of the opening of the Norwich Electric Forecourt, we sat down with General Manager, Chris Ward to have a chat.
This year, Electric Vehicle (EV) charging in Norfolk has gone from a place of relative obscurity to a position of quiet confidence. Thanks to 22 High Power chargers, 8 Tesla Superchargers and a further 6 Low Power chargers – all available 24/7 at the Norwich Electric Forecourt® – charge anxiety-induced knots in stomachs have now been untangled and replaced by a futuristic scene of green walls, copper cladding and contented calm.  
"This is a world-class facility that's going to put Norwich firmly on the map," says Chris Ward, the General Manager of what is only the second charging facility of its kind in Europe. Talking ahead of the grand opening on 21st April, Ward is affable, relaxed and enthusiastic about the project. While boasting more than 20 years of experience in retail management at major high street brands, the opportunity to help the city he proudly calls home to become a forerunner in tackling the climate emergency was too big an opportunity to miss.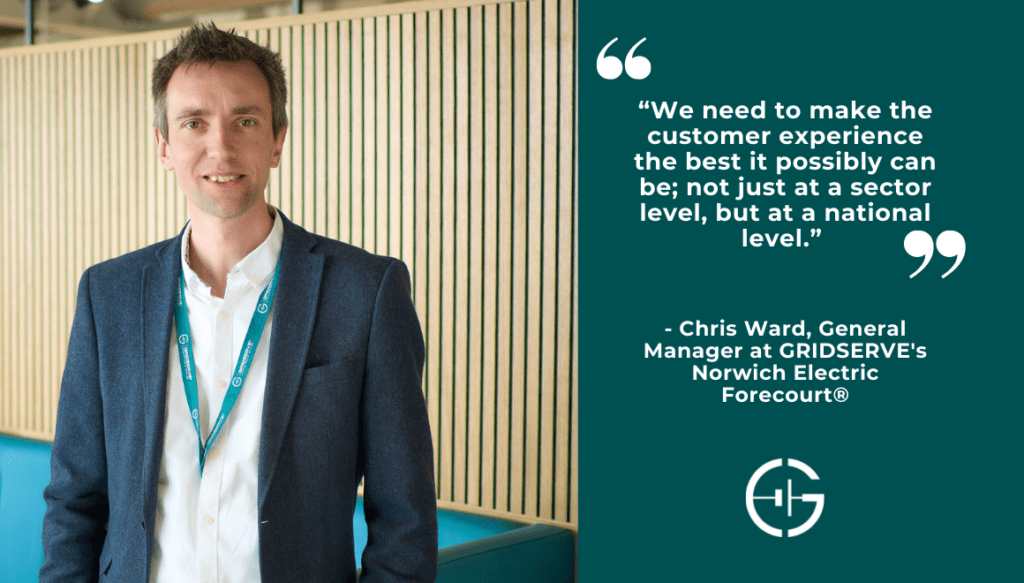 "The Norwich Electric Forecourt® doesn't just look fantastic; it's what is beneath the surface that really counts. GRIDSERVE is a sustainable energy company first, and I believe that will give the brand more credibility as a retailer. We're delivering a customer experience that helps make it easy for people to take a positive step for our planet. It's great to think that every time somebody charges their EV at an Electric Forecourt®, they're helping a little more."
Chris is right. Our aim at GRIDSERVE is to inspire a systemic shift in the way modern society drives, produces energy and treats the planet, removing our burden on fossil fuels. Of course, we've looked at ourselves first, developing our own large-scale hybrid solar + battery farms across the UK and distributing this clean energy to our awesome and emerging EV charging infrastructure. The Norwich Electric Forecourt® delivers net zero carbon energy and has also been built sustainably, featuring energy-saving initiatives such as rainwater harvesting to water plants and flush toilets, plus a 50kWp rooftop solar array that provides half of the facility's energy needs. Your Costa Coffee will taste even better now. 
The Norwich Electric Forecourt® opens this week, come on down!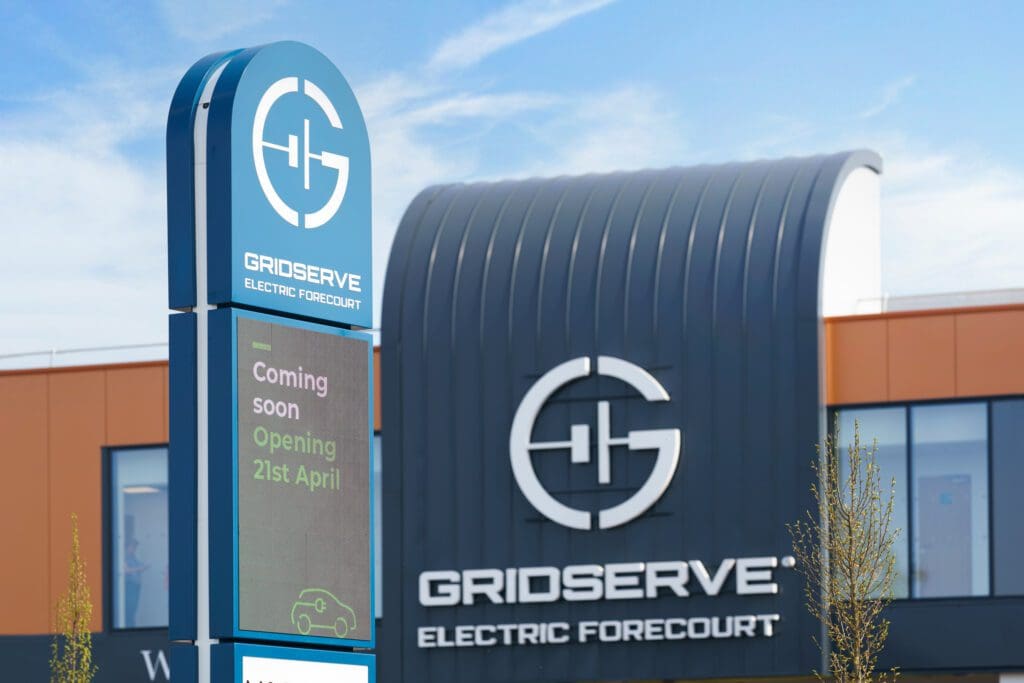 Chris also concedes that the new job has accelerated his own sustainability journey. "When you see the 'Sun to Wheel' ecosystem that GRIDSERVE is pioneering, it makes complete sense. But it also demonstrates that at an individual level, small changes can start to make a big difference." Not only does Chris now drive an electric car, he's also planning to regularly cycle the 12-mile commute to work.
Beyond charging, there are a variety of facilities that will require constant monitoring, promotion, engagement and management, including bookable meeting pods with full video conference facilities, a relaxing lounge area that can function as an events space and a dedicated EV zone whereby you can browse the latest GRIDSERVE EV leasing deals, book an EV test drive or speak to an impartial GRIDSERVE EV guru about making the switch. 
That dynamic mix was considered during the recruitment of his new team. "It's so important in the retail world that you focus on both the functional aspects of a role, based on technical skill, but also what kind of person they are," Chris explains. "We need to always be customer-centric but also intelligent, patient, personal. When you live and breathe electric vehicles, it can be easy to forget others may be at the very start of their EV journey and this is no time for complacency. We believe EVs can work for everybody and we want to create that 'Open House' atmosphere at the Norwich Electric Forecourt®, where people can come in for a coffee and a chat and where there is no such thing as a silly question."
You get the impression that Chris is always going to be wanting to do more and go further for the people of Norwich. This is more than a job and it's clear his team won't stop until the furrowed brows of every EV curious person in Norfolk are pebble smooth. His mission for the Norwich Electric Forecourt® is similarly resolute: "We need to make the customer experience the best it possibly can be; not just at a sector level, but at a national level." The future of EV charging in Norwich is in safe hands.
Liked this article? You'll love
---