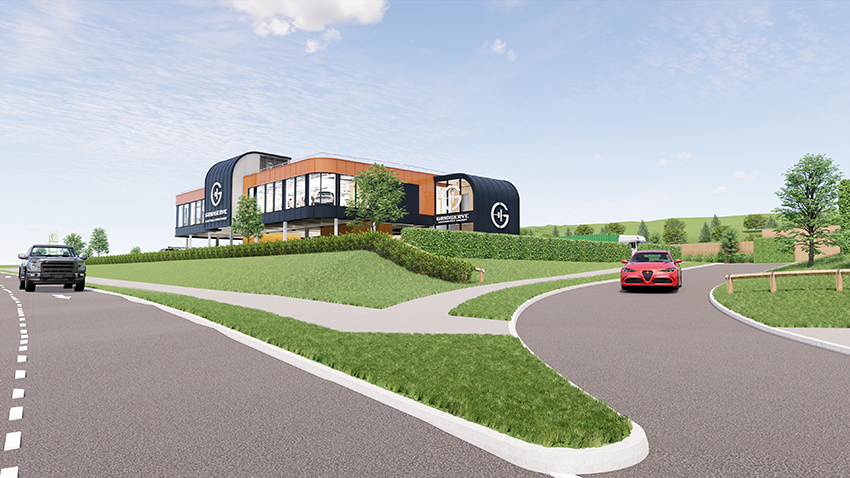 The former coal mining town of Markham Vale in Derbyshire could soon be home to a state-of-the-art Electric Vehicle (EV) charging station powered exclusively by renewable energy.
GRIDSERVE, the tech-enabled sustainable energy business, has submitted a planning proposal application to Chesterfield Borough Council to build another of its award-winning Electric Forecourt® sites at Markham Vale.  
Markham Vale Electric Forecourt® would be a timely addition to the Borough, more than doubling the number of chargers to meet both current and growing needs for electric car drivers in the area. The proposed site would be the first dedicated EV charging facility of its kind in the area, with 30 chargers supplied by 100% renewable energy and connectors to serve drivers of every type of EV. 
Combining solar power and fast EV charging points with a best-in-class customer experience and high-quality amenities to include space for customers to relax and refresh, the Electric Forecourt® is EV charging as it should be. Earlier this year, consumer motoring magazine, What Car? named the GRIDSERVE Electric Forecourt 'Best Innovation' in their coveted awards – the first time a non-car manufacturer has received such an accolade. 
The first Electric Forecourt® site in Braintree, Essex, demonstrated the site's potential to be more than just an EV charging destination, becoming a significant community asset and a no-pressure environment to explore the world of EVs. In fact, within the first year of business at the inaugural GRIDSERVE Electric Forecourt®, EV registrations in the surrounding area doubled, far surpassing national increases, accelerating the transition to low carbon transportation. 
The proposed location for the new Electric Forecourt® is between Enterprise Way and the eastern side of Duckmanton. The site plans feature 22 high power chargers, providing up to 350kW – powerful enough to supply up to 100-miles of range in less than 10-minutes. Additionally, six AC chargers providing up to 22kW, complete the plans.  
The development would make a significant contribution to local electric vehicle charging infrastructure and would create 25+ full time equivalent employment opportunities through the design, engineering, construction and operation phases. Interested parties are invited to view information on the proposal here. www.gridserve.com/markham-vale 
GRIDSERVE CEO, Toddington Harper, said: "We are committed to delivering EV charging infrastructure that both enables the transition to net zero carbon transport, and excites drivers to make the transition to electric vehicles. The geographical distribution of EV charging across the UK is essential to usher in the mass market era of electric vehicles. This development would benefit the local community, and the wider UK as it reduces its reliance on fossil fuels. We are proud to have chosen the area of Markham Vale for this project and we hope the people across the region share our passion for delivering a cleaner, more sustainable future in the earliest possible timeframes."
Derbyshire County Council Cabinet Member for Clean Growth and Regeneration, Councillor Tony King, said: "We welcome GRIDSERVE's interest in Markham Vale and, if their proposal is granted planning permission, the new Electric Forecourt®, will give motorists the confidence to make the switch to an electric vehicle and move us closer to our target of helping to get 1,000 public facing electric vehicle charge points in place throughout the county by 2025."
"Decarbonising transport is one of our top priorities as part of our climate change strategy which aims to reduce emissions generated by the county council to net-zero by 2032 or sooner and help the rest of Derbyshire reduce carbon emissions generated within the county to net zero by 2050 or sooner."
Richard Hinds, Development Surveyor at HBD, said: "Markham Vale is one of the largest industrial and logistics schemes in the North, so it's important that we look to the future to ensure that the right infrastructure is in place to provide motorists with clean energy. We're very pleased to welcome GRIDSERVE and look forward to working with the team as they bring their plans forward." 
ENDS
For further information on GRIDSERVE and to arrange interviews, please contact:
Jessie Wilson
jessie.wilson@greenhouse.agency
+44 7763 540 629

Toby Dye
toby.dye@greenhouse.agency
+44 7508 636 325
For non-media inquiries please contact:
connect@gridserve.com
+44 333 1234 333
---
Was this article helpful?