GRIDSERVE proposes an Electric Forecourt® development as a sustainable transport gateway to Liverpool
Press Centre
Edge Lane in Liverpool has been selected as a potential location for an award-winning GRIDSERVE Electric Forecourt®
The development proposal includes 24+ charging bays for all types of Electric Vehicles (EVs) to be supplied by net zero energy
Based in a prominent location, this gateway development will welcome visitors to Liverpool and support its residents with a community led design
A project information page has been created to provide details and a feedback opportunity for Liverpool residents.
GRIDSERVE, the tech-enabled sustainable energy business with a growing national charging network, is submitting a planning proposal application to Liverpool City Council to build another of its award-winning Electric Forecourt® sites, in Edge Lane, Liverpool.
The Liverpool Electric Forecourt® would be a timely addition to the city, more than doubling the number of electric vehicle (EV) chargers in the area to meet Liverpool's growing sustainable public charging needs.
The proposed site would be the first dedicated EV charging facility of its kind in the area, with 24+ vehicle chargers supplied by renewable energy and connectors to serve all EV drivers. By combining sustainable charging with a welcoming and educational space for all customers, this development could become a significant carbon saving community asset.
GRIDSERVE's existing Electric Forecourt® sites in Essex and Norfolk have aptly demonstrated the potential of these developments to be more than just EV charging destinations. Within the first year of business at the first GRIDSERVE Electric Forecourt®, EV registrations in the surrounding area doubled, far surpassing national increases and accelerating the transition to low carbon transportation.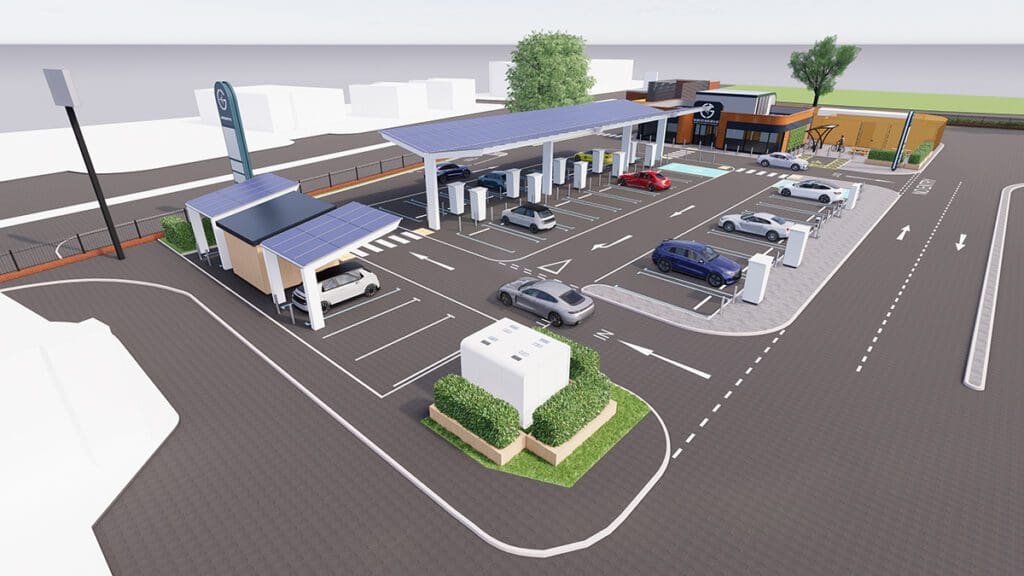 GRIDSERVE hopes to do the same for the Liverpool area, which has a comparatively low rates of EV adoption amongst other regions in the UK and, includes a significant number of households without access to off street parking and the possibility for home charging.
The proposed site for the new Electric Forecourt® is located on the A5047 Edge Lane, within the Liverpool Innovation Park. The plans feature a world class customer charging experience with 24 High Power chargers, providing up to 350kW, and six AC chargers providing up to 22kW.
The development would make a significant contribution to local sustainable infrastructure, aid air quality initiatives and support the local economy with the creation of 25+ full time equivalent employment opportunities through the design, engineering, construction, and operation phases.
Liverpool is one of several cities with a 2030 net zero carbon action plan proposing vehicle electrification and charging infrastructure as key solutions. The Liverpool Climate Challenge report* states that cleaner, greener transport routes will not only cut carbon emissions but provide employment opportunities and reduce air pollution levels to improve peoples' health and well-being. GRIDSERVE supports this initiative and is excited to potentially assist Liverpool in achieving their transport decarbonisation goals.
Please feel free to visit the information site at www.gridserve.com/liverpool/ to examine the site plans in more detail and leave feedback.
ENDS
References:
The Liverpool Climate Action Report
For further information on GRIDSERVE and to arrange interviews, please contact:

Will Spragg
will.spragg@greenhouse.agency
+44 7528 307 499
Toby Dye
toby.dye@greenhouse.agency
+44 7508 636 325
For non-media inquiries please contact:
connect@gridserve.com or visit www.gridserve.com/plymouth to explore the new site.