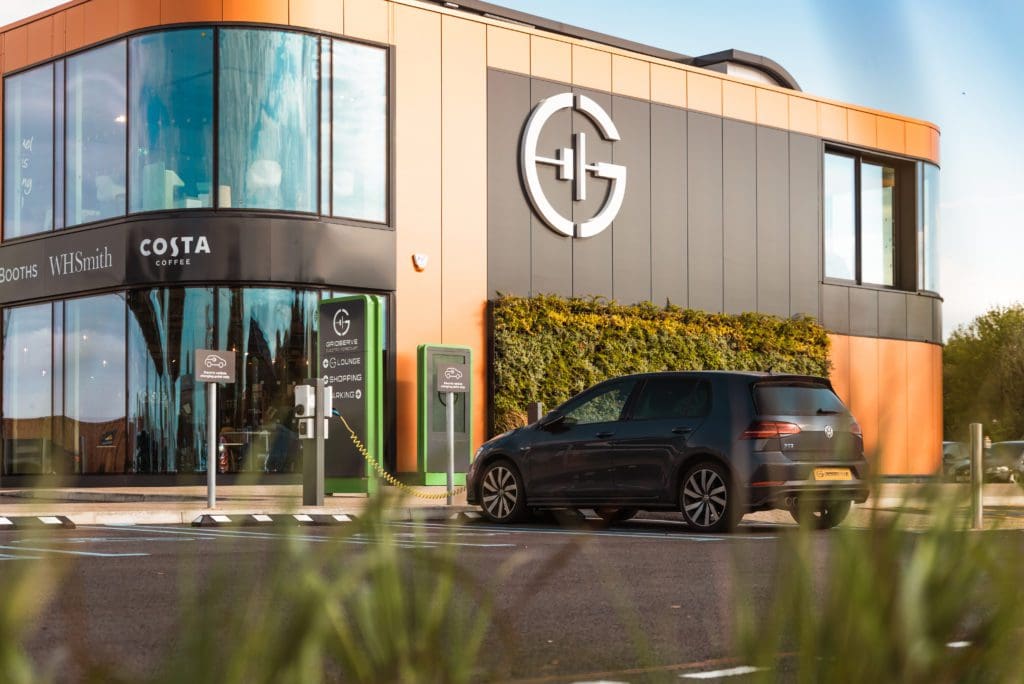 Our Super Hubs at Moto Rugby and Moto Exeter and our pioneering Braintree Electric Forecourt® are three of the most popular EV charging locations according Zap-Map.
The UK's leading charging app has just published its second quarter stats on EV charging, analysing more than 1.6 million EV charging sessions across England. The results show that the GRIDSERVE Electric Super Hub at Moto Rugby is the most popular EV charging destination. The first Electric Super Hub of its kind was opened in April 2021 and provides drivers along the M6 with 12 x 350kW-capable chargers, allowing the latest electric vehicles to acquire around 100 miles of range in 10 minutes. The perfect amount of time to pick up that sandwich from Pret or check your emails.
In second place is the GRIDSERVE Electric Super Hub in Moto Exeter, a pretty remarkable feat given that the site only opened this March. The Electric Super Hub launched with 12 x 350kW-capable chargers and is a very popular pit stop for holiday goers in Devon and Cornwall. While the hitch-free summer escape is never guaranteed, at least charging your EV is something you no longer have to worry about.
The words of Nobel prize-winning songwriter Bob Dylon – 'The times they are a-changin' – certainly ring true for our GRIDSERVE Electric Forecourts®, and it's the Braintree Electric Forecourt® that gets special mention by Zap-Map, featuring in fifth place. These sites are built from the ground up with EV drivers in mind and exemplify our commitment not just to electric vehicles, but to sustainability and the local communities in which they serve.
For GRIDSERVE to secure three of the top five EV charging spots is a real vote of confidence from EV drivers in both our continued rollout of infrastructure, as well as our EV charger offering. From day one, we've been committed to delivering an EV charging network that works for everyone, regardless of where you live or what electric vehicle you drive. We'll continue to deliver on that promise, providing many more locations on the GRIDSERVE Electric Highway throughout this year and ongoing.
Here's the top five list of EV charging locations in England:
1. GRIDSERVE Electric Super Hub at Moto Rugby
2. GRIDSERVE Electric Super Hub at Moto Exeter
3. MFG EV Power – Newington
4. BP Pulse – BP Hammersmith
5. GRIDSERVE Braintree Electric Forecourt®
Toddington Harper, GRIDSERVE CEO, said: "It's great to see three of our GRIDSERVE Electric Highway locations in the top five most used sites across England. We are committed to building an awesome UK-wide charging network, enabling anyone, anywhere, in any type of EV to take on any journey and have a great customer experience. GRIDSERVE Electric Super Hubs and Electric Forecourts® help provide EV drivers the confidence they need to undertake any journey, irrespective of what electric vehicle they drive, and charge quickly, reliably and affordably."
Melanie Shufflebotham, Zap-Map Co-founder, said: "With over 500,000 pure-electric cars on UK roads, and the number of EV drivers joining their ranks showing no signs of slowing, high-power charging hubs are becoming increasingly popular, as these five most popular charging locations show us."