GRIDSERVE is leading a major transformation of the UK's electric charging infrastructure in 2023, particularly across Motorway Service Areas, to give EV drivers complete range and charging confidence and help accelerate the transition to net zero transport.
At this critical point in the journey towards a net zero future, GRIDSERVE has reached a milestone so far in 2023 of having 50 new Electric Super Hubs locations either already open, awaiting energisation, or in construction as part of phase one of its 2023 delivery plans, with dozens of additional sites now also being prepared for construction.
The unprecedented speed and scale of the first phase of this rollout will add over 400 of the world's fastest chargepoints to the GRIDSERVE Electric Highway, more than doubling the number of these type of chargepoints currently available. These High Power chargepoints are capable of delivering 100 miles of range only five minutes, although the fastest charging cars currently available take about 10 minutes. Phase two of the transformation will see hundreds more High Power chargepoints added later this year.
The new Electric Super Hub sites are spread across England, Scotland and Wales, providing High Power charging on the UK's busiest routes, as well as Electric Retail Hubs at popular shopping destinations, making charging on the go more convenient than ever before.
To achieve such a radical and fast-paced transformation, GRIDSERVE is also using innovative technology to minimise issues caused by grid connection lead times. Moto Ferrybridge, for example, features a temporary microgrid that uses batteries and vegetable oil, while Cornwall Services uses a combination of a 100kW grid connection, lithium-ion batteries, solar energy and the latest software developed by GRIDSERVE Technologies to provide High Power Charging.
Toddington Harper, CEO of GRIDSERVE, said: "By announcing GRIDSERVE reaching the milestone of our phase one 2023 rollout, we are able to deliver EV drivers further confidence to make the switch knowing they can travel with ease, and net zero carbon emissions, across the length and breadth of the country. It's clear that the climate crisis is upon us, and it's critical we continue to increase our pace – we are now also immediately commencing our phase 2-rollout, with the target to also deliver hundreds more High Power chargepoints this year."
GRIDSERVE will also open another of its world-leading Electric Forecourts® this year at London Gatwick, the first of its kind worldwide at an international airport. Planning permission is also approved at several other sites including Nevendon, Gateshead, Plymouth, Stevenage and Markham Vale, with more than 30 additional sites also under development.
To make it as easy as possible for customers to charge their electric vehicles, all GRIDSERVE locations feature CCS, CHAdeMO, and AC connectors, accept contactless payment and provide real-time status updates to a myriad of popular EV charging maps. The chargepoints are powered by 100% net zero carbon energy from the company's pioneering hybrid solar + battery farms. A GRIDSERVE Super App is also under development, that will provide many additional features.
Electric Super Hub locations already opened in 2023
Moto Blyth (A1(M))  

Moto Cherwell Valley (M40)  

Cornwall Services (A30)  

Moto Ferrybridge (M62/A1(M))  

Moto Grantham (A1)  

Moto Leeming Bar (A1(M))  

Moto Pease Pottage (M23)  

Moto Reading (W) (23/12)  

Solstice Park (A303)  

Abbey Retail Park St Ives (A14)  

Dobbies Swindon   

Moto Washington North A1(M)  

Moto Washington South A1(M)  

Roadchef Watford Gap North (M1)  

Roadchef Watford Gap South (M1) 

 

Moto Grantham (A1) – extension

 

Moto Scotch Corner (A1) 

 
Electric Super Hub locations awaiting energisation or in construction (in alphabetical order)
Roadchef Annandale Water (A74(M)) 

 

Roadchef Bothwell (M74) 

 

Moto Cardiff West (M4) 

 

Roadchef Chester (M56) 

 

Moto Chieveley (M4) 

 

Roadchef Clacket Lane East (M25) 

 

Roadchef Clacket Lane West (M25) 

 

Roadchef Durham (A1(M)) 

 

Dobbies Edinburgh 

 

Moto Exeter (M5)  – extension

 

Moto Frankley Southbound (M5) 

 

GRIDSERVE Electric Forecourt® London Gatwick Airport 

 

Dobbies Gloucester  

 

Moto Hilton Park North (M6) 

 

Roadchef Killington Lake (M6) 

 

Kingsway Retail Park, Derby 

 

Moto Kinross (M90) 

 

Moto Lancaster Northbound (M6) 

 

Moto Lancaster Southbound (M6) 

 

Dobbies Leicester 

 

Dobbies Liverpool 

 

Moto Medway East (M2) 

 

Moto Medway West (M2) 

 

Monkswood Retail Park, Stevenage 

 

Moorlands Centre, Lincoln  

 

Roadchef Northampton North (M1) 

 

Priory Fields Retail Park, Taunton 

 

Roadchef Sandbach North (M6) 

 

Roadchef Sandbach South (M6) 

 

The Slough Retail Park, Slough 

 

Dobbies Stockton 

 

Roadchef Strensham North (M5) 

 

Moto Tamworth (M42) 

 

Teals Farm Shop (A303)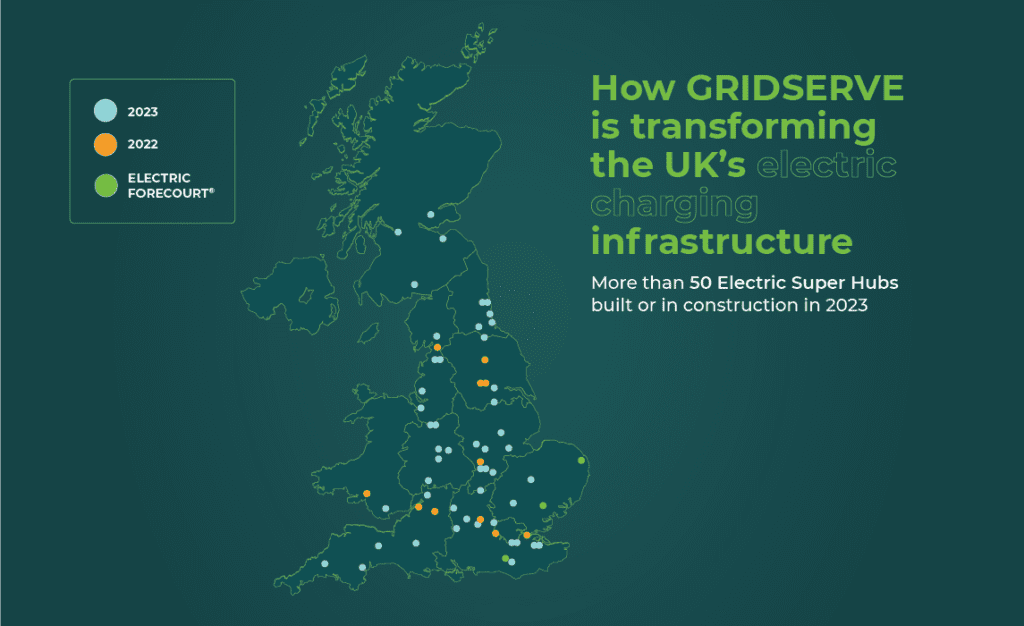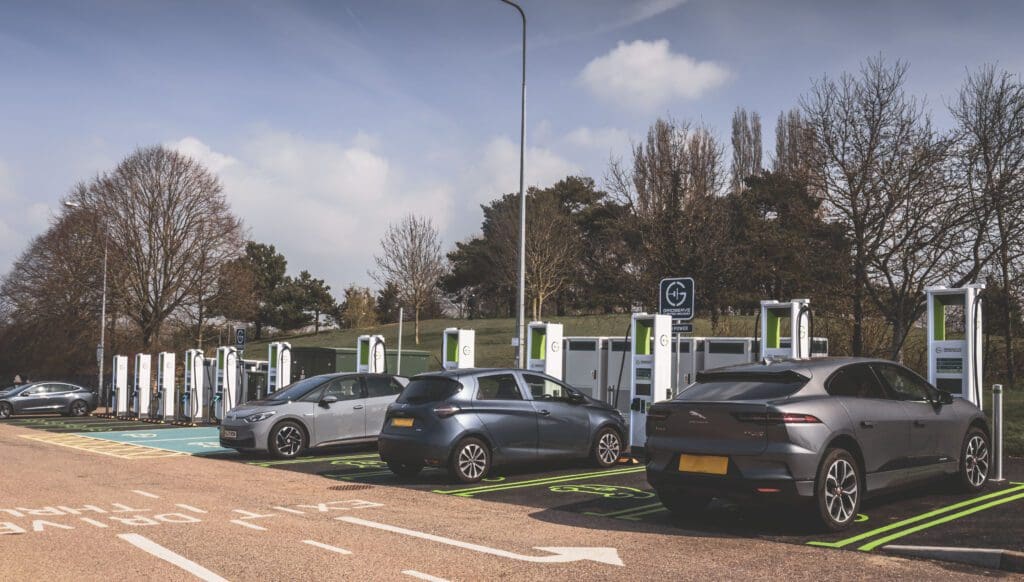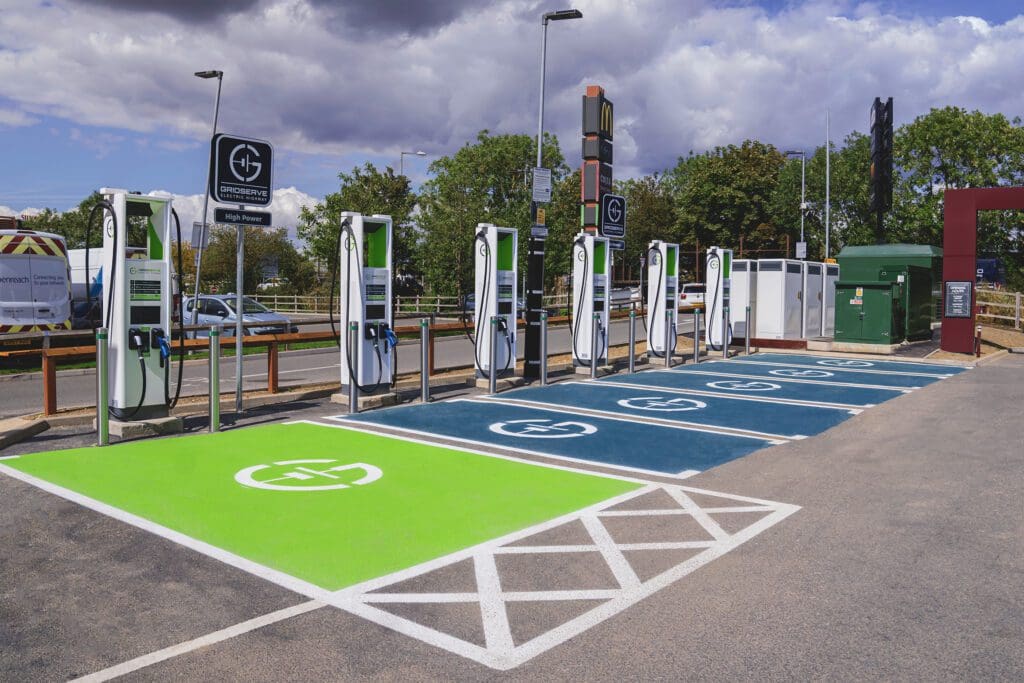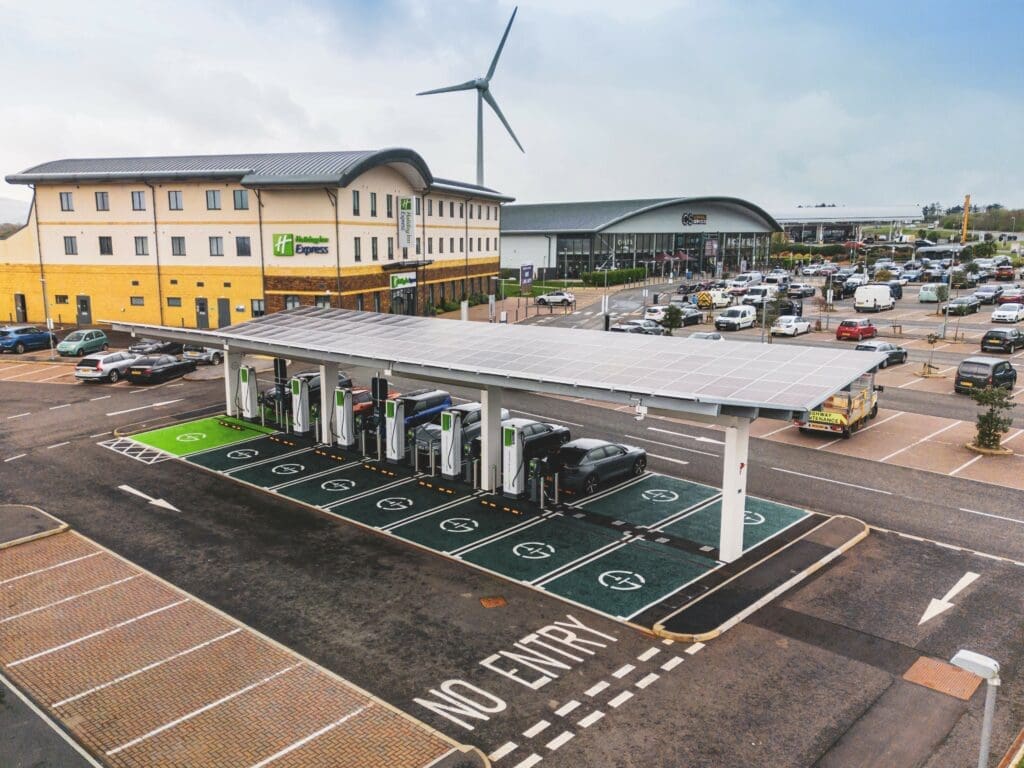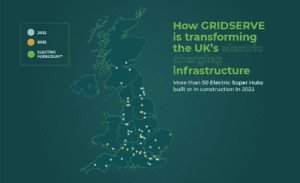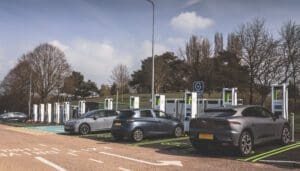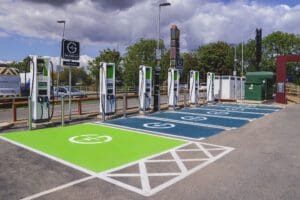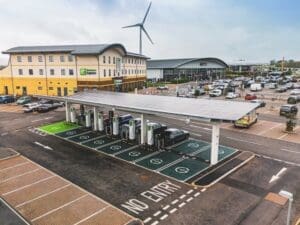 About GRIDSERVE
GRIDSERVE is a tech-enabled sustainable energy business whose purpose is to deliver sustainable energy and move the needle on climate change. It has pioneered a Sun-to-Wheel ecosystem that includes the most advanced hybrid solar + battery farms, award-winning electric vehicle charging infrastructure, and a customer-centric electric vehicle leasing platform.
Latest articles