GRIDSERVE today announces multiple new partnerships with leading retail, service and technology giants to deliver a "world-class" customer experience at the UK's first Electric Forecourt®, due to open near Braintree, Essex, this November.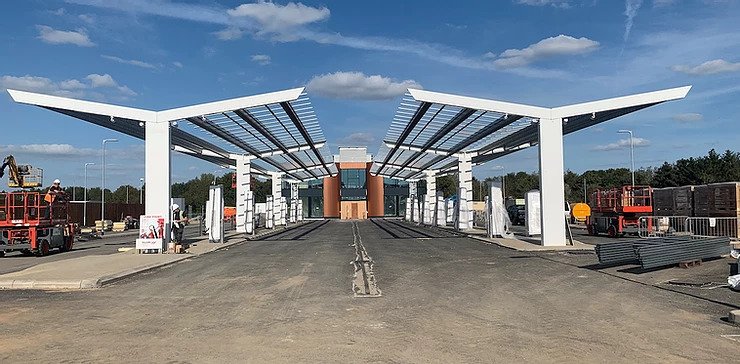 The retail partners, including WHSmith, Costa Coffee, the Post Office, Booths, and Gourmade, alongside world class charging infrastructure partners ABB, Tesla, and customer support from the AA, have teamed up with GRIDSERVE to help deliver its vision of making electric vehicle charging as simple and stress free as using petrol stations, but with a radically improved customer experience, designed for the modern age.
Toddington Harper, Founder and CEO of GRIDSERVE, said: "Our UK-wide network of over 100 customer-focused Electric Forecourts® will eliminate range and charging anxiety by making it easier and cheaper to charge an electric vehicle than to fuel a petrol or diesel alternative. The UK's first Electric Forecourt®, represents so much more than an electric equivalent of a modern petrol station – it will deliver a fully loaded customer experience, offering the Best of British retail and customer service to cater for a full range of consumer and driver needs."
The UK's first Electric Forecourt® near Braintree, Essex, will be the first of over 100 sites to be built by GRIDSERVE in the next five years, as part of a £1bn programme to help make EV driving an enjoyable, ultra-convenient and stress-free experience. The Electric Forecourt® has been financed by GRIDSERVE together with Hitachi Capital UK PLC and Innovate UK. 30 electric vehicles can be charged simultaneously with high power chargers that can deliver up to 350kW of charging power, enabling people to add 200 miles of range in just 20 minutes, and much faster in the future as battery technologies within the cars mature.
While vehicles charge, drivers will be able to relax and shop in a state-of-the-art facility that will cater for all their needs. The two-story building houses a waiting lounge, free superfast Wi-Fi, high-end washrooms, a dedicated kid's area, wellbeing area and business meeting room pods. On the ground floor, a comprehensive retail space, operated by WHSmith, includes a coffee shop, convenience supermarket, as well as fresh and frozen food. Well known, quality brands, including WHSmith, Costa Coffee, Post Office, Booths, and Gourmade have partnered with GRIDSERVE to deliver a world-leading "Best of British" retail and customer experience.
Toby Keir, Managing Director at WHSmith Travel said: "At WHSmith, we have been serving customers on their journeys for over 200 years and we understand how important convenience is to people on the go. We're therefore delighted to be partnering with GRIDSERVE's Electric Forecourt to deliver a new first-class retail experience, with fantastic service and a tailored product offer. It's a great concept and we look forward to playing our part over the next hundred years with the future of electric cars."
Edwin Booth, Executive Chairman at quality supermarket chain, Booths, said: "We're excited to work with GRIDSERVE to deliver on our one simple aim – to sell the best food and drink available, in attractive stores, staffed with first class assistants. As a family-owned retailer with sustainability baked into our core, we couldn't think of a more fitting opportunity to continue our journey into the South of England."
Alongside a "Best of British" retail offer, the Electric Forecourt® will include an education centre to showcase electric vehicles, providing people with the confidence, knowledge and support to transition to an all-electric future. GRIDSERVE and Hitachi Capital UK PLC have also partnered to accelerate the uptake of electric vehicles by offering simplified electric vehicle solutions that reduce upfront costs and have charging included in competitive monthly costs designed to bring the cost of using electric vehicles below the overall costs of using petrol or diesel cars.
Robert Gordon, CEO of Hitachi Capital (UK) PLC, said: "Our partnership with GRIDSERVE is revolutionising energy and transport, accelerating us towards a zero emissions future. Flagship projects like the Braintree Electric Forecourt® are the essential infrastructure needed to fast-track the electric vehicle revolution in the UK and prepare for a zero-carbon future."
In combination with GRIDSERVE, customer support will be provided by the AA via a dedicated team of electric vehicle experts. Drivers will be able to call a dedicated helpline from each supercharger and receive industry-leading advice on any technical questions related to the charger or even their vehicle.
Edmund King OBE, President at the AA, added: "The UK's first Electric Forecourt® is an incredibly exciting project, pioneering the future of electric vehicle charging. We are thrilled to be partnering with GRIDSERVE to provide instant support for EV drivers as they charge – just one of the ways we're transforming our customer service to help accelerate the shift to electric vehicles.
24 of the Electric Forecourt's® high power chargers – half of which can deliver up to 350kW of power – are provided by Swiss-Swedish technology giant ABB, and will be able to charge every electric vehicle on the market today. In addition, there are 6 Tesla Superchargers specifically for Tesla vehicles, which is a format that GRIDSERVE plan to replicate or enlarge with Tesla at many other Electric Forecourt® sites in the future.
Frank Muehlon, Head of ABB's Global E-Mobility Infrastructure Solutions said: "This Electric Forecourt® is a step-change for e-mobility and our cutting-edge charging infrastructure will deliver unrivalled charging speeds, enabling people to charge any type of electric vehicle with ease and as fast as the vehicle will allow."
DELIVERING A NET ZERO TRANSPORT FUTURE, TODAY
GRIDSERVE's £1bn Electric Forecourts® programme is eliminating electric vehicle charging concerns and paving the way for electric vehicles to become mainstream as soon as possible. The company has already secured exclusivity at 100 sites along busy routes, near powerful grid connections and close to populated areas or transport routes. Planning applications for two additional sites in Uckfield and Norwich East, have been submitted.
GRIDSERVE's network of Electric Forecourts® will be powered by zero carbon solar energy and battery storage projects, ensuring carbon emission targets can be met, whilst also keeping prices low. To achieve this, GRIDSERVE is developing several large solar farms, supported by grid-scale batteries, as part of its "Sun-to-Wheel" initiative to ensure that 100% of the electricity used at its forecourts is renewable and, from the grid's perspective, sustainable. GRIDSERVE recently acquired the UK's first subsidy-free solar farm – the Clayhill Solar Farm in Bedfordshire – to guarantee that all of the energy used at the Braintree Electric Forecourt® comes from net zero-carbon solar power.
Toddington Harper Added: "It's our collective responsibility to deliver sustainable energy and move the needle on climate change. By delivering a series of hybrid solar farms in tandem with our Electric Forecourt® rollout, we can ensure that every kWh of energy used to charge EVs is matched from 100% renewable, zero carbon energy sources, enabling us to start delivering net zero carbon transport in 2020, well ahead of the UK's 2050 net zero target."
GRIDSERVE recently completed the UK's most advanced solar farm, a 34.7MWp project at York with bifacial panels, single axis sun trackers, and a 30MWh battery, and is completing a 25.7MWp project at Hull using similar technologies. In April this year, GRIDSERVE joined forces with Hitachi Capital UK PLC which brought its financial strength and motor industry expertise to support the rollout of its Electric Forecourts® and hybrid solar projects.
ENDS

About GRIDSERVE
GRIDSERVE is a tech-enabled sustainable energy business whose purpose is to deliver sustainable energy and move the needle on climate change. It has pioneered a Sun-to-Wheel ecosystem that includes the most advanced hybrid solar + battery farms, award-winning electric vehicle charging infrastructure, and a customer-centric electric vehicle leasing platform.