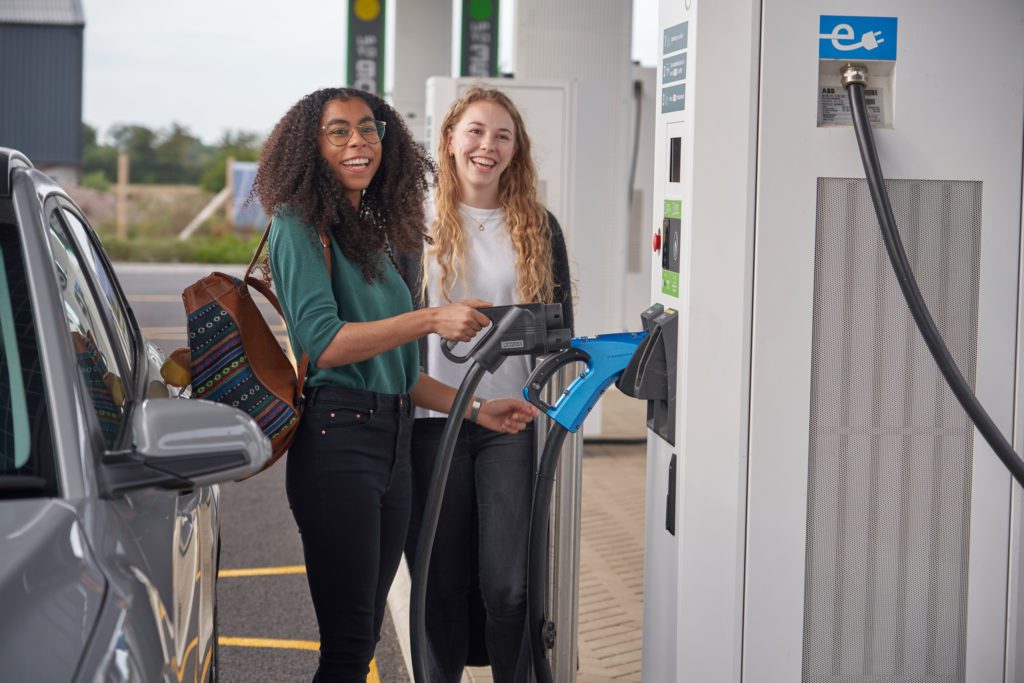 We've successfully reduced preauthorisation charges across the GRIDSERVE Electric Highway to just £1.
We've successfully reduced preauthorisation charges across the GRIDSERVE Electric Highway to just £1.
Our customers are always our first priority, and we like to take the time to listen to them. As part of our commitment to deliver a consistent, convenient, and affordable charging experience, we're thrilled to have successfully reduced our preauthorisation rates as of mid-December across the GRIDSERVE Electric Highway* from £20 to just £1 – the lowest of any ChargePoint operator.
*Currently, preauthorisation at Rugby Moto Services remains at £25 as the Tritium chargers have not been part of this update.
What is a preauthorisation charge and why is it necessary?
A preauthorisation charge or 'holding fee' is a temporary charge that we issue when you initiate a charging session at any location across the GRIDSERVE Electric Highway. After you plug the connector into your car, you'll be asked to tap your contactless debit or credit card using our safe contactless payment system to begin charging, and this is when the £1 holding fee will be taken from your account.
We do this to ensure that your payment method is working for our contactless payment system. This removes the need for apps and memberships and makes fuelling up on our sustainable energy as easy and fuss-free as possible.
Unlike other networks that debit the pre-authorisation fees and then refund them (which can sometimes take days to complete), the authentication system we use across the GRIDSERVE Electric Highway temporarily reserves the fee. This means that once the charge session is complete, the preauthorisation fee or reserved payment will be released within seconds, and you'll only be charged for the kWh used
Occasionally the holding fee may take a few days to show on your account, but this is usually due to factors beyond our control. It can help to view your bank statement on a desktop device rather than your mobile, as this usually displays the most up-to-date information.
Why has GRIDSERVE reduced the preauthorisation charge?
We listened to our customers and heard about some unsatisfactory experiences with the previous preauthorisation charge of £20, which was initially put in place to cover the average cost of a charge session.
To provide the easiest and most convenient experience to everyone, we've reduced the charge to the lowest possible amount that still guarantees the payment method works.
What our customers are saying?
We've been glad to see how much this change has benefitted our customers already. Here's what one happy GRIDSERVE customer had to say: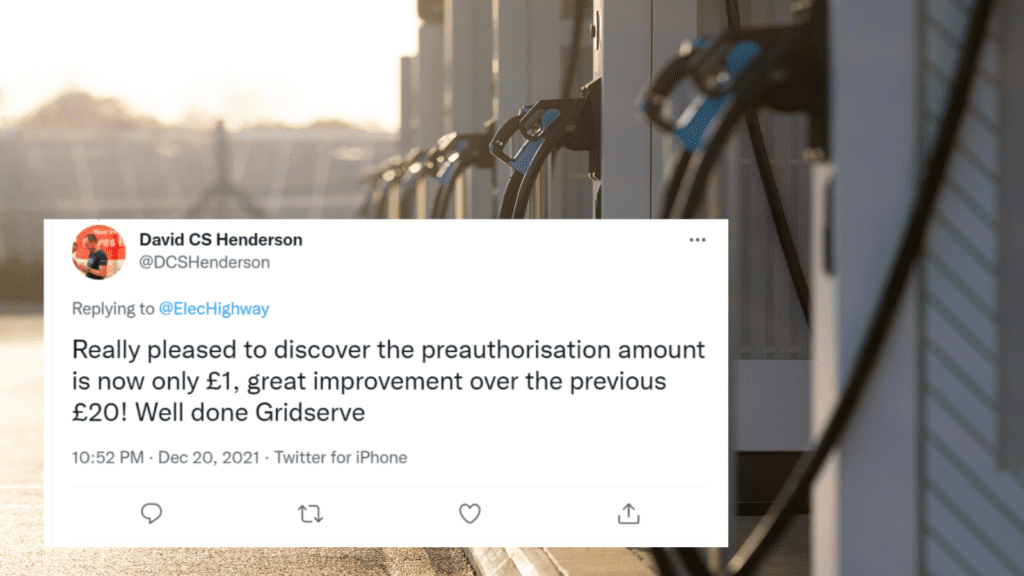 The rEVolution continues in 2022
Since we acquired the Electric Highway in June of 2021, we've worked tirelessly to upgrade it, driven by a desire to build an EV network that truly works for everyone. During the last seven months, we've fitted over 75 per cent of the network with new chargers, and ensured that each location features contactless payment facilities, as well as real-time updates on both the GRIDSERVE map and Zap-Map.
While we are proud of what we've achieved this year, there's much more to be done, and our plan to revolutionise the UK's EV charging infrastructure means we'll be heading into a phase of significant new developments in 2022. The first half of 2022 will see more than 20 new Electric Hubs operational by April, followed by 50 more later on in the year.
If you'd like to know more about our plans for the GRIDSERVE Electric Highway or the latest Electric ForecourtsⓇ landing in Gatwick airport, Uckfield, Gateshead, Plymouth and Stevenage this year, check out our recent Press Release.
For all the latest updates on the GRIDSERVE Electric Highway, please follow our twitter.com/elechighway account.
We can't wait to welcome you at a new GRIDSERVE Electric ForecourtⓇ or a charging location very soon.
---
Like this article? You'll love:
ADVICE: How To Charge An Electric Car On The GRIDSERVE Electric Highway