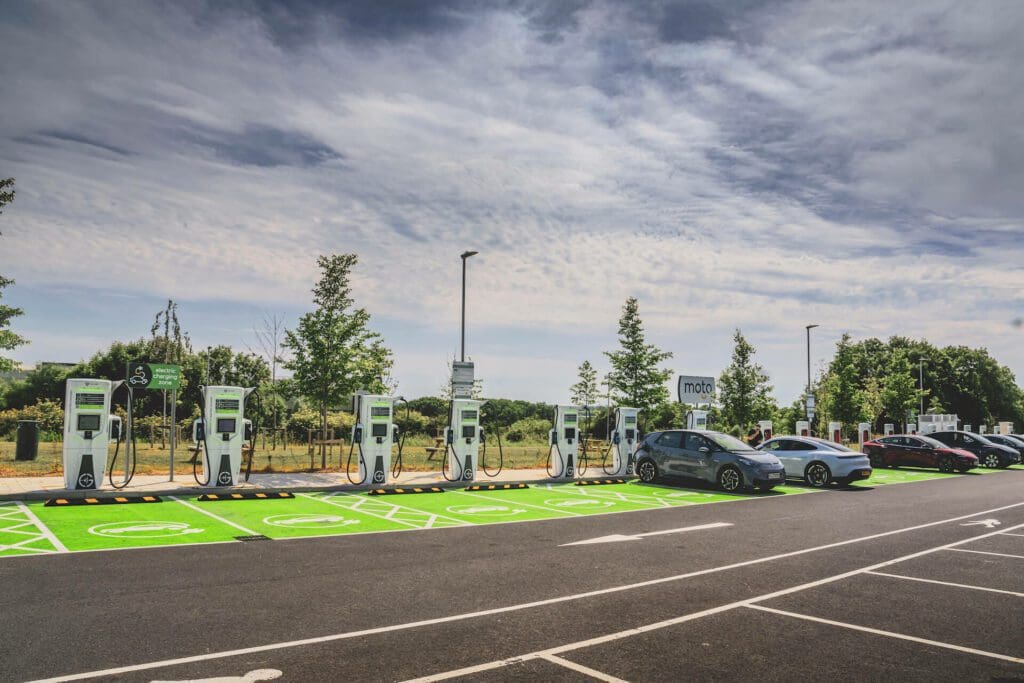 The first GRIDSERVE Electric Super Hub was installed at Moto Rugby and provides hassle-free, High Power charging for all kinds of electric vehicles.
We're committed to delivering an EV charging network that enables anybody, anywhere in the country, to feel confident about making the switch to any type of electric vehicle. Our Electric Super Hubs are part of that solution, helping us lead the charge (sorry…) on making long-distance EV travel affordable, clean and easy.
The first Electric Super Hub of its kind was installed at Moto Rugby in 2021 and boasts 11 x 350kW-capable EV charging units – powerful enough to provide 100 miles of range in less than 10 minutes. This combination of industry-leading EV chargers, deployed in large volumes, at a location you actually want to hang out in, has helped it become the UK's most popular EV charging destination according to the UK's leading charging app, Zap-Map.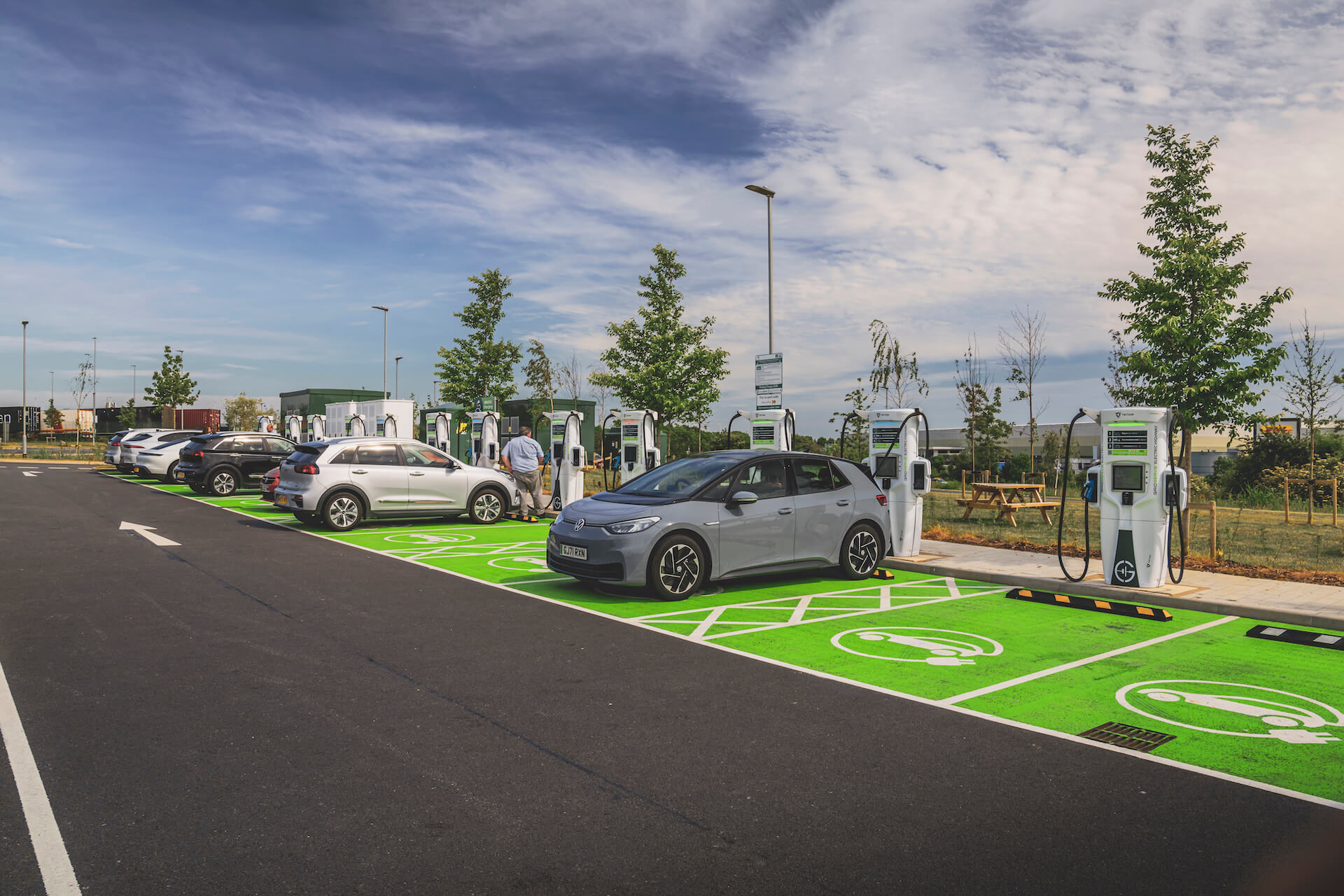 Time you scheduled a visit? There is real value in knowing how things work before you arrive, so to help, we'd like to walk you companionly around our Electric Super Hub, so you know exactly what to do. By your second visit, we reckon things will feel so easy that you'll probably spend more time thinking about what sandwich you'll be grabbing from Pret.
What EV chargers are there at Moto Rugby?
There are 11 x 350kW-capable EV charging units available at the GRIDSERVE Electric Super Hub. These are industry-leading EV chargers that are powered exclusively by net zero carbon energy. You'll also find a further 12 x Tesla Superchargers available for cars built by a guy called Elon. 
Where is the Electric Super Hub at Moto Rugby located?
When following signs to the Moto Rugby car park, you'll start to see specific signage for EV charging. You'll be instructed to take a sharp right as soon as you enter the main passenger vehicle car park.
From here, you'll spot the bank of Tesla Superchargers on the right-hand side, swiftly followed by the GRIDSERVE Electric Super Hub in all its white and green magnificence. There's a nice picnic area behind the chargers, but if you need a loo break, you may need to quick step as the service station entrance is a 100m walk away.
How do I charge my car at Moto Rugby?
Charging an electric car is a little different to filling a car with petrol or diesel: think less splash and dash, and more zap and tap. Once you've driven into one of the allocated charging bays that are highlighted in green, you'll get out of your car and follow a simple two-step process:
Step 1: Plug the charging cable into your car
Rather than adopt a single universal plug and socket, electric vehicles typically fall into two main categories. The most popular CCS connector has a black handle and is located on the right-hand side of our charging units.
Only a few manufacturers continue to use the CHAdeMO connector, the second option identifiable by its blue handle, but we've decided to make it available on six of our 11 EV charging units. Please note that the chargers fitted with both CCS and CHAdeMO connectors cannot charge two cars simultaneously.
Step 2: Tap your contactless credit or debit card and wait for the beep
That's it. Seriously, any fears of cognitive overload or the need for EV charging degrees are unfounded here. All the EV chargers along the GRIDSERVE Electric Highway are both memberless and contactless. As soon as you've plugged the EV charger into your car, the lines of communication start and the large digital screen will ask you to hold your payment device across the black panel. We accept credit and debit cards, American Express, Apple Pay, Google Pay and Allstar One Electric. 
What is pre-authorisation?
A pre-authorisation is a temporary hold of funds on your bank account or credit card to ensure that the payment method you're using for a service is valid and that you have sufficient funds available to pay. It's used by hotels, car hire companies and, yep, EV charge point operators.
To be clear, pre-authorisation isn't a charge. It's just a temporary hold, meaning that the funds are released after a short period of time.
Uniquely, the specific chargers at Moto Rugby require £25 pre-authorisation and this is aligned to your charging session. In other words, if your EV charging session exceeds the pre-authorisation value, the charging session stops and will need to be restarted.
You'll be able to monitor progress directly from the EV charger's screen, although most drivers are able to check on their vehicle's status remotely from the manufacturer app.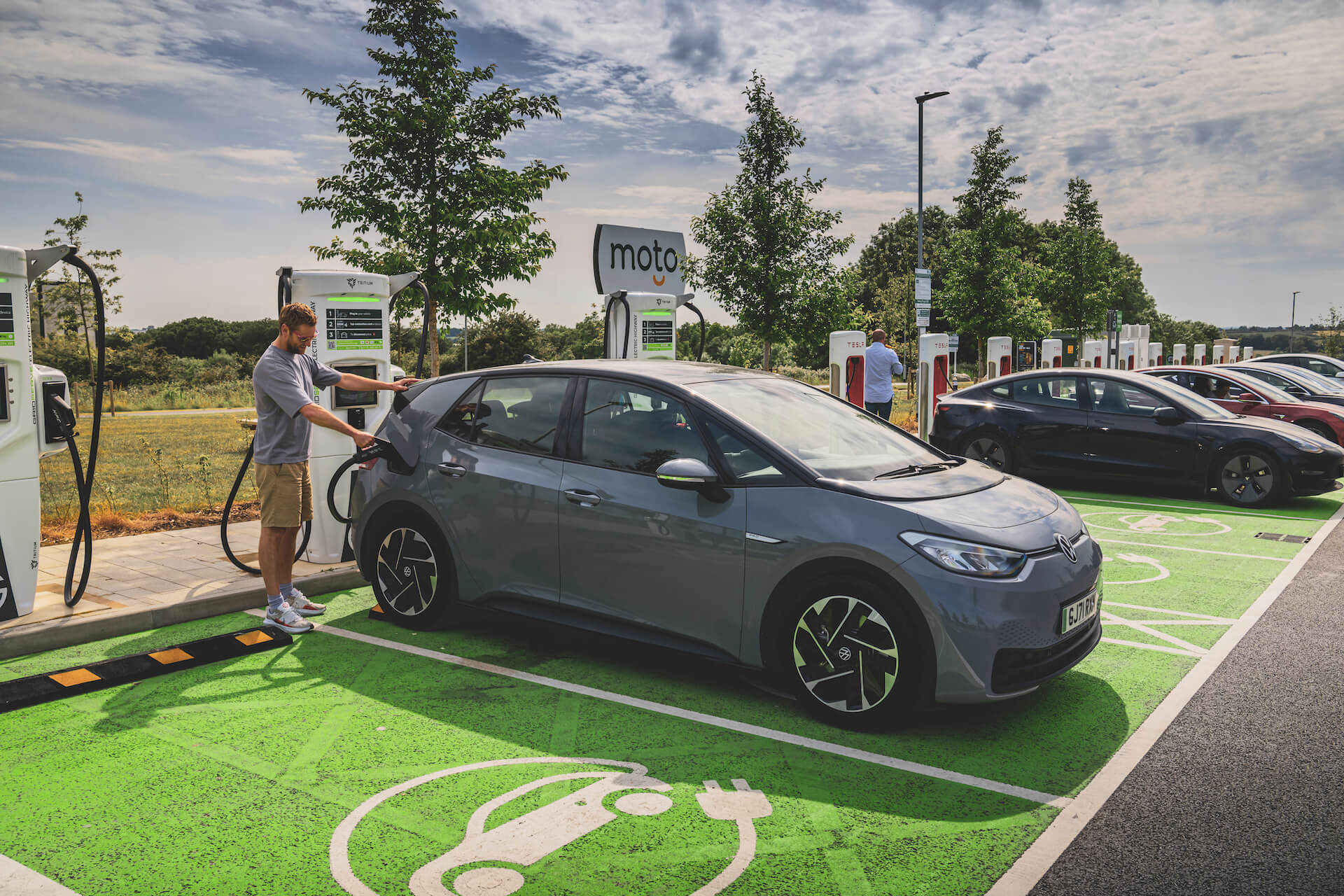 What happens when all the EV charging stations are full?
On the rare occasion that all of our EV charging units are busy, we ask that you use the car parking bays opposite to wait your turn. You won't be waiting long. Due to the transient nature of Moto Rugby and a free parking limit of two hours, the turnover of cars charging at the Electric Super Hub is noticeably quick.
During peak demand, such as bank holidays, we would kindly ask that drivers vacate the EV charging bay when their charging session is completed as well as consider limiting their charging sessions to 80% state of charge (SoC).
It's worth remembering that charging rates slow down significantly when a car's battery reaches 80% capacity, so the most time-efficient thing to do at this point is to stop the charge and find another EV charger later in your journey.
Remember that GRIDSERVE has you covered at more than 80% of the UK's Motorways Service Areas. You can find them all here.
How do I stop a charging session?
You'll have tapped your contactless card or smartphone to start your charge on the black Payter card reader, and all you need to do is tap it again to stop the charge.
It's easy and simple, and what's even better is that the Payter card reader will display how much you've been charged for the session.
You'll also see the option to stop charging via the on-screen button. If you're dual charging, make sure you've selected your connector on the left-hand side of the screen before pressing this. If not, then you might accidentally stop the wrong session and upset your dual charging buddy. The safest way to avoid this is with Tap to Stop.