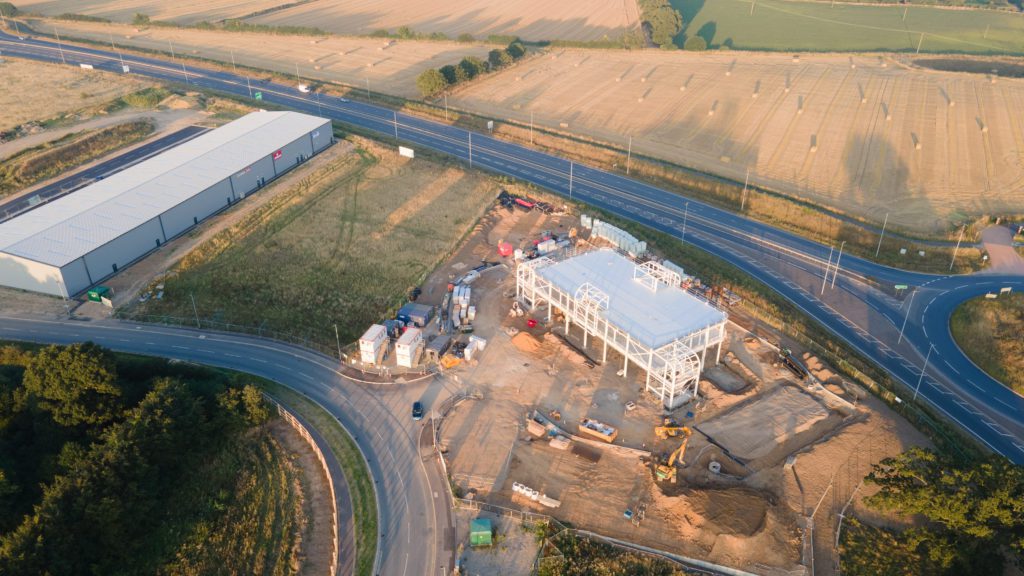 It's not easy to charge electric vehicles in Norwich. According to Zap-Map, there are just a handful of sites in the entire county of Norfolk which offer charging speeds above 100kW: the sort of charging speed that would let you accrue 50-miles in the time it takes to sip your flat white.
If there was somewhere you could grab a flat white…
These may appear primitive and frustrating insights for anybody currently driving an EV in the county, but rest assured, the future is coming.
At the end of April 2022, GRIDSERVE will open its doors to the Norwich Electric Forecourt® at Broadland Gate Business Park in Postwick. The second member of our Electric Forecourt® family will boast an all-new design and have the ability to provide up to 350kW high power charging for 22 vehicles.
There will also be six low power charging bays and a further eight bays for the Tesla Supercharger network. And, in keeping with our company philosophy, all of the power delivered on site will be either zero carbon or net zero carbon energy.
The Electric Forecourt® forms part of the GRIDSERVE Electric Highway, an award-winning EV charging infrastructure that now covers more than 80% of the UK's major motorways. While this emerging infrastructure is helping to provide a paradigm shift in the traditional EV driver's experience, it's the development of our Electric Forecourts® that are helping entire communities feel confident about making the switch to electric cars, bikes and vans. Particularly for the estimated 40% of UK households who don't have the ability to charge easily at home.
In January, consumer car magazine WhatCar? awarded GRIDSERVE the 2022 'Best Innovation' prize for its Electric Forecourt®, describing the site as a 'game changer' as well as a 'must visit destination' for EV drivers across the country. Indeed, it's the first time that such an accolade has been awarded to a non-vehicle manufacturer and something the team is incredibly proud of.
But in truth, the Electric Forecourt® is a vision born out of necessity rather than any aesthetic reverie. Emissions from the burning of fossil fuels remain the biggest cause of human-induced climate change, and as oil and gas reserves continue to deplete following a century of fossil-fuel driven industrialisation, extracting this energy is getting harder, more destructive, more expensive and pollution heavy. To steal a line from our friends at Fully Charged, "We need to stop burning stuff".
Sites like the Norwich Electric Forecourt® will prove there is another way for drivers, by creating an EV charging experience that isn't just fundamentally better than filling your car with carcinogenic petrol or diesel, but also far cheaper, thanks to the way we generate sustainable energy from our hybrid solar + battery farms. We're committed to being both EV enablers and energy disruptors.
With only a few months remaining until launch, we decided to grab our hi-vis jackets and visit our latest venue for a sneak peek. After being given a hard hat and an insurance release to sign, we're dodging muddy puddles and meeting Marcus Glynn, head of construction for GRIDSERVE; the man tasked with a disconcertingly vast range of operational factors to consider.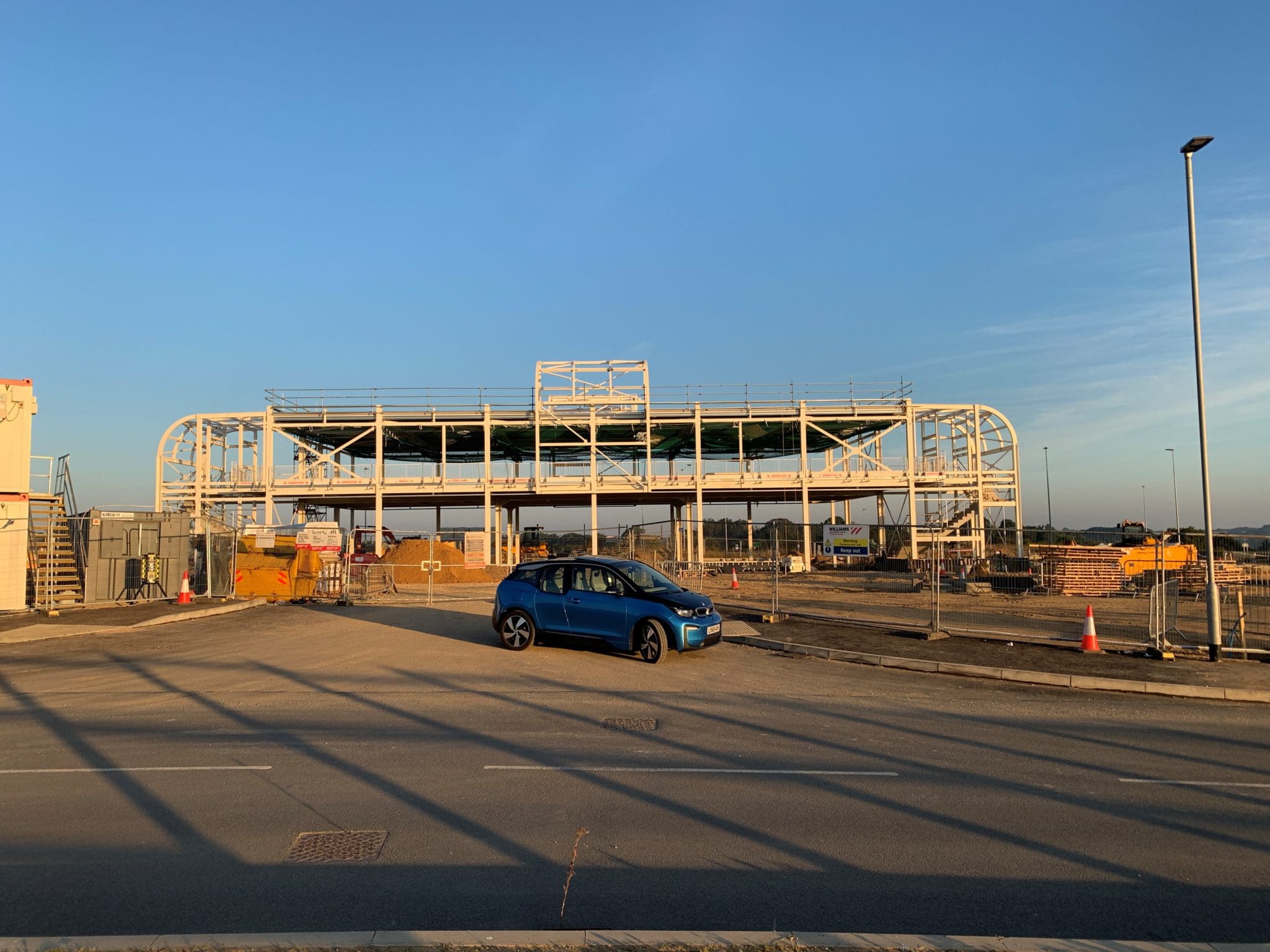 "What we're doing here is really ambitious," he says. "Because of the physical site constraints, we've had to raise the Electric Forecourt® onto a podium platform, elevating a  retail space that will include Costa and M&S Food, as well as office pods and a generous lounge area for people to chill with free WiFI as they charge their cars. The podium design means all the high power charging sits directly beneath the building."
On any given day, there are between 20 and 50 workers on site, often involving multiple teams with very particular sets of skills. Just monitoring the brief exchanges taking place this morning, the volume of activity and decisions to be made in real-time, amidst a cacophony of diggers, welders and drillers, is enormous. Yet this uncelebrated army of workers is nothing if not agile.
Part of rewriting the rulebook is to constantly find solutions. Unanticipated difficulties become almost routine, with early timelines frequently being shuffled or rewritten due to supply chain-related issues.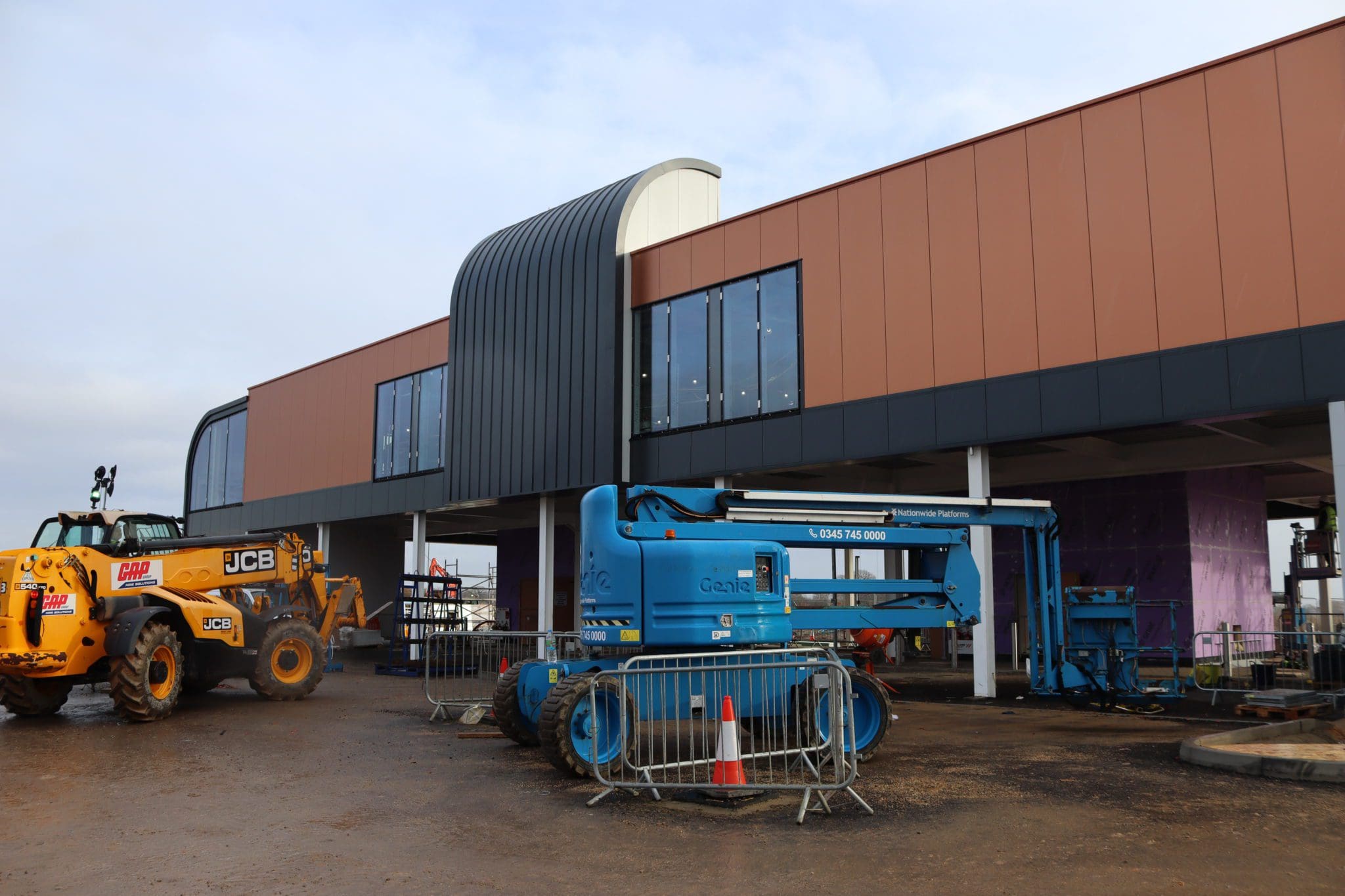 To the untrained eye, the site still looks like a skeleton of steel beams and copper cladding seemingly floating above a web of cables and transformer boxes. As we work our way around a series of large metal trusses and ascend to the first floor with the support of a temporary staircase railing, the panoramic view of The Broads is shouting in glorious technicolour. Sunsets are going to be spectacular from up there.
It's safe to say the Norwich Electric Forecourt® will be more than an EV charging station. It will become a catalyst for behaviour change in Norfolk, as evidenced by our first Braintree Electric Forecourt® in Essex where, within the space of one year, the site helped EV registrations in the local area double, far surpassing any national average increases.
We believe this is the sort of facility that people who are nervous about making the switch to EVs are looking for, and we hope the people of Norwich, and indeed Norfolk, will now look at electric vehicles in a new light. We're looking forward to seeing you all in April.