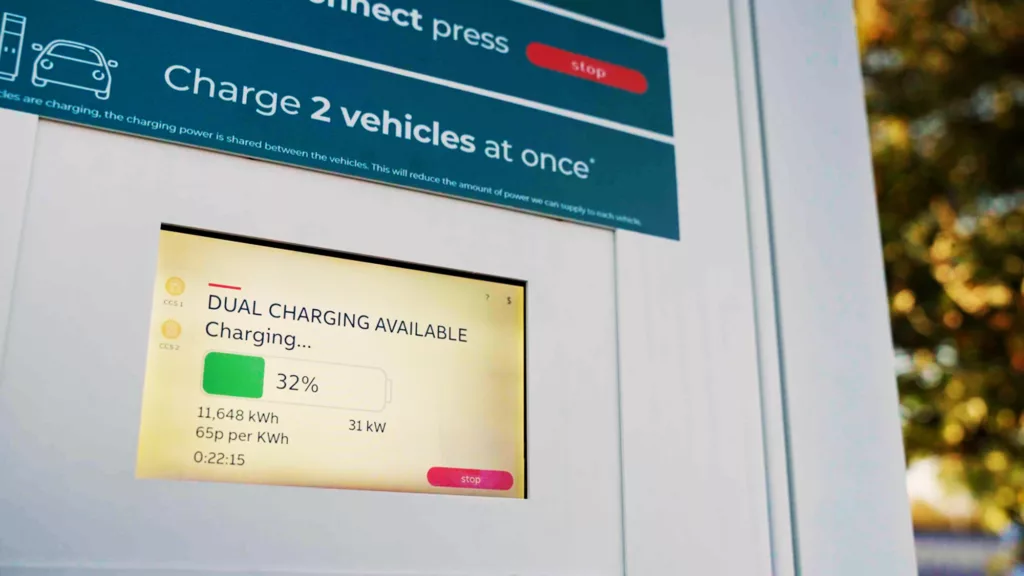 The GRIDSERVE Electric Highway is expanding rapidly across the UK with state-of-the-art electric vehicle (EV) chargers at brand new Electric Forecourts® and Electric Super Hubs. Yet we aren't forgetting the legacy EV charging sites that were acquired from Ecotricity in 2021 and cover 85% of the UK's motorway service areas.
Today, our new Medium Power units provide CCS, CHAdeMO and Type 2 connectors, feature contactless payment and offer real-time service updates to all major EV charging apps, including Zap-Map, so you know what to expect at each charging location before you arrive.
And now, thanks to some fancy new software, we've added Dual Charging capability to the mix.
Cool… what is Dual Charging?
As the name describes, Dual Charging allows two vehicles to charge simultaneously from one EV charging unit. Of course, that unit must have two connectors and have suitable parking space, but the hope is that more people will be able to charge their cars in less time and get moving again.
How do I charge my car by using Dual Charging?
Charging your electric vehicle is exactly the same as before: you simply park up, plug in and pay with a contactless credit or debit card, Apple or Google Pay. Now, however, if you spot a Medium Power EV charging unit already in use, you can select the second connector on the screen and charge, too.
Both printed and digital signage on the charger will inform you that Dual Charging is available and all sites will feature a good mix of both CCS and CHAdeMO connectors so that everybody wins. To end a charging session, simply select your chosen connector on the screen, tap the same bank card or smart device against the payment terminal and return the connector to its holster.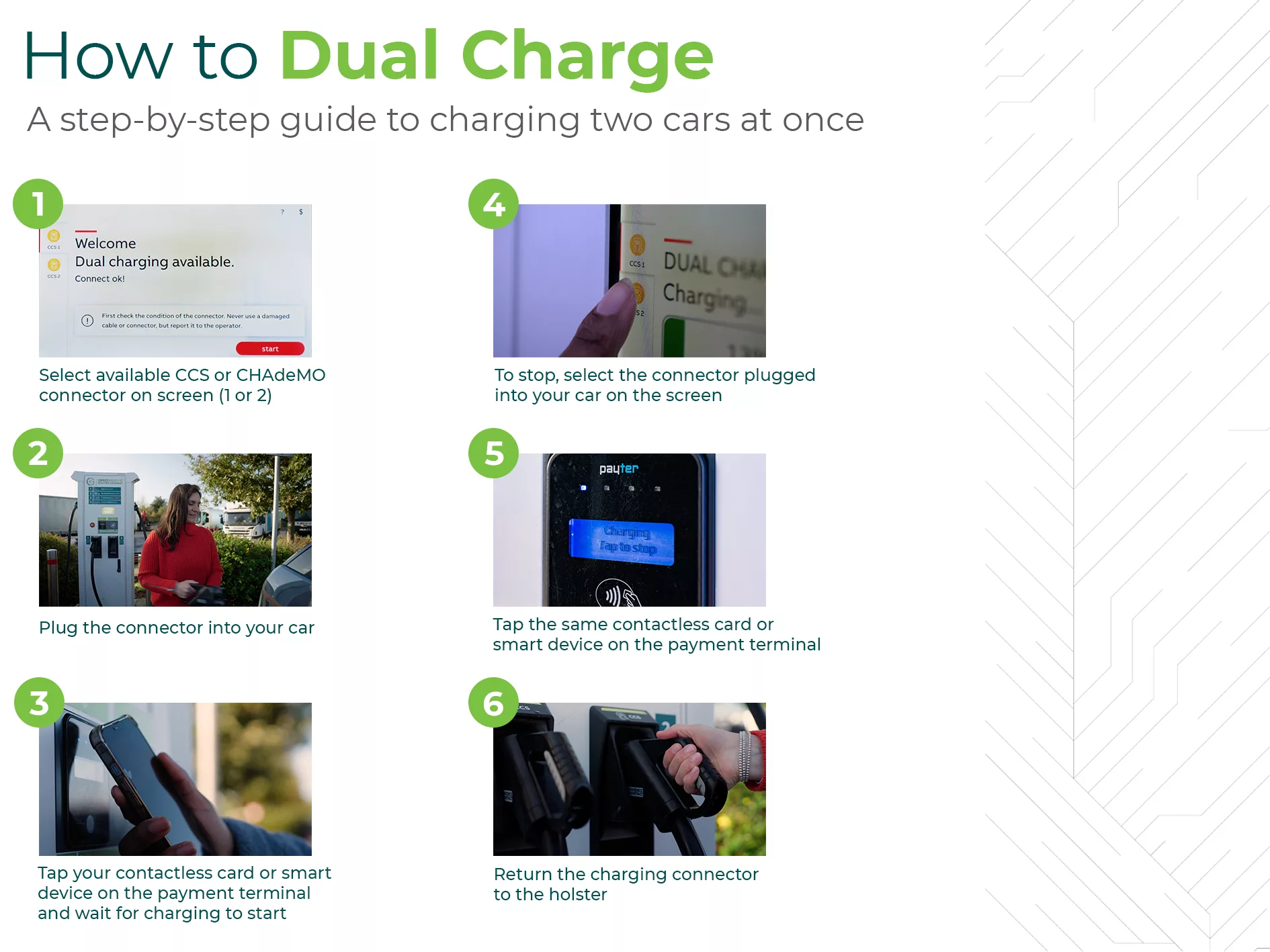 How powerful are these Dual Charging EV chargers?
For now, the Medium Power EV chargers can provide up to 60kW of power – that's enough to add 100 miles of range in less than 30 minutes. With Dual Charging, the charger's power is split in half between both connectors, so that means each vehicle will get up to 30kW.
Of course, these newly installed Medium Power EV chargers have been designed to provide much more power than 60kW but our ability to dispense any more juice is limited by existing grid connections. The team is continuing to work on multiple site-specific solutions but, in the meantime, we'll be closely monitoring the power outputs of each site, as well as your feedback. Sharing your experiences along the GRIDSERVE Electric Highway will help us improve EV charging for everyone.
We also have a software upgrade coming soon that will help to facilitate dynamic load balancing. In other words, the charger will be able to intelligently split the power between both vehicles to better optimise each driver's EV charging session. We talk a lot about maximum EV charging outputs, but the reality is that charging rates are not linear. Think less about straight lines and more about charging curves.
How much does it cost?
Dual Charging is exclusively available on our Medium Power EV chargers. GRIDSERVE categorises its EV chargers as either Low Power, Medium Power or High Power, and you can keep updated on all pricing here. Remember, you only pay for the energy that is sent to your vehicle, not for the time you spend connected to an EV charger.
Are Dual Charging EV chargers easy to find?
Across the GRIDSERVE Electric Highway, 95% of our Medium Power EV chargers are now compatible with Dual Charging, colour-coded in teal on the GRIDSERVE map. It's always recommended that you review the GRIDSERVE map to see what specific chargers and connectors are available at your preferred location.
This is great, but err, can't GRIDSERVE just install more EV chargers?
If only it was that simple. Although we know electric vehicle sales are continuing to accelerate, the number of EV chargers and dedicated charging spaces GRIDSERVE is allocated at certain motorway service areas are often tied to legacy contracts.
However, we're working with our partners to roll out more EV charging infrastructure across the country, in the shape of our Electric Forecourts® and Electric Super Hubs. These sites have been developed from the ground up to feature many more High Power EV chargers – we're talking anywhere from six to 36 EV chargers – with more accessible parking bays as well as new, multi-megawatt grid connections.