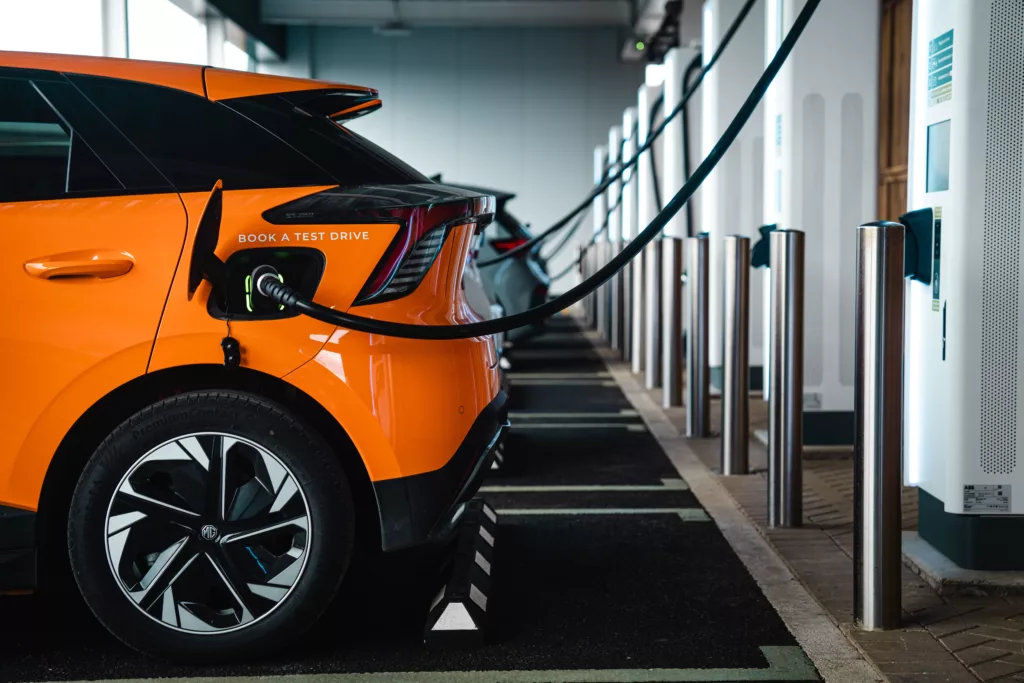 Despite driving the same car every day for years, most people have a sudden panic every time they turn into a petrol station… which side is my fuel filler cap? Is there an available spot with the pumps on the right side?
Most sit and queue for the right configuration while some brave souls battle with the cable and drape it unceremoniously over a bootlid.
Fortunately for electric car drivers charging on the GRIDSERVE Electric Highway, life is a little simpler. The majority of our charging points are placed at the end of a bay, so it doesn't matter if your charging port is located on the left or right, front or back. Our tethered cables are designed to be long enough to reach across your car, too.
While at our Electric Forecourts®, we have plenty of available bays so it's unlikely you won't find a spot on the correct side.
Still, it's useful to know where the charging port is for a variety of reasons, more on that in a moment…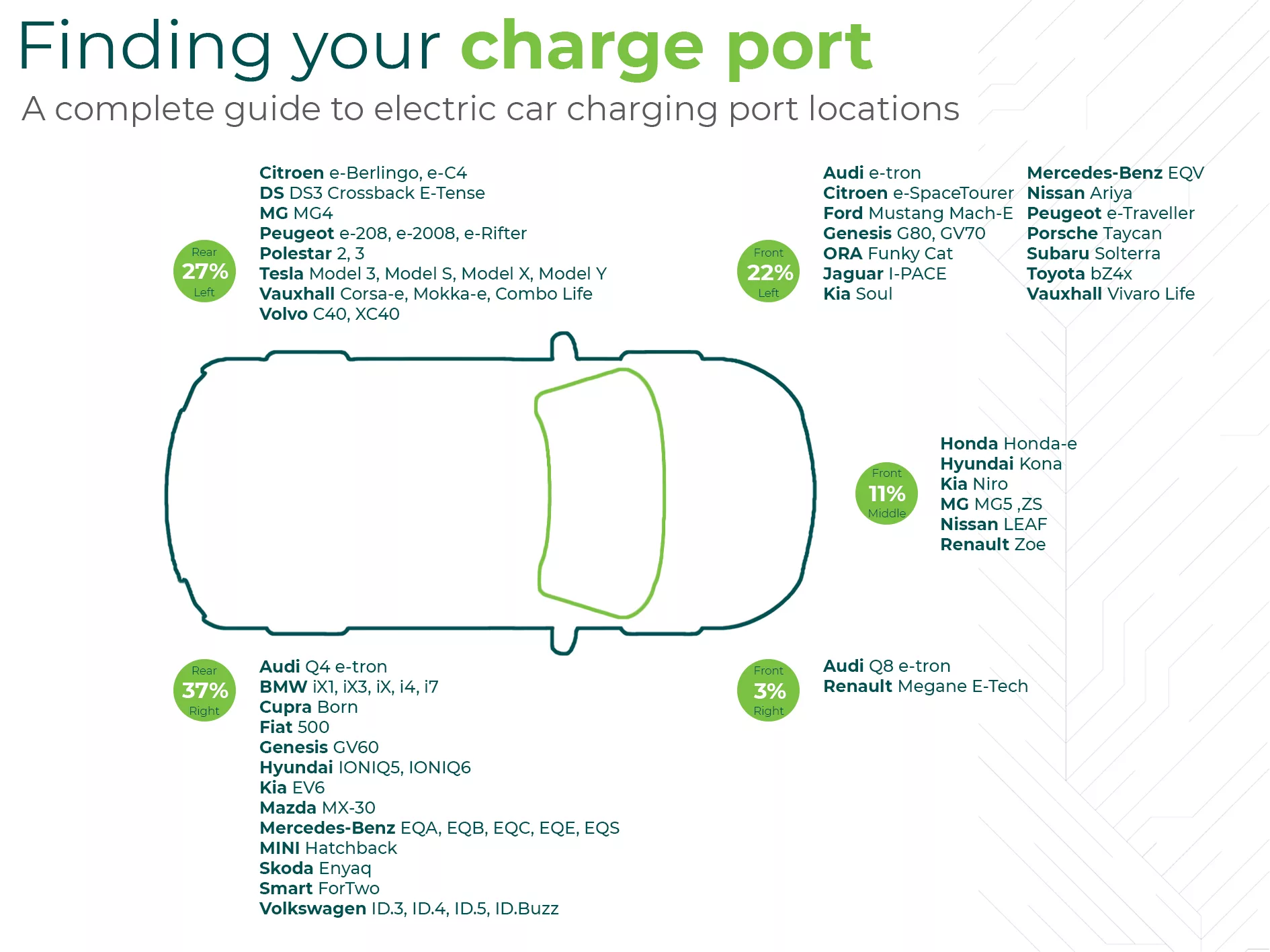 What's the most common charging port location?
The results are in… the right rear is the most common place for a charging port on your car, with 37% of vehicles on sale configured this way in the UK.
However, it's actually more likely that you'll find the port on the left side, with half of charging ports located on the left, but equally split between the rear and front.
That means, for over two-thirds of drivers we'd recommend reversing into a charging bay as you'll have easy access. Plus, leaving the bay is safer if you can drive out as you'll have full view of anyone returning to their car from a quick stop in Greggs or Costa.
Clearly, for those with charger points at the front (36% of cars on sale), you'll have no option to drive in. It's for these drivers that we'd recommend taking extra care when leaving a charger and making use of reversing cameras and sensors to avoid accidents with pedestrians or pets.
Why is charging port location important?
You'll have no problems on the GRIDSERVE Electric Highway wherever your plug is located, but we'd recommend checking the port's placement before you buy or lease a new electric car if you're planning to charge at home.
Are there restrictions on where you can install a wallbox unit? If you can only park a certain way on a driveway, then that might influence which car you pick – or you'll have to ensure your cable is long enough. Or perhaps you live on a main road where reversing out of your drive is not possible. In this case you'll want a car that can charge at the front.
Where is the charging port located on my EV?
There's no hard and fast rule, and no legislation, over where a charging port should be.
The majority of big German car brands, like Volkswagen, Mercedes-Benz and Audi, fit their charging ports to the right rear – that's because they're designed for the majority of their sales in Europe where motorists drive on the right-hand side of the road. This exposes the charging port to the kerbside allowing them to plug in easily at on-road chargers.
That's opposed to the brands that fall under the Stellantis umbrella (e.g. Citroen, Peugeot and Vauxhall), which favour the left rear, which is better suited to UK left-hand drive roads.
Then, there are those that like to do things a little differently… like some MGs and the Renault Zoe have their charging ports in the middle, behind the front grille.
| | | | | |
| --- | --- | --- | --- | --- |
| Right Rear | Right Front | Left Rear | Left Front | Middle Front |
| Audi Q4 e-tron | Audi Q8 e-tron | Citroen e-Berlingo | Audi e-tron | Honda e |
| BMW iX1 | Renault Megane E-Tech | Citroen e-C4 | Citroen e-SpaceTourer | Hyundai Kona |
| BMW iX3 | | DS3 Crossback E-Tense | Ford Mustang Mach-E | Kia Niro |
| BMW iX | | MG4 | Genesis G80 | MG5 |
| BMW i4 | | Peugeot e-208 | Genesis GV70 | MG ZS |
| BMW i7 | | Peugeot e-2008 | ORA Funky Cat | Nissan LEAF |
| Cupra Born | | Peugeot e-Rifter | Jaguar I-PACE | Renault Zoe |
| Fiat 500 | | Polestar 2 | Kia Soul | |
| Genesis GV60 | | Polestar 3 | Mercedes-Benz EQV | |
| Hyundai IONIQ5 | | Tesla Model 3 | Nissan Ariya | |
| Hyundai IONIQ6 | | Tesla Model S | Peugeot e-Traveller | |
| Kia EV6 | | Tesla Model X | Porsche Taycan | |
| Mazda MX-30 | | Tesla Model Y | Subaru Solterra | |
| Mercedes-Benz EQA | | Vauxhall Corsa-e | Toyota bZ4x | |
| Mercedes-Benz EQB | | Vauxhall Mokka-e | Vauxhall Vivaro Life | |
| Mercedes-Benz EQC | | Vauxhall Combo Life | | |
| Mercedes-Benz EQE | | Volvo C40 | | |
| Mercedes-Benz EQS | | Volvo XC40 | | |
| MINI Hatchback | | | | |
| Skoda Enyaq | | | | |
| Smart ForTwo | | | | |
| Volkswagen ID.3 | | | | |
| Volkswagen ID.4 | | | | |
| Volkswagen ID.5 | | | | |
| Volkswagen ID.Buzz | | | | |