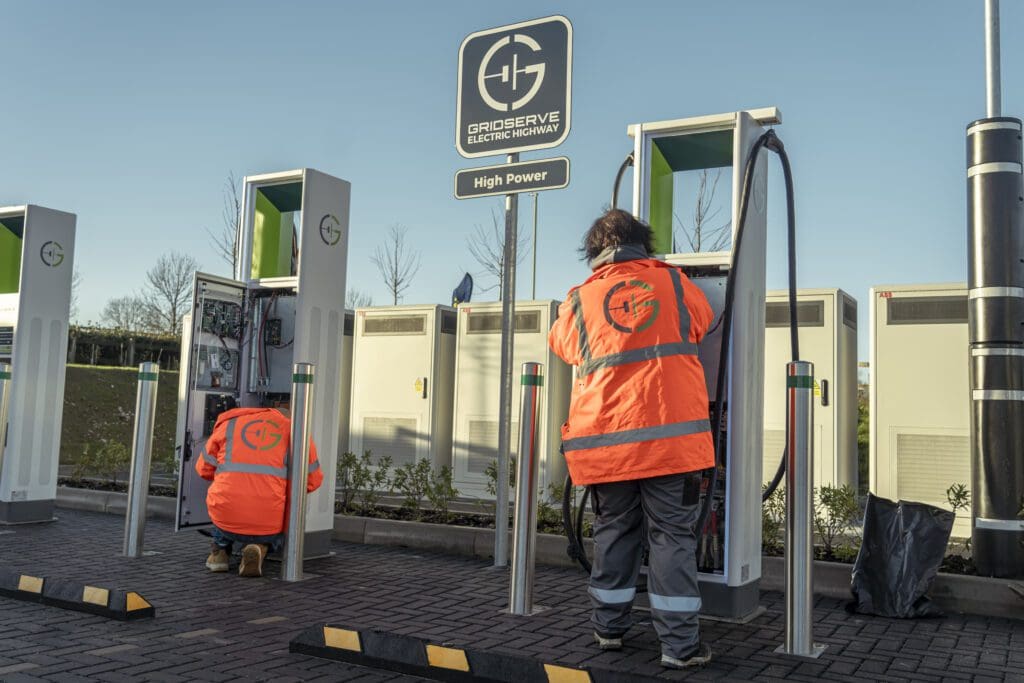 There aren't enough chargers. Of all the statements concerning the electrification of transport, this one is central to some of the most vociferous online discussions. It feels like you're only a thumbscroll away from somebody pulling the pin and lobbing in a nice little picture grenade of a tailback of electric vehicles queuing to infinity, clearly demonstrating the grim reality of progress in the name of clean transportation.
The solution is, as those online suggest, to 'plonk in more chargers'. But it's not quite that straightforward. And that's why we're stood in a retail car park on a breezy (if you're northern) / baltic (if you're southern) morning, where the sky is the same colour as that white shirt you've washed one too many times.
We're here to meet Adam Meakins, programme manager of one of the latest GRIDSERVE Electric Super Hubs to go live at Solstice Park, Amesbury, and to discover how the reality of 'plonking in' more EV chargers involves a world full of complexity, collaboration and clever engineers.
The charge of EVs
In December 2022, fully-electric vehicles claimed their largest monthly market share of 33%. For 2022 as a whole, they accounted for 16.6% of registrations, surpassing diesel-powered vehicles for the first time, a trend that has continued into the first half of 2023 (15.7% market share to May).
Yet as electric cars have moved from niche interest into the contemporary mainstream, driver concerns have also shifted from 'range anxiety' – the fear that the car's battery would run out of charge before reaching their intended destination – to 'charge anxiety'. In other words, drivers won't be able to find a charging point when they need one.
GRIDSERVE isn't in the business of reality distortion. It knows that public EV charging is critical to consumer confidence and that the landscape today requires rapid improvement on all aspects of availability, reliability and accessibility – not just for the future of EV drivers but for the future of humanity itself.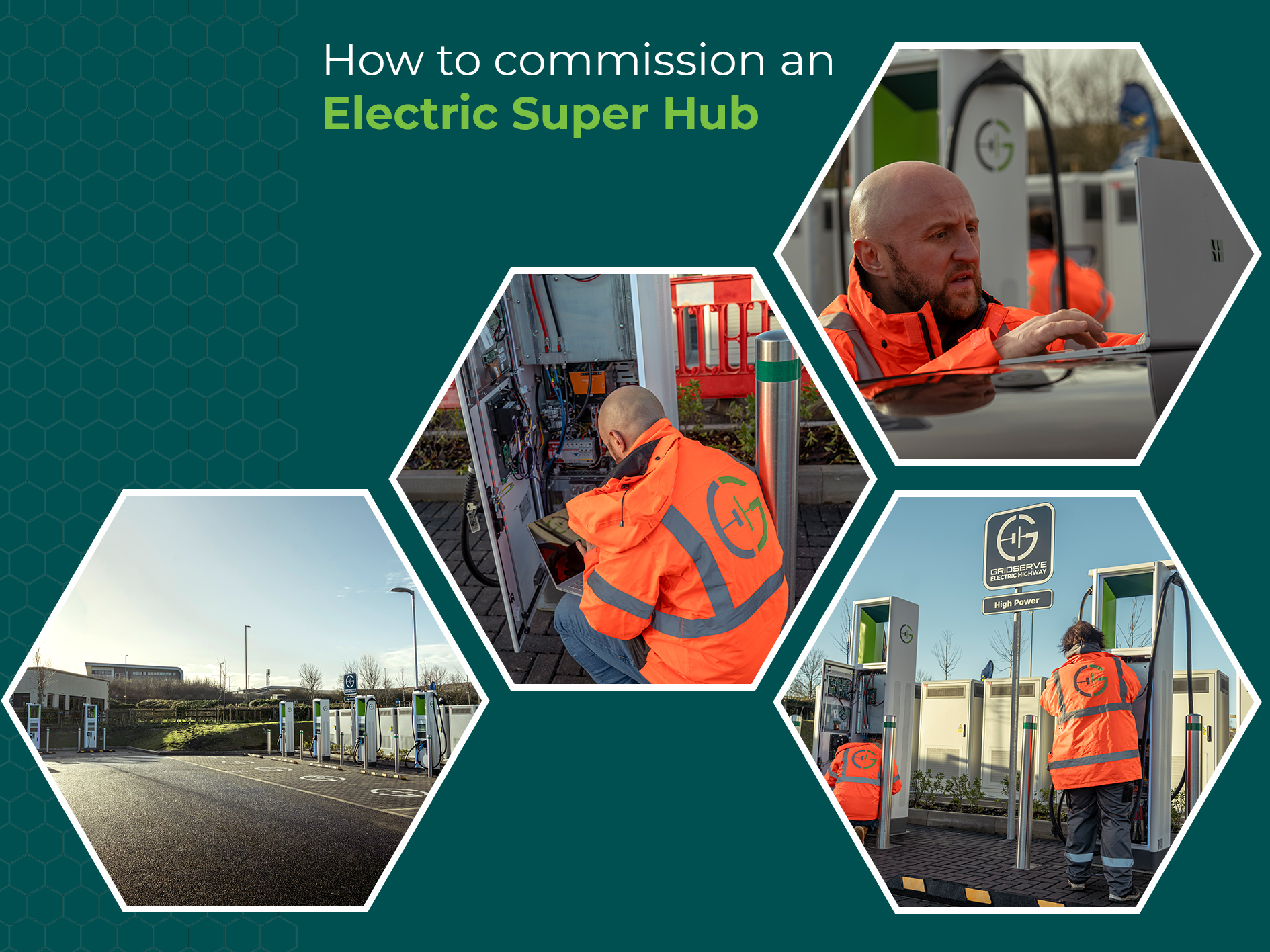 Introducing the Electric Super Hub
For the untrained eye, a GRIDSERVE Electric Super Hub is an EV charging destination that features a bank of 350kW-capable EV chargers, which the company defines as 'High Power' in the name of simplicity.
"Unless you include the £2m Lotus Evija hypercar, there aren't any cars available that can charge at 350kW, but even the latest electric models with 200+kW charging capability can accrue 100 miles of range in around 10 minutes," explains Adam.
That's barely enough time to walk the 20 steps from these new chargers at Solstice Park to the Greggs cafe and enjoy a bacon and omelette breakfast roll (hey, this is a judgment free zone). A great feature about these Electric Super Hubs is that, regardless of whether they're located at Retail Parks or Motorway Service Areas, GRIDSERVE always strives to locate them next to a selection of welcome amenities.
All GRIDSERVE EV charging locations feature contactless payment for tap-and-charge convenience but the Electric Super Hub sites also commit to offering both CCS and CHAdeMO connectors, plus extra-wide accessible bays for wheelchair users. Clearly, this is the sort of national rollout that will banish charge anxiety chatter into the history books.

Months in the planning
We visited Solstice Park on the day of its commissioning and it's a cluster of excitement and hi-vis jackets. Adam is coordinating the final bits of sign off, but he is quick to point out that this project began six months earlier when GRIDSERVE's legal team were tasked with negotiating a complex ecosystem of land owners, adjacent business owners, local and central government, plus the all-important Distribution Network Operators (DNOs) to make this happen.
DNOs are the companies licensed to distribute electricity in specific areas of the UK – no energy, no new chargers. While that makes the DNO the ultimate arbiter of timelines, it's entirely possible for any one of these stakeholders to put the handbrake on a project like this.
Some, like Moto Rugby are plain-sailing and can take a matter of months to be switched on, while others like Moto Ferrybridge can drag their feet through paperwork and approvals for what seems like eternity (in reality, sometimes a year or more), thus delaying the roll-out of EV charging infrastructure. GRIDSERVE is developing lots of innovative ways to work around these external factors, both with new processes and new technology. Moto Ferrybridge, for example, features a temporary microgrid that uses second-life batteries and vegetable oil to energise the site long before a grid connection is in place.
After paperwork, the physical site of a new Electric Super Hubs can be prepared in a matter of weeks, split into what Adam describes as contestable and non-contestable works. The former is the stuff GRIDSERVE performs directly including the civil engineering and installation of the chargers. For a business predicated on sustainability, Adam has to ensure these operations are as clean as possible, utilising things like electric diggers for any excavation work, generators powered by solar and/or vegetable oil and, of course, electric vehicles for the site team.
Non-contestable works covers the stuff that GRIDSERVE can't legally do itself. For example, the impressive charging speeds mentioned earlier have only been made possible at Solstice Park by an all-new 1.5MVA grid connection and it's the DNO that has the power (sorry…) to energise.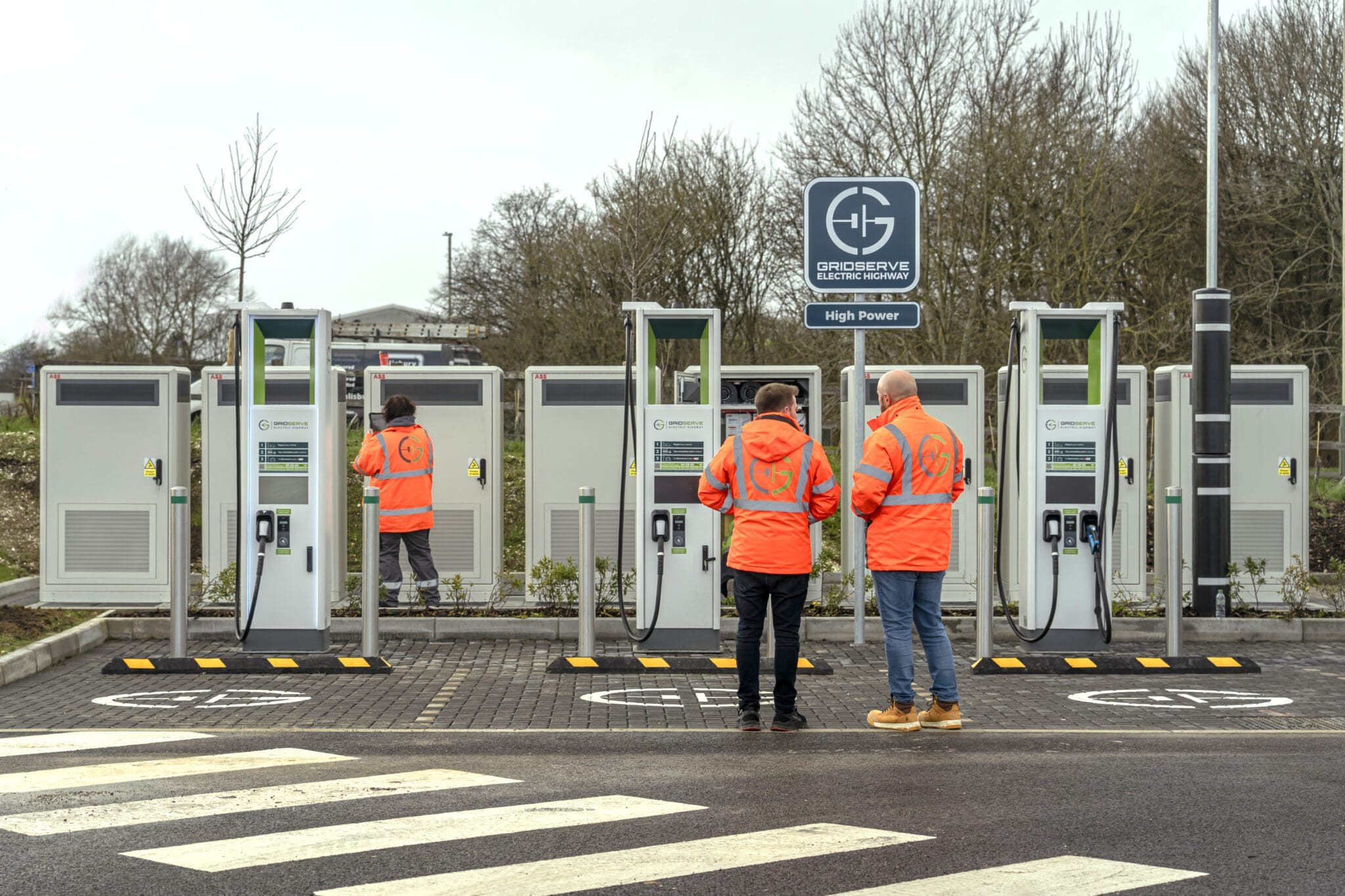 Final checks on site
We meet Claire Motion, another member of the GRIDSERVE team, who is forensically sifting through a shopping list of final checks before each of the eight High Power chargers are given the green light. She is focussed and unflappable, despite the 5am alarm clock and our luddite level of questioning.
Behind the eight chargers is some welcome planting which, in time, will provide a nice green screen from a further eight large cabinets that are tasked with dynamically balancing the power to each charger. To the right-hand side of the plot are three more anonymous green boxes.
The first is the sub-station which contains a transformer to 'step down' the voltage from the grid and a ring main unit (RMU) to provide a continuous power supply. Next up is the feeder pillar, which takes the supply of electricity from the transformer and distributes it to the chargers. And finally, there's the SCADA cabinet which contains all the system comms for the chargers and looks like something only Alan Turing could decipher.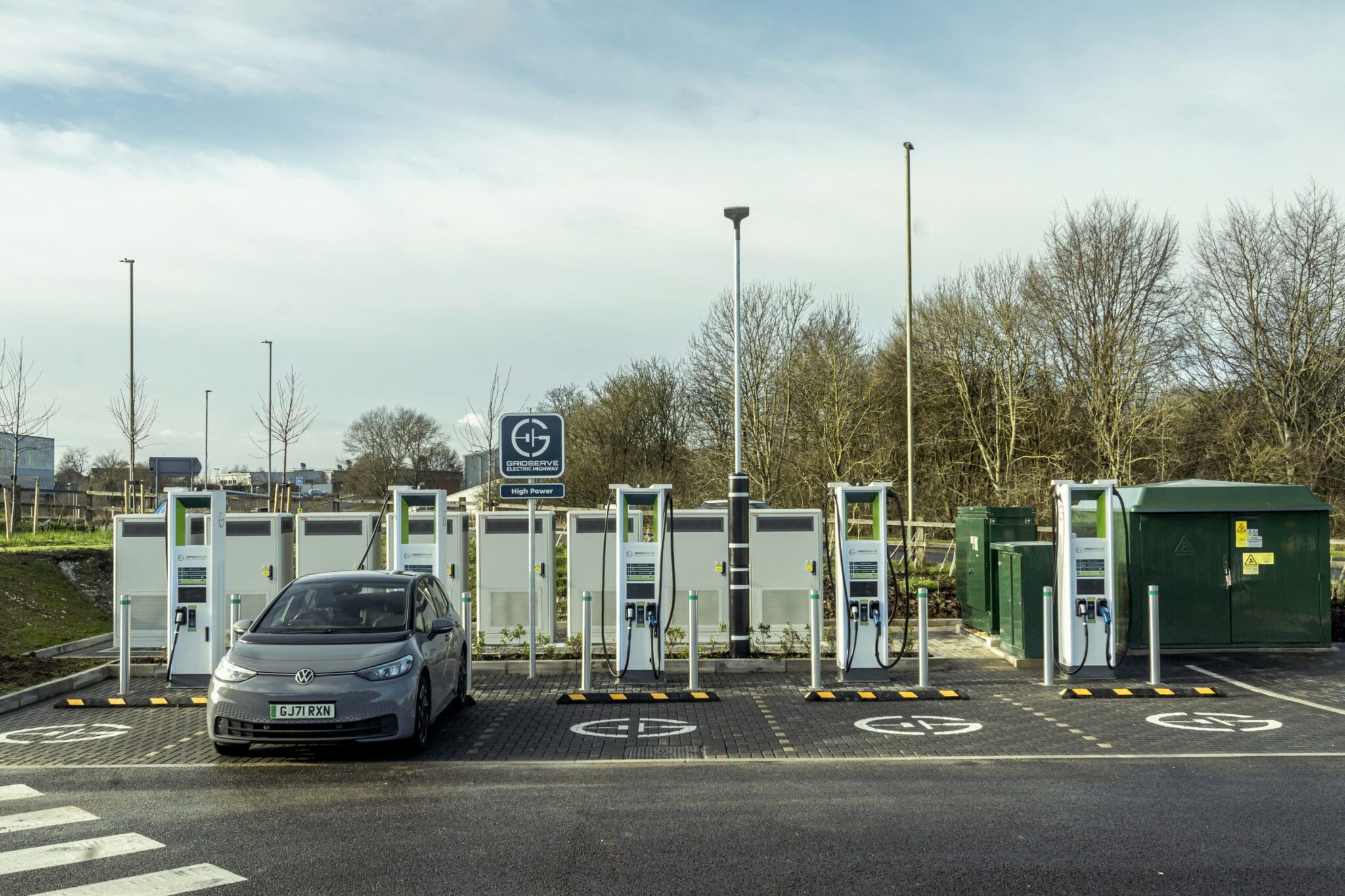 Claire is getting to the bottom of her checklist: charging ports are photo-documented, serial numbers are cross-checked with individual payment and monitoring systems, and we're left waiting on the outcome of each skinny white box with the same dry-mouthed anticipation you experience at the end of your driving test. Fortunately, no minors have been recorded and the site goes live with little fanfare. The team packs up quietly and attention already moves to the next site.
Before Claire leaves, she shows us a raft of the detailed revisions that have been applied since the first Electric Super Hub debuted at Moto Rugby less than two years ago. It's proof that the experience curve is in full effect and making every new EV charging destination better, faster and more environmentally friendly.
So, it turns out that installing High Power EV charging infrastructure is complicated. Of course, we knew that, but perhaps we didn't know just how complicated. To describe the decarbonisation of transport as a 'journey' in that fashionable false-metaphor-kind-of-way feels far too genteel for what the story actually looks like from the ground.
For more than a century, the internal combustion engine has literally shaped our world. Shifting that world, with all that embedded investment and complexity and might, in the space of a few years, is one almighty challenge. But it's a challenge that GRIDSERVE seems determined to meet.