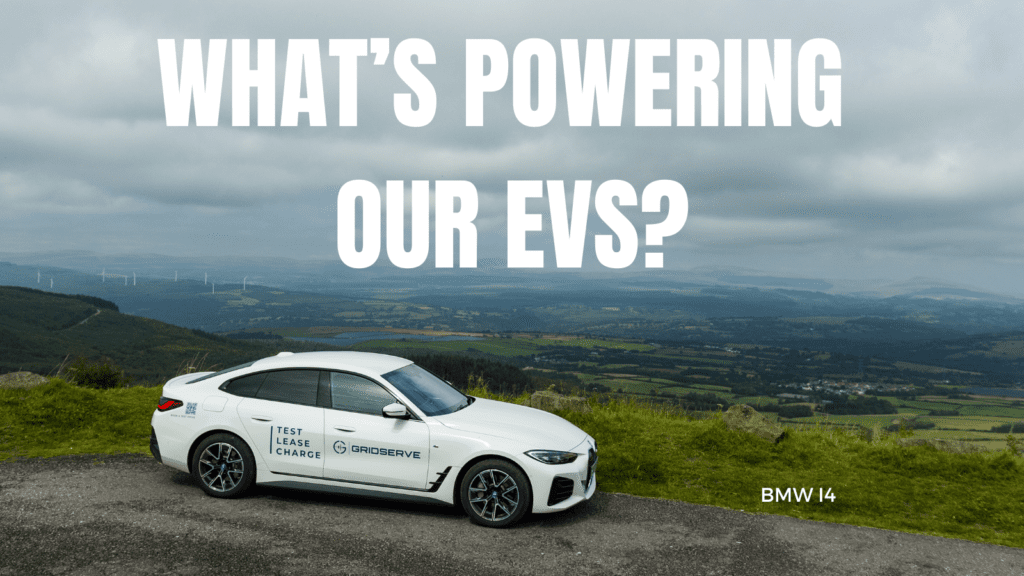 We like to bust a myth or two at GRIDSERVE where we can. And there are, of course, plenty around electric cars – as is often the way when a new technology breaks through and progress-wary sceptics dig their heels in.
Myths such as "the electricity to power the car comes from burning coal". This is one of the longest-lived misconceptions, repeated in earnest since the first mass-market EVs gained traction in the early 2010s. But it's also something that was partially true up until the last decade or so, when the UK's mix of renewable energy in the grid started to properly increase.
In 2019 the UK hit a milestone when more energy was generated from zero carbon sources than burning fossil fuels. In 2023 that mix of renewables has hovered just under the 50% mark, and in April coal generated just 0.1% of our electricity. The mix of renewable energy will continue to increase as new sources come on stream – meaning charging your EV will generate less and less carbon as time goes on.
Our solar farms play a big role in growing the share of renewables powering the homes (and cars) of Britain as time goes on. But what are the other established sources of green energy already doing their job? We decided to take a road trip in one of our favourite electric cars of the moment – the BMW i4 eDrive40 – across Wales to learn more.
Wales: the home of renewables
Why Wales, we hear you ask? Well, not simply because it's a country with breathtaking scenic views and some of the best driving roads in the UK (okay, maybe partly that). Wales is also at the forefront of renewable energy generation which began back in the 1890s, when a large house in Gwynedd became the country's first to feature electric lighting powered by its own hydro-electric station.
It's even more significant as Wales was once a global leader in coal distribution thanks to its vast mining industry. But a century later it also became the first country in the world to officially declare a climate emergency in April 2019, subsequently passed by the Senedd (Welsh Parliament) a few days later.
At the time Lesley Griffiths, the Minister for Environment, Energy and Rural Affairs said: "I believe Wales can provide an example to others of what it means to achieve environmental growth. Our sustainable development and environmental legislation is already recognised as world leading and now we must use that legislation to set a new pace of change."
Bold words.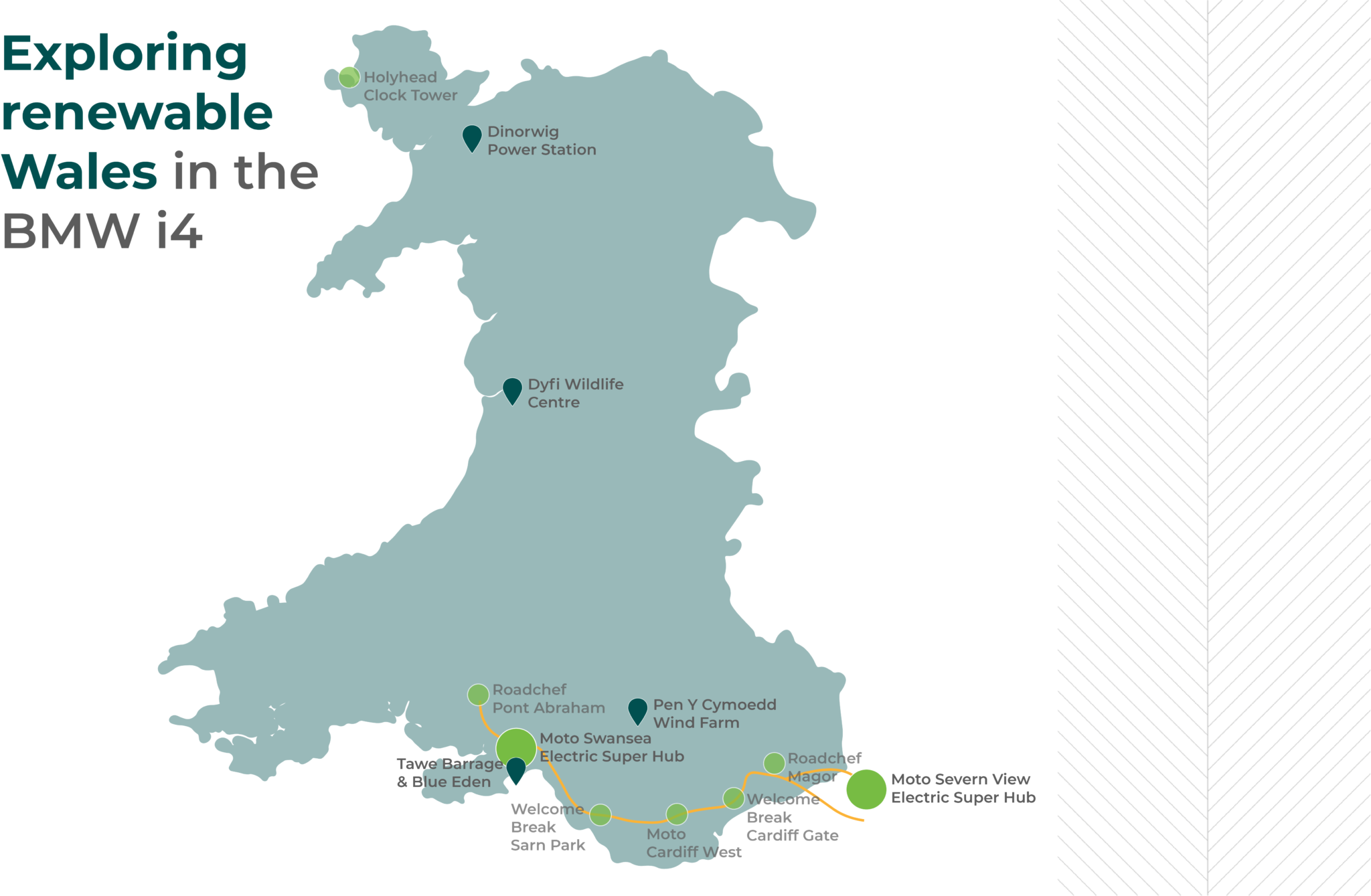 Our road trip begins from GRIDSERVE HQ in Iver, Buckinghamshire, where the i4 has been topping up charge overnight from our on-site solar panels. It's a convenient place to start, allowing us to jump straight onto the M4 motorway leading from south-east England over the Prince of Wales Bridge into South Wales.
The i4's motorway efficiency is already exceeding expectations after a few miles, settling at just under four miles per kWh at a steady 70mph. Doing the maths with the BMW's 80.7kWh usable battery capacity means a long motorway range of almost 320 miles – impressive, given EVs are always more efficient in town.
It also means we can blast past GRIDSERVE's newly-installed Electric Super Hubs at Moto Reading and Leigh Delamere and not even think about charging until deep into South Wales. With its low noise levels, nicely-damped ride and comfortable yet supportive seats – plus that range – the i4 is ideally suited to the kind of motorway jaunts that BMWs have excelled at for years.
In reality, it's my bladder and my hunger for a decent breakfast, that warrants a stop and plug-in 149 miles later at Welcome Break Sarn Park services just outside Bridgend. We'd consumed less than 50% of the i4's battery by that point, so a quick top-up to 80% is enough to see us through the rest of the day.
Wind: Pen Y Cymoedd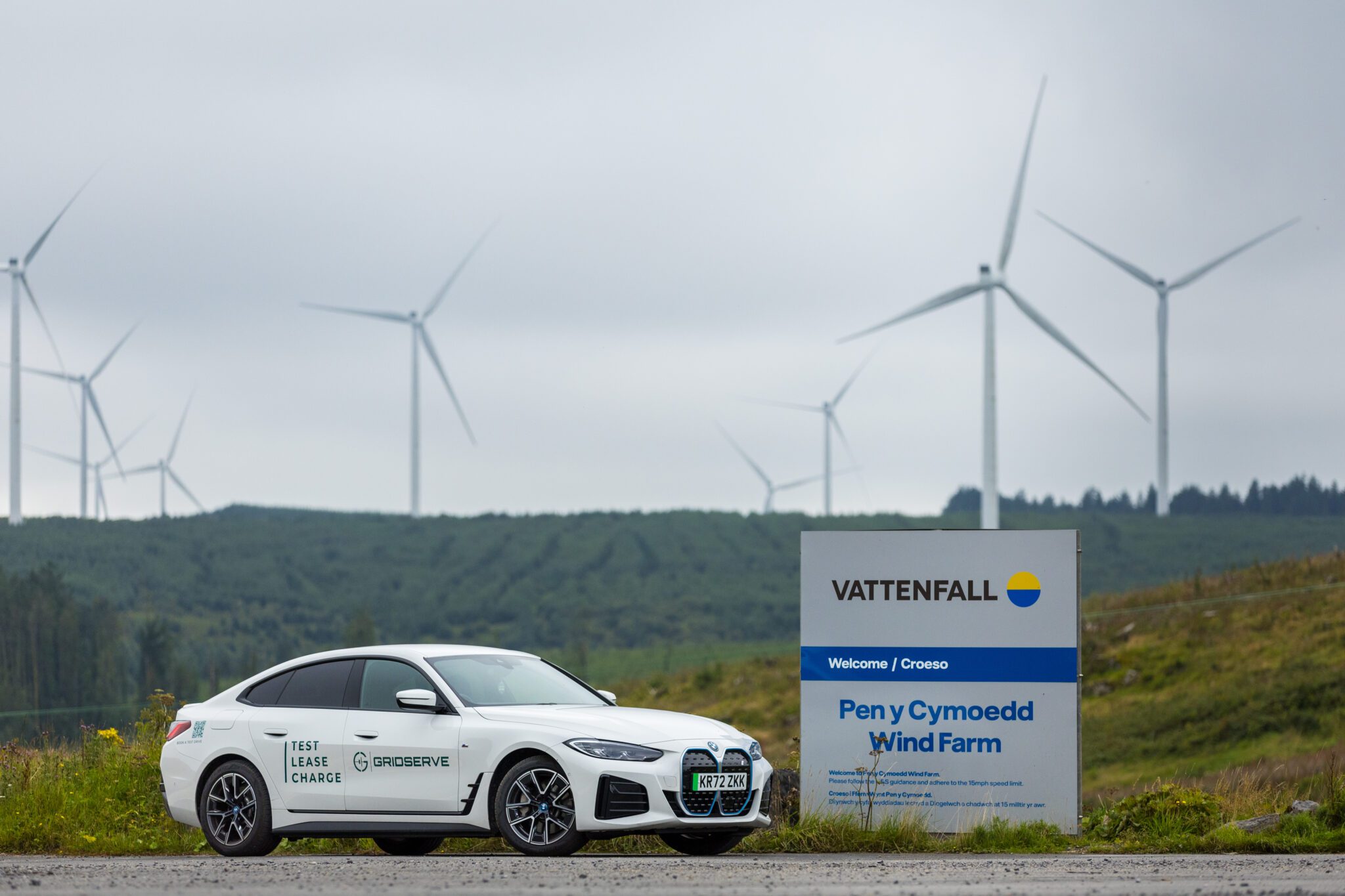 Our first destination is Pen Y Cymoedd wind farm 20 miles north of Bridgend. The largest onshore wind farm across England and Wales, its 76 looming turbines can produce 228MW, or enough electricity to power 15% of Welsh homes each year. Critical to stabilising the supply from the turbines to the grid is a 22MW battery located on-site. Interestingly, five shipping containers house over 500 lithium-ion battery packs, lightly modified from their original job: powering BMW i3s.
These i3 packs were new when installed at Pen Y Cymoedd in 2018 because a reliable source of used 'second-life' EV battery packs wasn't available at the time. However, with far more EVs on the road in 2023 there are already several projects recycling used batteries from electric vehicles that have been otherwise written off or reached the end of their first life.
Some aren't fans of the aesthetics of wind turbines, but to both mine and our photographer's eyes they add to the visual drama of the landscape. They also don't make very much noise at all, even up close.
Prefer not to see them? Don't worry, Wales also has three offshore wind farms in the Irish Sea capable of developing a healthy 726MW of power. With regularly present strong winds in the Irish Sea, the Welsh Government estimates it could meet its 2030 target to have a 70% renewable energy grid mix through wind power alone – as long as planned projects progress.
Water: Tawe Barrage / Blue Eden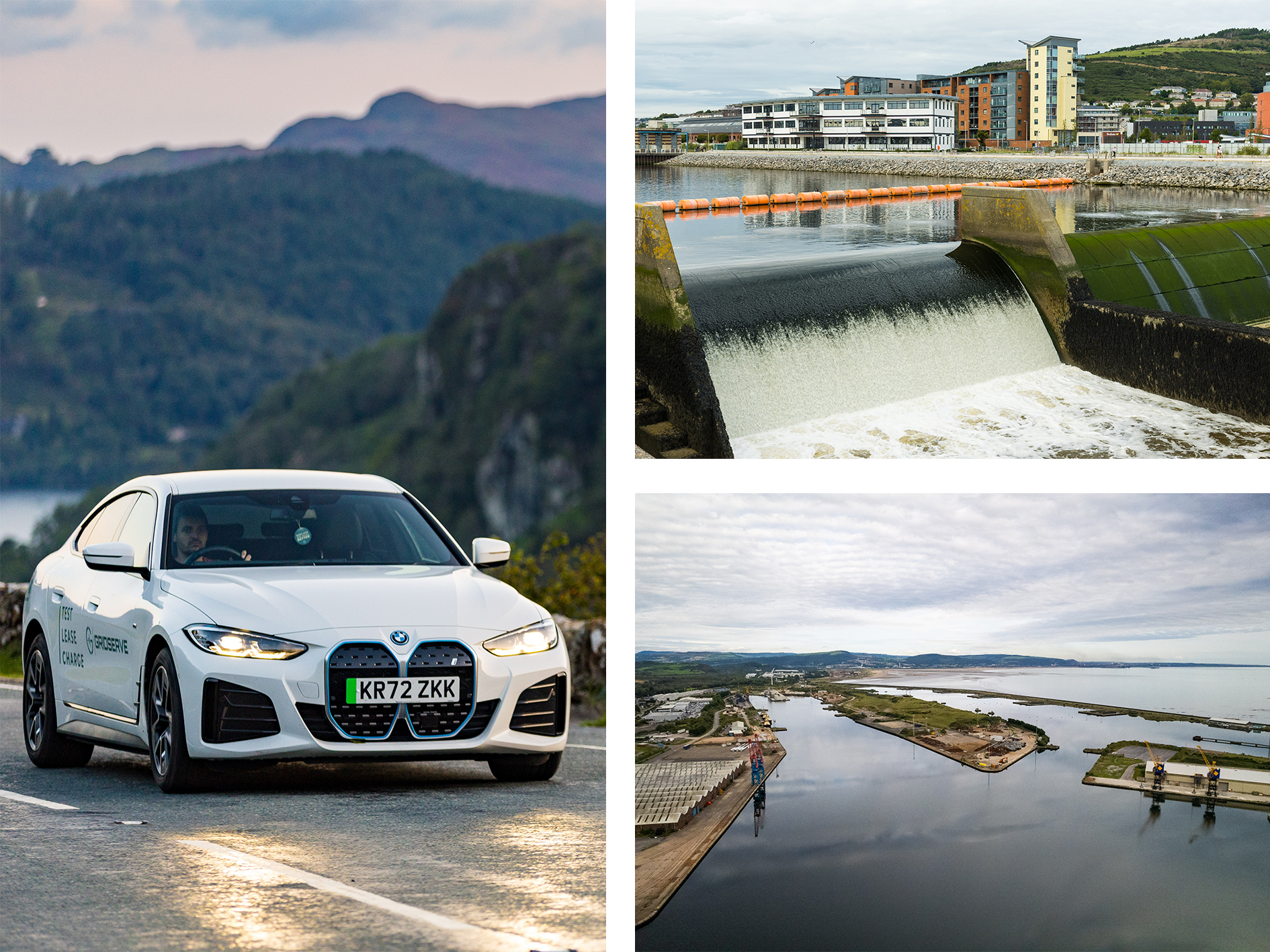 But it's not the only solution, as our next destination shows. We drive 30 miles southwest to Swansea Marina to check out the Tawe Barrage. Completed in 1992, the barrage controls tidal water levels from the Bristol Channel and allowed a large leisure boat marina to be built within the dock.
A 200kW hydro-electric turbine generated enough electricity to power the gates of a large lock to allow the leisure boats in and out regardless of the tide. Sadly, the generator itself ceased to operate several years ago, but proposals have been drawn up to replace it with a more efficient system.
The Tawe Barrage isn't the main story in Swansea Bay, though. Plans have been proposed for some years to turn the working port adjacent to the marina into a massive tidal lagoon, and after an existing project was shelved due to costs in 2022 a new, more efficient project -named Blue Eden – has been welcomed by the Welsh government.
The £1.7bn project – almost entirely funded by the private sector – includes a 5.9-mile breakwater wall, a floating solar farm, a 'global innovation hub' climate research centre, a vast green-powered data storage and research centre and around 150 floating 'eco-homes' anchored in the water.
The turbines installed will also generate 320MW of clean energy and create 2,500 jobs, supporting thousands more. A total of 5000 waterfront homes are planned to be built as part of Blue Eden, each given up to 20 years of renewable energy supply included within the sale.
Sounds great, right? And it probably will be, but Blue Eden will take 12 years to complete. Still, it's an exciting glimpse into the future of renewable power and the huge investment it can attract.
Leaving the Tawe Barrage, we take a 77-mile rural drive up to Aberystwyth for our overnight Premier Inn stop. The next day we head north through the pretty seaside resort of Morfa Borth, the looming hills surrounding the Dyfi Valley marking our arrival at the southern tip of the Snowdonia National Park.
Earth: Dyfi Valley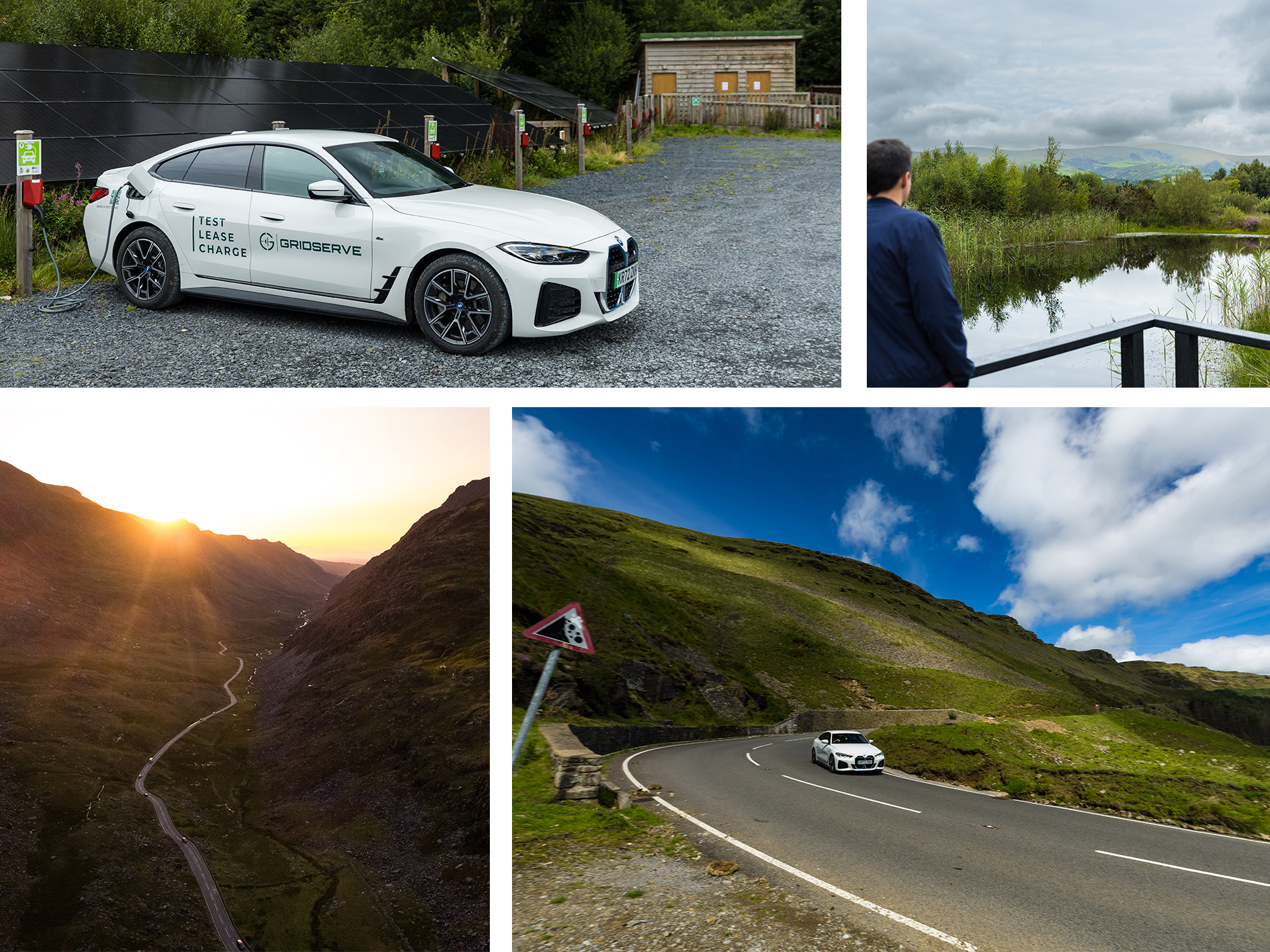 Dyfi Valley is the site of Wales' only UNESCO Biosphere Reserve, a large area of unique and protected wildlife habitat housing rare species and learning centres for sustainable living. On our flying visit we stop in at the purpose-built Dyfi Wildlife Centre. This popular facility features 82kW of solar panelling with Tesla Powerwall batteries storing energy. It's carbon negative, regularly generating far more clean energy than it uses and exporting the rest back into the grid.
With 15 22kW EV chargers on-site, we plug in for a little top up, a spot of lunch and a tour of the Dyfi Osprey Project. Around 100 years ago these large, fish-eating birds of prey had disappeared from the UK after years of habitat loss and persecution. In 1954, a pair finally returned to the UK to breed and osprey conservation began. It's estimated around 300 pairs of ospreys now live in the UK, with only five pairs in Wales.
Sadly, although other visitors did, the only osprey we spotted on our brief walk around the centre's boggy, biodiverse woodland was the cool V-22 Osprey military aircraft flying overhead (the Dyfi Valley is near the Mach Loop, where fast military aircraft complete high speed training through the valleys).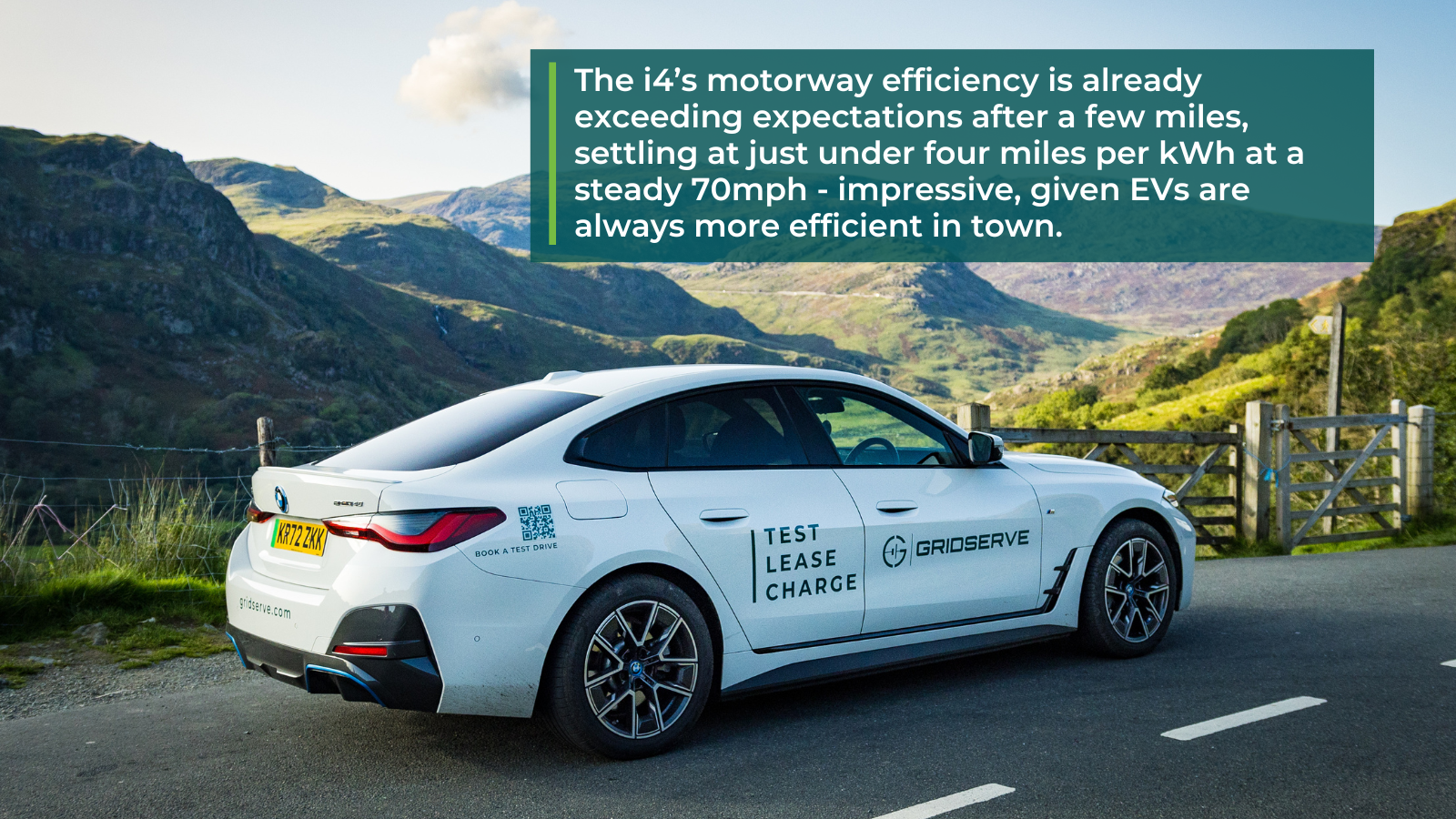 The journey to our final destination involves a jaunt through most of Snowdonia. This means a tour of not only some of the finest scenery in Wales, but also a series of great driving roads such as the Llanberis Pass.
Here, the BMW i4 switches from an efficient cruiser to a fast, keen handling sports saloon. Plenty of grip, rear-wheel drive balance and accurate steering inspires confidence, and even though this is the mid-level eDrive 40 model, 335hp is plenty to be getting on with. Adaptive regenerative braking also shoves power back into the batteries regularly during twisty road drives, so our efficiency doesn't take a big hit. But back to the job in hand.
Water: Electric Mountain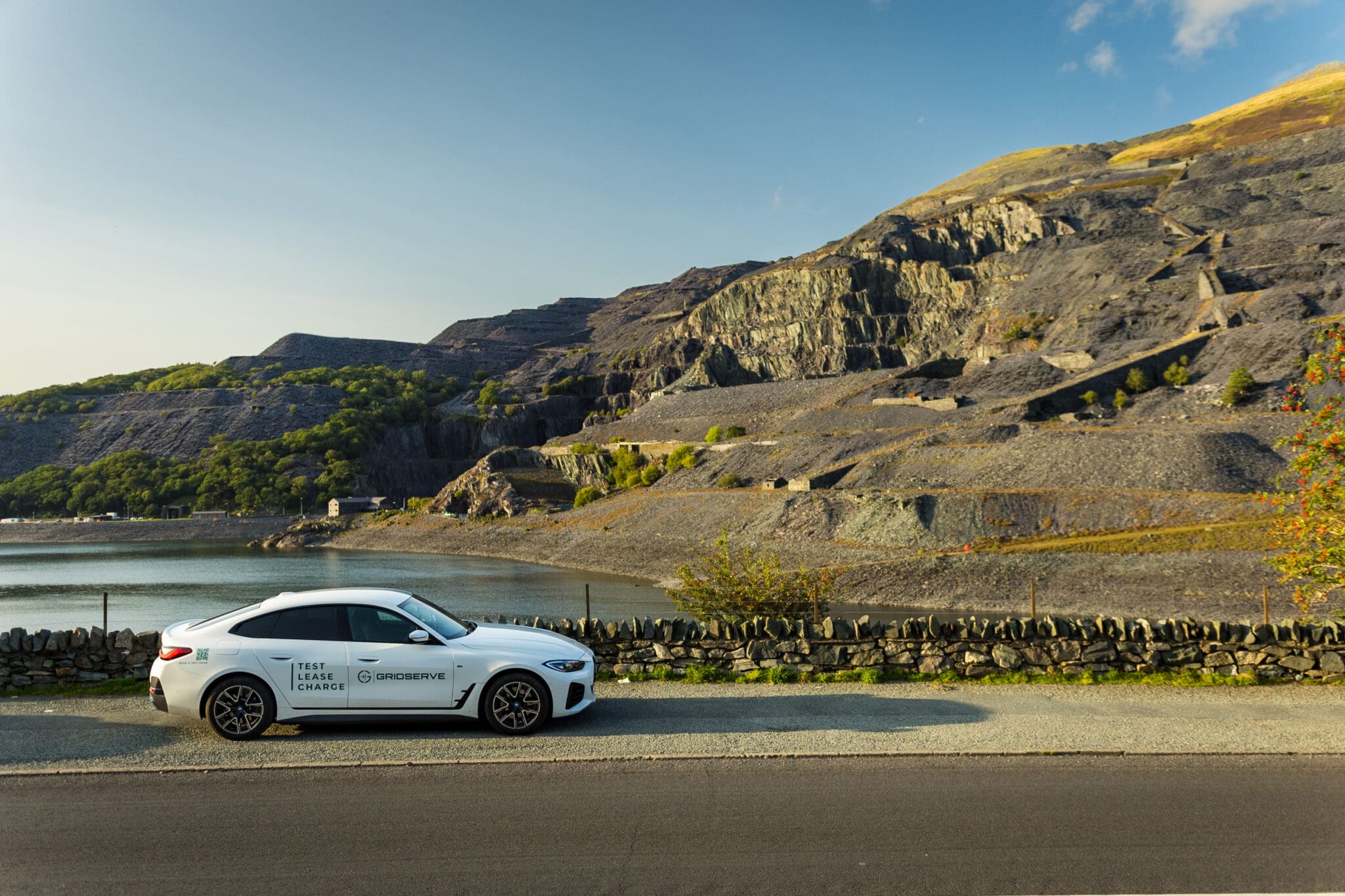 Towards the village of Llanberis, a few miles from Mount Snowdon, is Dinorwig Power Station. Far from a pollution-belching coal-fired power station, Dinorwig (also known as Electric Mountain) generates electricity through pumped water storage.
How does it work? In simple terms, pumps take water from the lower reservoir up to Marchlyn Mawr – a high level lake behind Elidir Fawr mountain. When electricity is required water is released from the top reservoir through a 10 metre-wide high pressure tunnel feeding six huge underground generator turbines.
At peak output a 25m swimming pool's worth of water passes through the turbines per second, generating up to 1800MW of power from zero in around 16 seconds. All on its own Dinorwig could meet the entire electricity needs of Wales for five and a half hours before running out of water.
But why use energy to pump water upwards only to release it downwards again?  Well, the pumps only fill the upper reservoir during periods of low energy demand (off-peak). The water Is then released to help meet peak loads on the grid, or to provide fast response to rapid changes in power demand.
An example given is during popular TV ad breaks (such as half-time in the Women's World Cup Final) where millions of households turn on their kettles at once. Dinorwig can generate a lot of power very quickly to meet that demand.
It's also an incredible feat of engineering. Built in 1984, it remains the largest facility of its kind in Europe, and at the time was one of the world's most ambitious construction projects. The power station sits 750 metres inside the mountain and required 12 million tonnes of excavation.
Dinorwig is one of two pumped storage power stations in the area, with the smaller Ffestinog Power Station a few villages away. Although that was constructed way back in 1963, both plants will continue to be relevant as the share of renewables in the grid increases to help when solar or wind generation suddenly dips.
With low population density and both geography and topography that favours renewable energy installation, Wales will continue to grow its green energy supply. For electric vehicle drivers across the UK that means reduced environmental impact and lifecycle emissions, plus more guilt-free road trips such as ours.