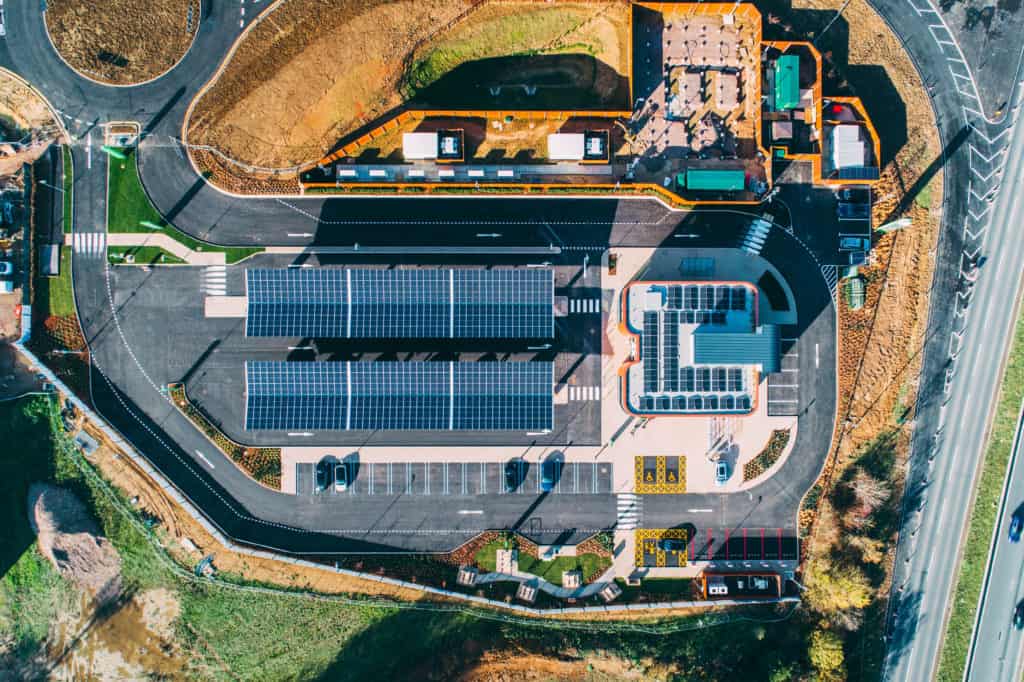 UK-wide network of over 100 Electric Forecourts® powered by net zero carbon energy will solve EV charging concerns and pave the way to mass EV adoption well ahead of 2030 petrol and diesel ban.
New net zero EV leasing service, also launched today by GRIDSERVE, brings cost of driving electric well below that of petrol or diesel cars.
GRIDSERVE today announces that the UK's first Electric Forecourt® near Braintree, Essex, is open for business, representing a major breakthrough for massive expansion of electric vehicle (EV) charging infrastructure in the UK.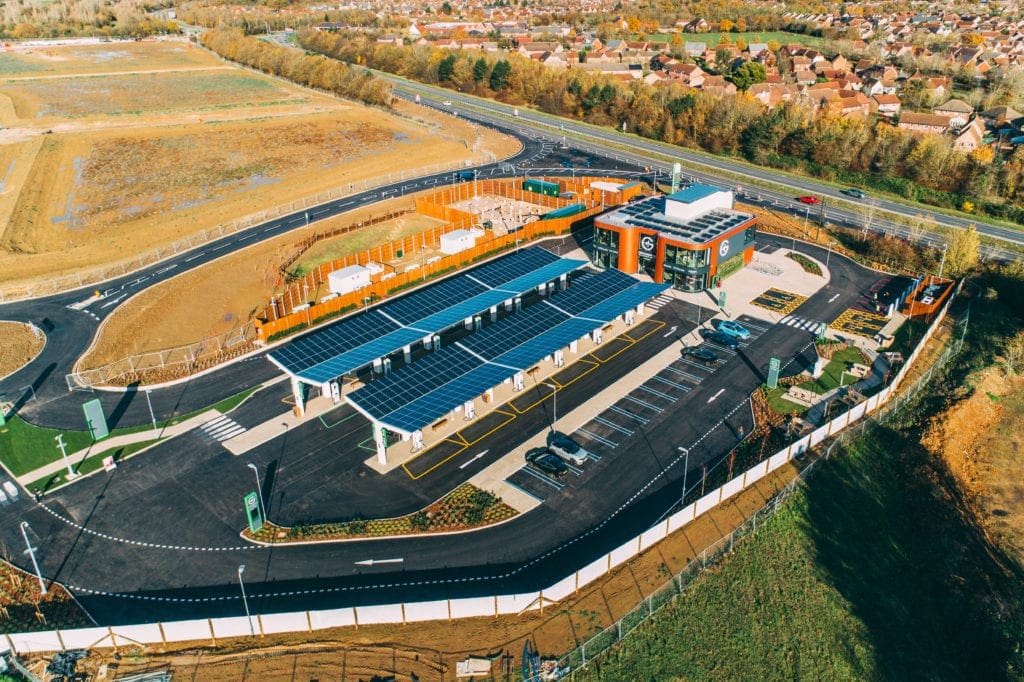 The site is the first of over 100 Electric Forecourts® being built by GRIDSERVE over the next five years, providing people with the confidence that the UK will have the charging infrastructure required for mass EV adoption well ahead of the 2030 ban on petrol and diesel cars. The company's £1bn UK-wide programme aims to make EV driving an enjoyable, ultra-convenient and stress-free experience, which – from today onwards – is delivering net zero EV driving at a cost that's lower than driving petrol or diesel vehicles.
Toddington Harper, Founder and CEO of GRIDSERVE
"Today's announcement represents a major milestone in achieving GRIDSERVE's purpose to deliver sustainable energy and move the needle on climate change. It's our collective responsibility to prevent greenhouse gas emissions rising further, and electric vehicles powered by clean energy represent a large part of the solution. However, charging has to be simple and free of anxiety, which is why we've designed our Electric Forecourts® entirely around the needs of drivers, updating the traditional petrol station model for a net-zero carbon world and delivering the confidence people need to make the switch to electric transport today – a full decade ahead of the 2030 ban on petrol and diesel cars. Together with our charging-included electric vehicle leasing business, that we are also launching today in partnership with Hitachi Capital (UK) PLC, people now have the full confidence to make the transition to an electric vehicle, knowing that charging is in-hand, and it's actually less expensive to use an electric car than a petrol or diesel alternative."
James Cleverly, Minister of State, former Conservative Party Chairman and MP for Braintree
"Our government is committed to increasing the take-up of electric vehicles, to clean our air and enable us to achieve net zero carbon emissions as quickly as possible, which is why we have just brought forward the ban on new petrol or diesel to 2030. GRIDSERVE's Electric Forecourt®, close to Braintree, is the most advanced charging facility in the world and is pioneering the world-class infrastructure required to support our policies and drive the confidence we need to make the move to sustainable transport in the UK."
The Braintree Electric Forecourt®, adjacent to Great Notley, just off the A131, enables 36 electric vehicles to be charged simultaneously, with high power chargers that can deliver up to 350 kW of charging power, enabling people to add 200 miles of range in 20 minutes, and much faster in the future as electric vehicle battery technologies mature. Together with GRIDSERVE, the project has been funded by Hitachi Capital (UK) PLC, Innovate UK and OZEV.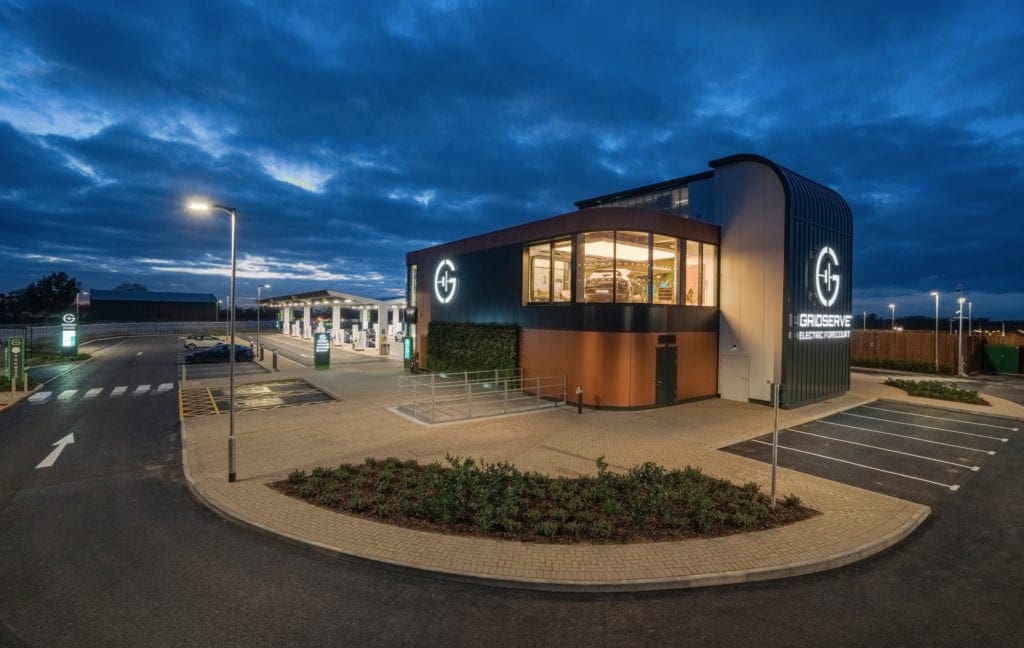 The Electric Forecourt® is part of GRIDSERVE's wider 'sun-to-wheel' infrastructure, built to deliver low cost, net zero carbon energy to every vehicle that uses one of GRIDSERVE's chargers. Electricity is generated from both the solar power canopies above the chargers, and a network of hybrid solar farms, also operated by GRIDSERVE. The UK's first subsidy-free solar farm in Clay Hill is paired with Braintree Electric Forecourt®, providing 100% renewable energy via the National Grid. There is also a 6 MWh battery onsite which helps to balance the local energy grid and shift energy to periods when it is more valuable. For example, on windy winter nights the battery can store enough energy to drive 24,000 miles in electric vehicles the following day, helping to maximise the value of renewable energy resources, stabilise the grid, and keep prices low.
Drivers charging at the Electric Forecourt® will initially pay just 30p* per kWh of energy (including VAT), which is currently the lowest ultra-high power charging rates on the market today – meaning a typical charge from 20% to 80% costs under £10 for an average-size electric vehicle on the market today. To deliver additional flexibility GRIDSERVE also have plans to introduce a tiered pricing structure in the future.
While vehicles charge, drivers can relax and shop in state-of-the-art facilities that cater for all their needs. This includes a comprehensive retail space hosting "Best of British" partners including WHSmith Travel, Costa Coffee, Booths, Post Office, and Gourmade. The facility also includes a waiting lounge, free superfast WiFi, high-end washrooms, dedicated kid's area, wellbeing area with exercise bikes that generate electricity, and business meeting room pods.
Toby Keir, Managing Director at WHSmith
"At WHSmith, we have been serving customers on their journeys for over 200 years and we understand how important convenience is to people on the go. We're therefore delighted to be partnering with GRIDSERVE's Electric Forecourt to deliver a new first-class customer experience, with fantastic service and a tailored retail offer including WHSmith, Post Office, Costa Coffee and Booths. It's a great concept and we look forward to playing our part over the next hundred years with the future of electric cars."
The Electric Forecourt® is also designed to help people make the process of switching to electric vehicles as simple and straightforward as possible. The upper floor of the on-site building showcases the latest electric vehicles, and there are multiple digitals screens that help people learn about and source electric vehicles. With more than 200 types of electric vehicles now available, GRIDSERVE is also hiring electric vehicle enthusiasts to help educate people about electric vehicles, and arrange test drives, with the ultimate aim of providing people with the confidence and support to make the transition to an all-electric future.
UK's first net-zero emissions EV leasing service launched alongside first Electric Forecourt®
In partnership with Hitachi Capital (UK) PLC, GRIDSERVE today also launches GRIDSERVE Electric Vehicle Solutions, the UK's first net zero electric vehicle leasing business. The service is designed to bring the cost of driving electric well below that of petrol or diesel cars, and minimise the environmental impact of EVs.
Net zero-carbon energy is included [1] in monthly leasing payments, meaning drivers can charge at Electric Forecourts® without paying any additional costs. This removes a key barrier to mass EV adoption, enabling people to accurately compare the cost of leasing a petrol or diesel vehicle, plus fuel, with an electric vehicle with fuel included. This reflects the true overall cost to the consumer, which in most cases clearly demonstrates a lower cost for EVs than petrol or diesel vehicles.
The benefit is amplified for the 40% of UK drivers without access to off-street parking [2] who would otherwise have to rely on less dependable and typically more expensive public charging infrastructure compared to charging at home. For those who lease through GRIDSERVE, charging at an Electric Forecourt® becomes cheaper than home charging because energy is already included in monthly leasing payments.
To reduce the environmental impact of EVs even further, GRIDSERVE has partnered with a tree planting organisation, with will plant 100 trees for every electric vehicle leased through the service. This helps to minimise the carbon emissions from supply chain processes, such as manufacturing.
Toddington Harper
"Together with our Solar Farms and Electric Forecourts, GRIDSERVE Electric Vehicle Solutions completes our 'sun-to-wheel' infrastructure designed to deliver net zero carbon transport from 2020 onwards. By including the planting of 100 trees for every electric vehicle leased through the service and providing net zero-carbon energy to charge all the vehicles, we're making EV driving greener, cheaper and more straightforward than ever before."
Robert Gordon, CEO of Hitachi Capital (UK) PLC
"Our partnership with GRIDSERVE is a total game-changer for electric mobility. Not only are we providing electric vehicles at some of the most competitive rates on the market, but we are at the same time developing a network of rapid, reliable and renewably powered Electric Forecourts® that will fast-track the electric vehicle revolution in the UK as we prepare for a zero-carbon future."
GRIDSERVE and Hitachi Capital (UK) PLC plan to offer electric vehicles from all major vehicle manufacturers. At the launch of this initiative, brands included Mercedes, Audi, BMW, Peugeot, MG, Renault, Nissan, Vauxhall, Mini, VW, and Tesla.
* Prices are subject to change, please refer to our EV Charging page for current pricing
For further information and to arrange interviews, please contact:
Will Spragg: will.spragg@greenhousepr.co.uk, +44 7528 307 499
Toby Dye: toby.dye@greenhousepr.co.uk, +44 7508 636 325
For non-media enquiries please contact: connect@gridserve.com +44 333 1234 333
GRIDSERVE® will radically transform the experience of using electric vehicles, by delivering a UK-wide, sustainable energy-powered network of convenient, customer-focussed Electric Forecourts,® that allow the fastest possible net-zero carbon charging of electric vehicles, with an awesome customer experience, that is also designed to help make using electric vehicles cost less than petrol or diesel combustion engine cars.
GRIDSERVE® is a tech-enabled international sustainable energy business which develops, builds, owns and operates solar energy and battery storage solutions for critical power infrastructure. GRIDSERVE's team have been responsible for the development, construction and operation of more than a gigawatt of solar energy and energy storage solutions, including connecting over 100 utility-scale sustainable energy projects to the UK grid.
GRIDSERVE® is interested in connecting with additional operators of fleet vehicles, developers, EV manufacturers, local authorities, and multiple other potential partners who share our vision in collaborating across all the critical power infrastructure we are delivering, including Electric Forecourts®, hybrid solar farms, and remote power solutions.
[1] Energy is included for all types of electric vehicles other than Tesla vehicles
[2] National Grid: Supporting the growth of Electric Vehicles – page 4
---