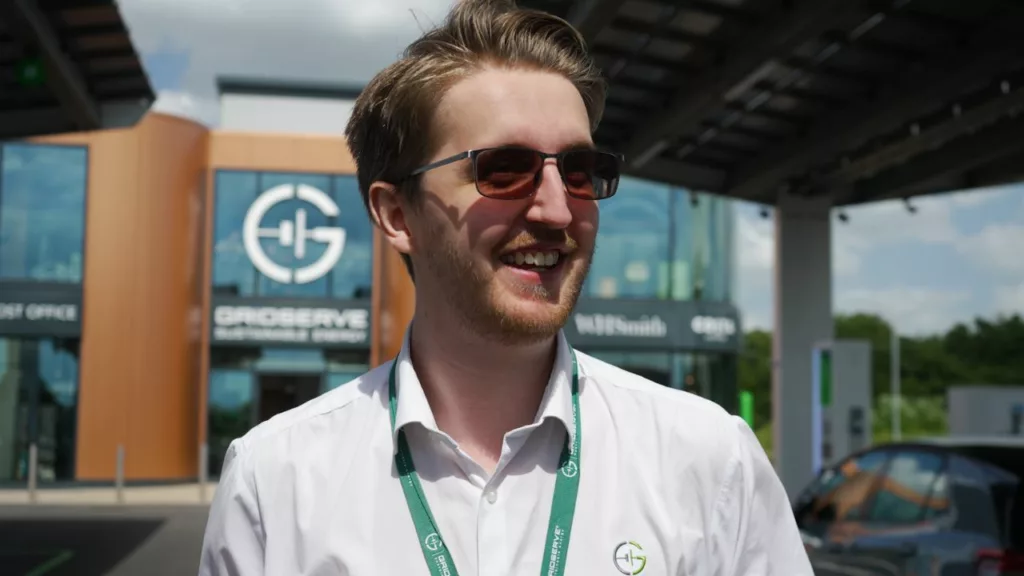 The chapter on the internal combustion engine may be closing but on a patch of industrial park land in Great Notley, the future of decarbonised transport is writ large, translated in metal and glass.
We're at the Braintree Electric Forecourt® to meet Declan McLaughlin, a vibrant and altitudinous young man who holds the accolade of being the world's first GRIDSERVE EV Guru.
What's an EV Guru? Well, they're like customer service angels that also happen to possess a near encyclopaedic knowledge of everything to do with energy, charging and cars. If they were to go on Mastermind, electric vehicles would be their specialist subject and they'd be owning that famous black chair.
The nice bit is that they're not boastful with any of this knowledge. They use it subtly, like a painter uses watercolours, to ensure people have the best possible experience at the Electric Forecourt®, whether that's showing first timers how to charge their new electric car, or helping the EV curious calculate how much money they could save by ditching the dinosaur juice.
What's surprising is that Declan has never really been into cars: "All of the information I have gleaned over the last couple of years at GRIDSERVE has been through a combination of osmosis, by working alongside company experts, as well as some more formal training. But now, I'm really into electric vehicles and trying to live a more sustainable lifestyle."
Declan continues: "It's difficult not to be inspired to be better across all aspects of your life when you're working here everyday."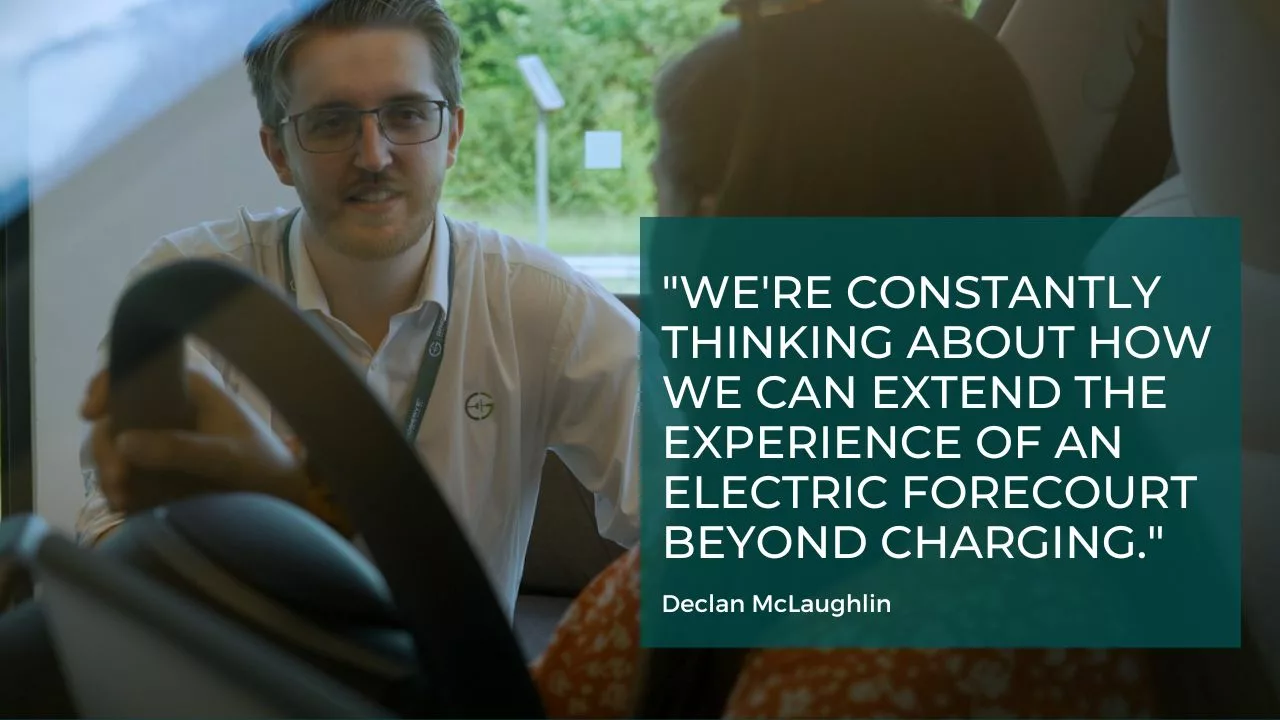 We see his point. When you visit the Braintree Electric Forecourt® for the first time, it feels like all the environmental and practical problems associated with EV charging have been instantly remedied through a pioneering set-up where form follows fiction. The site is commercially bold, technically ingenious and revolutionary from a service design perspective. The EV Gurus at Braintree have a large part to play in that.
Now, we just need more facilities like this and more EV Gurus like Declan.
What the world's first GRIDSERVE EV Guru gets up to each day:
6:30am
I'm up at the same time as the milkman to arrive on site and get the building opened. The McLaughlin family home is a stone's throw away from here, so it's amazing to think that one of the world's most advanced EV charging destinations is now on my doorstep. You can't not be inspired by this place.
6:45am
The interior of the building is given a thorough clean the night before, so my morning routine involves a review of the CCTV footage and a physical inspection of all the EV chargers, to ensure everything is working as it should be.
7:00am
Time to grab my first vanilla latte of the day – the breakfast of champions! – just before the morning coffee rush. Typically, the busiest periods here mimic everybody's commute to and from work, so you'll often find the lounge area buzzing with people on their laptops as their electric cars juice up on sustainable energy.
9:00am
More GRIDSERVE team members arrive on shift, which includes the general manager, other EV gurus and leasing consultants. We often get other GRIDSERVE team members dropping in to work or collaborate. This includes Toddington (GRIDSERVE CEO), which even now still feels like a celebrity spot to me.
10:00am
Time to brief the general manager on the morning shift and raise any issues. We then have a broader team meeting to discuss the day's agenda. Today, we've got the marketing team of a major car brand coming in to discuss an electric car launch they'll be hosting here in the summer, plus I'll be welcoming 50 scouts on site as part of our local educational programme.
11:00am
I'll grab my second vanilla latte and head out onto the Forecourt to make myself visible and see if anybody needs help charging. Because electric vehicles are so new, we're finding that more than half of our visitors are charging their electric car for the first time. It's our job to make sure their experience is both simple and memorable for all the right reasons.
12:00pm
A local fleet of fully electric Royal Mail vans usually finish their first round of deliveries at midday and come in to use our High Power chargers. Once again, the Forecourt is packed! It's great to see that sites like this can be a catalyst for big company fleets to switch to electric. Some of the drivers are also thinking about getting their own electric car, too.
12:30pm
Time for an extended lunch break, where I can grab a bit of downtime and get prepped for tonight's educational programme. If it's a nice day, I'll sit in the picnic area where you can hear the faint musical hums, ticks and whirring from the chargers as the electrons flow.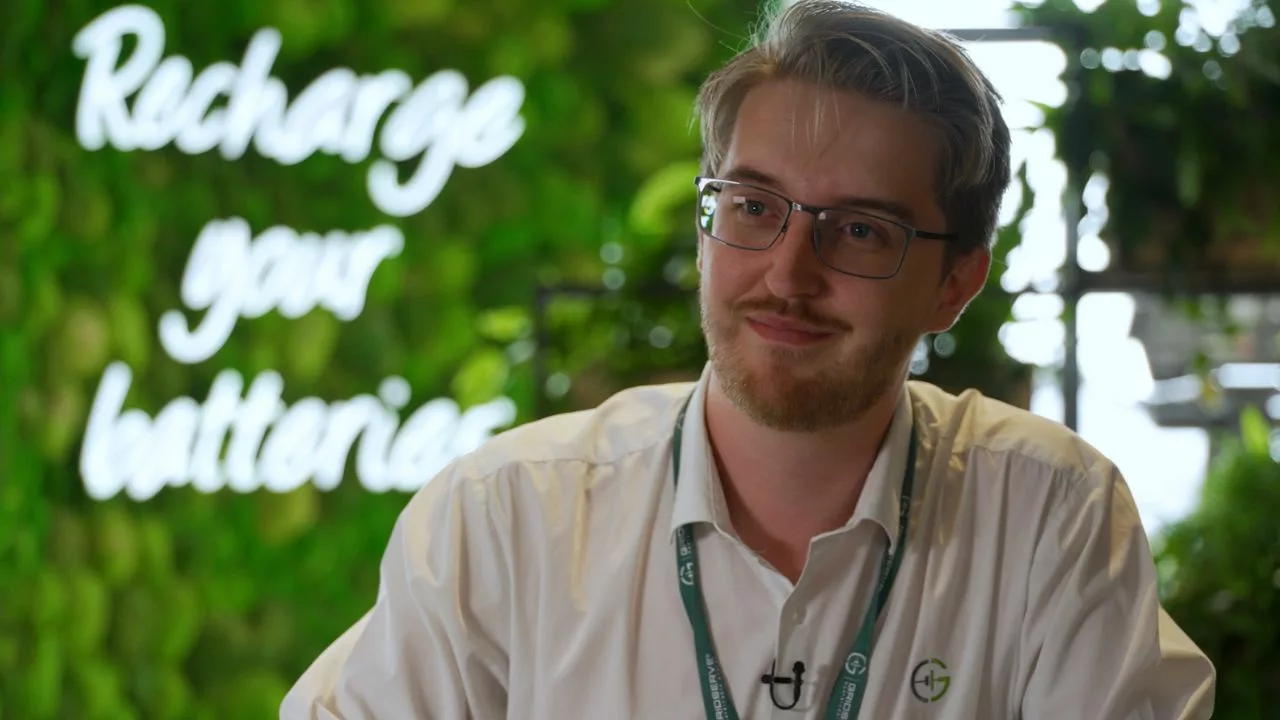 3:00pm
In a small window of afternoon calm, we'll get a chance to switch up the new car display on the first floor. We've just received delivery of an ORA Funky Cat. Silly name, but a serious rival to the MINI Electric, so we're keen to put it under the bright lights and see what our visitors think. Hi-vis jackets on, the team will work together to cordon off the area, get the car onto the scissor lift and drive it into position. All that effort is well worth a social media post.
4:00pm
Somebody has already enquired about the ORA Funky Cat and booked a test drive. We have a further nine test drive cars on site at Braintree, including the Tesla Model 3 and Model Y, MG4, MINI Electric, Polestar 2, BMW i4, Vauxhall Mokka-e, Nissan LEAF and Genesis GV60. As such, we're finding lots more people coming here to test drive cars back-to-back.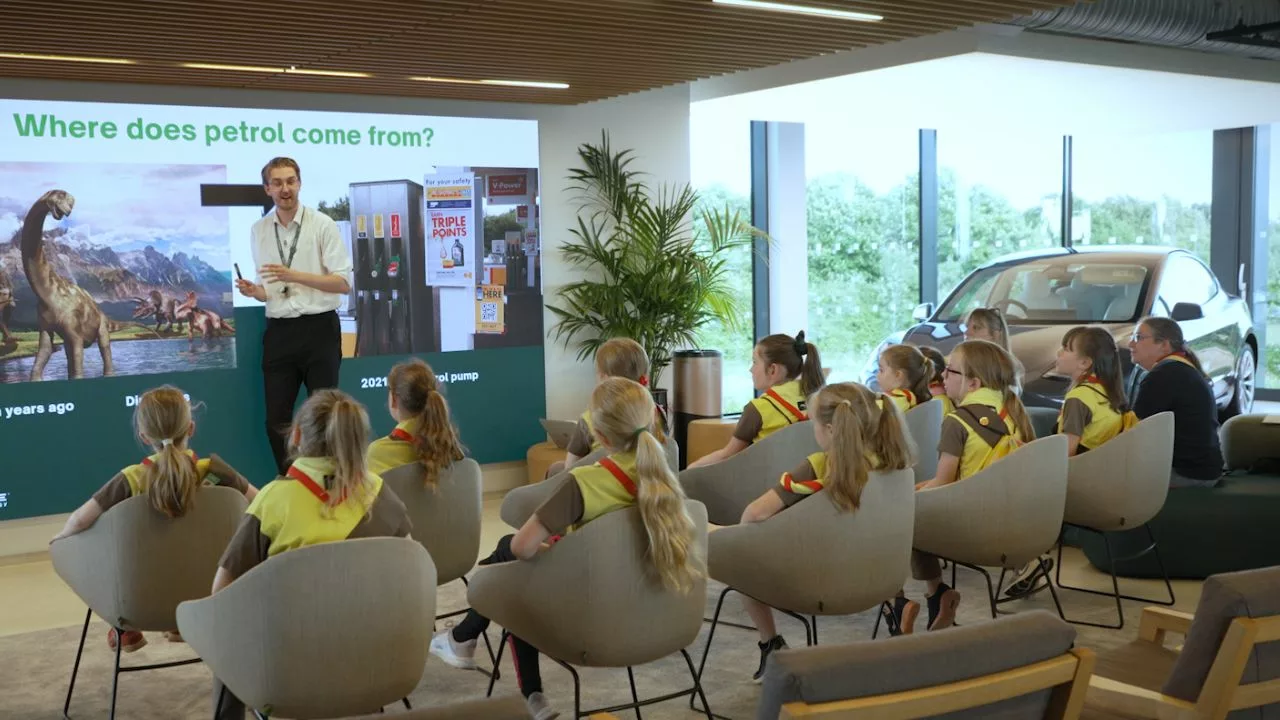 5:00pm
Vanilla latte number three and it's time to rearrange the lounge area into the theatre set-up for tonight's guests, while another EV Guru colleague manages the post-work rush hour. Presentations are uploaded onto the main screen and we've booked out the meeting pods to facilitate breakout activities. Braintree has been like the incubator project for this educational programme, and we're constantly finding new things and new ways to make the experience more awesome.
7:00pm
Educational tour complete! Fingers crossed, the feedback forms will be positive. One day, we'll develop this programme into a broader centre for learning. Today's kids are tomorrow's leaders, so I'm hopeful these sessions give a greater understanding of the environment and our role within it.
The future is bright, folks. See you in the morning.