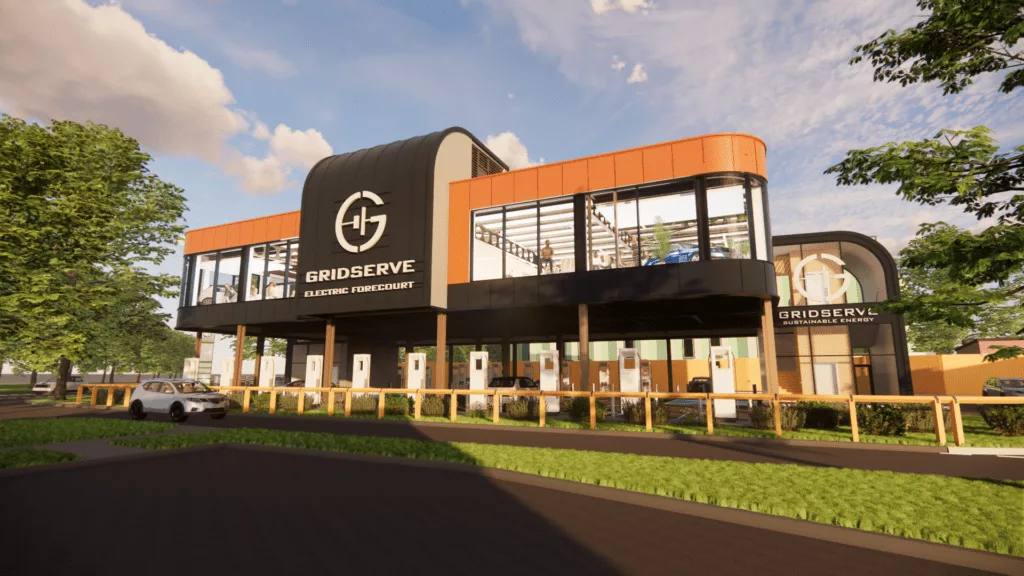 The biggest upgrade of motorway electric vehicle (EV) charging infrastructure in UK history is underway as GRIDSERVE today announces that more than 20 'Electric Hubs'  – each featuring 6-12 x 350kW High Power chargers with contactless payment and CCS and CHAdeMO connectors, capable of adding up to 100 miles of range in less than 10 minutes – will open at motorway service stations across the UK by Q2 2022, with the majority planned to be installed by the end of March. In the next phase a further 50 additional Electric Hub sites will follow.
Two Electric Forecourts® situated adjacent to major transport routes and motorways, including a flagship site at Gatwick Airport – the first in the world to be hosted at an international airport – and Norwich, are also in construction, due to open in 2022. Several additional Electric Forecourt® sites now also have planning permission including Uckfield, Gateshead, Plymouth and Stevenage with more than 30 additional sites also under development as part of the company's commitment to deliver over 100 Electric Forecourts®.
The unprecedented investment programme forms part of GRIDSERVE's plan to revolutionise EV charging across the UK, following the acquisition of Ecotricity's Electric Highway network in June. Some of the Electric Hubs are also located in areas traditionally left behind in the EV transition, including Wales and Cornwall, helping to deliver GRIDSERVE's vision of giving drivers everywhere the confidence to go electric well ahead of the 2030 ban on new petrol and diesel cars.
Since the acquisition, GRIDSERVE has invested tens of millions of pounds in the network to develop the new Electric Hubs, replace the 300+ existing motorway chargers it inherited from Ecotricity, and install 130 additional AC chargers to cater for all types of EVs.
Toddington Harper, CEO of GRIDSERVE, added: "Our mission is to deliver sustainable energy and move the needle on climate change, and that is exactly what we are doing – delivering. Getting people into electric vehicles is a big part of our vision but to do that, charging has to be simple and free of anxiety, which is why we've designed our network entirely around the needs of drivers, listening to our customers' needs and providing the best possible level of customer service to deliver the confidence people need to make the switch to electric transport today, 8-years ahead of the 2030 ban on petrol and diesel cars."
Ken McMeikan, Chief Executive of Moto, said: "Moto's vision is to transform the UK's rest stop experience and we are passionate about enabling motorists to switch to electric cars, safe in the knowledge they will have great EV facilities available on motorways. The EV charging rollout we are delivering in partnership with GRIDSERVE is an exciting part of our ambitious plans to lead the UK in the provision of Ultra-Rapid charging."
Mark Fox, CEO of Roadchef said: "At Roadchef we take our role in enabling and supporting the transition to electric vehicles very seriously. Thanks to the efforts of the GRIDSERVE and Roadchef teams, all of our existing 50kWh chargers have been upgraded to the latest ABB chargers with super convenient and fast contactless payment systems and, where we already have sufficient electrical capacity, we have added additional chargers. 
"We are working with GRIDSERVE and our electricity providers to capitalise on the additional electrical capacity delivered by the Green Recovery Scheme as it comes online, and we will be adding up to 24 150kWh chargers at each of our motorway service areas to ensure we continue to provide charging capacity ahead of demand.  It's vital that motorway users know that they can make the transition to electric vehicles and have confidence they will never be far from a high-quality charger wherever they travel on the network and, at Roadchef, they will know that 100% of the electricity we use for our chargers (and our whole operation) comes from sustainable sources like wind and solar."
The new sites announced today also include two new Electric Forecourts® in Gatwick and Norwich which will follow GRIDSERVE's blueprint of the world's first Electric Forecourt® in Braintree, Essex – recently awarded charging destination of the year.
Leading the charge: Gatwick Electric Forecourt®
Developed in partnership with Gatwick Airport, the Gatwick Electric Forecourt® – the first in the world to be hosted at an international airport – will be a flagship site, serving the tens of millions of passengers, commuters, staff, local residents and businesses that pass through the airport and its surrounding motorway network each year.
Located on the Ring Road South approach to Gatwick's South Terminal and adjacent to the M23 – it will enable 36 EVs to be charged simultaneously, with high-power chargers that can deliver up to 350 kW of charging power, capable of adding 100 miles of range in less than 10 minutes. Multiple charging connectors will cater for all types of electric cars.
The site is due to open in autumn 2022 and will host a café, comfortable waiting lounge with free superfast WiFi, convenience supermarket, children's play area and a dedicated educational space to increase awareness around electric vehicles. As with all of GRIDSERVE's chargers, the site will also be supplied with low cost, 100% renewable net zero carbon energy generated by GRIDSERVE's own solar farms.
Toddington Harper, CEO of GRIDSERVE, said: "Gatwick isn't just an airport, it's an ecosystem of commuters, travellers, staff, taxi drivers, car rental companies, local residents and businesses, all culminating in a transport hub that hosts tens of millions of drivers every single year. The Gatwick Electric Forecourt® will give these drivers and businesses the confidence to switch away from petrol and diesel cars, making electric journeys to and from one of the country's most important transport hubs straightforward and sustainable."
The Electric Forecourt® also forms part of Gatwick Airport's commitment to reach net zero carbon emissions for its internal operations before 2040 and its broader aspirations to become the UK's most sustainable airport, including through involvement in UK industry plans to reach net zero aircraft emissions by 2050. It also contributes to majority stakeholder VINCI Airports' global environmental action plan – the first in the industry to be applied to a network of 45 airports in 12 countries – to develop carbon-free energy for passengers and users.
Jonathan Pollard, Chief Commercial Officer, Gatwick Airport, said: "Gatwick is pleased to partner with GRIDSERVE to deliver this fantastic and sustainable service. We are on a journey to create a low carbon economy, and Gatwick is keen to play an important role by providing new infrastructure that everyone can use, so that together we can start reducing our dependence on fossil fuels. 
"Our new high-powered charging facility – delivered by GRIDSERVE – will help meet the increasing need for electric vehicle charging infrastructure at the airport, including the growing number of our passengers who own electric vehicles and need fast, convenient and effective charging facilities.
"The new charging infrastructure will also benefit people right across our community, including thousands of staff who live locally, businesses looking to introduce electric vehicle fleets – even those operating busses and trucks – and also local residents who may be considering buying an electric-powered car but were undecided due to the lack of charging facilities."
Henry Smith MP, Cons Crawley, said: "Super-fast charging is the way ahead, and Gatwick is taking international leadership with this project, part of GRIDSERVE's rollout of over 100 ultra-high powered Electric Forecourts® across the UK, all powered by 100% renewable sources."
For maximum accessibility, all of GRIDSERVE's chargers offer contactless payment, and from today on all ABB chargers we are also introducing the lowest payment card preauthorisation check to activate a charge of just £1, supporting the customer experience further and making it even more convenient to pay.
The Norwich Electric Forecourt®, which is nearing the end of its construction, and scheduled to open in April 2022, will mirror the set up at Gatwick and provide unprecedented access to East Anglia for EV drivers.
GRIDSERVE is also developing several large-scale hybrid solar + battery farms to supply renewable solar energy as part of a "sun-to-wheel" ecosystem. Every kW of energy taken out of the grid by a GRIDSERVE EV charger is netted off against a kW of zero carbon solar energy put back into the grid by a GRIDSERVE solar farm, creating a net zero carbon, low cost transport system today. This has allowed GRIDSERVE to provide the most competitive rate for high-powered charging today. GRIDSERVE also leases EVs, with 100 trees planted for every EV leased, offsetting embodied emissions.
Our latest sites:
Electric Hubs Currently in construction: Swansea (Moto), Heston West (Moto), Severn View (Moto), Wetherby (Moto), Burton in Kendall (Moto), Exeter (Moto), Woolley Edge North (Moto), Woolley Edge South (Moto), Thurrock (Moto), Leigh Delamere Westbound (Moto), Reading West (Moto).
Electric Forecourts® currently in construction: Norwich Electric Forecourt® (opening April 2022), Gatwick Electric Forecourt® (opening Autumn 2022).