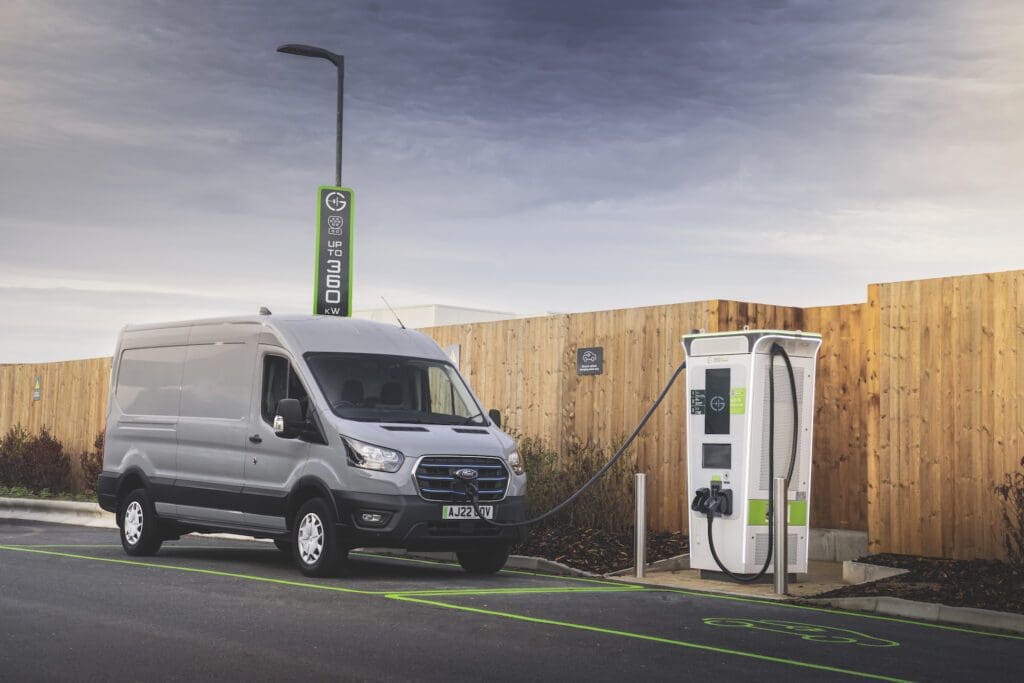 In order to move the needle on climate change, we need all drivers to make the switch from fossil fuels to electric power in the swiftest possible timeframe. Yet if we want people to make better travel choices for themselves, we first need to help shape and build those better travel habits. That's where our EV charging infrastructure comes in.
The continued investment and expansion of the GRIDSERVE Electric Highway is helping to facilitate a fair and equitable transition to electric vehicles, no matter what you drive or where you live. And as the rollout of Electric Forecourts® and Electric Super Hubs continues at pace, so too does the rate of development around EV battery technology and charging capability.
We continue to develop, too. This week, our Braintree Electric Forecourt® has started testing the next generation of High Power EV chargers and is doing so in an all-new charging bay that's been designed to specifically serve long-load and light commercial electric vehicles.
Tell me about the new EV charger
It's called an ABB Terra 360, although we'll still be branding it as High Power to keep our charging lexicon nice and simple.
To be honest, it's less about what it is and more about what it can do. For starters, it's able to provide a maximum 360kW of power, meaning it has the ability to add around 62 miles of range in three minutes or fully charge an electric car in less than 15 minutes. This may not be a meteoric jump from the 350kW-capable units already installed at our Electric Super Hubs and Electric Forecourts®, but remember we're already providing industry-leading EV charging speeds. Marginal gains in all aspects of our performance are important to keep us moving forward.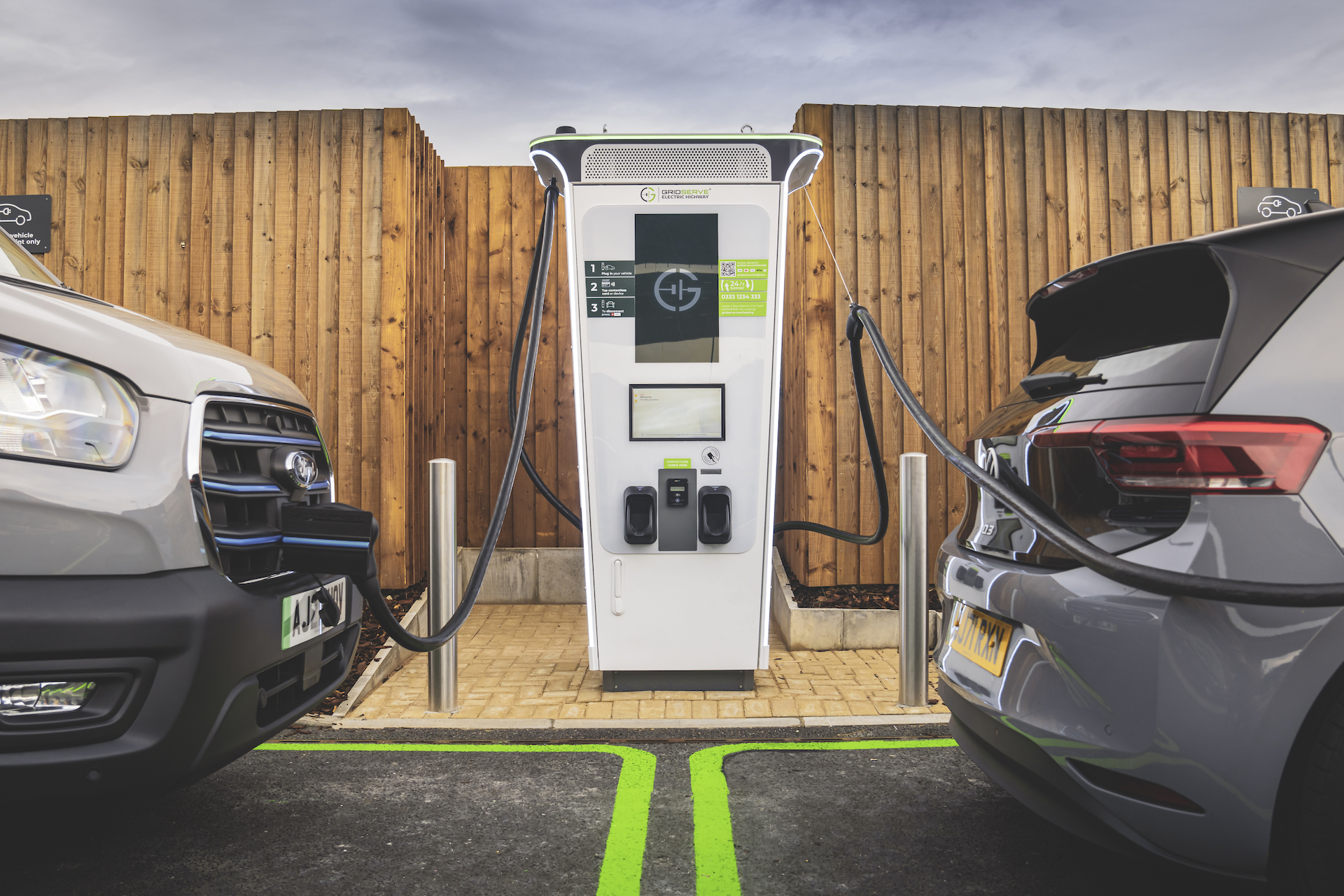 Dual charging activated! 
Secondly, the new charger is able to offer dynamic dual-charging. That means that two vehicles will be able to plug in and charge simultaneously, and the EV charger will dynamically distribute the power between both vehicles.
Thirdly, the overall design is more user-friendly. LED lighting will now reveal when a charger is available or in use, a new pulley system ensures the retractable 5m charging cable is manoeuvrable and keeps pathways clear, while enlarged digital screens will provide all your EV charging information. The addition of a second, portrait-shaped screen will also be able to showcase some of the other cool stuff we're up to, whether it's the latest Electric Forecourt® in construction at Gatwick, or our proposal to build a Solar Electric Forecourt® in Hartlepool.
So, is the new High Power EV charger CCS only?
The specific unit now on trial at Braintree features a pair of CCS connectors but we're committed to supporting both CCS and CHAdeMO connector types for High Power DC charging. It's as important to us as ensuring all our EV chargers accept memberless, contactless payment and are powered exclusively by net zero carbon energy.
Is there a large demand for long-load EV charging?
Within the last 12 months, sites like the Braintree Electric Forecourt® have seen a surge in light commercial electric vehicles regularly charging. Vehicles like the Ford E-Transit pictured. The main reason is because the economics today are more than favourable: electric light commercial vehicles are now fundamentally better than their diesel-powered counterparts on price, performance and practicality.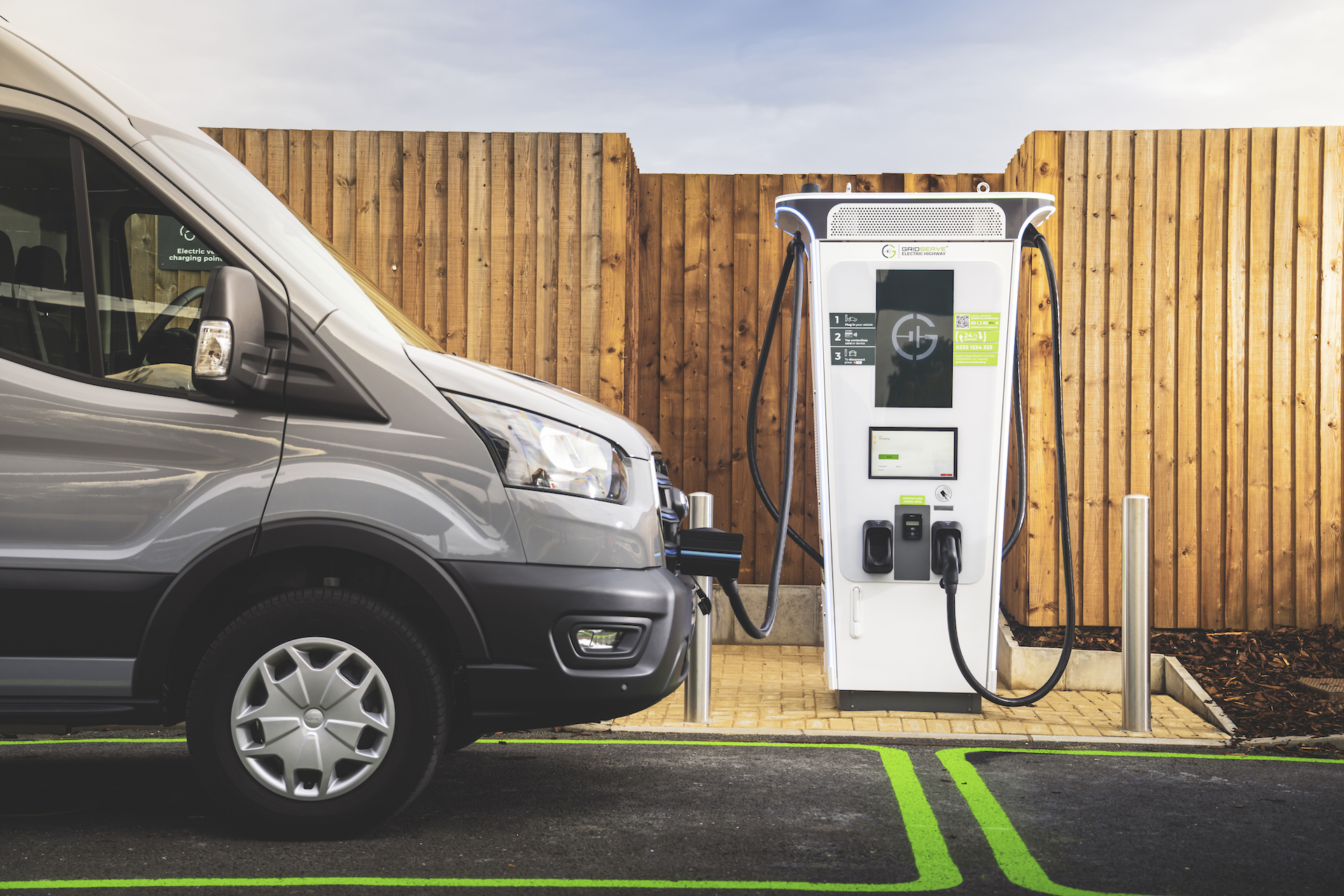 The Ford E-Transit at Braintree Electric Forecourt®
Similarly, more electric family cars are being used to tow everything from caravans to horseboxes, and these customers need additional space to charge without decoupling. This trend is only moving in one direction, so we want to proactively design EV charging experiences that work for everybody.
Another area gaining momentum regards local government's efforts to encourage modal shifts in transport, primarily through active transport like walking and cycling, but also through more relevant forms of public transport. The on-demand electric bus shuttle service in Braintree is a great example of encouraging modal shift while reducing local air pollution, and we want to be able to facilitate more innovations like this.
Of course, there's some way to go before the heavy goods vehicle (HGV) segment achieves net zero, but electrification will be key. Monitoring the usage of these new long-load EV charging bays will help our future designs accommodate even bigger bays and megawatt-scale EV charging infrastructure.
What happens next?
The software and service design is now open to the public and usage is being monitored. If successful, the plan is to have these chargers and more super-long EV charging bays rolled out across the Electric Highway. We'll keep you posted and continue to measure what matters to travellers along the GRIDSERVE Electric Highway: absence of stress, fair and simple pricing plus the utility of time during charging.
Read the official press release here. 
Was this article helpful?