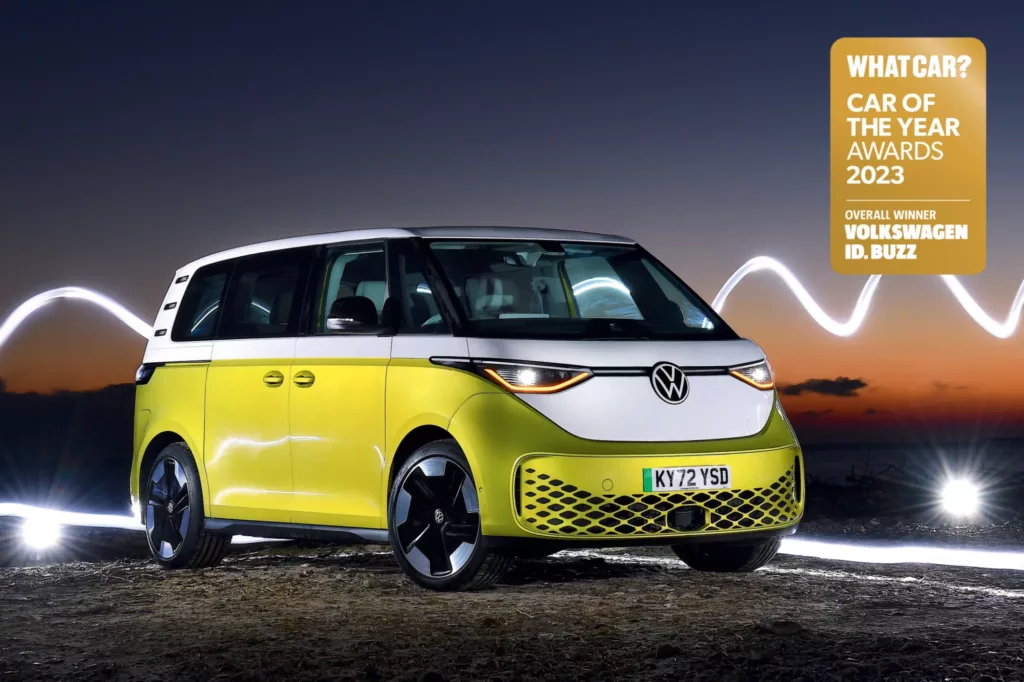 Volkswagen UK will be 'buzzing' with the news that its ID.Buzz family car has just scooped the overall 'Car of the Year' award at the prestigious 2023 What Car? Awards, alongside being named 'Best Large Electric Car'.
Yup, despite last year's unpredictability of supply chains and semiconductors, the glittering event in central London – regularly dubbed the 'UK Motoring Oscars' – has helped kickstart 2023 and ably demonstrated that the new car market is both figuratively and literally electric.
The ID.Buzz is the second consecutive electric car to win this prestigious honour, following the brilliant Kia EV6 in 2022. What Car? said the Volkswagen ID.Buzz stood out for combining the practicality of a multi-purpose vehicle (MPV) with the comfort and desirability of a luxury SUV, while undercutting rivals such as the BMW iX3, Jaguar I-PACE and Mercedes-Benz EQC. Sounds good to us.
The Volkswagen ID.Buzz also offers that desirable raised driving position, superb visibility and boasts an official range of 260 miles. Plug into one of GRIDSERVE's High Power EV chargers, and the ID.Buzz is able to juice up from 10-80% in less than half an hour.
Steve Huntingford, What Car? editor, added: "This is a car that wins over your head as well as your heart and one that will bring huge amounts of joy to lucky buyers at a time when the costs and challenges of motoring are under greater pressure than ever."
Those retro styling cues certainly get us thinking about summer BBQs and surfing in Cornwall. As the world of transport moves to electric and all those well versed advantages of instant acceleration, awesome refinement and ease of use become competitive norms, emotional appeal through design is going to play an increasingly important role.
The good news is that the ID.Buzz has only just gone on sale in the five-seat guise you'll find in showrooms, now probably wearing a well-deserved WhatCar? rosette. However, we're expecting bigger battery packs to follow, long-wheelbase versions with panoramic sunroofs and seven seats and, of course, the famous California camper. We'll make sure you're kept updated through GRIDSERVE Car Leasing.
Perhaps just as significantly, the Tesla Model 3 became the first electric car to win the coveted Best Executive Car class, ending nearly a decade of dominance from BMW with its 3 Series and 5 Series. That is a big deal, as is the Porsche Taycan Cross Turismo winning best performance car. Not best electric performance car, the best performance car.
The MG4 and Genesis GV60 also won their categories for best small electric car and best electric SUV. There is no doubt that the car industry is rapidly changing and models like these, that cover all bases and budgets, are proof that there is so much to look forward to in the electric era.
What Car? Car of the Year Awards 2023
The electric car winners
Like this and want to know more about the award-winning Volkswagen ID. Buzz? Check out the five things we love about the electric family car.
Was this article helpful?