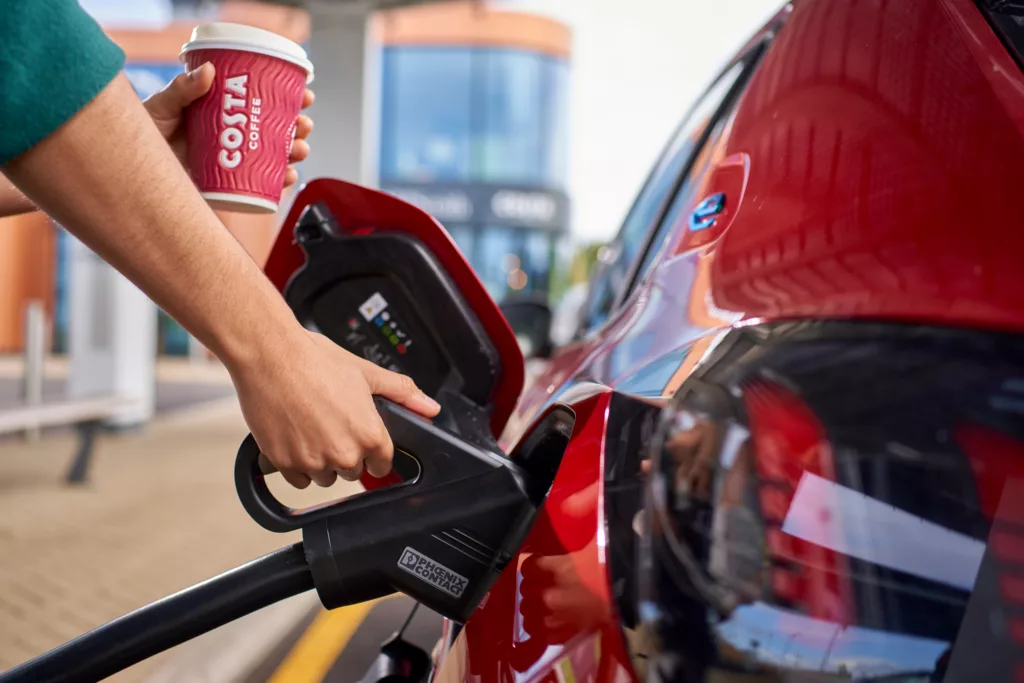 One shot mocha with oatmilk. Vanilla latte. Flat white. British drivers LOVE their coffee.
That's according to a study by Deloitte that quizzed consumers on their preferences for facilities required when charging.
Good coffee and drinks in general (we see you English Breakfast tea) were ranked as the number one priority by UK drivers when stopping to charge their electric car.
A caffeine hit was followed by access to nice washrooms – perhaps predictably so if we're all downing coffees morning, noon and night.
In third spot was good WiFi – clearly drivers want to be able to catch up on work emails while they wait… or at least pretend to reply to your boss while actually scrolling on social media. We won't judge.
The next priority for drivers is the option to pick up a light snack or meal followed by somewhere comfortable to sit and relax.
Sounds to us like the desires of the EV driver have just described our Electric Forecourts®. With coffee shops, food-to-go and a lounge, it's the perfect place to stop for 30 minutes (or longer) while you top your battery up.
There's more good news for drivers looking to charge, too.
While three-quarters told Deloitte they charged at home, they said they'd prefer a dedicated charging facility rather than car park, shopping centre or on-street chargers when they do have to stop. Another big tick for the Electric Forecourts®.
And 55% said they wanted to be able to pay with debit or credit cards rather than pre-paid subscription plans or loyalty points. Hello contactless payment across the entire GRIDSERVE Electric Highway.
Of course, we know there's still work to be done. Just under half said the lack of public charging infrastructure was putting them off making the switch.
We're on it. We've unveiled a raft of new Electric Super Hubs with 350kW-capable High Power chargers at services across the country this year with plenty more to follow.
And our Electric Forecourt® network will only expand too. First Gatwick and then many, many more across the UK.