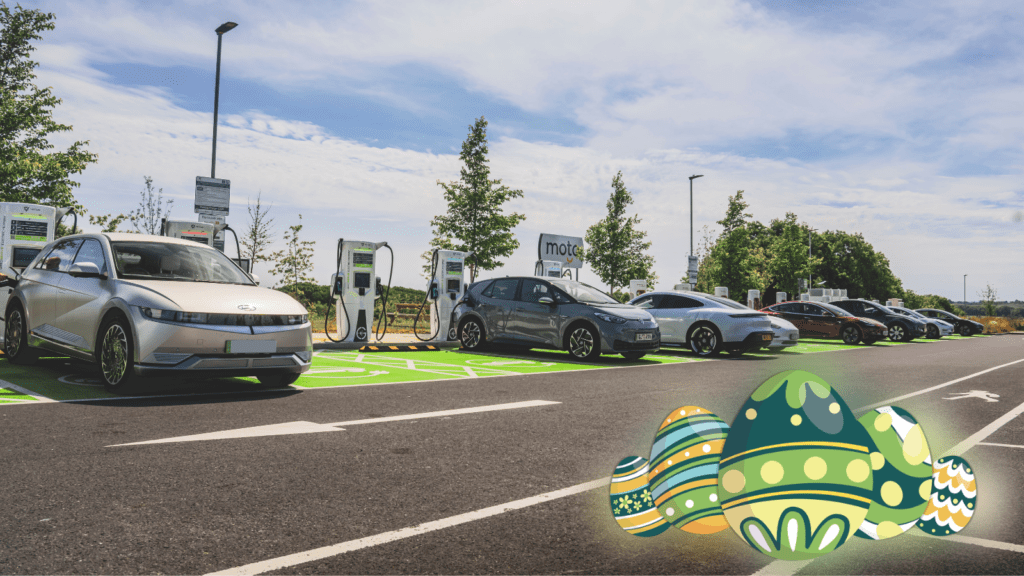 Electric cars will drive an estimated 35 million planet-friendly miles across the UK this Easter travelling to holiday hotspots and visiting family and friends.
Every year, the Easter weekend, and the weeks before and after, are some of the busiest on the roads with half of UK motorists taking trips.
With the average journey length during the Easter getaway calculated at around 100 miles, it means many EV drivers will have to plug-in at least once either on the way there or back.
As a result, motorway services will be up to 20% busier across the period – you'll have to wait extra-long for that Greggs sausage roll.
It also means demand across the GRIDSERVE Electric Highway will be at an all-time high. But there's good reason to do just that because our network is powered by net zero carbon energy.
So, if all those 35 million EV miles were powered by our chargers, it would save the equivalent of 7,000 tonnes of CO2 compared to petrol or diesel miles – that's the same as growing 350,000 trees for a year or powering homes in a village for a year. Well done you.
And better still, we've got just the thing to make your charging sessions a little more egg-citing.
Join the GRIDSERVE Easter Egg Hunt
We've hidden almost 100 Easter Egg stickers across our Electric Super Hubs and Electric Forecourts®.
Find one and you could be in with a chance of winning a GRIDSERVE chocolate easter egg – or for one lucky customer, three months free charging on the GRIDSERVE Electric Highway.
Simply scan the QR code on the Easter Egg you find on the charger and fill in a few details and we'll then enter you into the prize draw (you'll find all the T&Cs on the QR code link, too).
How to charge considerately this Easter
The busy Easter period at our chargers also makes it vital that all electric car drivers (and motorists in general) do their bit for charging etiquette.
Don't block bays if you're not charging and don't overstay longer than you need.
Remember that charging power will slow after 80% thanks to your car's charging curve, which means by trying to add those few extra miles you could be stopping someone else from connecting. Better to head off and recharge later, when you'll be able to top up faster.
We'd also recommend choosing your charger wisely – you might not necessarily need a High Power Charger if you've got a little longer to stop, while those with CCS connectors are asked to use CCS-only chargers first so CHAdeMo customers can still gain access.
And finally, communicate with your fellow EV drivers (and even leave notes on your windscreen).
If a site is particularly busy, then speak to other drivers to understand who's next and avoid jumping the queue – that should be left to the Easter bunny.
Was this article helpful?