Gardens are in full bloom, birds are singing at the top of their lungs and the crackle of Saturday afternoon barbecues can be heard across the nation.
And GRIDSERVE is marking the summer months with its own flourish – the opening of our first Electric Retail Hub at Dobbies Garden Centre in Swindon.

An Electric Retail Hub? Tell me more…
An Electric Retail Hub is a new type of destination charging and is in addition to the motorway-based Electric Super Hubs and our flagship Electric Forecourts®.
It allows wannabe Monty Dons to top up their EVs while selecting their terracotta pots or patio furniture.
And it makes perfect sense for those who love their garden to also make the switch to EVs – you're already doing your bit for biodiversity and nature, so why not help even more with zero-emission motoring?
What EV chargers are available at the new Electric Retail Hub?
The Dobbies Swindon location can charge 12 cars at once. There are five Medium Power chargers, each capable of Dual Charging, which allows two cars to charge at once. Each charger is shared between two bays so that 10 cars can be charging once.
In addition we have two High Power chargers, which are in super-wide accessible bays, for those in a hurry or for anyone passing by on the busy A419.
And of course, just like all our sites, the Dobbies Swindon Electric Retail Hub features CCS and CHAdeMO connectors and accepts contactless payment. The chargers are powered by 100% net zero carbon energy, too.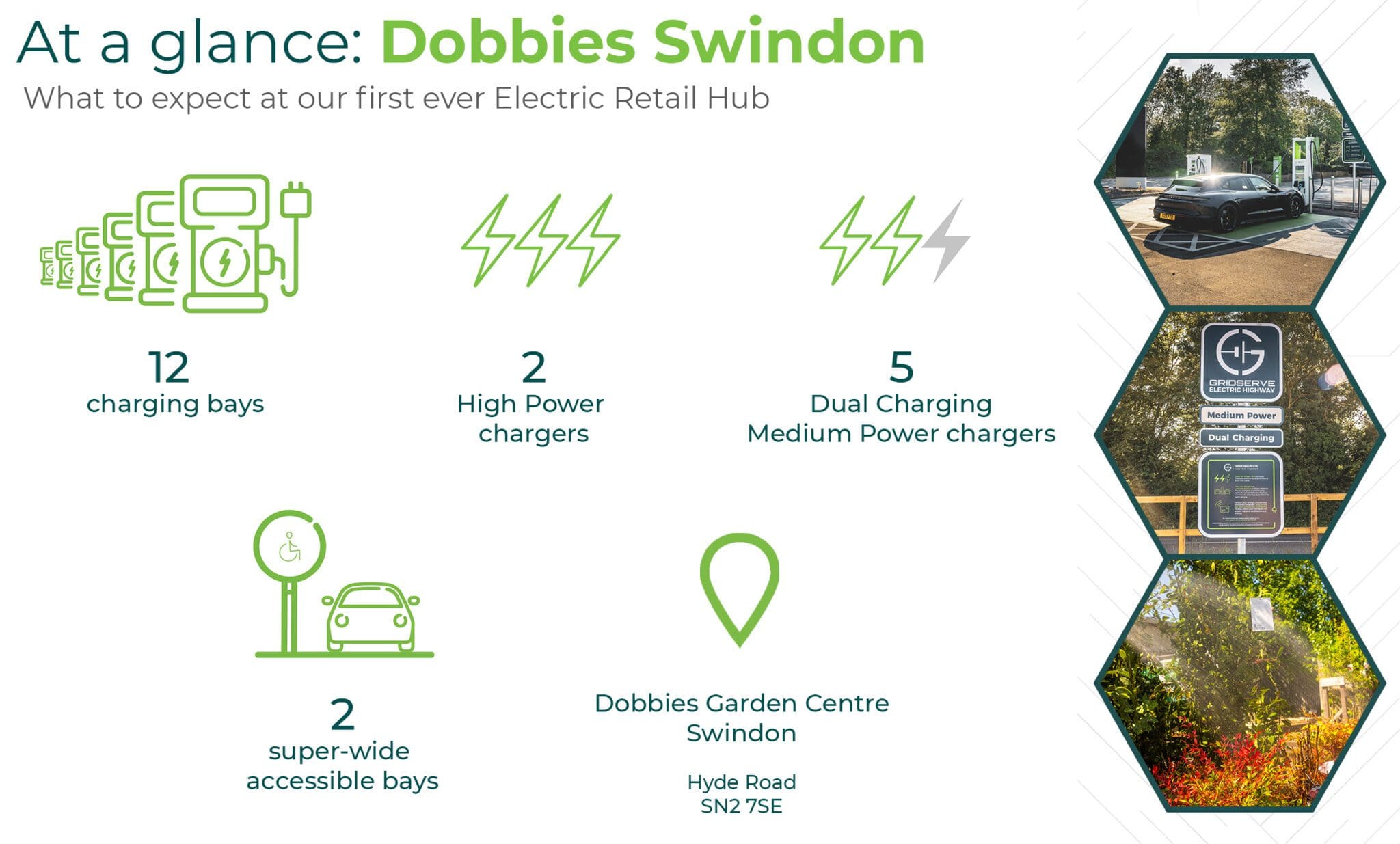 I love Dobbies, but don't live near Swindon. Can you help me out?
Swindon is the first, but you can be sure that plenty more will sprout up in partnership with Dobbies – the largest garden centre chain in the UK with over 75 stores and a history dating back more than 150 years.