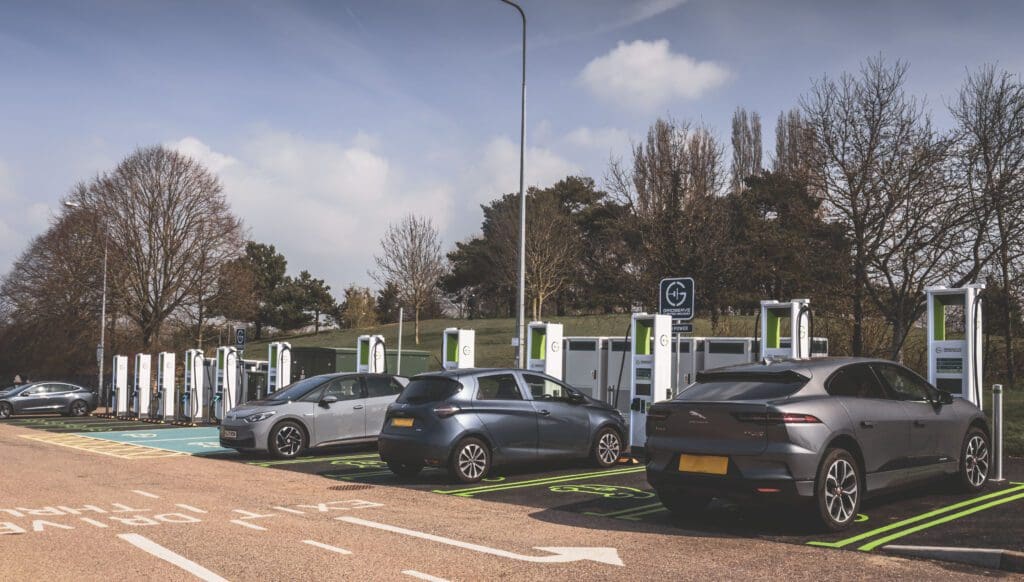 We recently hit a landmark for 2023 with our 100th High Power chargepoint installed this year – reaching the total we achieved in 2022 in just seven months in 2023.
It marks the first phase of our 2023 rollout that is continuing to transform the GRIDSERVE Electric Highway with hundreds of High Power chargepoints installed at new and existing locations, further helping accelerate the transition to electric mobility.
The new sites are spread across the UK, providing High Power charging on the UK's busiest routes, as well as at popular shopping destinations, making charging on the go more convenient than ever before.
From new Electric Super Hubs on the M4, M23, A1(M) to our first Electric Retail Hub at Dobbies Garden Centres, this year has overhauled the nation's charging infrastructure and is giving people the confidence to go electric.
Electrifying holiday hotspots
With the summer break in full force and families heading across the nation to holiday destinations, we're aware our network will be busier than ever. That's why we're accelerating delivery in key areas.
Moto Exeter is expanding with plans for 12 more 350kW-capable chargepoints. While we wait for this to be possible, we're energising six new units with our microgrid solution to help families holidaying in Devon and Cornwall this summer.
The microgrid, which debuted at Moto Ferrybridge to accelerate rollout ahead of available grid connection, features a battery pack that controls the supply of power to the EV chargers and is supplied by vegetable oil generators. These generators produce 90% less carbon emissions than traditional units, so in order to stay net zero, we're planting trees to offset the remaining 10% carbon emissions this process is unable to remove.
The area is further boosted by our latest solar and battery innovation at Cornwall Services. Combining a solar canopy, grid connection and 1MW battery storage system, we're able to power six High Power chargers well ahead of a larger grid connection being possible.
Lending you a helping hand
As we know our chargers are busiest over the weekends, we're supporting drivers throughout the summer holidays with GRIDSERVE attendants at our Electric Super Hubs at Cherwell Valley, Rugby, Wetherby and Exeter.
On most weekends (Friday, Saturday, Sunday, Monday, they'll be at the hubs to manage and monitor arrival of drivers to minimise wait times, prevent queue jumping and assist with any charging queries.
Offering on-site support like this is still a trial, so please let us know what you think so we can improve the experience in the future via connect@gridserve.com.