The future of transport is
ELECTRIC ​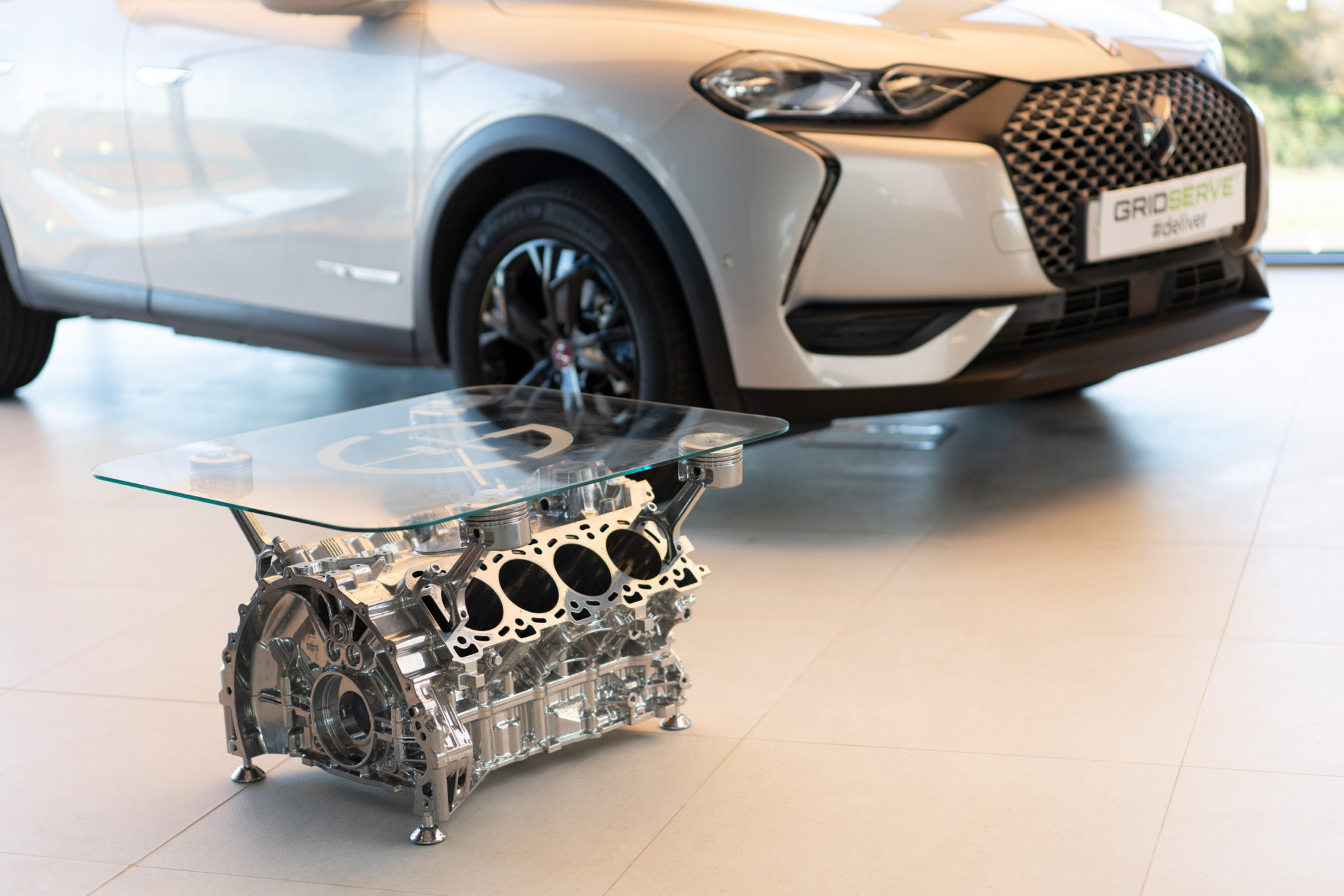 Because EVolution says so…
Every once in a while, a new technology, an old problem and a big idea turn into an innovation.
It started with the wheel, then came the steam engine, for the last 100 years, it has been the age of the internal combustion engine and now we enter the era of electric transport.
It's more efficient, it's cleaner and quieter. It's also cheaper, and the driving experience is sublime.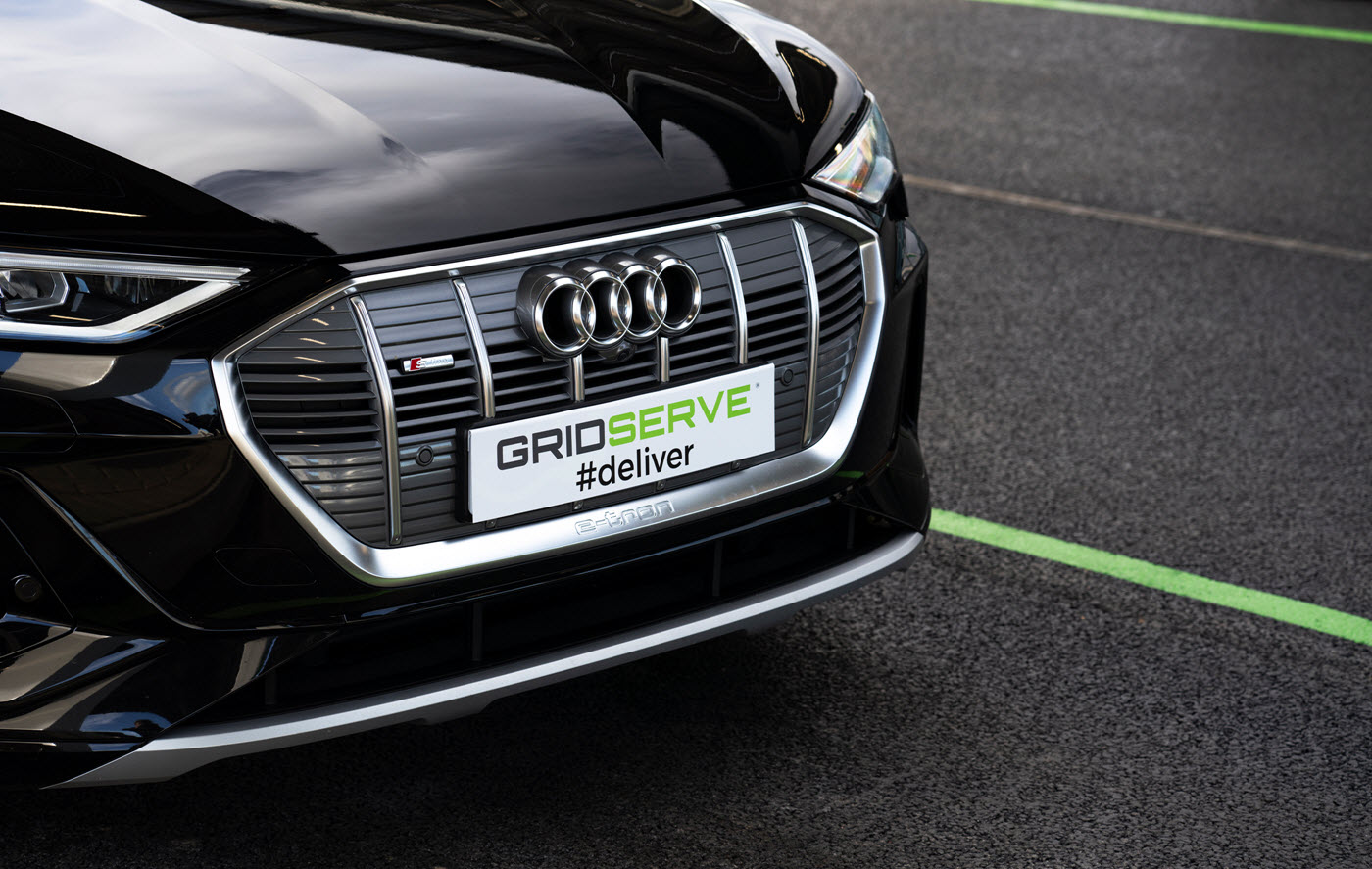 The GRIDSERVE formula
A new era needs new infrastructure and that's at the heart of GRIDSERVE EV Power activities. Our passion for smart integrated technology lies in our desire to move the needle on climate change.
We start this process by generating sustainable power at our solar farms to use in our electric vehicle ecosystem.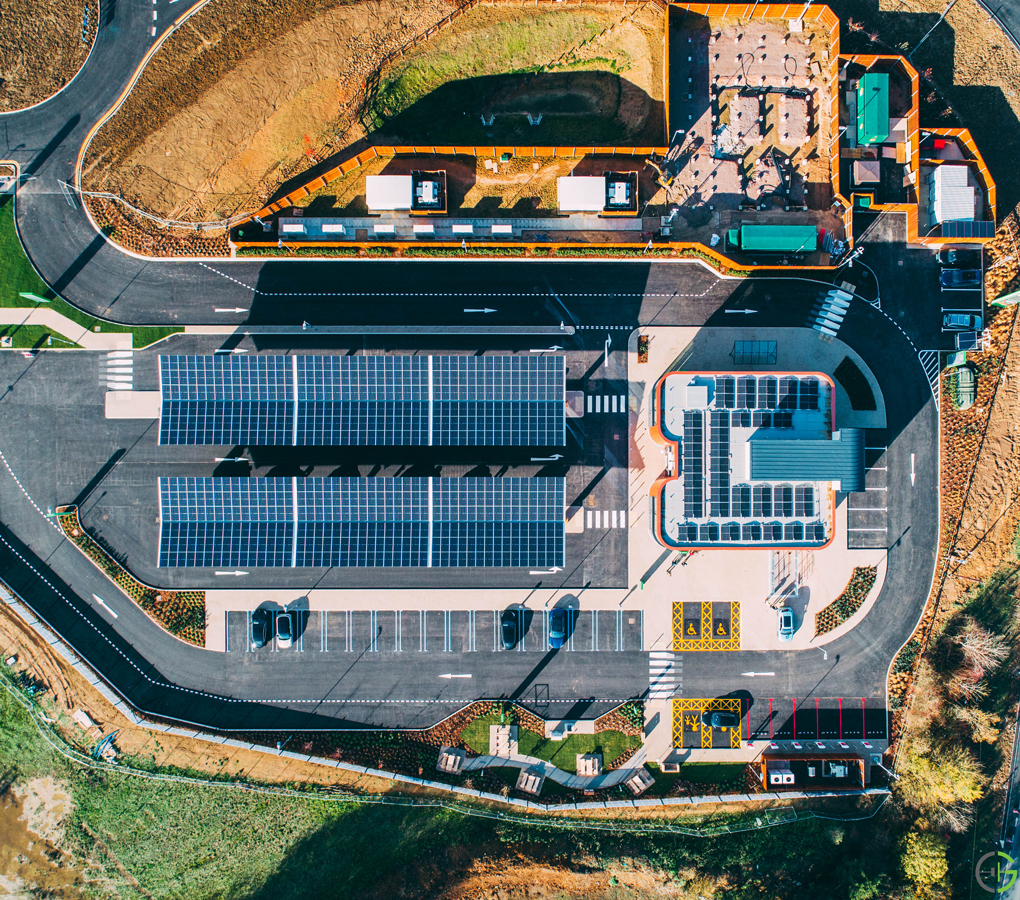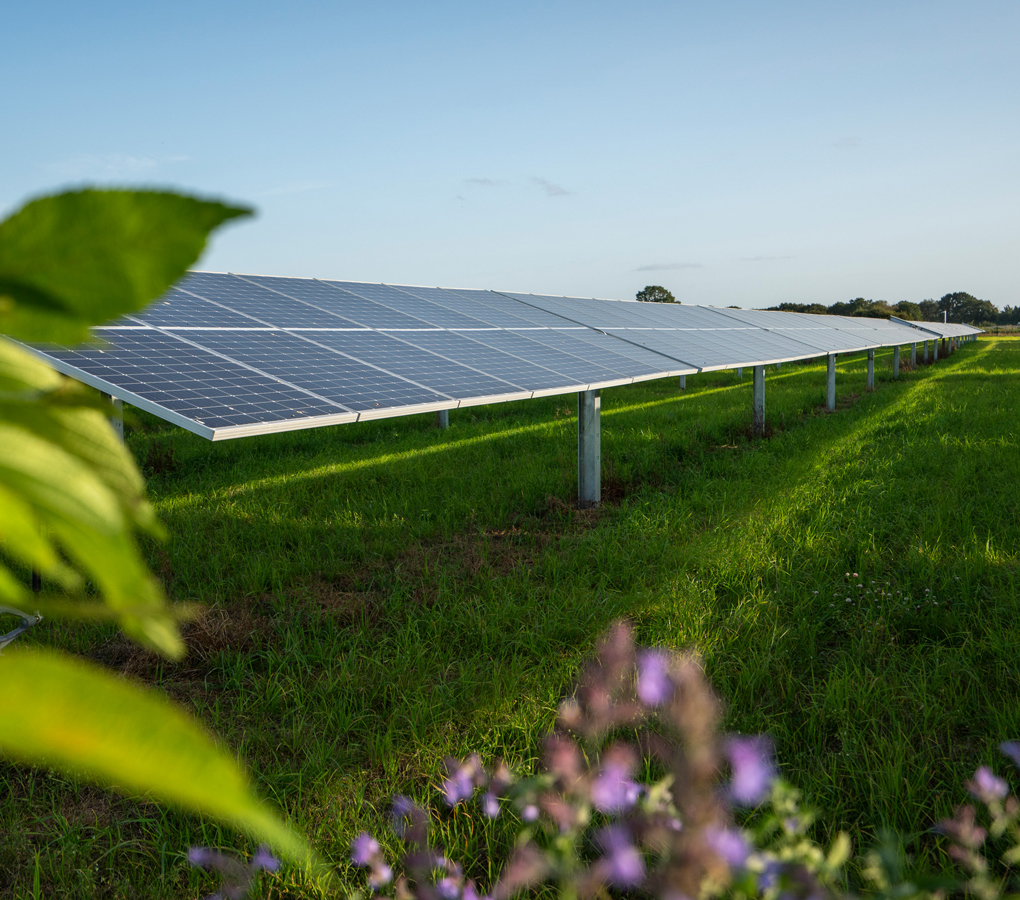 Back to the source 
GRIDSERVE harvests the sun's energy at our solar hybrid farms all across the country. Through a technique called 'sleeving', any energy that we use at our Electric Forecourts® is matched by zero-emission clean energy we export to the national grid. This enables us to offer our customers the ability to charge with carbon net zero, planet-friendly energy.
At some of our Electric Forecourt® sites we can build hybrid solar farms adjacent or very locally to the Forecourt, allowing us to directly connect to the source. We call these Solar Electric Forecourts® and we are opening our first one in 2021 – we are excited!
Clayhill Solar Farm &
Braintree Electric Forecourt® 
Clayhill Solar Farm owned by GRIDSERVE is 44 miles away from the Electric Forecourt®. This solar farm has 10MWp of solar panels and a 6 MWh battery. 
Using a sophisticated 'sleeving' power purchase agreement, we feed power to the Grid to balance out the energy used by the Electric Forecourt ®.
Reducing carbon emissions is not just a passion but a necessity for our future. Our connection to the Grid is essential to achieve net zero transport emissions.
Onsite solar
Electric Forecourts® also typically have solar panels as part of their architecture. Braintree, for example, has approximately 200 kWp of solar panels onsite.
THEORY
Onsite solar produces enough zero-carbon energy to drive around 800,000 miles every year in an electric vehicle.
PRACTICE
Onsite solar power is used by the low voltage building rather than the high voltage chargers.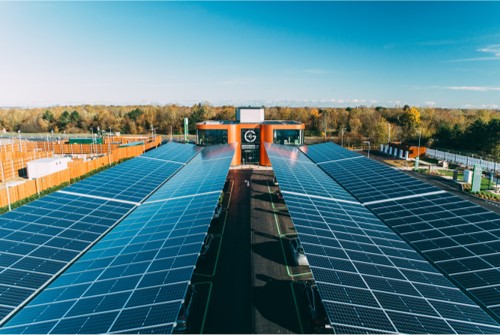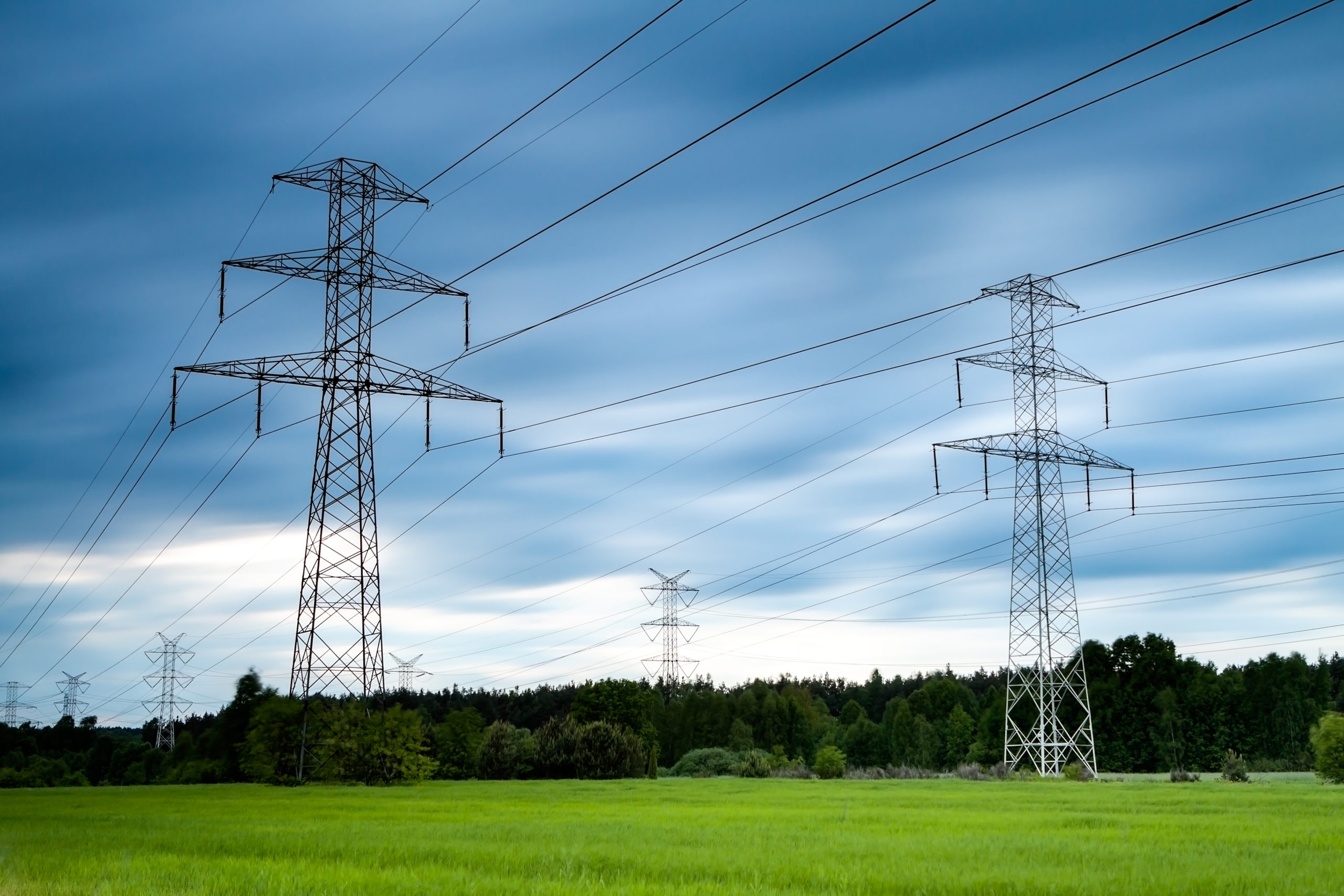 Symmetric Grid Connections
At Braintree Electric Forecourt®, a 5 MW (AC) Grid connection enables us to #deliver an awesome amount of power to you very quickly.
We can receive 450 electric vehicle miles per minute of energy from the grid or 20,000 miles of charge per hour.
We also provide grid stabilisation services to the local area, can export in times of demand, and import additional energy on windy days from wind farms.
Intelligent storage
Let's not forget the batteries, also an essential part of the GRIDSERVE formula, and the secret to stabilising all this power.
At Braintree, we have a 5MWh battery storage system that can store up to 20,000 miles of charge from the Grid, guaranteeing consistent power at the site.
In addition, the batteries facilitate over 20 important Grid services as well as stabilising the power in the local area.
These services also generate energy-related income streams for GRIDSERVE from the Electric Forecourt®.