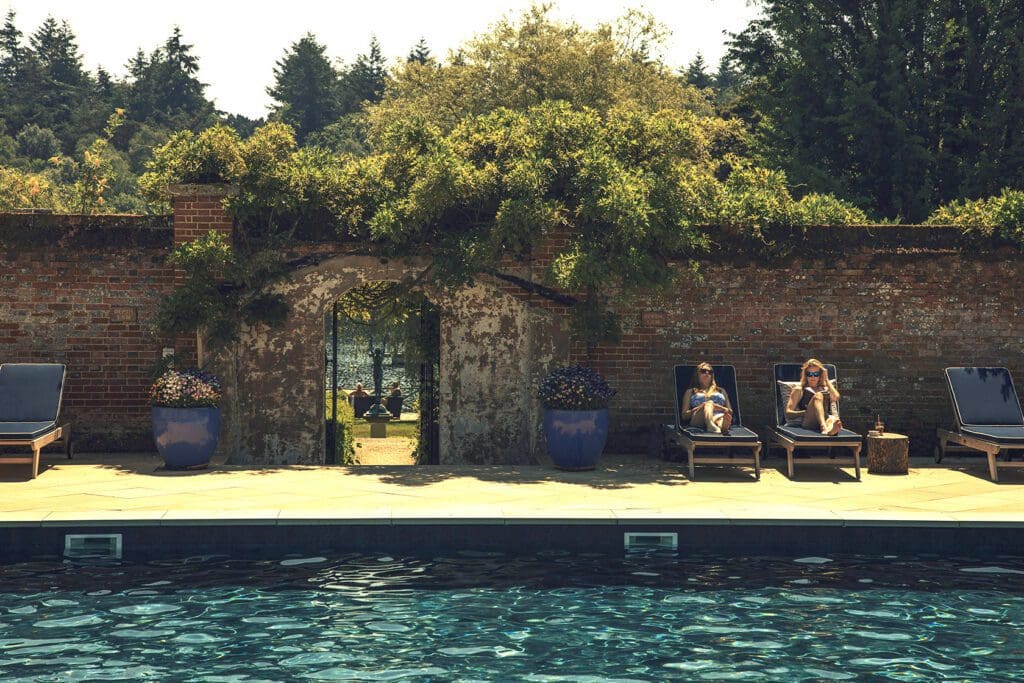 Home to the Broads, part of the Fens and 90 miles of beautiful beaches and coastline, Norfolk is a perfect holiday destination for all the family. 
From King's Lynn to Norwich you'll find a mix of seaside communities, glorious rolling countryside, rare wildlife, idyllic nature reserves and so much more. For any wannabe Bill Oddies, Norfolk also claims to be the bird-watching capital of the UK.
And thanks to ever-increasing EV charging provision, it's also a place that you can comfortably enjoy driving around in your electric car. Here are some of the best and most sustainable places to eat, stay and play when you're visiting.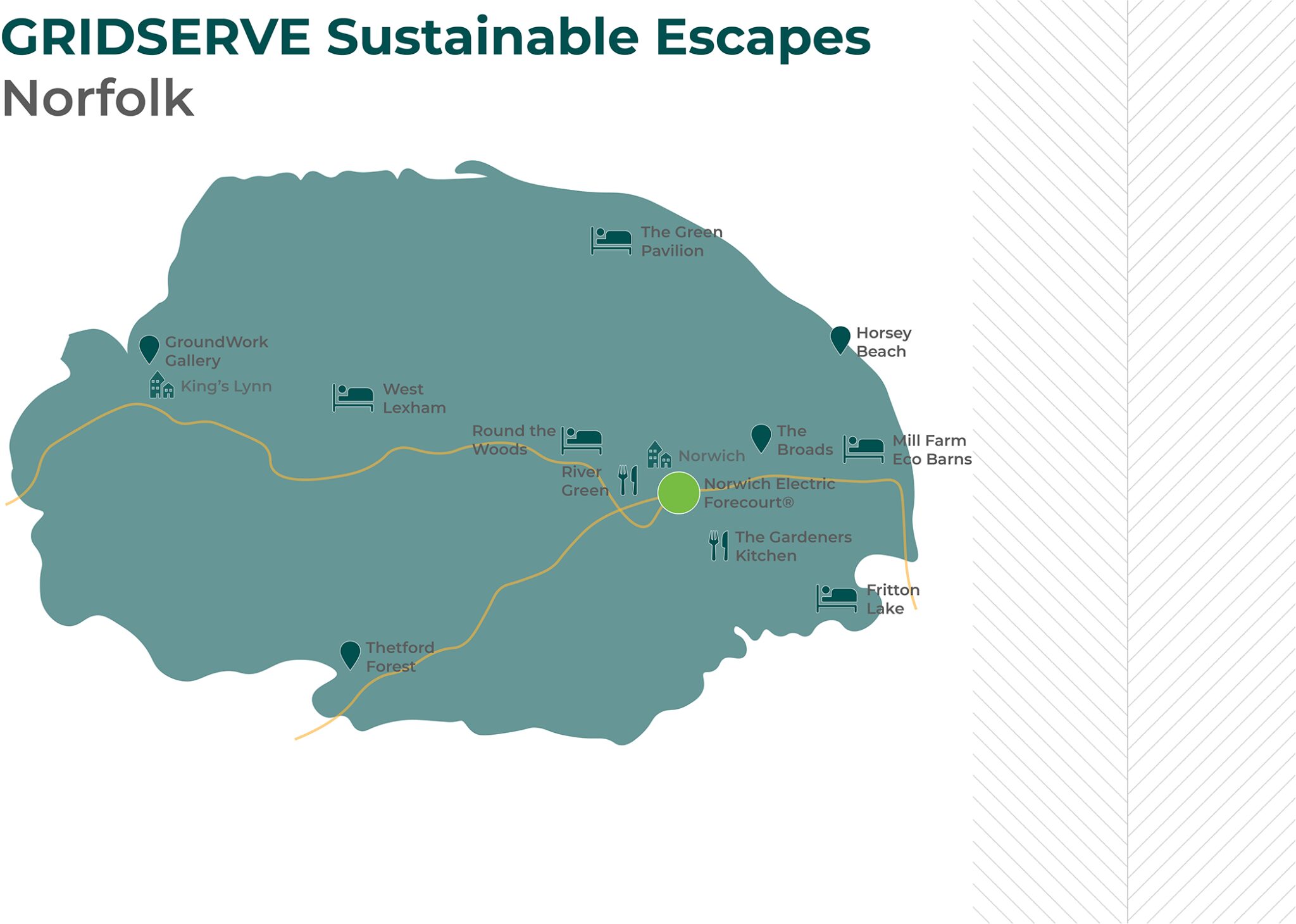 Where to charge your electric car in Norfolk
Norfolk is home to the Norwich Electric Forecourt® – a dedicated EV charging destination with space to recharge and relax. It offers 22 High Power chargers capable of delivering 350kW of power, enough to add 100-miles of range in less than 10 minutes. All of these feature both CCS and CHAdeMO connectors.
There's also six 100kW CHAdeMO connectors and a further six 22kW Type 2 AC connectors on site for complete flexibility. All the units accept contactless payment and are powered exclusively be net zero carbon energy. 
Highlighting its importance to unlocking EV travel in the region, in its first year of operation (from April 2022 to April 2023), Norwich Electric Forecourt® chargers powered over two million net zero EV miles – enough to travel around the world 80 times and electric vehicle registrations in the soared by almost 50%.
Sustainable places to eat in Norfolk
As consumers become more conscious about their impact on the environment, the question of where and how food is sourced has become more important than ever. Minimising food waste, sourcing produce that's local and seasonal, reducing energy use and creating menus around ingredients with minimal environmental impact are just some of the ways that these Norwich-based restaurants are showing increased awareness and responsibility in their operations.

Set in a former bakery overlooking the stunning village green, this multiple award-winning vegan restaurant opened its doors in 2011 with a mission to create a delicious, cruelty-free dining experience that doesn't harm animals or the planet.
River Green is entirely plant-based, and uses locally-produced or ethically-sourced ingredients, as well as making an effort to reduce waste, limit packaging and recycle whenever possible. The menus change on a weekly – sometimes even daily – basis, and you can expect a broad selection of dishes, from British classics to Asian fusion. 

Garden centres might not be renowned for delicious food but The Gardeners Kitchen at Green Pastures Nursery in Norwich bucks the trend. Don't just take our word for it, though, as it's previously been named Norfolk's top restaurant. 
Homemade dishes are made from locally-sourced ingredients and you can enjoy the food at tables strewn among the flowers of the garden centre for the ultimate in al fresco dining.  
It's the perfect spot for breakfast, lunch, afternoon tea or even Sunday lunch during your travels. Once you've had your fill you can browse the plants or drop into the farm shop to buy ingredients to take back to your holiday stay and cook up a storm. 
Sustainable places to stay in Norfolk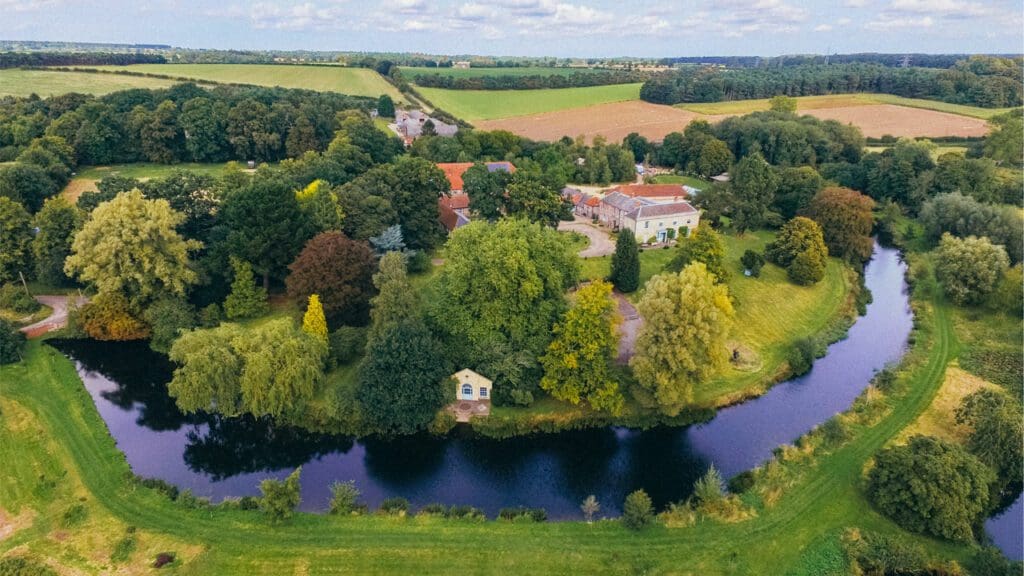 West Lexham
West Lexham bills itself as a holistic wellness retreat with a "symbiosis to nature". Powered almost entirely by renewable energy, the 21-acre grounds are set in an idyllic river valley surrounded by ancient trees and abundant wildlife. 
With a variety of dreamy lodgings ranging from boutique bell tents, to quirky cabins, barns and rustic tree houses, West Lexham is an incredibly comfortable and downright magical place to retreat to from the hustle and bustle of everyday life. The sprawling grounds are replete with cool, calm spaces for reflection and reflection, but when that inevitably gets dull, guests can make use of the lake with paddleboarding, lake swimming or rowing.
The Green Pavilion
Designed by architect Keith Reay and built by the Crane family who specialise in restoring medieval timber buildings, The Green Pavilion is an award-winning compact eco-friendly house that provides comfortable self-catering accommodation for up to six people near the Norfolk coast. 
Steeped in nature, the Pavilion boasts a unique design with solid oak beams, floor to ceiling windows, and a series of thoughtful and cozy touches throughout the interiors. This is one green getaway that demonstrates a clear commitment to planet-friendly practices: it's powered entirely by solar panels, stocks only eco-friendly detergents, and offers a wood-burning stove in the kitchen. 
Fritton Lake 
Lord and Lady Somerleyton's sumptuous Fritton Lake country estate proves that luxury and sustainability can indeed go hand-in-hand. Cozy up in a 16th century clubhouse room, a stylish woodland cabin or farm cottage set amongst a carefully-managed sustainable wildland that's home to free-roaming deer, cattle, sheep, pigs, ponies and birds.  
Fritton Lake promises an impactful dining experience with less impact on the environment. A sustainably-sourced feast awaits for diners, with meals created from seasonal ingredients harvested almost exclusively from the estate.
Owners Hugh and Lara Somerleyton go a step further in planet-friendly practices with a thousand-acre rewilding project and guests can join daily expeditions to learn more about how its improving the local ecosystem. Foraging, canoeing, paddleboarding and wild swimming in the 2-mile long lake are also encouraged.
Round the Woods
If you're looking for a semi-adventurous eco-friendly stay but camping isn't quite your style, then the glamping experience at Round the Woods could be the perfect compromise.
Located on the edge of a semi-ancient broadleaf woodland, the 20-acre Round the Woods site features two large and luxurious Yurts handmade in the UK using only sustainably-sourced British timer and breathable canvas.
Inside you'll find a large, solid wood bed with plush Hungarian goose down bedding and cotton linen. The accommodation features all the amenities you could need on your little adventure, with cooking facilities, a generously-stocked kitchenette (including marshmallows for the campfire!), a wood-burning stove, a large private shower, private compost toilet, and an al fresco dining space.
Mill Farm Eco Barns
Set in 2.5 acres of countryside, this collection of converted eco-barns is perfect for a romantic getaway or a retreat with pals. Mill Farm Eco Barns is based in Winterton-on-Sea, which means you're a stone's throw from both the windswept dunes of the beach or the famous Norfolk Broads waterways. Strike out down the beach and you can have an ice cream in Great Yarmouth in a few hours. 
You can also collect free-range eggs from the chickens, pick the very best seasonal fruit and veg from the on-site gardens, or head off for a stroll in the flower meadow. 
Things to do in Norfolk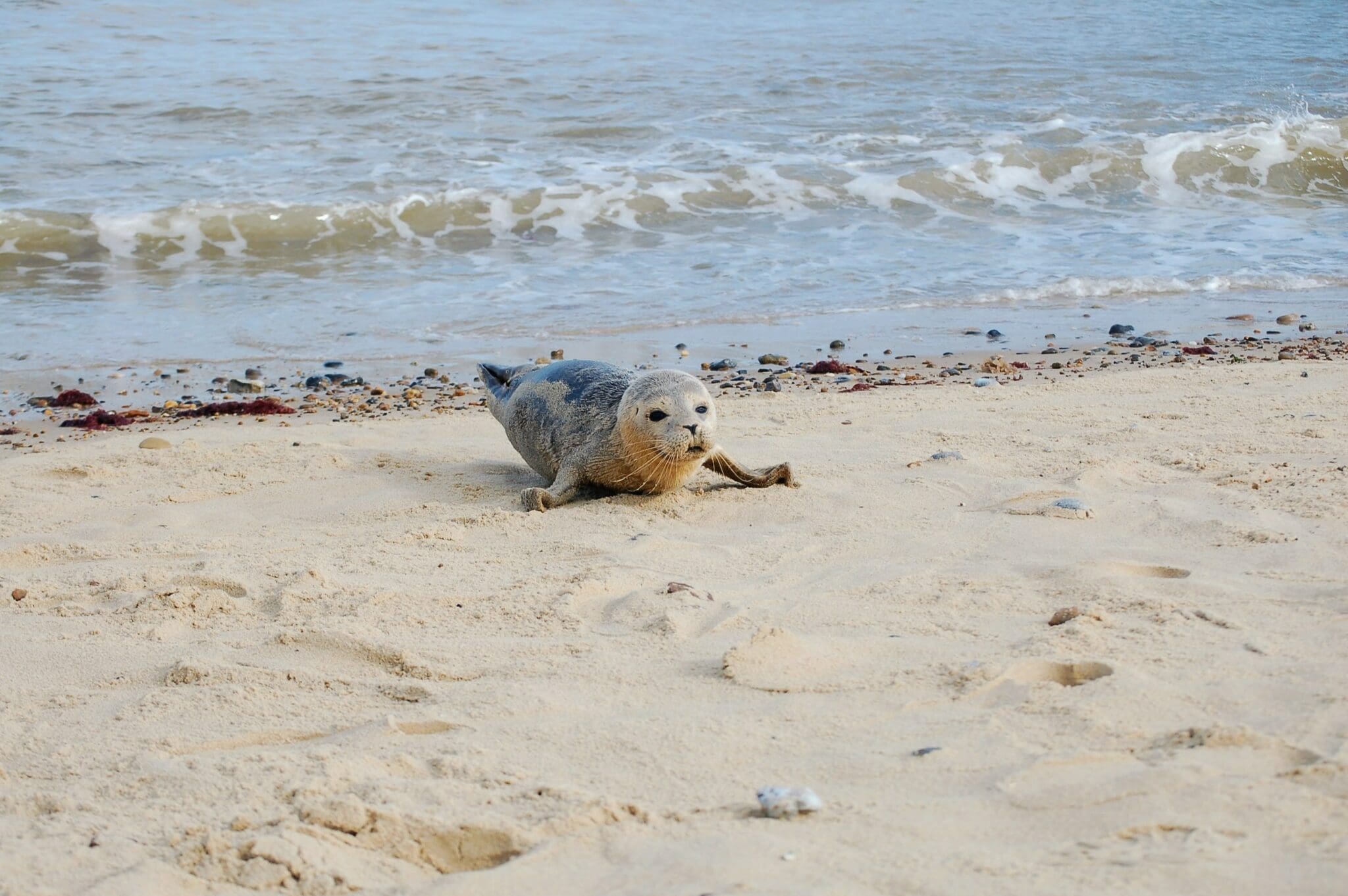 Seal spotting at Horsey Beach
Norfolk has an enviable stretch of coastline with golden sandy beaches for almost 100 miles. Arguably the most impressive is Horsey Beach, which is not just home to sun and sea but also a seal colony.
Braving the winter temperatures is worth it to see the seal pups lounging on the dunes between October and February. Around 2,000 are born every year, making it a magical sight. Even during summer you might be lucky enough to spot the seals bobbing in the sea.
If you do visit, make sure to stay far enough back (at least 10 metres) so as not to disturb the seals in their natural habitat. 
Activity trails at Thetford Forest
Thetford Forest is the UK's largest manmade lowland forest with a wealth of activities hidden among the pines and heathland. There's almost 20,000 hectares to explore, with outdoor play facilities at High Lodge and plenty of history at Mildenhall Warren. Bird watchers should head to Lynford Arboretum, while those who just want to enjoy the forest in all its glory should aim for Great Hockham. 
Explore the Norfolk Broads
The Norfolk Broads National Park is home to more than a quarter of Britain's rarest animals and plants so no matter the time of year you visit, you'll be sure to spot some incredible wildlife.
The most obvious way to explore the Broads is via the water, with more than 125 miles of lock-free canals spreading out across the site. You can opt for boat hire for a day or longer, while those who want a more active experience can rent a kayak. 
Culture vulture at the GroundWork Gallery
Over in the west of Norfolk, away from the beaches and hustle-and-bustle of Norwich is the GroundWork Gallery in King's Lynn. Just as GRIDSERVE is trying to move the needle on climate through EVs and solar energy, the gallery is doing so through art. 
It hosts nature-focused exhibitions and events, often in partnership with climate change groups and environmental bodies such as the Woodland Trust. Exhibitions ask artists to interpret one environmental issue such as waste or water pollution and engage viewers in these important topics with their work. 
---
Thinking of travelling further afield? Check out our other sustainable escapes in Devon and the Lake District.