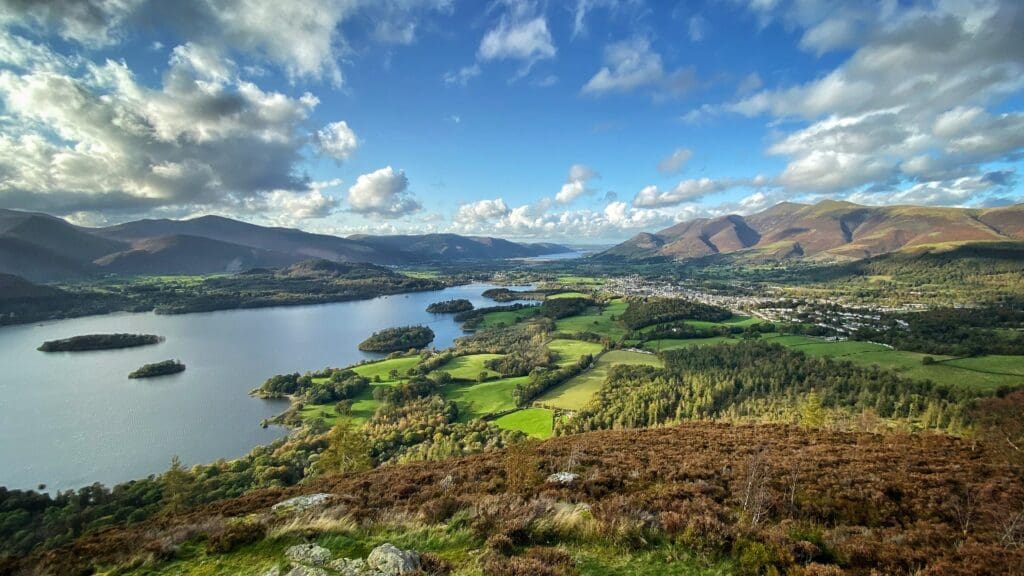 William Wordsworth may have been able to wander lonely as a cloud in 1802, but today, 16 million people visit the Lake District every year. Regardless of its UNESCO World Heritage Site status, who can blame them? Sure, it may pelt with rain throughout July and August, but it's a place with plenty of heart, beautiful food and breathtaking scenery.
Thanks to more EV charging provision, it's also a place that you can comfortably enjoy driving around in your electric car. Here are some of the best and most sustainable places to eat, stay and play when you're visiting.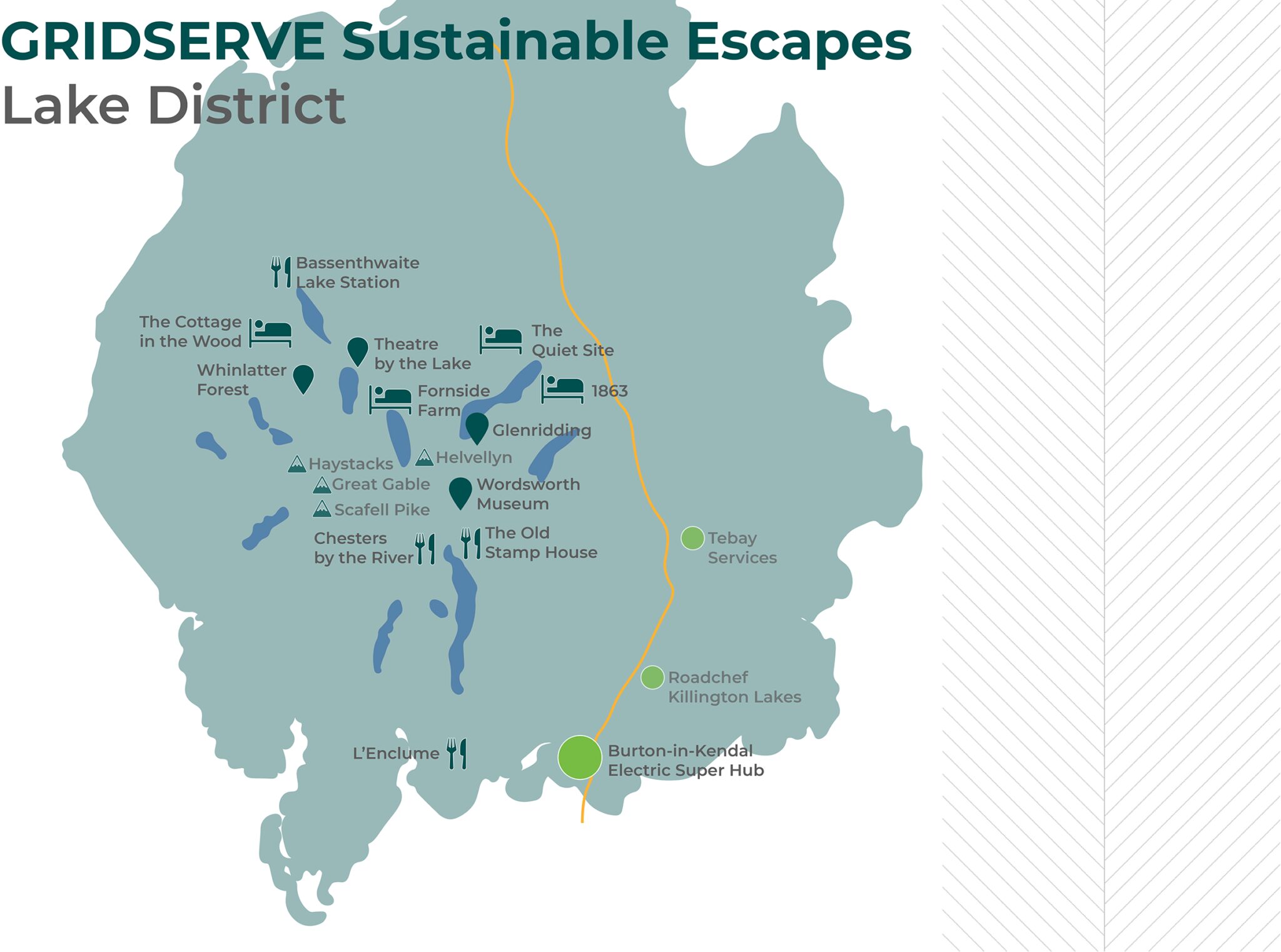 Where to charge your electric car in the Lake District?
Depending on your destination, there are currently three GRIDSERVE EV charging stations that have you covered along the M6 motorway, which is the major gateway to the Lake District. All of our units accept contactless payment, provide charging for both CCS and CHAdeMO connectors and are powered exclusively by net zero carbon energy.
Our Electric Super Hub at Moto Burton-in-Kendal is located on the southern edge of Cumbria between junction 35 and 36 of the M6 northbound, and features six of the latest 350kW-capable EV chargers. These units are powerful enough for the latest electric vehicles to add 100-miles of range in less than 10 minutes, so perfect for a quick pit stop.
There are a further pair of 60kW-capable chargers before junction 37 at Roadchef Killington Lakes, as well as another pair of 60kW-capable EV chargers at the famous Tebay Services at junction 38. Tebay is the first, and indeed the only, family-run motorway service station in the UK, with the Dunnings family eschewing popular franchises and fast food for independent eateries and hearty meals made from the finest local ingredients. There is a restaurant that makes homemade dishes, a grocery store packed full of local produce, an indoor and outdoor children's play area, 51-bedroom hotel and a caravan park.
Sustainable places to eat in the Lake District
Respecting the land, sourcing seasonally, locally and ethically, minimising food waste – this is the Cumbrian way. Here is just a small highlight of the wonderful places the region offers.

Chesters by the River is the kind of place you and your dog would love to find at the end of a day's walk. This lovely little vegetarian cafe (nearly all vegan) has an enviable location for fans of the 'gram, within touching distance of the meandering River Brathay. That soundtrack of water accompanies simple tables, slate floors and a chalk board full of the day's salads and pizzas, with all ingredients sourced from local farmers. The plates of food are unexpectedly generous (must be for the walkers) but it's the cakes that are the unsung hero of this place.

Afternoon tea is a specialist subject in these parts, and just north of Keswick, you'll discover Bassenthwaite Lake Station. Yes, we should acknowledge this is a fake station and the train goes nowhere – regrettably, the railway track linking Penrith, Keswick and Cockermouth was closed down in 1966. But before you get all fearful about themed restaurants, you should know that the food served within this restored movie prop is pretty magical. Afternoon tea is (at least) a two-hour affair of savoury and sweet, from Bassenthwaite malted tea bread to local salamis, Camembert from the fells of Torpenhow and salted caramel profiteroles.

You'll want to book ahead at The Old Stamp House to avoid disappointment. Sure, Ambleside may be a thriving holiday town on the shores of Lake Windermere with an abundance of eateries, but this Michelin-starred menu reads like a love letter to the region, referencing shellfish sourced from the small fishing fleets of Barrow and Whitehaven, stags from Grizedale Forest and Herdwick lamb that's farmed a stone's throw away. Even their coffee comes from a local coffee roasters that is a Certified B Corporation. This is thoughtful food, served in the same room where William Wordsworth once worked as the distributor of stamps for Westmorland.

L'Enclume
Cartmel is home of the sticky toffee pudding as well as fine dining restaurant, L'Enclume. It isn't exactly the sort of place you'd feel comfortable rocking up in your hiking boots but as far as Three Michelin Star venues go, there is no pomp or needless frivolity. It operates on a farm-to-fork principle that, amongst many other sustainable initiatives that include minimising water and plastic consumption, has also helped it earn a Michelin Green Star. This is hyper-local seasonal cuisine of the highest order, with inspiration of every dish starting from their own farm or from the wild.
Sustainable places to stay in the Lake District

The Quiet Site
If you fancy a Lakeland getaway that embraces the great outdoors, The Quiet Site in Ullswater offers plenty of picturesque camping and glamping options, including so-called 'glamping burrows'. These subterranean living spaces are superbly insulated, energy efficient and virtually invisible in the landscape. There are other pet-friendly glamping options available, while 80% of the entire site gets its energy from a combination of a ground source heat pump, biomass boiler and solar. The venue also boasts a zero-waste shop and a bar that dates back to 1680.
Fornside Farm
Fornside Farm enjoys a stunning location at the foot of the Helvellyn mountain range surrounded by dramatic Lakeland scenery. Here you'll find four cosy cottages that have been beautifully converted from traditional stone barns alongside the 17th Century farmhouse. The vibe is Laura Ashley chic with underfloor heating and radiators all running off a ground source heat pump, while roof-mounted solar provides additional energy.
1863
Located in Pooley Bridge, Ullswater, is the village blacksmith turned post office turned restaurant and hotel called 1863. This small set-up is making a big impression on the region, both for its quality of food and service, but also its sustainability goals. The owners have set themselves strong targets around reducing paper, single-use plastic and water usage across the site, and only use eco-friendly washing detergents. The kitchen sources the vast majority of produce from their garden in Watermillock, only two miles from the restaurant, while a new carpooling service has been set up to reduce the amount of employee emissions.
The Cottage in the Wood
The Cottage in the Wood sits 1,000ft up in Whinlatter Forest – a red squirrel conservation area – and is described by its owners as 'a restaurant with rooms'. Despite a series of beautifully contemporary rooms situated in a fully restored 17th-century coaching inn, the star of the show is the Michelin-starred restaurant below. Here, the kitchen team strive for a more sustainable and organic food chain by embracing only the finest locally sourced produce, as well as food foraged from the forest. The result is some of the most exciting and original food the UK has to offer, with wild mushrooms, damsons, bilberries, garlic and even nettles regularly frequenting the menu.
Things to do in the Lake District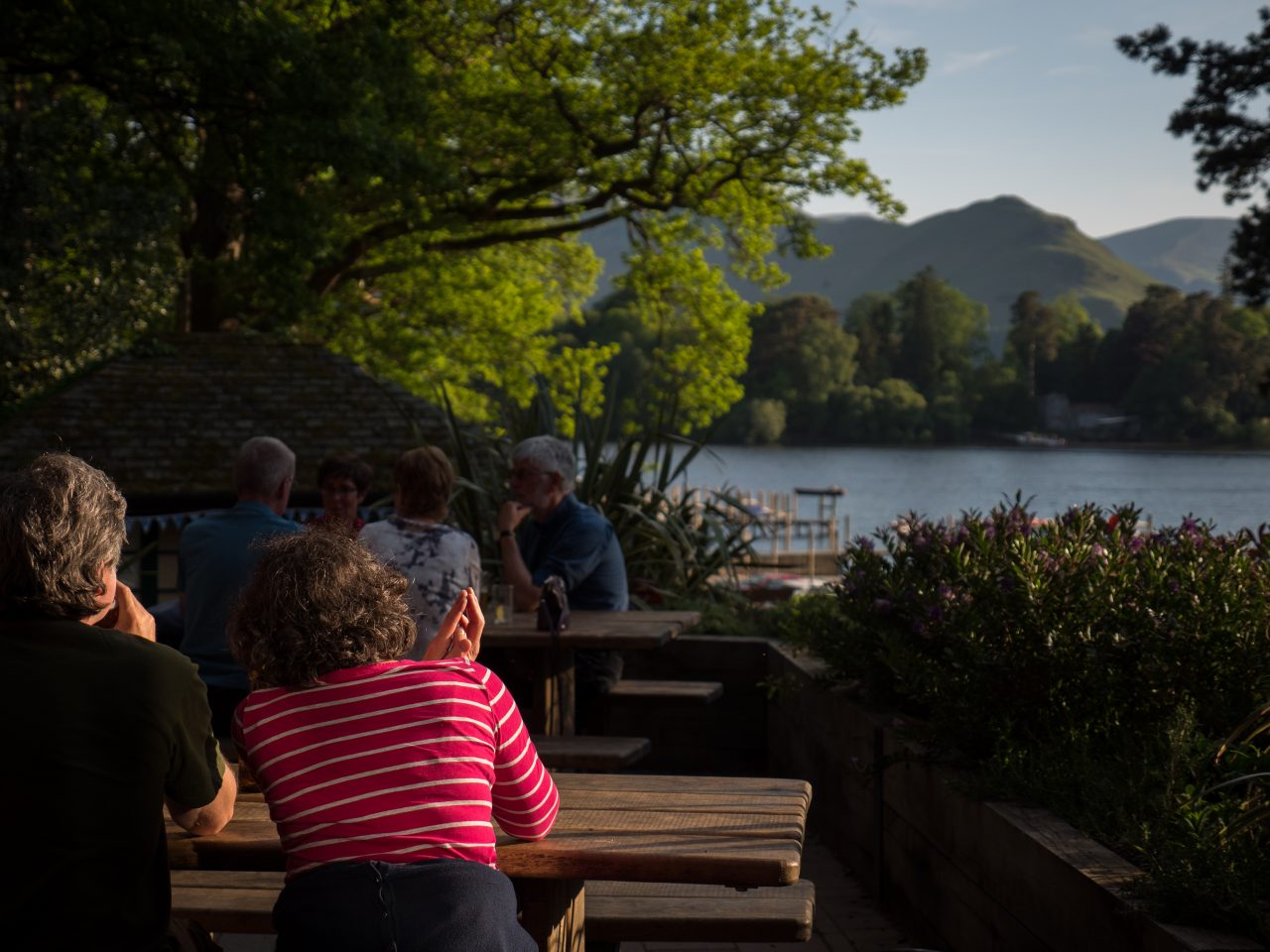 Watch a play at Theatre by the Lake
Theatre by the Lake is one of the most beautifully situated and friendly theatres in the world, according to The Independent. We'd second that. This vibrant creative hub has built a reputation for creating some top notch theatre productions, hosting all sorts of different art forms and festivals. Before you take your seat, why not grab a drink on the terrace as the summer sun begins to fade over the rippled mercury of Derwentwater.
Go mountain biking in Whinlatter Forest
Whinlatter is England's only mountain forest and provides a large variety of all-season outdoor activities for all abilities. There are miles of waymarked trails to walk or cycle, including a WildPlay trail for children that boasts nine different play zones. Kids will also be able to scale a giant timber climbing frame, fly through the air on a log swing or take part in a variety of annual events that include bushcraft, foraging, forest bathing and alpaca walks.
Go hiking from Glenridding
While Scafell Pike may get the attention as England's highest mountain, a 2018 survey of more than 8,000 walkers actually voted Helvellyn – the third highest mountain in England – the best hike in the UK. There are several different routes up to Helvellyn summit, including the infamous ridge walk of 'Striding Edge'. This route leaves from the picturesque village of Glenridding at the southern end of Lake Ullswater, once considered the centre of the lead mining industry. Before you set off, you'll find plenty of spots to grab a coffee or buy those last-minute trekking poles.
See how poetry for a new age was created at the Wordsworth Museum
William Wordsworth was an innovative poet that celebrated our relationship with and respect for the natural world. While this sort of thinking was expressed 200 years ago, it couldn't be more relevant today. The picture postcard village of Grasmere is home to Dove Cottage, where William and Dorothy Wordsworth once lived and you can visit, but there's also a bigger, modern museum showcasing his life and work. While you're here, you should also pick up some Grasmere Gingerbread, which follows a secret recipe that's been in production since 1854. This stuff is quite different to the gingerbread you may have sampled from your local bakery, although the flavour isn't anywhere near as divisive as Kendal Mint Cake.
---
Thinking of travelling further afield? Check out our other sustainable escapes in Norfolk and the Devon.