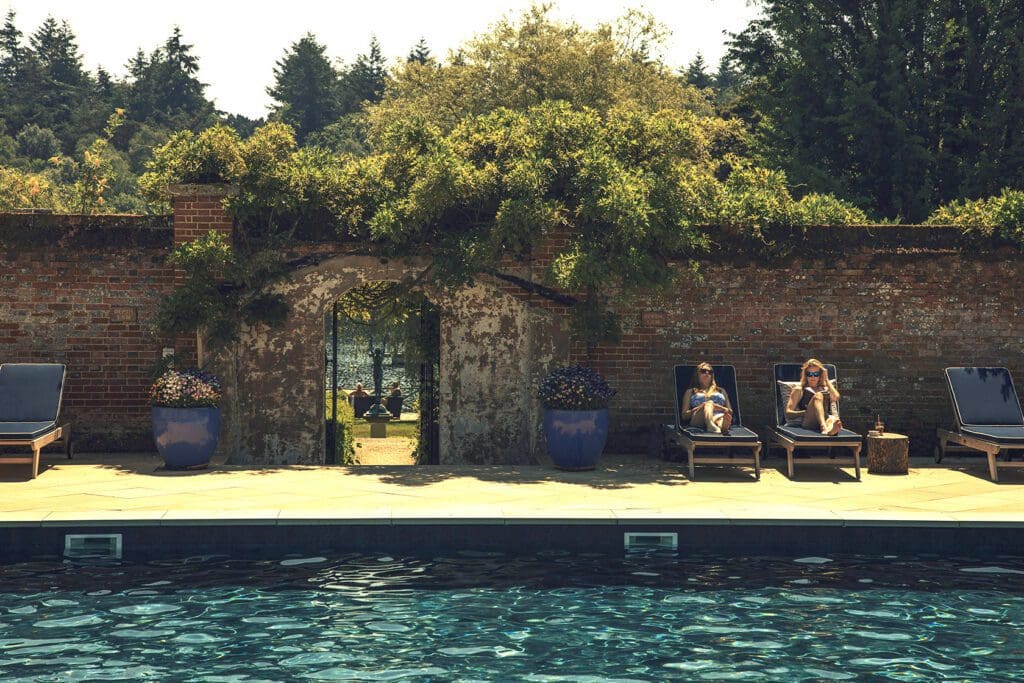 The bell has tolled for range and charge anxiety in Norwich. The future of EV charging has arrived in the form of a shiny, new Electric Forecourt®, and with it comes the chance to enjoy a relaxing and planet-friendly getaway. With its spectacular coastlines, verdant countryside, and charming towns, Norfolk is an ideal place for a leisurely road trip in your EV, punctuated by a few saintly stays and eco-conscious eats.
If you're in town to visit the new Norwich Electric Forecourt®, or you simply want to rack up some green credentials on your next weekend getaway, here are seven sustainably-minded spots for the environmentally-inclined traveller.
Part i: Norfolk Sustainable Stays
1. West Lexham
West Lexham bills itself as a holistic wellness retreat with a "symbiosis to nature". Powered almost entirely by renewable energy, the 21-acre grounds are set in an idyllic river valley surrounded by ancient trees and abundant wildlife. 
With a variety of dreamy lodgings ranging from boutique bell tents, to quirky cabins, barns and rustic tree houses, West Lexham is an incredibly comfortable and downright magical place to retreat to from the hustle and bustle of everyday life. 
The sprawling grounds are replete with cool, calm spaces for reflection and reflection, but when that inevitably gets dull, guests can make use of the lake with paddle boarding, lake swimming or rowing.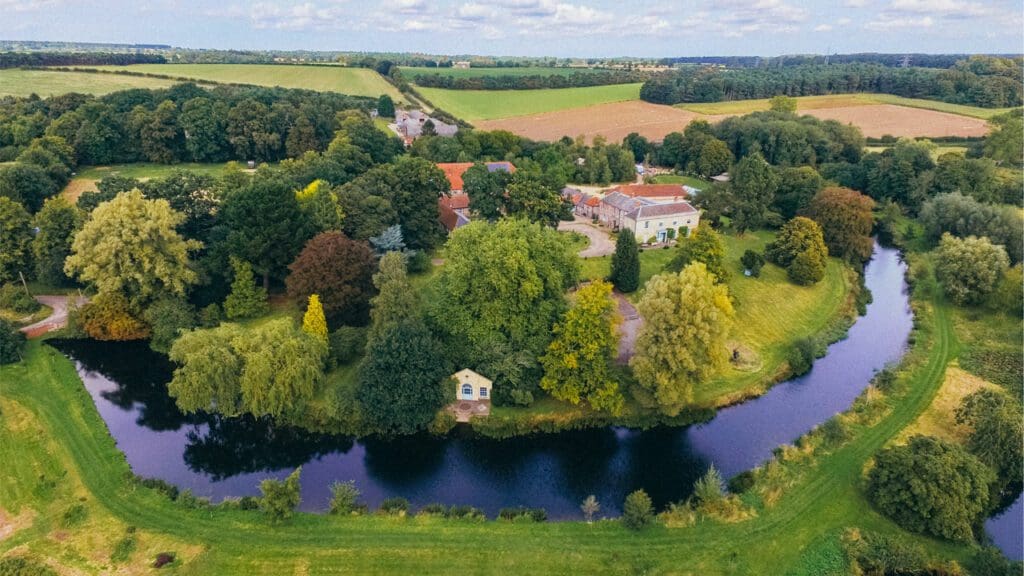 2. The Green Pavilion
Designed by architect Keith Reay and erected by the Crane family who specialise in restoring medieval timber buildings, the Green Oak Pavilion is an award-winning compact eco-friendly house that provides comfortable self-catering accommodation for up to six people near the Norfolk coast. 
Steeped in nature, the Pavilion boasts a unique design with solid oak beams, floor to ceiling windows, and a series of thoughtful and cozy touches throughout the interiors. This is one green getaway that demonstrates a clear commitment to planet-friendly practices: it's powered entirely by solar panels, stocks only eco-friendly detergents, and offers a wood burning stove in the kitchen. 
A stone's throw away from The Green Pavilion are a number of enchanting areas for nature-lovers, including wild meadows, an orangery, a salt marsh for bird-watching and a magnificent woodland.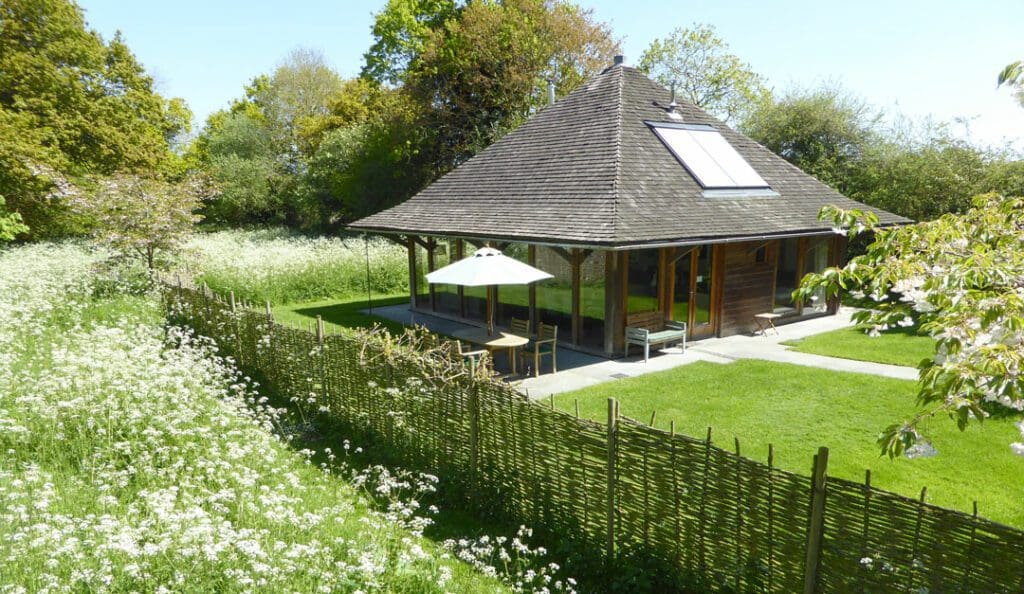 3. Fritton Lake
Lord and Lady Somerleyton's sumptuous country estate prove that luxury and sustainability can indeed go hand-in-hand. Cozy up in your boutique room in a 16th century clubhouse room, a stylish woodland cabin, or farm cottage set amongst a carefully-managed sustainable wildland that's home to free-roaming deer, cattle, sheep, pigs, ponies and a variety of bird life. 
Fritton Lake promises an impactful dining experience with less impact on the environment. A sustainably-sourced feast awaits for diners, with meals crated from seasonal ingredients harvested almost exclusively from the estate, an approach that supports provenance and dramatically reduces the estate's carbon footprint.
Owners Hugh and Lara Somerleyton go a step further in planet-friendly practices with a thousand-acre rewilding project for restoring biodiversity in the area. As part of the Fritton Lake experience, guests are invited to join the daily expeditions to learn more about how the estate works to improve the surrounding ecosystem. Foraging, canoeing, paddleboarding and wild swimming in the 2-mile long lake are also encouraged.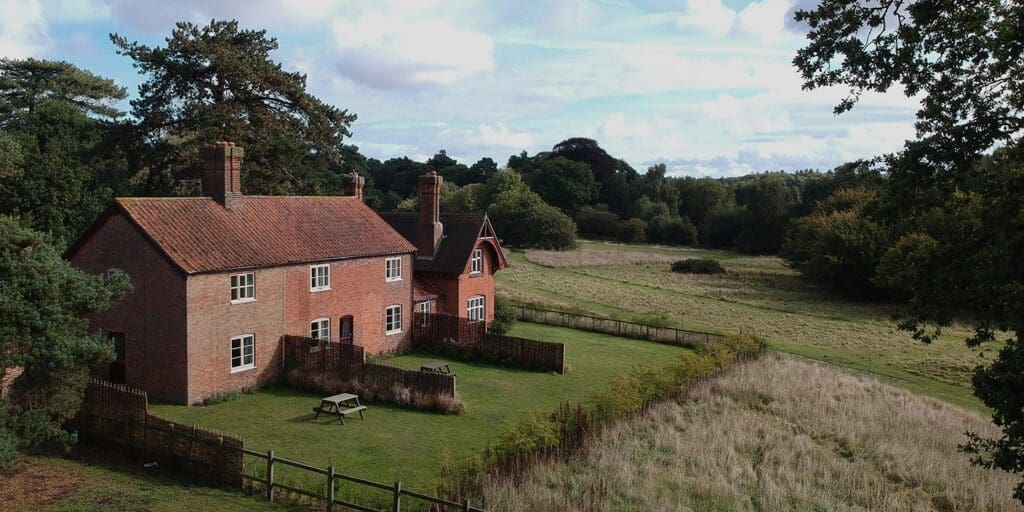 4. Round the Woods Cabin
If you're looking for a semi-adventurous eco-friendly stay but camping isn't quite your style, then the glamping experience at Round the Woods could be the perfect compromise. Set in rural Norfolk, Round the Woods promises the perfect blend of comfort and the great outdoors.
Located on the edge of a semi-ancient broadleaf woodland, Round the Woods features two large and luxurious Yurts that sleep up to five adults. The spacious and well-equipped Yurts were handmade in the UK using only sustainably sourced British timer and breathable canvas.
Inside you'll find a large, solid wood bed with plush Hungarian goose down bedding and cotton linen –  a set up that promises a good night's sleep. The accommodation features all the amenities you could need on your little adventure, with cooking facilities, a generously-stocked kitchenette (including marshmallows for the campfire!), a word burning stove, a large private shower, private compost toilet, and an alfresco dining space.
Spend your days lazing in the family-sized hammock or exploring the 20-acre site. Roasting marshmallows around the campfire and star-gazing are the evening's recommended activities.
https://www.roundthewoods.co.uk/
Part ii: Norfolk Sustainable Eats
As consumers become more conscious of their impact on the environment, the question of where and how food is sourced has become more important than ever. Minimising food waste, sourcing produce that's local and seasonal, reducing energy use and creating menus around ingredients with minimal environmental impact are just some of the ways that these Norwich-based restaurants are showing increased awareness and responsibility in their operations.
1. Re-source
This low-waste vegan store and cafe opened in April 2019 in the heart of Norwich on Timber Hill. As a low-impact general store, Re-source sells unpackaged, ethically sourced and produced food as well as organic produce and eco-friendly household, kitchen, and bathroom products. Proudly, they're one of the first 'zero-waste' cafes in the country, and they run a kitchen that doesn't use a bin. Instead, the minimal amounts of food waste are disposed of by way of compost or sent to wormeries.
Re-source is plastic-free, meaning that all of their produce is wrapped in paper and other organic materials. This also means that their milk, bread, or butter is either made freshly on the premises or very nearby and delivered by bike. The owners of Re-source have long-standing relationships with local growers, and all of the food is grown as close to the café as possible, so you'll never find imported versions of things that are grown locally in the UK.
Re-source's ethos is "to do the right thing that calls us, regardless of the certainty of the outcome." That certainly resonates with us at GRIDSERVE.
Re-Source
21 Timber Hill, 
Norwich Nr1 3JZ
Tuesday – Saturday
10 am – 4 pm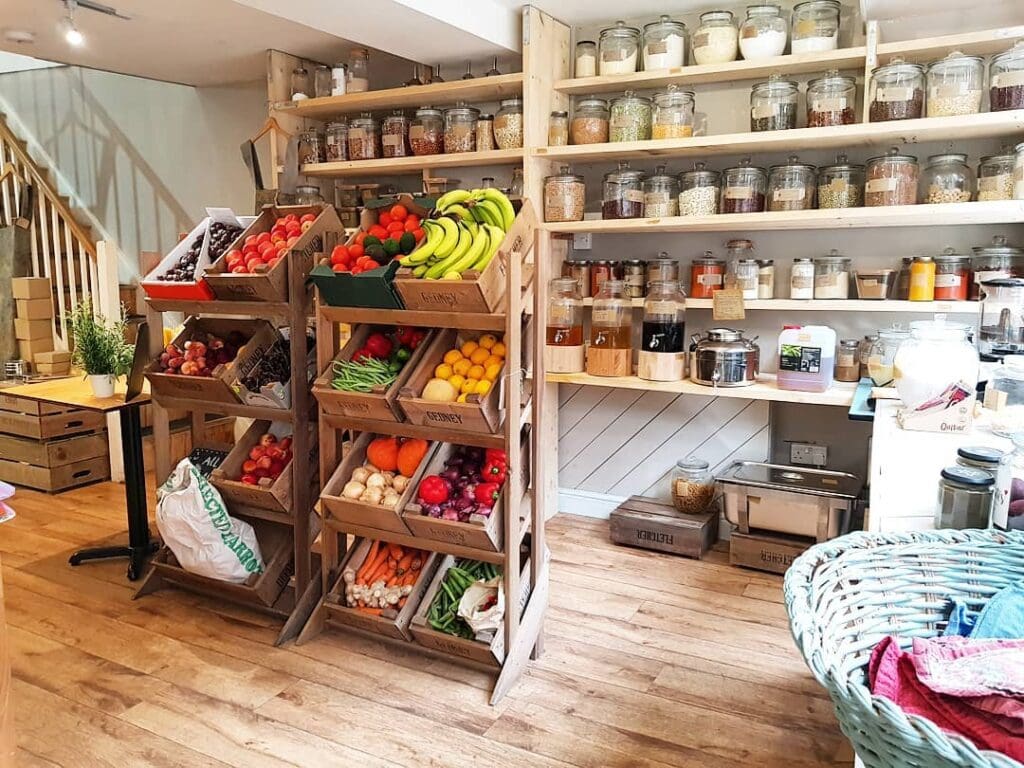 2. River Green Café
Set in a former bakery overlooking the stunning village green, this multiple award-winning Vegetarian restaurant opened its doors in 2011 with a mission to create a delicious, cruelty-free dining experience that doesn't harm animals or the planet. River Green is entirely plant-based, and uses locally-produced or ethically-sourced ingredients. As part of their planet-friendly approach, River Green Café make an effort to reduce waste, limit packaging and recycle whenever possible. 
The menus change on a weekly — sometimes even daily — basis, and you can expect a broad selection of dishes, with classics like Wellington stuffed with chestnut and mushroom, to more exotic fare like Glazed Okonomiyaki, an award-winning dish that features slices of a vegan Okonomiyaki (Japanese pancake) made with shredded vegetables, noodles, tofu, and mushrooms glazed in a sweet and sour mushroom okonomi sauce. 
"It's about honesty: to the produce, the dish, the product and the customer, and passion about everything on your plate, cooking the food we believe in; nothing just for looks, or because it's 'traditional,' 'authentic,' or even (heaven forbid,) fashionable!"
River Green Cafe
The Street, Trowse Newton, 
Norwich, NR14 8AH
Wednesday & Thursday
 5.30 – 11
Friday & Saturday
11.30 – 4 / 5.00 – 11 pm
Sunday
11.30 – 4 pm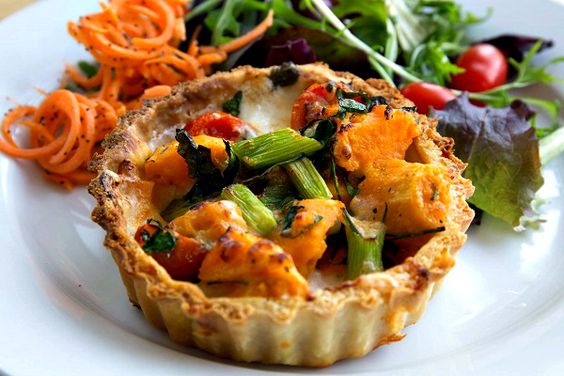 3. Erpingham House
Another 100% plant-based and plastic-free eatery, Erpingham House is a local business that's passionate about "sharing healthy, delicious food and drinks that are as good for the planet as they taste." Open seven days a week, Erpingham House was built by Norwich-based designers and is housed in a beautiful building in the centre of Norwich. It contains a ground floor cafe, first floor restaurant and second floor bar.
The restaurant is a favourite among vegans, vegetarians, and those with food sensitivities. The menu changes frequently, as expected, but current must-tries include the katsu king oyster mushroom, and harissa roasted squash with tahini and pomegranate.
Interestingly, Erpingham House seems to love trees as much as we do at GRIDSERVE. They're a certified carbon-free dining restaurant that plants hundreds of trees each month to counterbalance their environmental impact. They offer diners the chance to participate in the tree-planting scheme for only 99p, which is added on to the bill.
Erpingham House
22 Tombland, 
Norwich, NR3 1RF
Monday – Saturday 
12 pm – 9 pm
Sunday
 12 pm – 5 pm