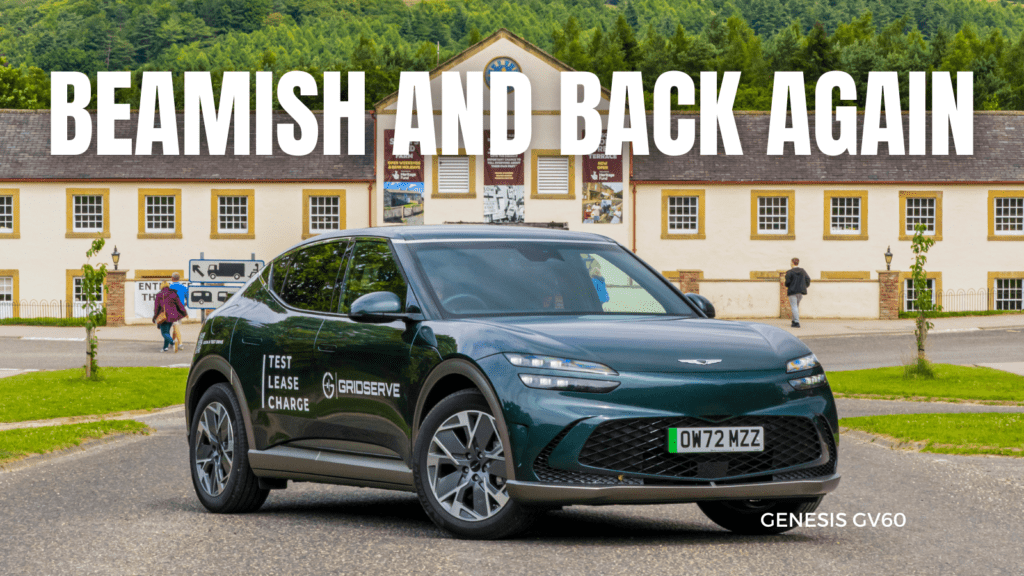 Driving a long distance with your family is rarely a good idea. In fact, I'd classify it (along with anything that puts you in a confined space with them for a long period of time) as terrible. 
But as the summer holidays approach, we like many other families across the UK will be setting off on adventures by car – and an ever increasing number will be doing this with battery power. 
Having seen GRIDSERVE's data that the most EV-friendly UK tourist attraction was Beamish, the Living Museum of the North, we decided to see how true that really was by driving the 339 miles from my house on the south coast and back again in an electric car.
When I say we, I mean myself, my other half and our 11-month old baby, Thomas.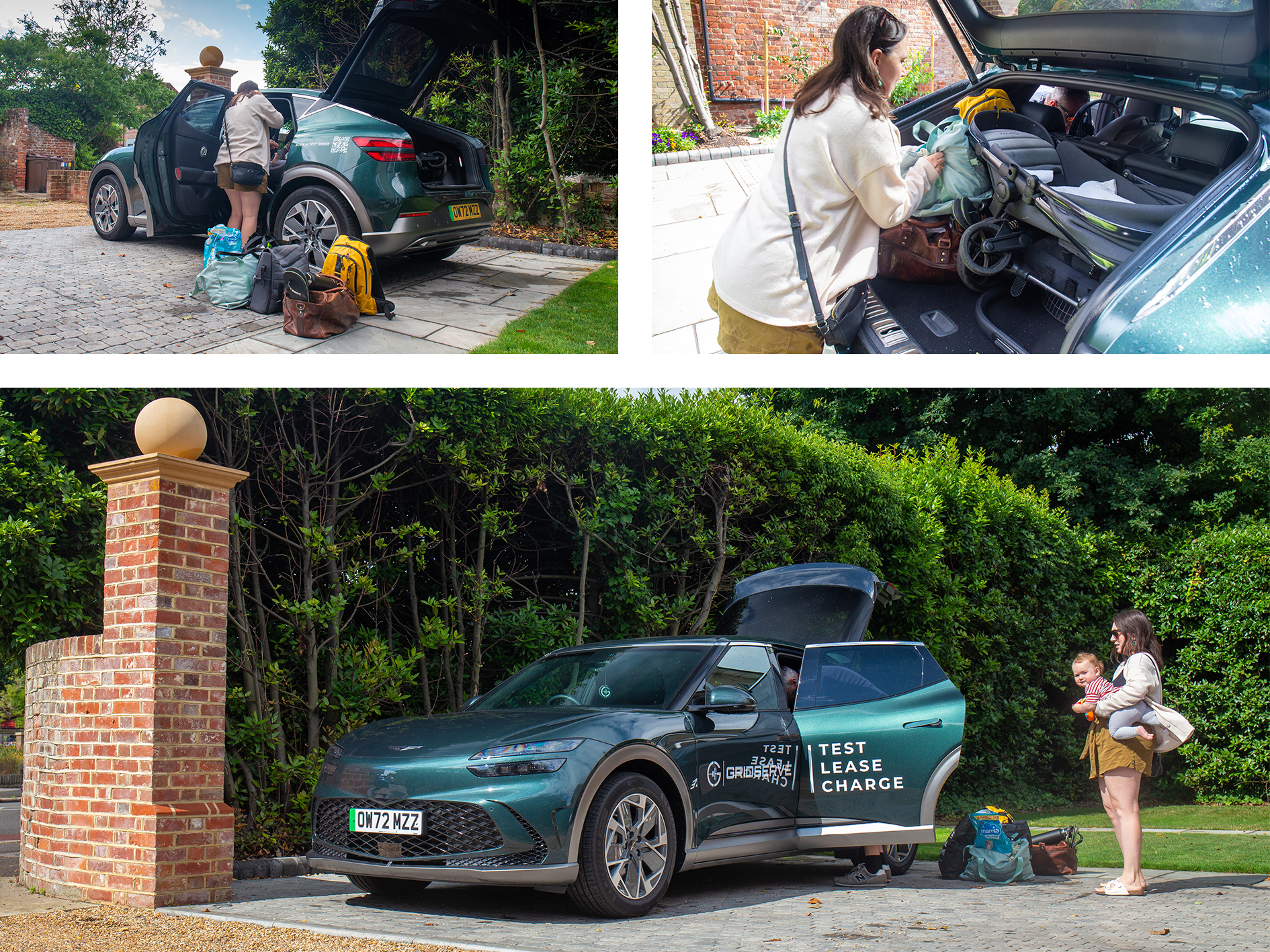 We'd be spreading the journey out over three days, taking the opportunity to stay in some of the beautiful locations England has to offer. Along the way we'd be trying out GRIDSERVE's charging network and their new Electric Super Hubs, which offer six or more chargers at each location.
I'm no stranger to long journeys in an EV and actually relish the opportunity to put them to the test, because where many people want to call out everything that is different about charging a car versus filling it up with petrol, I actually think that makes it so much easier. 
James, my partner, is exactly one of those people. I could tell from early on in the journey it was going to be a tough call as to who was more annoying – him talking about electric car charging or the baby crying in the back. 
Because of the EV-moaning and the previous EV road trips where I'd cut it too fine on the range, I wasn't prepared to fall into that trap again. We'd be driving a Genesis GV60, which has an official range of 321 miles with a full battery and would comfortably do well over 200 miles between stops.
However, us humans would manage no more than two hours at a time, so just 100 miles north of home we'd be stopping at Cherwell Valley services for our first charge. 
My logic was that it would be better to stop shorter and charge more frequently so we were never suffering the dreaded range anxiety. I knew that if we arrived at Cherwell Valley and couldn't charge, we'd easily be able to drive on to GRIDSERVE's Rugby Electric Super Hub.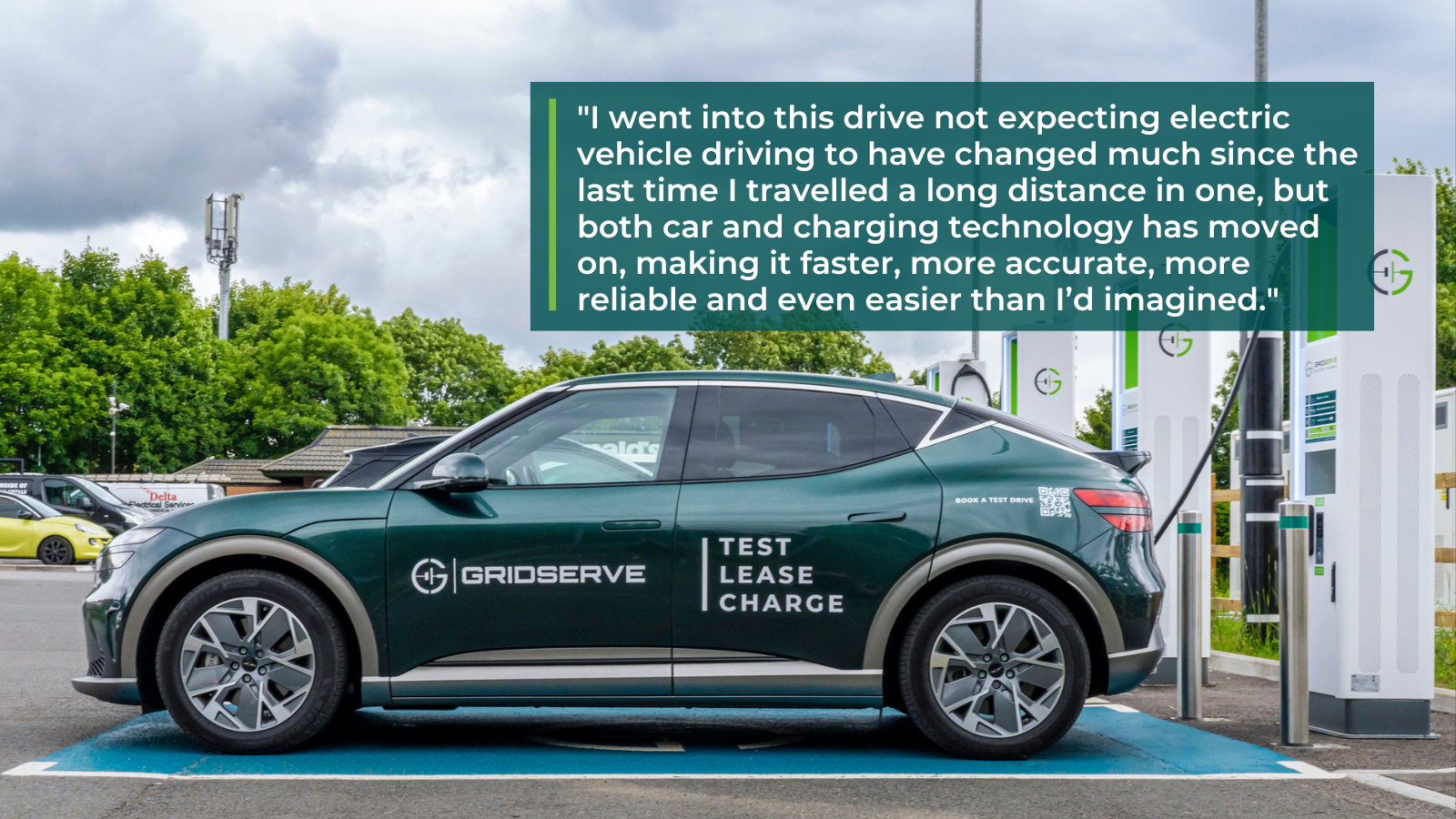 EV mythbusting on the GRIDSERVE Electric Highway
There were a few EV truths in my head that I would realise were no longer quite true on this road trip, and that was one of them. Spending time charging at every stop wasn't actually necessary, and this is partly because range estimates have become so much better on cars. 
I think it's impossible not to compare your remaining battery charge against the miles left on your journey when you're in an EV, and in the past I've found driving at motorway speeds would see the battery charge drop ever so slightly faster. But with the Genesis, the range accuracy was spot on. 
We didn't really know this when we made our first stop, and we were able to drive straight into a bay to charge although by the time we left every space was taken. That did mean we ended up charging at a lower rate than we'd hoped to but in the time it took us to eat lunch we were back up to 80 per cent charged.
Our drive on day one would be 300 miles to Ripon in Yorkshire meaning we'd only have around 50 miles from the hotel to the museum the following morning. We pushed on up the M1, where there are now a surprising number of Electric Super Hubs to stop at.
Babies don't always work to the schedule you've planned, though, and an urgent nappy change saw us pulling into one of GRIDSERVE's smaller banks of chargers at Trowell services, but we still drove straight into a space for a quick top up.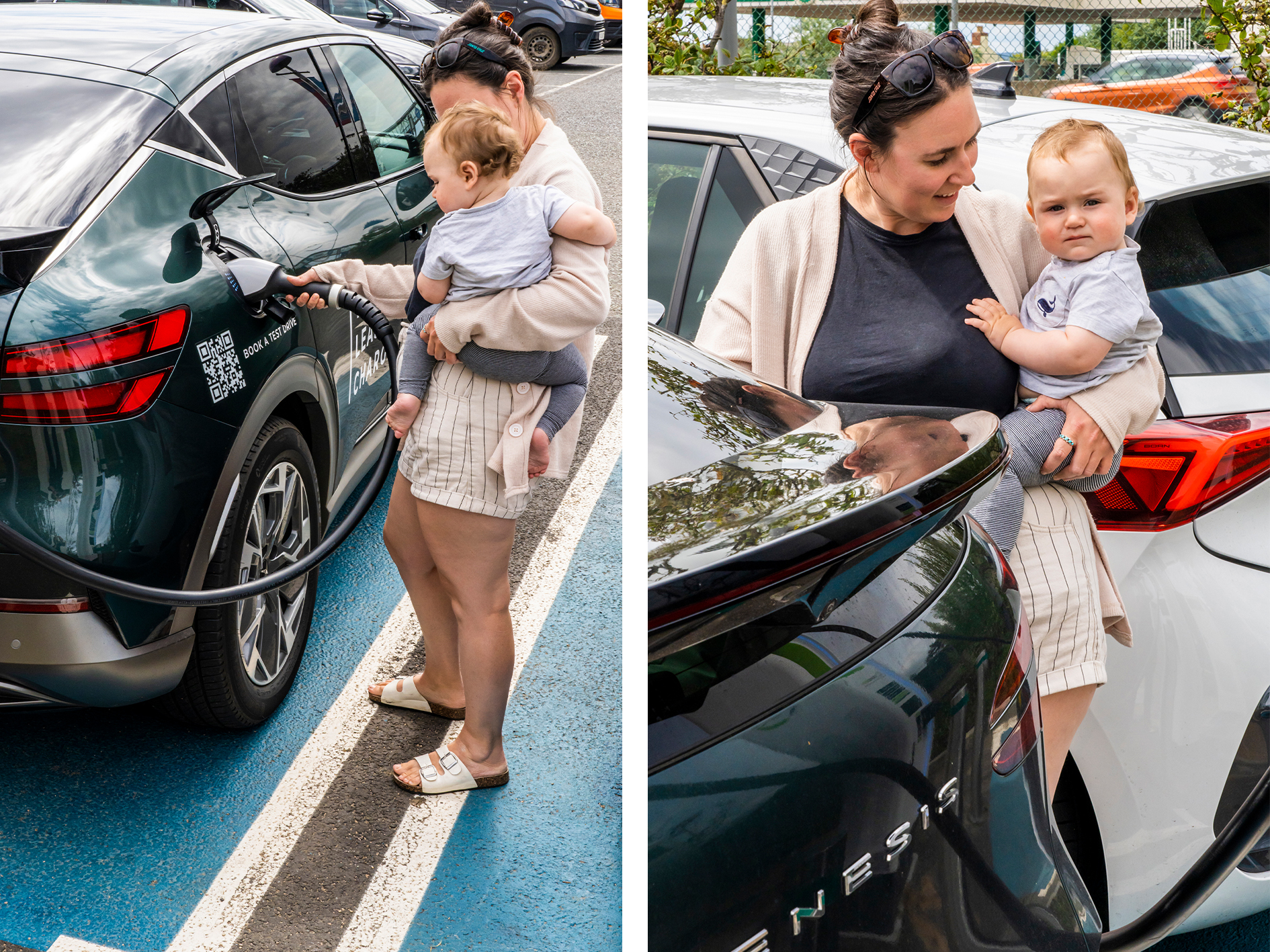 The early stop meant we were cutting it fine for charge on the way to the hotel but I knew there would be a charger in the morning only a few miles away. After a long day we just wanted to get to the hotel and with 30 miles left into reserve we arrived, with sunsets over the stunning Yorkshire countryside making the drive worth it.
We set off early the next morning, knowing we needed to charge as soon as possible. Ten miles down the road was Leeming Bar Electric Super Hub. With only one other car there it felt like the gods were looking favourably on our journey once again, except this time it appeared the charger wasn't playing ball. 
Not the start to the day I was hoping for. Following some mild panic about where else we could charge within 30 miles, we gave it one more attempt… only to find it was the connector not quite locking into the car. One big push as we tried again and we were connected to a whopping 140kW charge before heading into McDonalds to celebrate with a coffee.
This meant before we knew it we were back on the road to Beamish with more than 80 per cent charge in the battery. 
Fortunately the roads were clear but we watched miles of traffic on opposite carriageway as we approached County Durham, with more sense of foreboding over our second day. But the sun was shining as we arrived at a surprisingly busy Beamish. 
We headed inside the museum for a big contrast to our tech heavy motor as we stepped back in time to the early 1800s and through the 1900s, with steam power and vintage vehicles to see, too.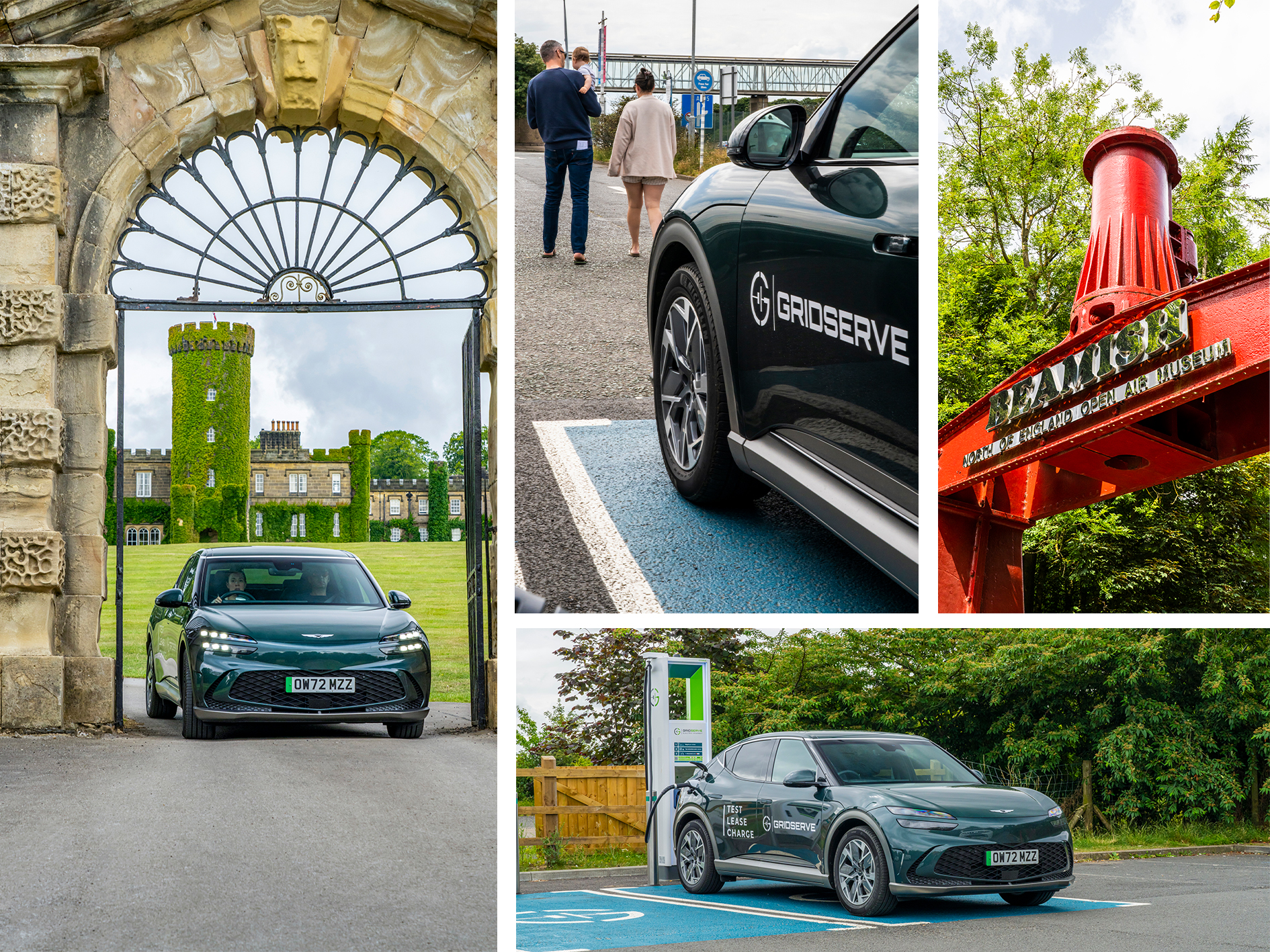 In the afternoon, we'd be making our way south again after a visit to Washington Electric Super Hub and the charging station that makes Beamish so friendly to visiting EV drivers.
Again, we fitted this in with getting lunch and were charging at well over 100kW and soon we'd charged up to 100 per cent without even realising. That's something I'd never have done previously because in my mind charging I'd always found as charging slows down for that last chunk. However, with much faster charging now available it was so much easier to do, especially as the GV60 offers some of the fastest charging speeds on the market.
We drove another 100 miles to Woolley Edge Electric Super Hub (the gods were really smiling on our road trip as the A1 traffic had completely cleared) and yet again were able to charge straight away and did so to 100 per cent. 
From here we headed off onto more rural roads as we drove into the Peak District. Our stop for the night would be a very remote one as we wove our way down country lanes enjoying the peaceful drive of the Genesis GV60. 
Our final day of driving back home would be another four hours south and we planned to do another around 100 miles then stop for a break and charge. There would be the added challenge of Formula 1 traffic around Silverstone to potentially battle with, so we ended up on a longer route than planned to avoid these hold-ups.
Fortunately one of the great improvements to charging in the UK, particularly with GRIDSERVE, is you can now see which chargers are free on the website and on Google Maps. That meant driving into the next services we knew it was busy, but as we were desperate for a coffee we thought we'd stretch our legs and charge if a space freed up. 
The Genesis GV60 had 121 miles left to drive and 159 miles of charge remaining in the battery, so we made the decision to push on and charge somewhere else. However, as we drove on and trusted the accurate range estimate, we decided we could comfortably get home without stopping again.
I went into this drive not expecting electric vehicle driving to have changed much since the last time I travelled a long distance in one, but both car and charging technology has moved on, making it faster, more accurate, more reliable and even easier than I'd imagined.
Despite stopping at five different charging stations, we ran into no issues with other drivers queuing to charge and only waited to charge once – and never had any wait when using Electric Super Hubs. 
The biggest problem with the journey, as I said, was my family in a confined space for many hours over a few days.
However, even by the end, James was nearly in agreement that things had improved and the Genesis had exceeded his expectations… and that's a very big step for him.