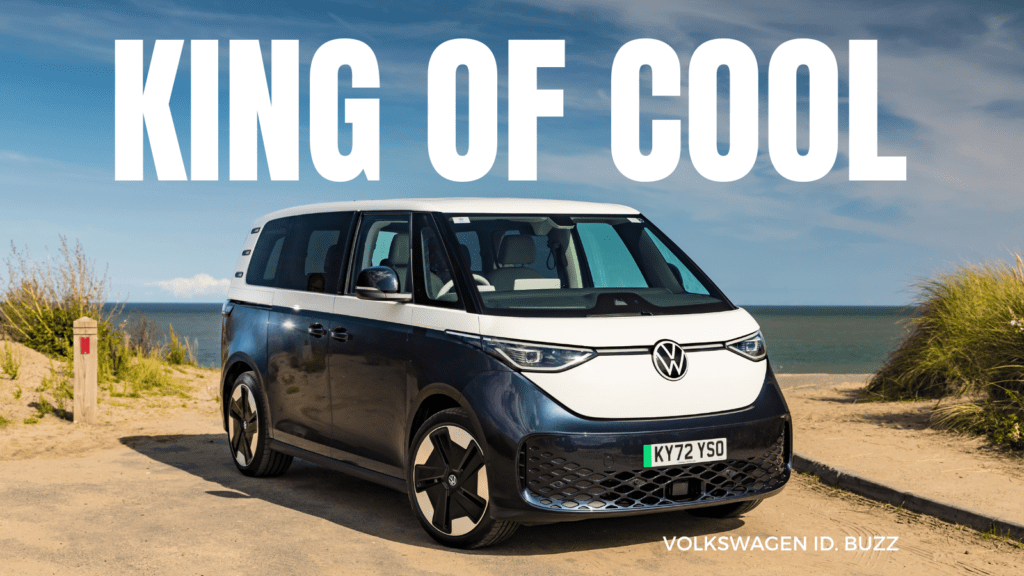 Tree-lined valleys, rocky mountains, grassy dunes, sprawling countryside and unbroken golden beaches.
You'd be forgiven for thinking we were talking about a round the world trip. In fact, it's just a brief list of some of the stunning scenery that the UK's green and pleasant lands have to offer.
Don't just take our word for it, though. Half of British families chose the UK at their holiday destination this year, travelling between 100 and 200 miles to reach their retreats.
We thought that sounded like a pretty great idea, so we started with a camping trip near Bakewell (home of the tart) in the highs of the Peak District before travelling 180 miles to the lowlands of Norfolk and a day at the beach.
'King of Cool'
And what better vehicle to help as do the trip than the king of cool: the Volkswagen ID. Buzz.
Straight away the ID. Buzz's versatility was on display as we loaded the 1,121-litre boot with our bags for the trip, as well as finding a home for the supplies for our woodland campsite (including all-important logs for the hot tub). The five-seater layout also large enough for five adults to travel in comfort (expect a seven-seater for bigger families soon), while the sliding doors meant getting in and out is a breeze.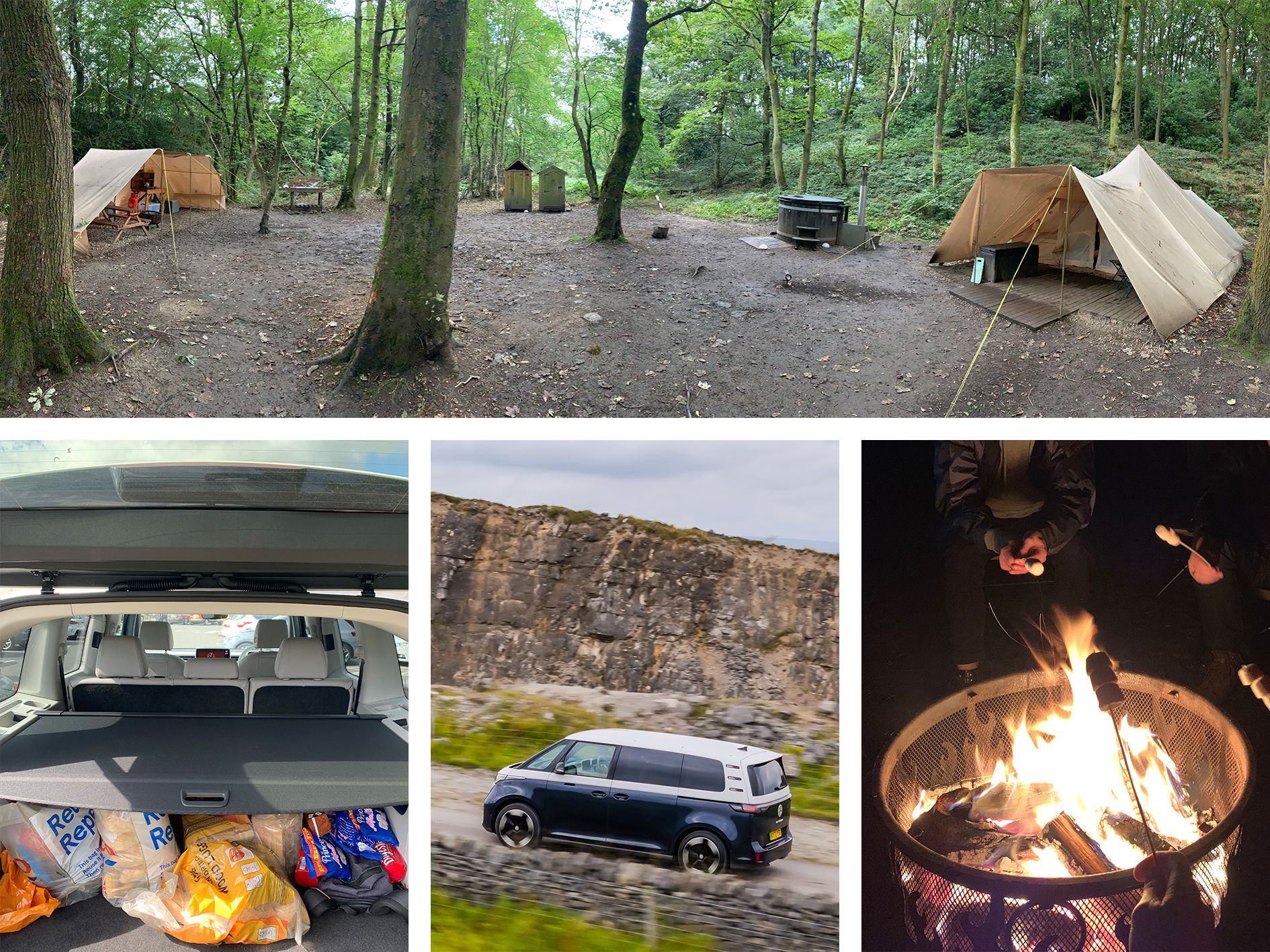 After a few days R&R involving a close call with some cows in a field, a few too many in a sunny beer garden and a night under the stars, it was time to hit the road. Using the built-in Apple CarPlay hooked up to the 10-inch touchscreen, we plotted our route and loaded up the tunes.
We were grateful at this point for the ID. Buzz's front and rear sensors and parking camera, as we navigated a few narrow tracks with sheer drops and stone walls either side.
That's not to say the ID. Buzz is unwieldy on the road. The turning circle won't give a London taxi a run for its money but it drives more car than van and we were soon cruising on the A-roads and motorway in complete comfort (those in the front taking advantage of the massage seats after a few nights on camp bed). Also, a notable shout-out to the vast amount of USB ports hidden around the cabin to charge phones and tablets – much-needed after a few days in the wilderness.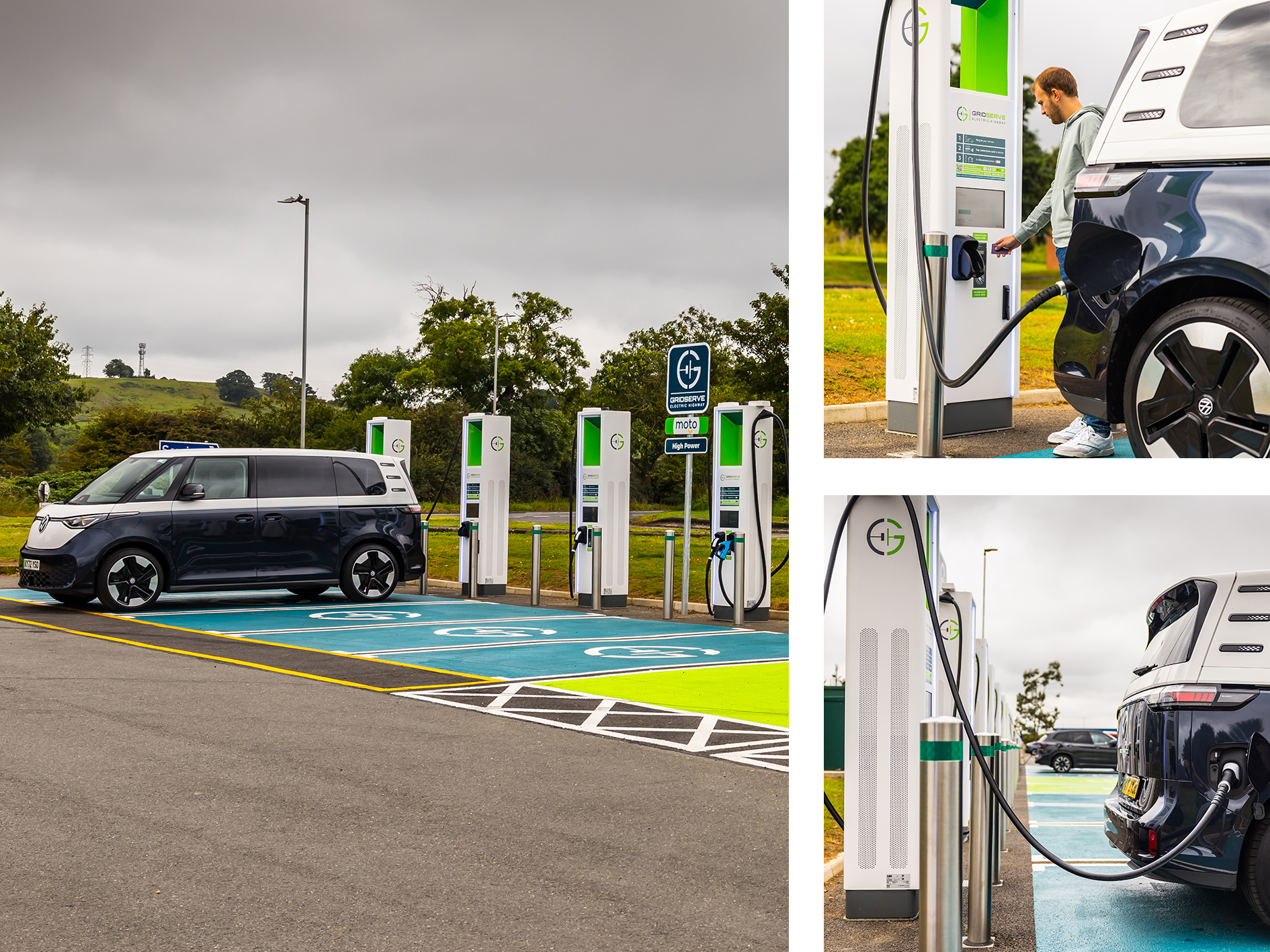 The 255-mile range of the ID. Buzz meant we'd comfortably be able to do the journey in one go but to take a comfort break, stretch our legs and top up on snacks, we stopped off at Moto Grantham – one of GRIDSERVE's new Electric Super Hubs with 12 High Power chargers available.
With the Buzz charging at close to its 175kW maximum, we were preparing to leave when we were reminded of how effortlessly cool the Buzz is. Not for the last time on the trip, we had interested passers-by asking questions and wanting to take a look inside.
And it's true, in an age of SUVs and sloping rooflines, the ID. Buzz really does standout. The boxier MPV design is almost refreshing and it still affords that raised driving position that many pick SUVs for, while providing way more space than those models, too.
Just remember, if you want to blend in – or are a shy, retiring type then the Buzz might not be for you…
Recharged and re-caffeinated we set off. Next stop, California.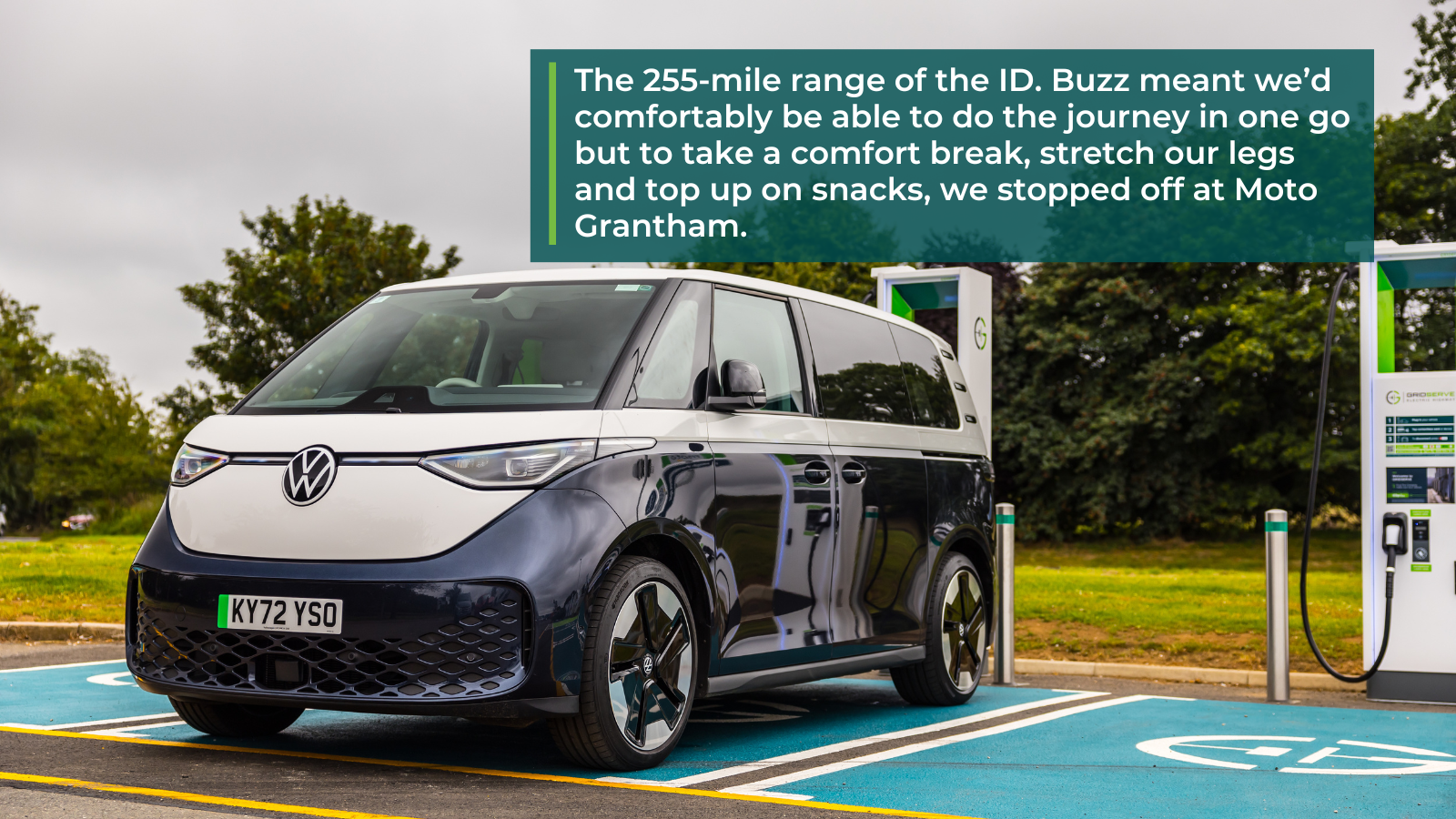 California cleanin'
That's the California on the Norfolk coastline, not the one some 5,000 miles away in the US.
A short drive from Great Yarmouth, the reason we've chosen California as our final destination is that it's the spiritual home of Volkswagen's classic California camper.
While there's not an electric camper yet (watch this space), the ID. Buzz pays homage to that original 'splittie' design and couldn't look more at home on the beach. We're just a surfboard short from living out our 1960s retro dream.
We're also doing some good while we're here. Last year, in partnership with The 2 Minute Foundation, Volkswagen visited California and donated a beach cleaning station made from recycled marine waste (with bags and litter pickers) for holiday goers to use to keep the dunes clean.
Beach cleans are vital to protecting our planet and blend perfectly with GRIDSERVE's purpose to move the needle on climate change. An estimated 94 per cent of the planet's biodiversity is found in the sea and the oceans are a vital carbon store.
Despite a busy summer, we were pleasantly surprised to see California in tip top condition suggesting plenty of people had been using the beach cleaning station. Doing good while topping up the tan. What's not to love?
It's this sort of sustainable escape powered by an EV that GRIDSERVE loves: helping biodiversity while emitting zero-emissions… all with no compromise on fun.
If we're to enjoy our wild islands to their fullest, it's vital we look after them together.