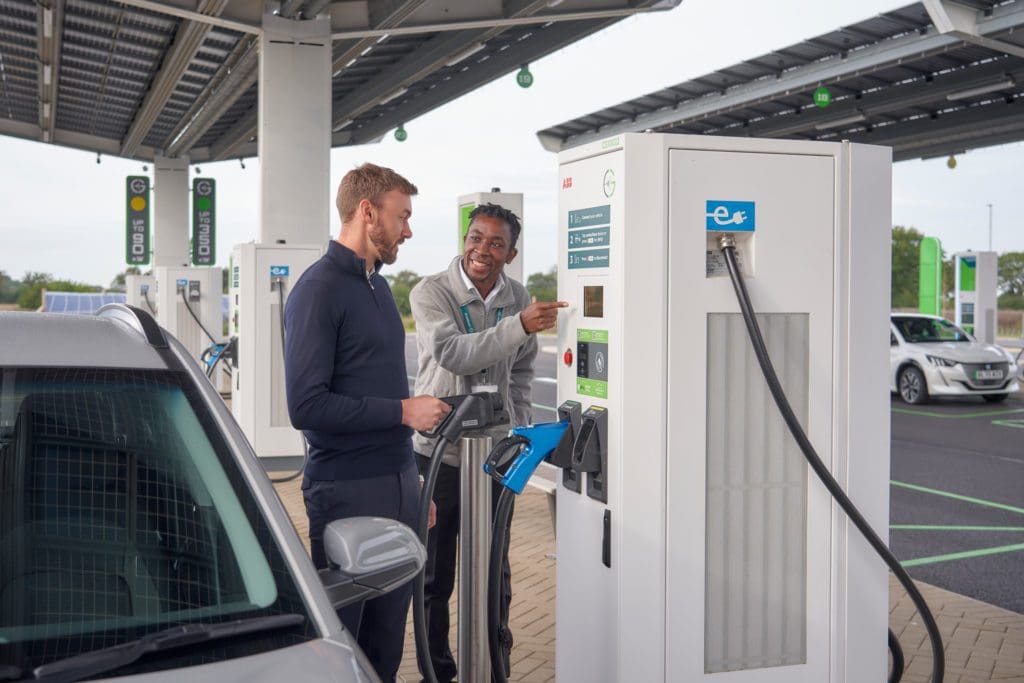 A message from our CEO and founder, Toddington Harper.
I expect this will not be welcome news to receive for many of you, however over the course of the next few weeks we are going to be increasing pricing across our network.
Since acquiring the Electric Highway in June 2021, we have been hard at work supporting both existing electric vehicle (EV) drivers, and putting strong foundations in to help accelerate the uptake of EVs in the UK, by making the EV charging experience more dependable, more accessible, and much faster.
Our objective is to help deliver the best possible charging experience for EV drivers, irrespective of what type of EV a customer has chosen, or where they are in the country. In 2021, GRIDSERVE began the biggest motorway EV charging upgrade in UK history: a pivotal year where, according to the SMMT, more EVs were registered (190,727 vehicles) than over the previous five years combined. 
All the new investment into our network, the 'GRIDSERVE Electric Highway', has been made so far without changing pricing, as providing low-cost clean energy is really important to us. In fact, we believe we are the last major network to announce price increases.
However, due to unprecedented spiralling costs impacting the entire energy sector, we have also now had to increase pricing – and to maintain our extremely competitive pricing, adopt a tiered approach depending on the power/location of the respective chargers.
Effective immediately:
Pricing for Medium Power Chargers – typically 60kW – which are primarily located at motorway service areas (the majority of which we upgraded in 2021) is increasing from 30p to 39p per kWh*
Pricing for High Power Chargers – up to 350kW – located at our newly developed Electric Hubs (of which we currently have 13 in construction), is 45p per kWh*
At our Electric Forecourts® we are able to keep pricing at 39p per kWh* – even for 350kW chargers – as onsite solar generation and battery storage gives us more control over energy and distribution costs
GRIDSERVE's mission is to deliver sustainable energy on such a scale that we can help to move the needle on climate change. We recognise that the better the economics are for using electric vehicles versus petrol or diesel, the quicker people will make the switch.
This is why in addition to our investment in new charging infrastructure and continuous network improvements, we are also investing in new solar energy and battery projects that provide dependable, clean, low-cost energy that provides not just net zero carbon energy to our network, but also helps to protect our customers against the type of price hikes and instability that is currently affecting the energy market.
Thank you for using the GRIDSERVE Electric Highway. We look forward to welcoming you on our rapidly expanding network in 2022. For any further questions, please visit our help centre.  Pop into the support centre and click on charging to send us a message or email support@gridserve.com.
The GRIDSERVE Team
---
* Prices are subject to change, please refer to our EV Charging page for current pricing.