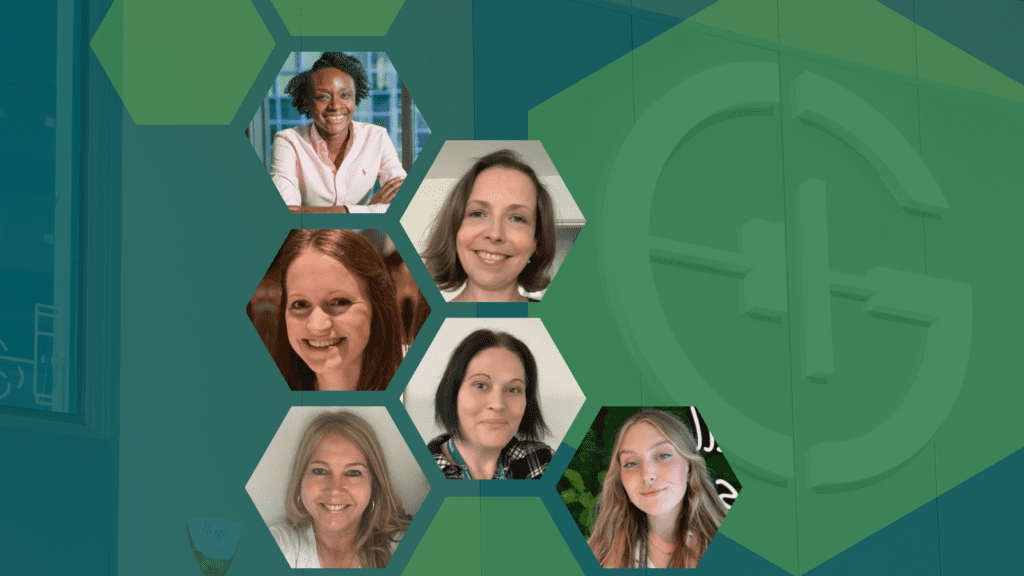 When you're working on delivering the sort of EV charging infrastructure that will displace and, eventually, replace the century-old pastime of petrol and diesel pumps, you can expect things to be a little busy. After all, you're writing a zero emissions rulebook that doesn't yet exist.
This sort of higher purpose requires a certain type of person: someone who is passionate about what they do, mega-skilled in their respective fields but also gets the scale of the climate emergency. The world needs something different from business as usual.
Fortunately at GRIDSERVE, we're not short of these characters. Here are just a few of our awesome people that are helping us lead the charge at every stage in the electrification of transport.
Elizabeth Atoyebi – Investment

Before any of our charging infrastructure projects can be given the green light, a robust business model is required to be able to demonstrate profitability and put funding in place.
While it's the commercial team that may create and present an initial business case, it's the investment team that uses that story to persuade lenders and investors to fund the projects. They're here to forensically assess those numbers and the commercial viability of each site, using their black book of contacts to discern which lenders could offer the best terms.
Enter investment manager, Elizabeth Atoyebi, who is a numbers and Excel boss, with a physics and accounting background.
"Like buying a house or a car, GRIDSERVE doesn't pay for all of its EV charging infrastructure outright," explains Elizabeth. "It puts down a healthy equity, and then relies on a bank loan to finance the remainder of the requirement to be repaid over an agreed period. Just like your mortgage, you may be able to refinance at certain times to secure better rates or pay the mortgage off faster or slower."
In order to make an immediate impact on addressing climate change, we need to make our money work harder. Spreading funds over a number of nationwide EV charging sites enables more people to make the switch to electric more quickly.
There are two bits of good news here. The first is that GRIDSERVE already benefits from the financial support of Novuna (formerly Hitachi Capital), TPG and Infracapital, three long-term financial partners who share our vision for moving the needle on climate change. The second is that EV charging infrastructure is mission critical to the UK's transport decarbonisation ambitions, so will increasingly be seen as a relatively secure place for lenders to offer money.
Becca Doman – Senior Legal Counsel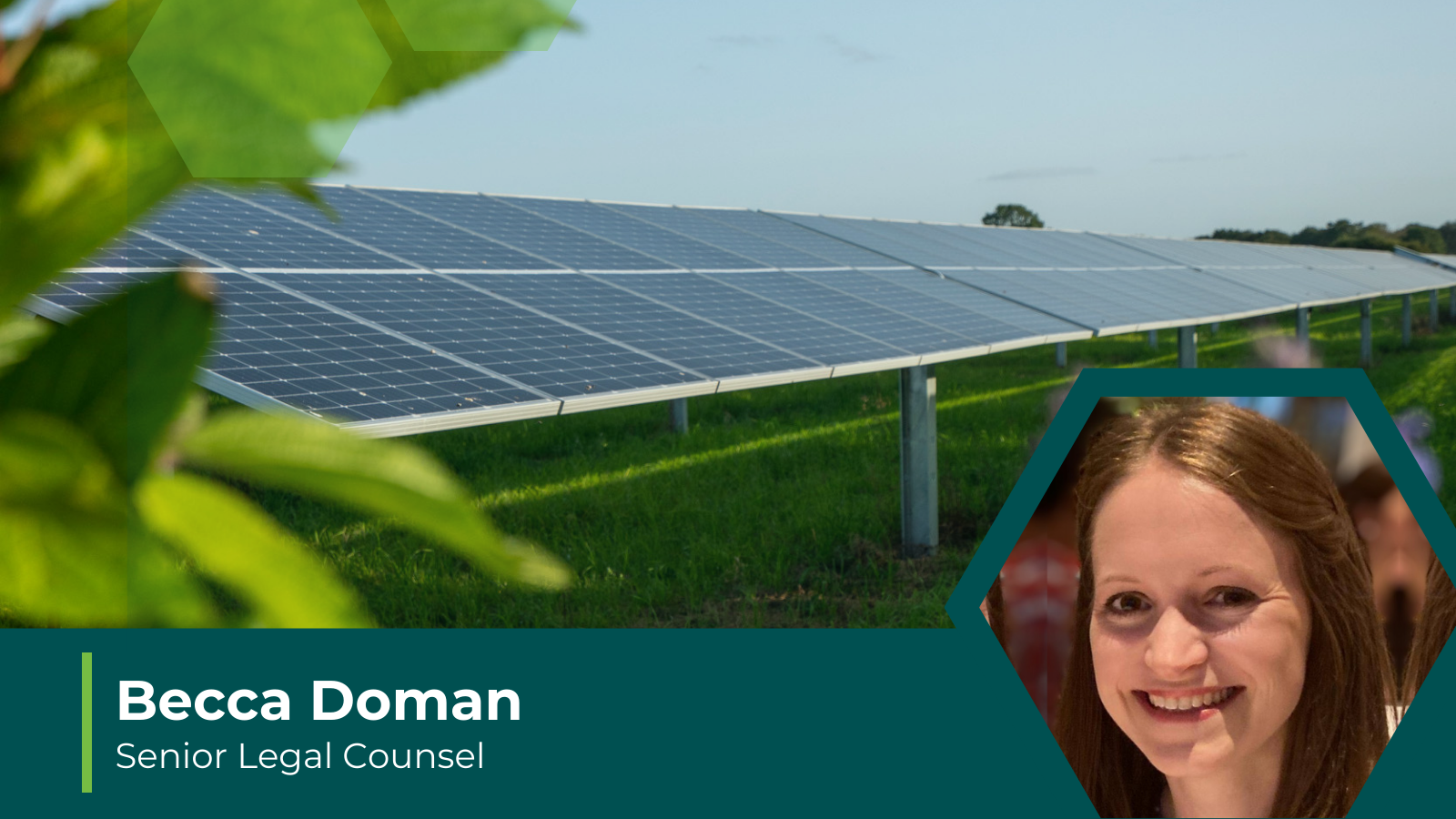 "The great thing about this job is that you never know what's going to land on your desk," says Becca Doman, the company's Senior Legal Counsel. Becca's background is working in commercial and energy law at more mature corporations, yet one of the benefits she finds at GRIDSERVE is the opportunity to shape new policies and processes.
If there is an infrastructure project out there that belongs to GRIDSERVE, the chances are it has Becca's signature all over it. Her team is responsible for the vast majority of GRIDSERVE's corporate, construction and commercial contracts, which includes licensing, supplier contracts, sub-contracts and agreements for the retail offering at our Electric Forecourts®.
It also includes the development of maintenance agreements for our critical infrastructure, including our chargers and solar panels. Under new laws planned by the UK Government, EV charging networks like the GRIDSERVE Electric Highway will need to have a 99% reliability rate, which we're already working hard to achieve.
Similarly, GRIDSERVE has developed, built and sold hybrid solar farms to clients including Warrington Borough Council, yet continues to provide the maintenance and management programme for these sites. That means we have to continue to deliver on certain obligations around site performance. It's a bit like selling a laptop to somebody and providing a warranty: if the screen starts to play up, or the keyboard stops functioning, the customer has every right to seek a repair or ask for a new one.
Becca adds: "There's a huge variety to the projects I am working on, but it's great to know everything that GRIDSERVE does is for the ultimate purpose of moving the needle on climate change. I have always been passionate about the environment and sustainability, so I love working for a company that shares my values."
Emma Harding – Permits Manager, Development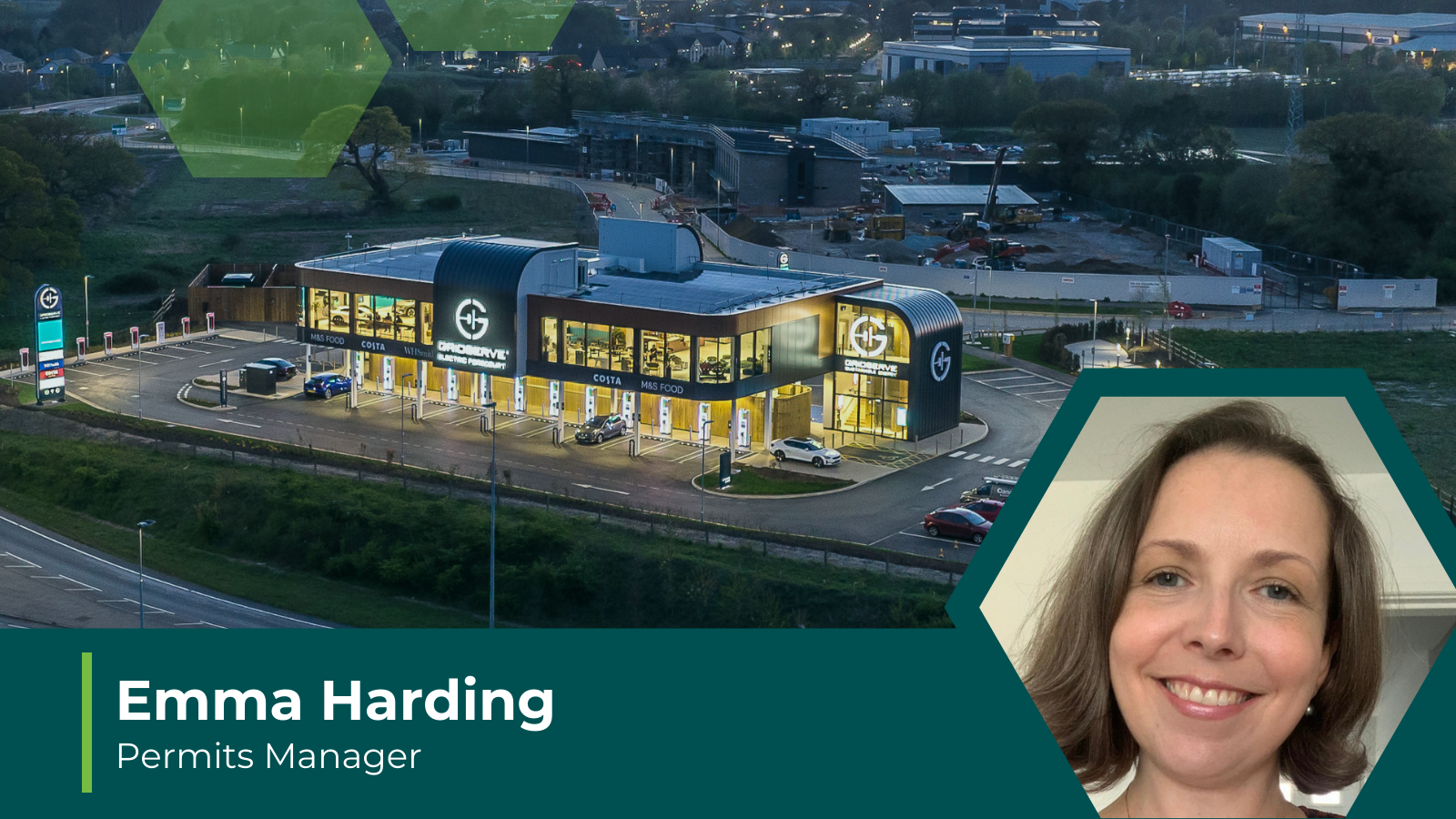 Even with a business case approved and finance available, there could still be multiple roadblocks ahead. So, whether we decide to take a project forward through the planning process is down to the work of Emma Harding, Permits Manager in the Development Team.
Emma works with both the in-house teams and external consultants, contending with a huge mess of acronyms and legalese that may as well be in klingon for all the sense it offers this writer. It's all done to consider the material planning considerations, the practical and logistical viability of any shortlisted sites and facilitate the most informed decision.
A site's designation, or the discovery of a protected species, for example, or even the vociferous feedback of local community members, can all add complexity to a development and impact its ability to obtain planning permission.
With the rollout of our latest charging infrastructure currently spread across Electric Super Hubs and flagship Electric Forecourts®, there are a lot of spinning plates here, and those plates are often in a crosswind. Change management is certainly one of Emma's superpowers, as is public speaking, the art of persuasion and possessing a near encyclopaedic memory for every minute detail involved in the planning process. You get the impression she'd be unstoppable in a pub quiz.
Of course, even when planning applications are approved, it's down to Emma to ensure that all the criteria to planning consent is adhered to and the local authorities and their communities are kept updated throughout the process.
It's her way of building trust with the communities in which we serve, proving that despite our relatively new origins, GRIDSERVE is a reliable, dependable partner that is here for the long-term.
Julia Martin – Indirect Procurement Manager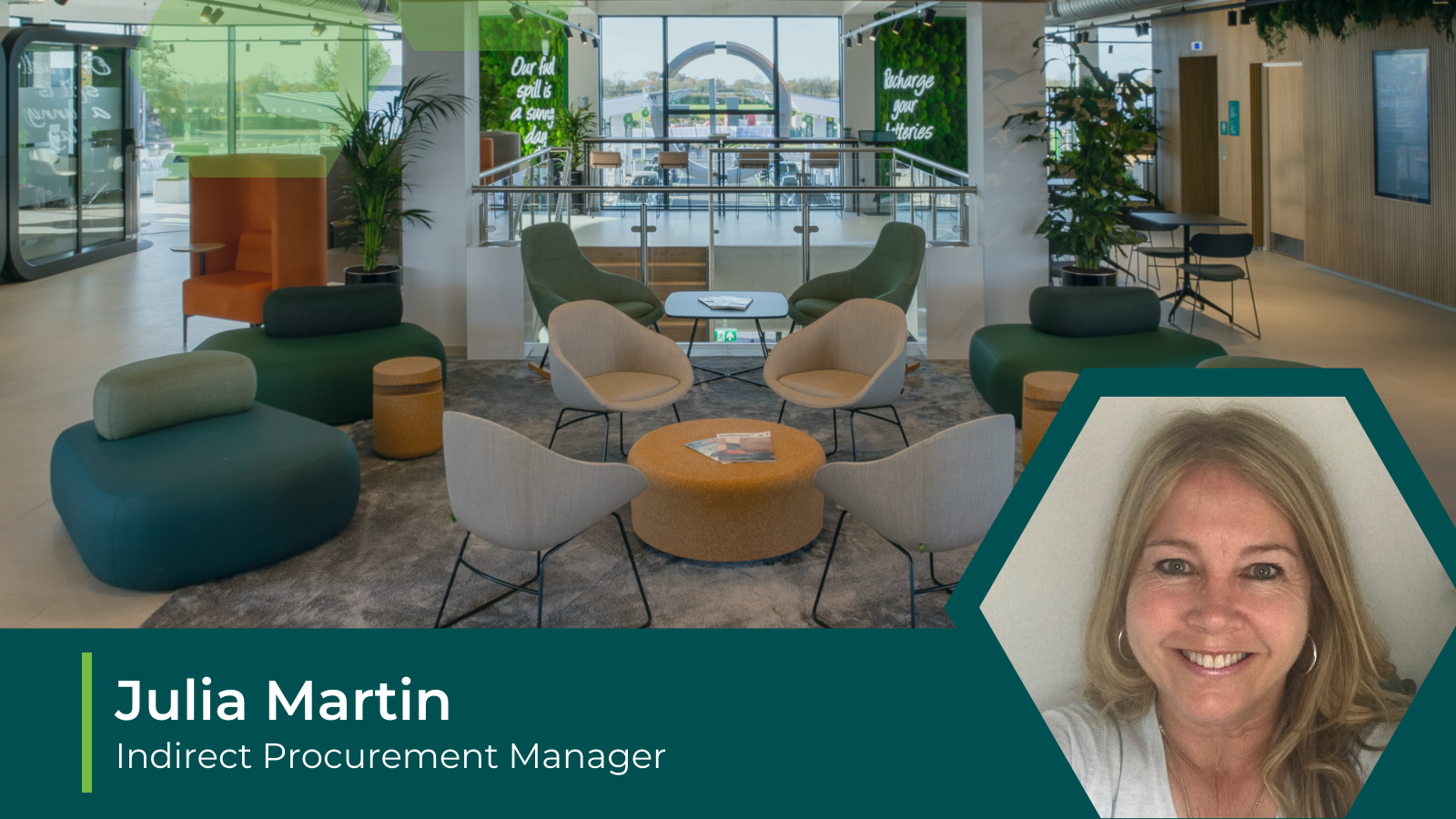 Julia Martin is in the business of getting stuff done. With a career that spans supply chains, logistics and finance, she has become a troubleshooting maestro at GRIDSERVE, initiating tenders, negotiating and brokering deals between new suppliers that the rest of the business can then utilise.
Whether the development of an Electric Super Hub requires a remote generator, an Electric Forecourt® needs furniture or staff uniforms, or our EV charging infrastructure requires a Kanban-inspired inventory control system, Julia is the person.
What adds a further layer of complexity within GRIDSERVE procurement is the fact that everything we do is predicated on sustainability. A keen environmentalist, Julia acts as a guardian at the gate, not only focussed on quality and delivery, but driving positive change by ensuring the decisions she takes on behalf of GRIDSERVE are based on protecting resources, not plundering them, so that what new infrastructure we create doesn't cost the earth.
It means the generators we source for our Electric Super Hubs can only be ones that run on solar or hydrogenated vegetable oil. The furniture we use at Electric Forecourts® must be constructed from certified sustainable material and the uniforms made from organic cotton and UK-sourced to reduce shipping. And, of course, the logistics teams we partner with must also have a carbon-reducing strategy and clear vision as to when they will be carbon neutral.
We're in the early years of what must be a decade of climate action and Julia is helping our business lead meaningfully from the front.
Claire Motion – Service Delivery Manager

Behaviour change is about expectations: if you take a sip from a mug containing gravy when you were expecting coffee, it will taste pretty gross. Similarly, if you turn up to an EV chargepoint that is busy, inoperable or slow, you too might feel aggrieved by the time wasted. That's a sentiment shared by Claire Motion, our Service Delivery Manager, who determines whether a GRIDSERVE site meets the company's high expectations and goes live.
Whether we're talking about Electric Super Hubs, Electric Forecourts® or our Hybrid Solar Farms, the buck stops here, and the differing complexity of each site means that the commissioning process can take anywhere between a few days to several weeks.
The commissioning of an Electric Forecourt®, for example, is split across several major assets including the chargers, solar canopies, rooftop solar, inverters, transformers, batteries, communications, building and groundworks. And as you may expect, the subsequent maintenance book for a place like this is longer than Victor Hugo's Les Misérables.
"The reason why our processes are so detailed and robust is because we want to provide an unrivalled service to our customers, as well as prolong the life of our assets," Claire explains. She possesses what feels like an atypical level of customer centricity for such a specialist, data-driven electrical engineer.
Where most people may have a bias towards the logical left-brain or more creative right-brain, Claire seems to have been gifted the perfect blend. That's in part because before becoming an electrician, she had a successful first career in retail management. So, while she knows the inner workings of these hyper-complex EV charging components, she also has a real understanding of customer needs and applies that in her decision-making each day.
"No site is similar, and issues can arise from a multitude of areas – sometimes civils, legals, power," she says. "But our role is to make sure that any potential issues are remedied, we have risk assessments approved, predictive maintenance plans scheduled and can hand over each site to the Operations, Maintenance and Management (OMM) team snag free."
Amy Franklin – EV Guru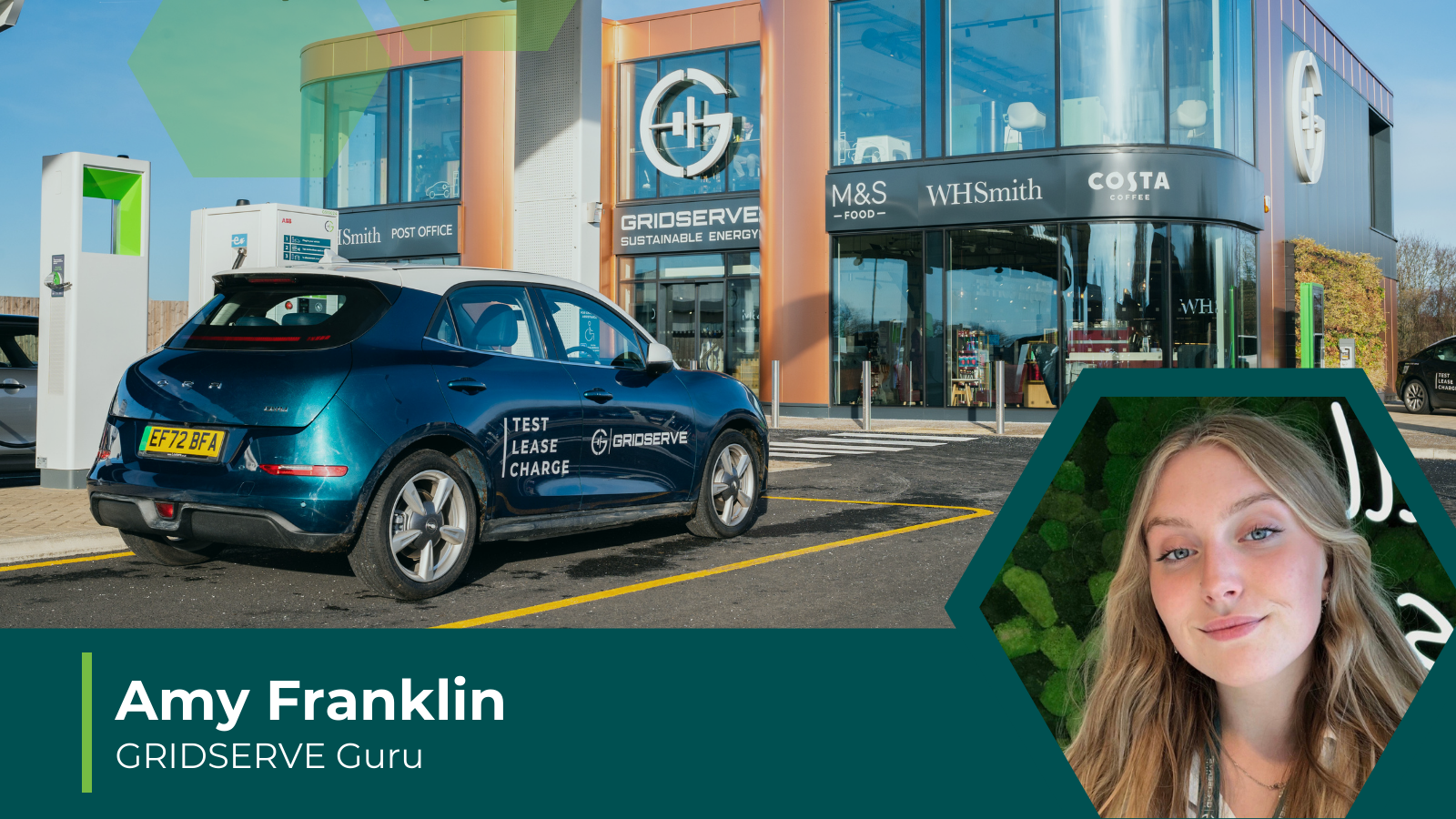 Once a site like an Electric Forecourt® is up and running, we then rely on a team of EV Gurus to help create the best possible customer experience when charging their electric vehicle.
"We find that a lot of people who visit the Braintree Electric Forecourt® are charging their vehicle for the very first time," explains Amy Franklin, an EV Guru who knows her kW from her kWh, and has enough enthusiasm to cheer up the most lugubrious of souls. "Other times, they may be visiting for an initial recce on what to do or coming in to test drive one of our electric vehicle demonstrators, so it's important that we're here to hold the customer's hand throughout their journey."
It's difficult to overstate the importance of an EV Guru. Refuelling your car has to be one of the oldest and most ritualised processes in the human psyche and GRIDSERVE is trying to change that behaviour for the better.
"What drivers soon discover is that charging an electric car is nothing to worry about," Amy continues. "You simply plug in and pay with a contactless card, and in those 20 minutes of charging time, you can grab a coffee, post any parcels, sort your food shopping or simply check your emails. We really try to maximise the time you spend here."
Amy is an art and design graduate, and that comes to the fore in how she thinks about all aspects of her role. Whether that's presenting 'how to' tutorials or creating fun-filled activities for the younger visitors during half-term holidays, she is focussed on ensuring everybody has a great experience.