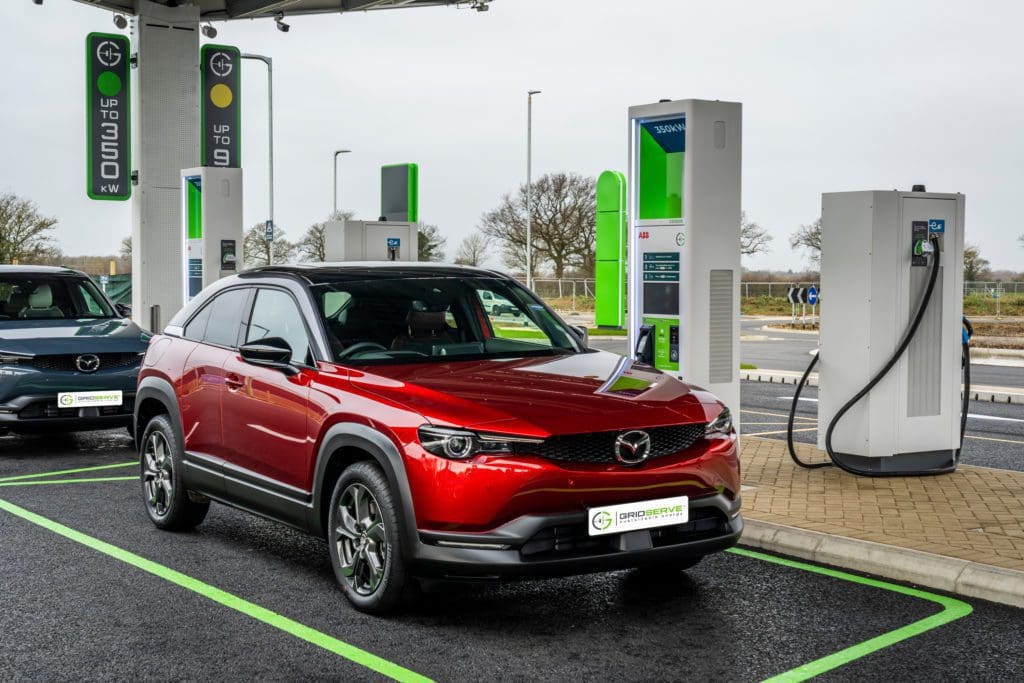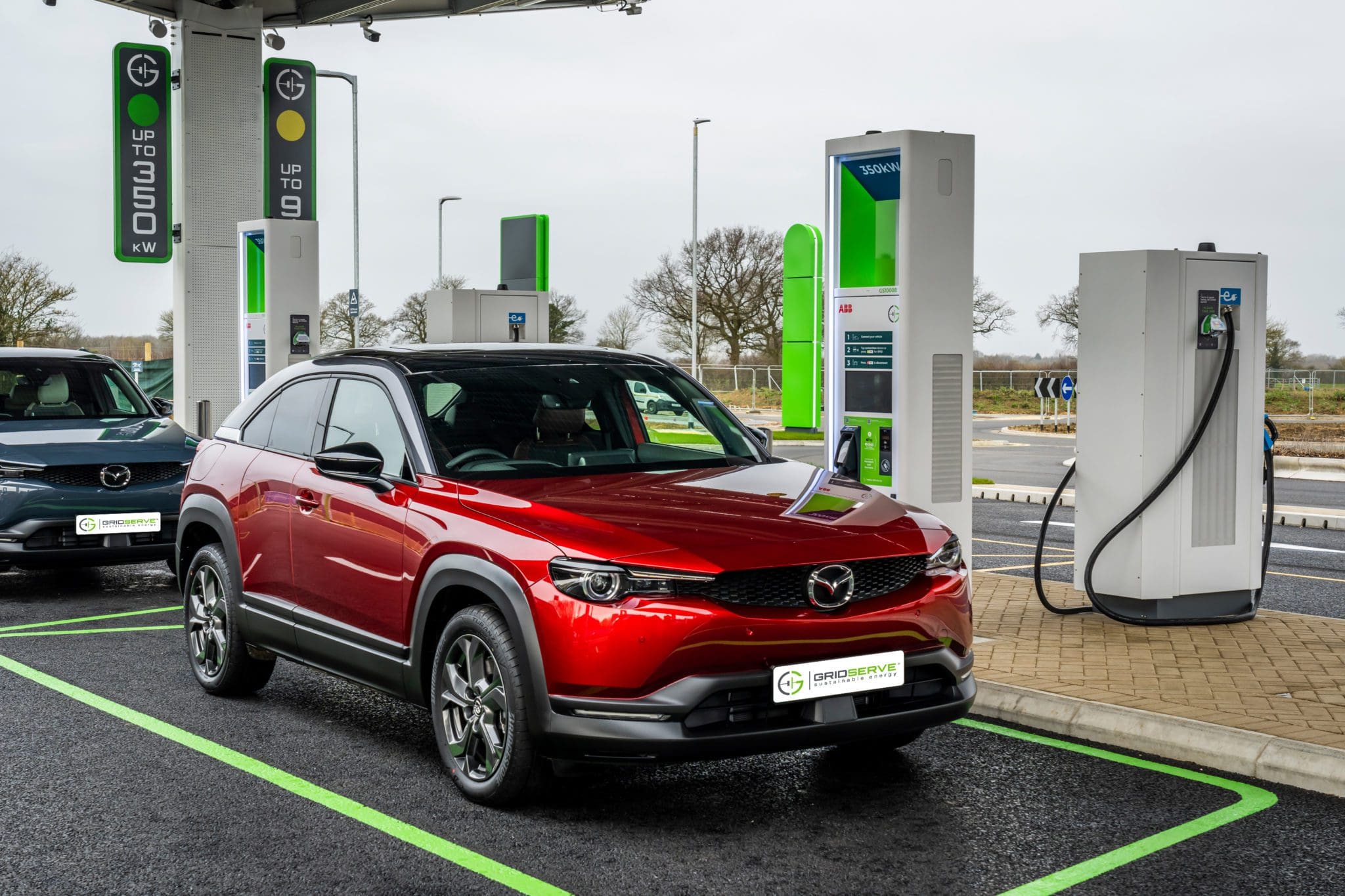 Charging on the GRIDSERVE Electric Highway could hardly be easier – and it's the same whether you're at one of our Electric Hubs, Electric Super Hubs or Electric Forecourts®. 
You simply plug in, pay and away you go – there's no fancy membership scheme required or complex processes to follow, and all our chargers are set up for contactless payment. 
A step-by-step guide to charging your EV
Once you've found a charger (you can use our map or apps like Zap Map) and located your car's charging port (right rear is most common), this easy-to-follow six point process explains the basics.  
Identify the appropriate connector for your vehicle

 (either CCS, CHAdeMO or Type 2)

Take the connector from the holster and plug it into your vehicle's charge port

 

Tap your debit/credit card or contactless payment device (e.g. the Google or Apple Pay app) against the payment terminal. Our payment system pre-authorises a £1 charge (all GRIDSERVE Electric Highway locations except at Moto Rugby) from your account, which is released once your EV charging session is complete

Wait for the connector to lock into your vehicle and the charging session to begin

 (you'll hear a few clunks and whirrs… this is perfectly normal)

To

end your EV charging session

, tap your contactless card on the payment terminal

Wait for the connector to unlock before returning it to the holster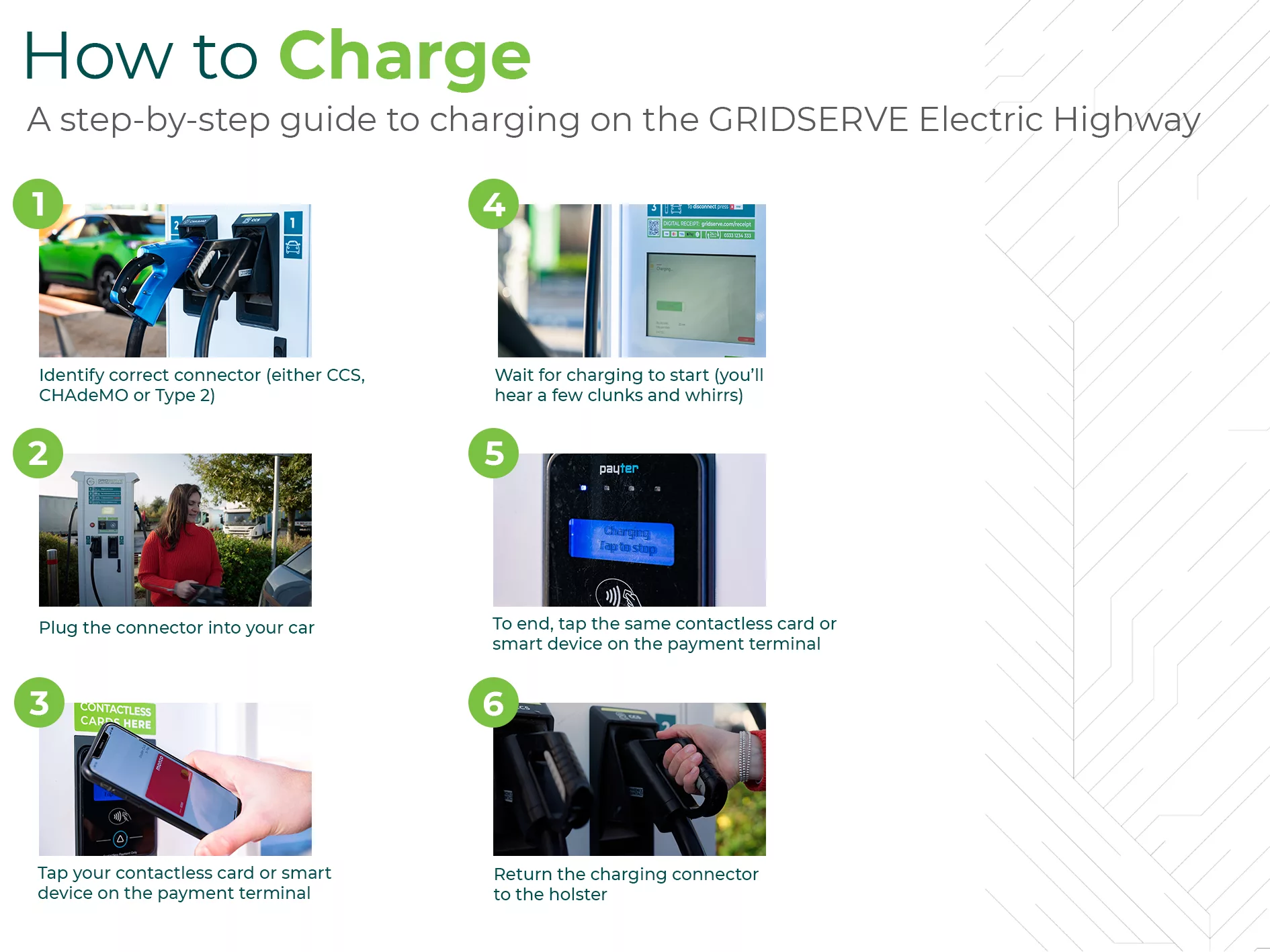 What are the connector types?
First, you'll need to identify the correct charging connector type for your EV – a bit like picking between a petrol or diesel pump at a filling station.  
On the GRIDSERVE Electric Highway you have two main options when using a Medium or High Power charger, but you'll also see a third at some Low Power chargers. 
CCS 
This is the most common connector type for European vehicles from Porsche to Peugeot, and most new EVs use Combined Charging System (CCS) connectors. These connectors are featured on both our Medium and High Power chargers. 
CHAdeMO 
CHAdeMO is the connector type favoured by some Japanese car brands, including Nissan and the best-selling Leaf. These connectors are featured on both our Medium and High Power chargers.  
Type 2 AC
You may also see a Type 2 AC connector option on the GRIDSERVE Electric Highway. Sometimes this will be tethered, meaning it will feature its own charging cable like both the CCS and CHAdeMO connectors, but other times it may be offered as a socket, also called untethered. 
 That's because every electric car on sale today has an AC charging port, in addition to one of the other two connector types. Typically, manufacturers will supply you and your new car with your own Type 2 charging cable. It's worth noting that this connector type offers a slower charge rate that's more suitable for longer parking sessions. 
The Type 2 AC connector shouldn't be confused with the Type 2 used by Tesla, and are exclusively compatible with the Tesla-branded Superchargers.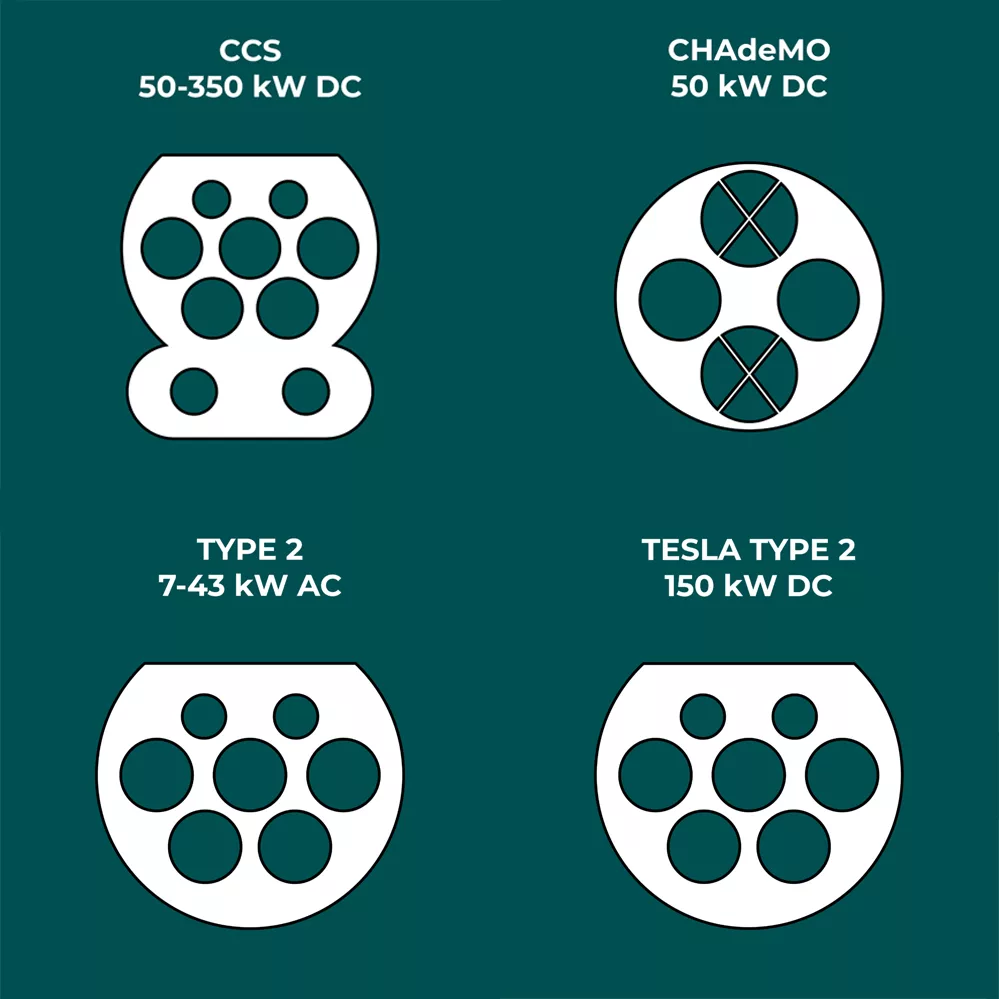 Can I use the other connector if a car is already plugged in?
On Medium Power EV chargers, it is possible to charge two cars simultaneously on the same unit. We call this Dual Charging.  
Across the GRIDSERVE Electric Highway, 95% of our Medium Power EV chargers are now compatible with Dual Charging, colour-coded in teal on the GRIDSERVE map.  
Both printed and digital signage on the charger will inform you that Dual Charging is available and all sites will feature a good mix of both CCS and CHAdeMO connectors so that everybody wins.   
With Dual Charging, the charger's power is split in half between both connectors, so that means each vehicle will get up to 30kW (when plugged into one of our 60kW Medium Power chargers). 
How do I know how much it costs?
Whether you're plugged into a Low Power, Medium Power or High Power EV charger, and if you're at an Electric Hub, Electric Super Hub or Electric Forecourt®, you'll only ever pay for the energy that is sent to your vehicle, not for the time you spend connected to an EV charger. 
When you tap to stop, the amount charged will appear on the small screen on the payment terminal. If you want a receipt of your charge, then visit our receipt portal, where you can also sign up for automatic receipts sent direct to your inbox.   
You can check our latest pricing here. 
How long will it take to charge my car?
How long it takes to charge your electric car will depend on the size of your car's battery, the speed of the charger and the car's ability to accept this charge.  
Our chargers don't discriminate, so just because your car doesn't charge at 350kW doesn't mean you can't use one of our High Power chargers. That said, your charging speed will be influenced by your car's ability to accept charge and the charging curve of your vehicle.  
Most manufacturers provide mobile apps meaning you're able to check on your car's charging status remotely. You can read more on charging etiquette here but in a busy service area, we'd suggest helping fellow EV users and moving on when your battery has reached 80% capacity.